County Durham SAS: Who Dares Wins Champion on Winning the Tough Channel 4 Show
Paige Zima from County Durham reveals what it takes to be the champion of Channel 4's SAS: Who Dares Wins
The seventh series of SAS: Who Dares Wins was arguably the most gruelling yet. Filmed in the protected desert area of Wadi Rum in Jordan (known as the Valley of the Moon), it was the hottest and driest series to date. Temperatures peaked at more than 35C during the day, while at night they were as low as 5C. In a first for the show, the recruits were led by a new elite team of ex-special forces operators from both the UK and the USA – and they didn't make it easy.
Paige, a forensic science student who only recently completed her studies at Teesside University, decided to take on the challenge to prove her resilience and capability. Paige has had a passion for dancing since she was young, particularly for ballet and contemporary dance. She had just started her dance degree when she found out she was pregnant with her first child. After returning to dancing, she became pregnant with her second child and decided to take a different career path. 'I've just finished my university degree and now I'm looking to [start a career in] serious and organised crime,' she says.
In 2019 Paige sadly lost her dad to suicide. She now campaigns and raises money for men's mental health charities. It'll come as no surprise to anyone who watched the series that Paige enjoys keeping fit, and she uses her fitness to fundraise. 'I go the gym, I like to go hiking (especially on the Peaks) and I like to do things for charity in relation to that,' she says. Most recently, she walked from Durham to Scotland in a 240-mile sponsored hike before climbing Ben Nevis to raise money and awareness for men's mental health. But despite being a bit of a daredevil, the SAS course was arguably her biggest battle to date.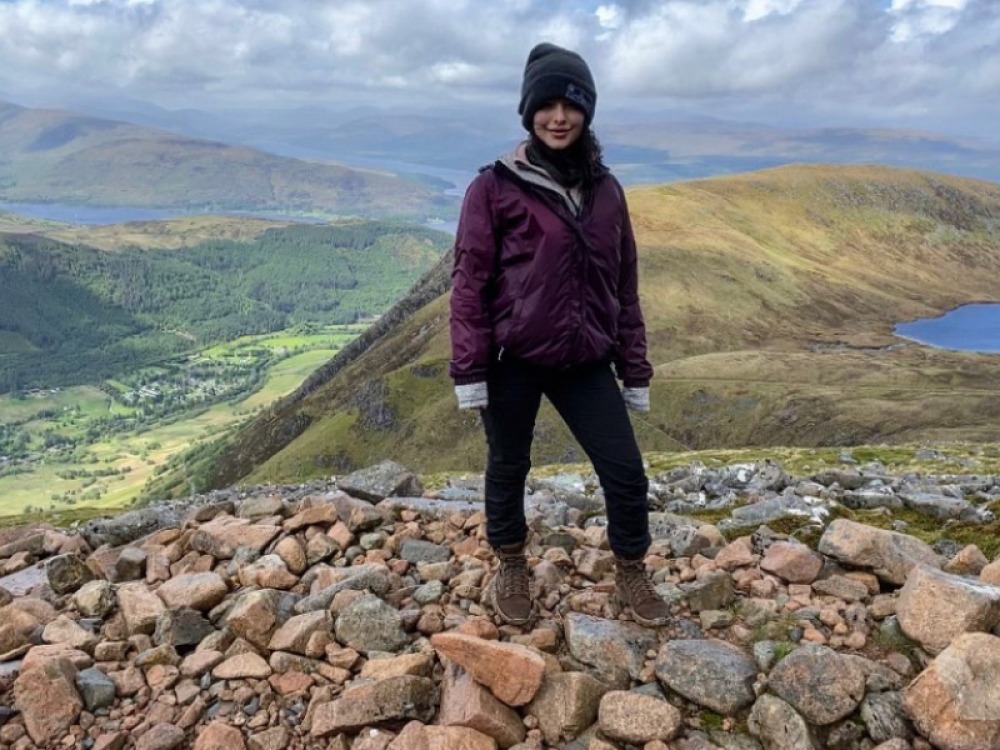 Her life experiences are what led Paige to sign up for SAS: Who Dares Wins. 'I'd been through a lot of experiences where I had to show real resilience,' she explains. 'When it came to my dad, I handled that extremely well, to the point where I began to question whether I was just masking all of the hurt. Had I really dealt with it? A lot of people around me were saying I was so strong and that I was cut from a different cloth because I was always keen to better myself. I really wanted to challenge that.
'I grew up in a council house on a council estate and I was always told that once you're in poverty you'll remain there, but I never believed that. I've always done everything in my power to prove otherwise. When you're still going through education at 26 you start to think "am I really capable of this?" So SAS was about proving to myself that I am capable, I am resilient and I am everything I want to be.'

During the series, Paige had to escape from a room full of CS gas, take on free falling and backwards diving, and was subjected to fierce interrogation. 'Every single task had a way of breaking you down to your absolute core, really exposing your true vulnerabilities,' she explains. 'What I discovered is that I do have a lot of self-doubt that I didn't necessarily know I had until I was put in such a stressful environment.' But Paige found herself embracing these challenges.
'What they didn't show was when we jumped out of a Black Hawk helicopter into the Dead Sea – which was pretty cool,' she adds. 'That was daunting because they kept saying you had to jump out with your bergen [a type of rucksack], but to make sure you push it out or you'll knock out your teeth! With everything you did, there was always a risk, but that's what I found exciting – it's what made me thrive! I realised I'm a real adrenaline junkie. I discovered that I thrive when I'm scared and that I can turn my emotion into fuel. I can compartmentalise my emotions to the task at hand. I've got a lot of grit.'
'With everything you did, there was always a risk, but that's what I found exciting – it's what made me thrive'
But what was most surprising to Paige, were the friendships she formed with the other recruits. 'You can really relate to the guys who actually serve because when you come away from that environment you feel like you've almost got a piece of you missing,' she says. 'The real connection I formed with people was phenomenal.'

As joint winner in an all-female final, Paige hopes to inspire people like her to give the show (or anything similar) a go. 'If there's a slight part of you that thinks "wow, I'd love to do that", believe in yourself enough to do it,' she advises. 'Allow yourself to try it, and even if you fail, that's okay because you'll always learn from it. If you're not scared, you're not developing – that's what I always say. I hope I'll inspire and motivate anyone who watches the show to know that they're capable of achieving what they want to achieve. I think there's a lot of stigma about North East women and I'm glad that I could potentially break that and encourage others to step up and challenge themselves, because they are just as capable no matter what background they come from. I'd say North East women are very tough and we should take that fierceness into everything we do.'

Paige and fellow finalist, health and wellness coach and bodybuilder Claire Aves, have joined gym-owner Sarah Ryder in forming Women Warriors – a course designed for women seeking military-grade fitness training. 'We hope to empower, enable and encourage women who maybe don't feel they could take on something as extreme as SAS but really want to test themselves and develop,' Paige says. 'We want to create opportunities. There are all sorts of avenues we can go down.'
To find out more about Women Warriors and to get involved visit womenwarriors.health. All episodes of SAS: Who Dares Wins series 7 are available on All 4 now.