Meet the Huddersfield-Based Archer Aiming to Climb the World Rankings
24-year-old Izzy Carpenter travelled from her home town of Huddersfield to Antalaya in Turkey last month to compete in the archery World Cup, helping the women's Compound Team place in the top five
Here we find out more about her targets for the 2023 season, including going to the World Championships and improving her world ranking.
When did you first get into archery?
Me and my family first tried archery at Centre Parcs on holiday. It was my dad who first became interested in the sport after that and he signed up for a beginners' course at our club, Barnsley Archery Club. My brother, Adam, and I went along to watch him, and we signed up for the next beginners' course straight away. I was 10 years old when I completed my course, and I entered my first competition a month later in Selby.

What was the moment you realised you were actually good at the sport?
My progression in archery happened quite naturally I think. I made the junior Yorkshire team in my first year of shooting and the senior Yorkshire team when I was just 15. My brother and I would often shoot against the adults as there weren't many other juniors in our respective age categories, and I really liked the challenge.

How did you end up competing for Britain?
In 2014 the European Archery Festival, a large tournament with many international competitors, came to Telford. This was my first big podium finish where I got the bronze for the junior compound women. Through this win, and also the scores I'd shot throughout the season, I made the GB compound development squad and then eventually was selected for my first international representing GB in Slovenia for the European Youth Championships.
'I made the junior Yorkshire team in my first year of shooting and the senior Yorkshire team when I was just 15'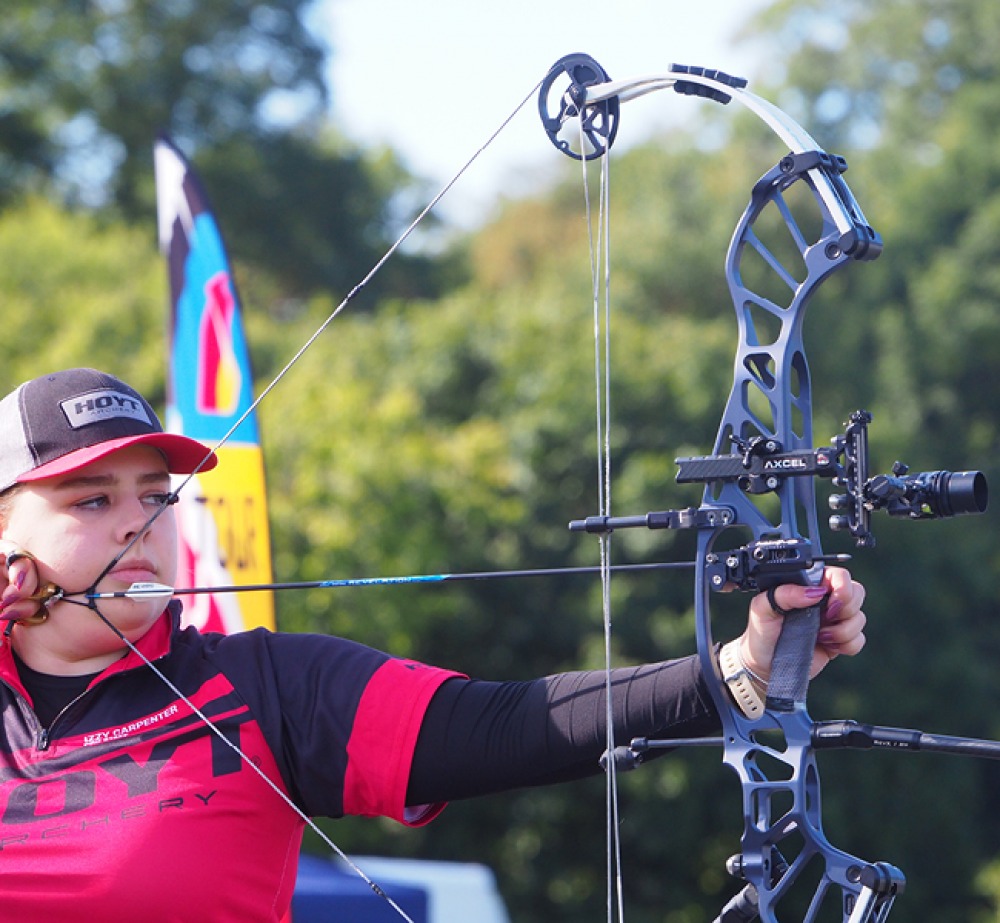 Tell us about the World Cup in Antalaya.
I really love the World Cup events. There are so many athletes, and the standard of shooting is amazing. This was my third year on the GB senior team going to the World Cups, and I hope this season will be very successful for me and my team.

What does it mean to you to represent your country?
There is no greater feeling than going to these incredible tournaments, winning a medal for your country, and standing on that podium to our national anthem. I have been very fortunate to have been representing Great Britain since I was 15 years old; I did five years on the junior squad, and then I aged up onto the senior squad for the last three years. I have travelled the world, met some extraordinary people, and got to do the sport I love.

Tell us about your typical day.
As a current non-Olympic sport, compound archery doesn't allow me to do my sport as my day job. There is the chance that we may be introduced as an Olympic sport in 2028 for the Los Angeles Games, but we'll have to wait and see about that one. In the meantime, I train as often as I can, a minimum of three days a week, and do competitions almost every weekend during our outdoor season (late March-early October). I have a full-time job working for Archery GB doing events marketing, which I started following the completion of my masters degree. I freelanced for Archery GB and other archery publications writing articles for several years before I started this full-time role.

What are you most looking forward to?
2022 was my best competitive season to date. I become the European Champion in Munich last June, I also won a team gold at that event, and also a World Cup team silver medal in Colombia. I am ranked second in the UK compound women, and 18th in the world rankings. This year, I really hope to continue this success as well as I can, and shoot to the best of my ability. We have the World Championships in Berlin this July, and I hope to get selected for the team to compete at that event.
What's your favourite thing about the sport?
Archery is the most inclusive sport I know of. I get the privilege to shoot alongside archers from every background and ability level imaginable. It's a sport that doesn't discriminate. A large benefit to being in a small sport, is that you can go to a local competition and shoot alongside Paralympic champions and world number ones. The community is so welcoming and we truly care about each other's successes and goals.

How do you relax?
With the little free time I have next to my shooting and work commitments, I love to write fiction, and one day hope to have my work published. I love to spend time with my friends and family and my new puppy.

What do you love most about being from Yorkshire?
Living where I do, I get to compete in some stunning areas of the Yorkshire countryside. The best thing about the North is the people for sure, you won't meet nicer people anywhere else. I've been lucky to have had the support of the people local to me for many years.

How can someone get into Archery if they'd like to try it?
Across the North, there are hundreds of archery clubs. Archery GB have a map on their website where you can search the clubs closest to you by postcode. They also run a Start Archery Week where there are events happening nationwide that everyone can get involved in.
For more information visit archerygb.org.