Meet the Maker of these Reusable Christmas Cards
Greentings have a super sustainable way of wasting less card this Christmas
In the spirit of wasting less and caring more, family-run Greentings cards can be used, reused, and then used again thanks to their removable inserts, so you can swap single-use for sustainability this Christmas – and they plant a tree for every card sold. Director Kerry Linacre tells us more.
What's your background?
We are a small family business with big ideas for creating a greener, happier and more connected world. After years of hoarding old greeting cards, we decided to create the concept of re-gifting recyclable greeting cards and saving a digital memory of the card to cherish. We love sending cards to family and friends – there's a certain magic to be found in the thud of post on the doormat and deciphering the writing on the envelope. So our aim was to do it in an eco-friendly and sustainable way.
All our cards are made from post-consumer waste which means that no trees were harmed in making them and the best bit is that they can be used forever! In fact, in conjunction with TreeNation, we plant a tree every time someone buys a card. We are really passionate about saving the planet so we wanted to create a sustainable business through which we could have a positive affect on the environment. We're really proud that we have already planted more than 600 trees, our website is net zero and all our cards are made from recycled and recyclable materials.
I am one of the founders and I'm from Nottinghamshire. I went to university in Sheffield, which is where we have now settled as a family with my husband and three-year-old son. My brother is also part of the business and is a very talented tattoo artist in Sheffield. Out of the two of us, he is most definitely the artistic one – I do not do any of the card artwork, I leave that to far more talented people than me.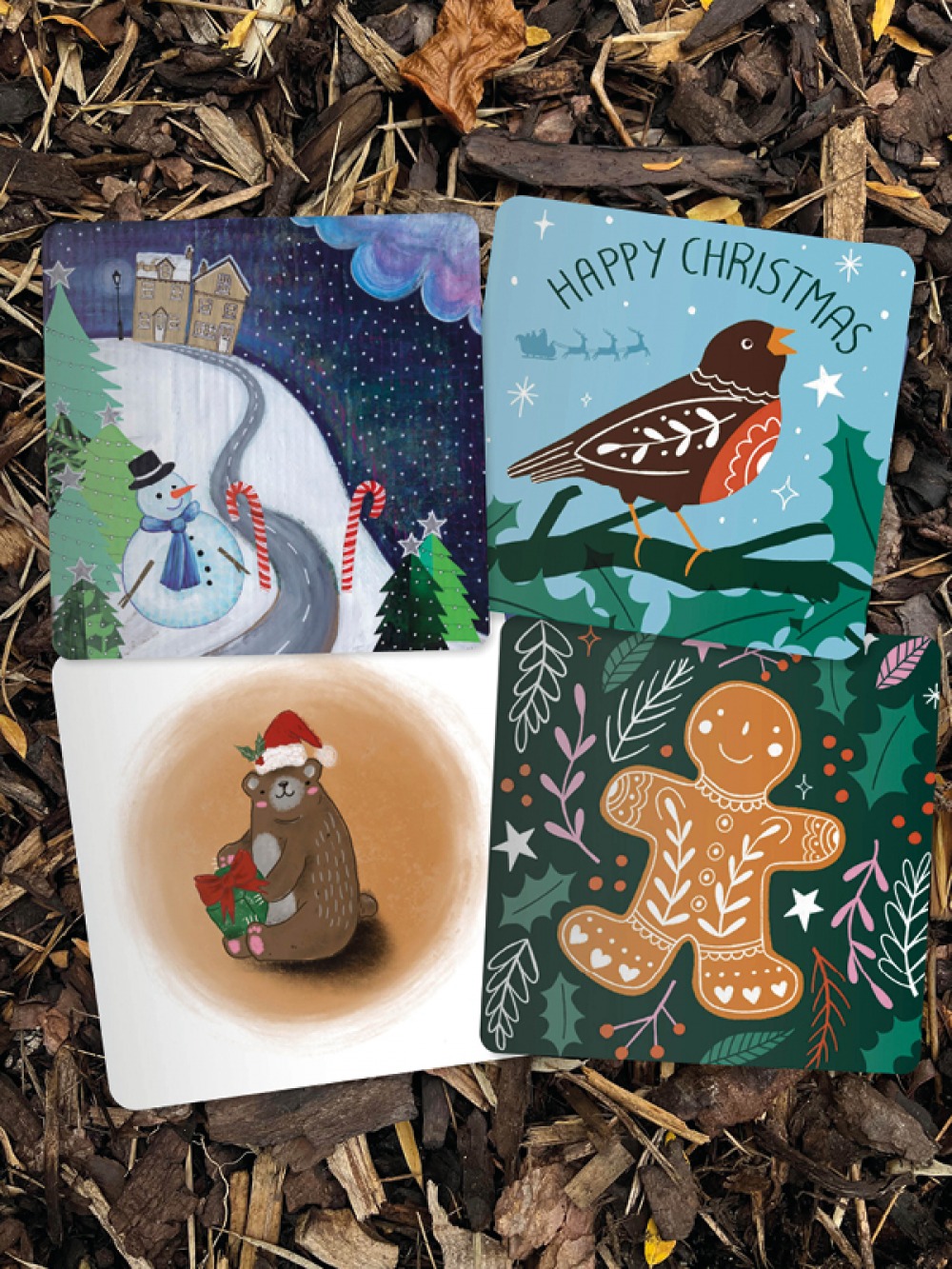 Where do you find inspiration?
Greentings was born out of an idea to try and prevent single-use waste in the greeting card industry, and avoid cards going to landfill. Given the move away from single use in society generally, it seemed to us that a solution for the greeting card market was inevitable and our current aim is to be the leaders in that space.
We work with incredible artists who design the artwork, and a brilliant graphic designer who pulls everything together in such a beautiful way. The cards feel very special and each card in our current range is unique with a different design, not only the front page but also on page three (where the insert sits), and on the back page.
Each card comes with three envelopes and three removable inserts to encourage at least three uses. The card and these bits and bobs are all then wrapped in twine to create a card and a gift in one! On receiving a card, customers simply need to swap the insert and pop it and any spare envelopes and inserts in the biggest envelope provided, then send it all on!
After deciding to create a reusable card, we got thinking about how we could do it in the most fun and sustainable way possible. One of our features on the Greentings website, is the Card Passport which can be accessed by setting up an account. This gives people the ability to see where in the world their card ends up. In the customer account part of the website, customers can also load their cards into a digital album so that they keep a digital memory of their card to cherish, long after the physical card has been sent on.
Our aim is to appeal to environmentally conscious people who enjoy using technology so they can benefit from the Card Passport feature. However, using Card Passport is not strictly necessary if that bit doesn't appeal. People can still send the cards on and enjoy saving single use cards from going to landfill or being stuck up in the loft for years.


'Each card comes with three envelopes and three removable inserts to encourage at least three uses'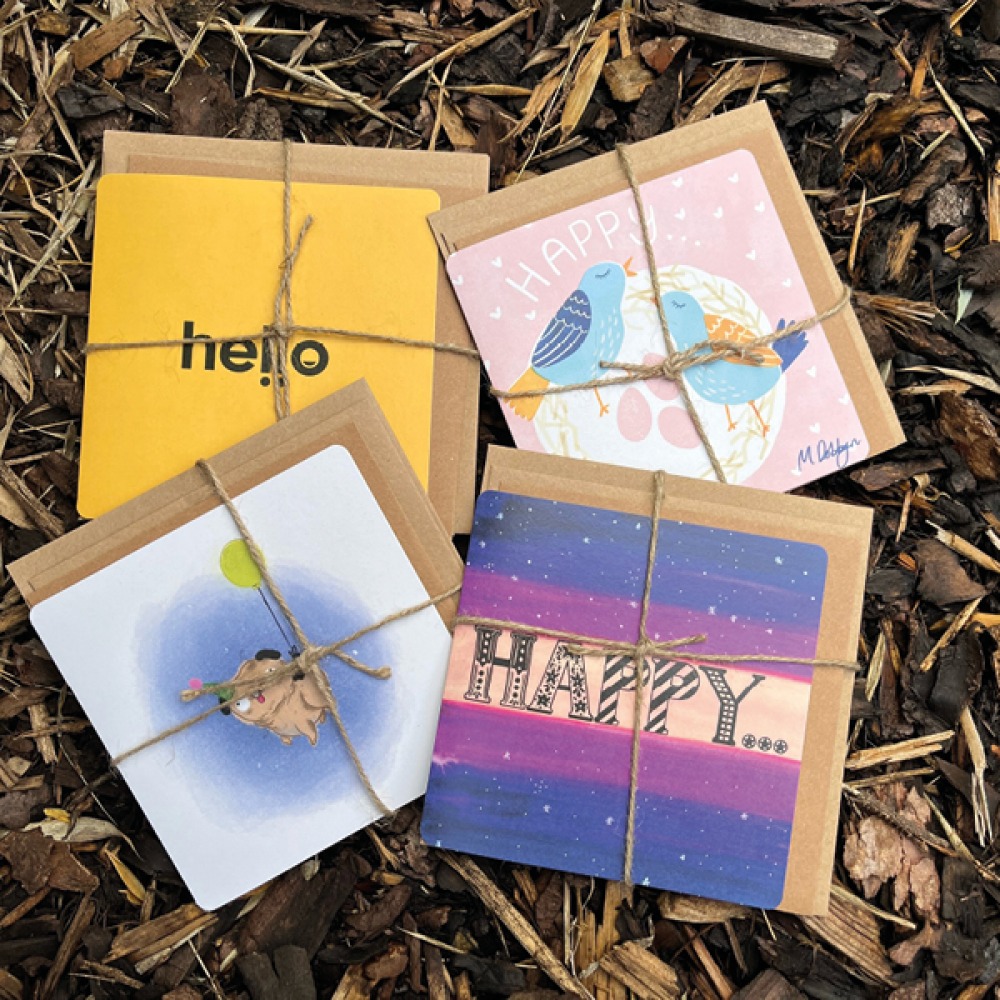 Tell us about some of the artists you work with.
We work with my brother, Rich Smith. He has a keen interest in children's illustrations and creates fun and colourful designs that are particularly nice for celebration events and children's birthdays. Emma Harding specialises in typography, lino print and mixed media art, taking inspiration from wildlife and street scenes. Emma is just fabulous and her designs always feel really special and distinctive. Harmeet Sembi has created two contemporary designs for our range. Harmeet is a graphic designer and artist based in Leeds. His speciality is drawing and he uses a mixture of traditional and modern digital techniques to produce impactful multimedia illustrations.
We also work with Megan Dobbyn who is a brilliant community artist in Leeds. Megan specialises in bright joyful illustration. A lot of the work Megan creates centres around natural habitats and themes with a rooted interest in folklore and storytelling.
Rebekah Muldowney is our amazing graphic designer. Rebekah has created a couple of designs recently and is the brains behind all of our card graphics and marketing materials. Greentings wouldn't be the same without her expert input.
What's your favourite thing about what you do?
My favourite thing is seeing the artwork for the first time when the artists send it over. It's also lovely to see the tree-counter ticking up on our website when we get new orders.
Favourite product?
Oh my gosh this is so hard to answer! We have beautiful cards for every occasion. We have kept the range as generic as possible to ensure they can be sent for most scenarios. Our limited edition The Sunshine After the Storm card by Emma Harding is really special and is limited to 1,000 runs. It's hard to part ways with this card but we do sell double-sided glass card frames so if customers decided they would like to keep their card, then they can frame it and treasure it forever (and the personal message can be slotted on the back page so it is visible from the back of the frame). I also absolutely adore Emma's Christmas designs. They are very festive and leave you with a warm cosy feeling. And I love all of the designs which can be used for children's birthdays, such as the Pirate, Pug and Dragon cards.
Where can we see/buy your cards?
We sell all our products on our website and via Etsy. We are also stocked in a number of independent retailers across South Yorkshire including Beanies, The Green Shop Sheffield, Design Studio and Gifted.
greentings.co.uk