Newcastle Radio Station Brings Cheer to Sick Children and Their Families
This summer, Radio Lollipop Newcastle are celebrating their 40th birthday. Kathy Hudspith tells us how the team have had to adapt their work to continue supporting sick children and their families in the North East
Radio Lollipop Newcastle is a voluntary organisation, part of a worldwide network of stations. Established in 1982, they were the third Radio Lollipop station to air, starting off in the Fleming Memorial Hospital, and moving into the RVI near Peacock Hall. In August 2012, after 30 years of broadcasting, they moved into the Great North Children's Hospital with the opening of a new state of the art studio (so they're actually celebrating two anniversaries this year).
While many assume Radio Lollipop Newcastle is just a radio station, their volunteers also spend time visiting wards to play games, perform music, make crafts and much more. Of course, Covid presented challenges, but although volunteers couldn't visit the wards, they found new ways to bring cheer to the children.

'We were trying to think of ways to carry on our work,' says Kathy. 'The radio shows at that point weren't practical but when we normally visit the wards, we give out goodie bags to the children as prizes. We thought that would be a good way to keep going in the hospital. Our treasurer and our play coordinator ordered a large amount of small items that we could put in those goodie bags, and two volunteers at a time went into the studio and made them up.
'At the beginning they were put onto a trolley, the trolley was put into quarantine for three days, and then the wards were allowed to give them out (the main priority was keeping the children safe). At one point we got a letter from the hospital asking if we could provide more! We had our annual meeting around six weeks ago and our play coordinator revealed that on average we were giving out 240 goodie bags each month. They were categorised into bags for younger and older children, and we also developed bags for children who have sensory issues, which have been proving extremely popular.'

Kathy is proud of her team, and highlights how rewarding their work is. 'If you look from our volunteers' points of view, it's the enjoyment they get going in and seeing a child's face light up. Not just the child – quite often it's their siblings and their parents too. When our studio opened there was one little boy who came in and sat at the deck and we let him do an announcement on the radio. His parents said that he'd been in hospital for quite some time and it was the first time they'd seen him out of that environment (as such). They said "he said we can go for a cup of coffee on our own; we've never done that".
'While many assume Radio Lollipop Newcastle is just a radio station, their volunteers also spend time visiting wards to play games, perform music, make crafts and much more'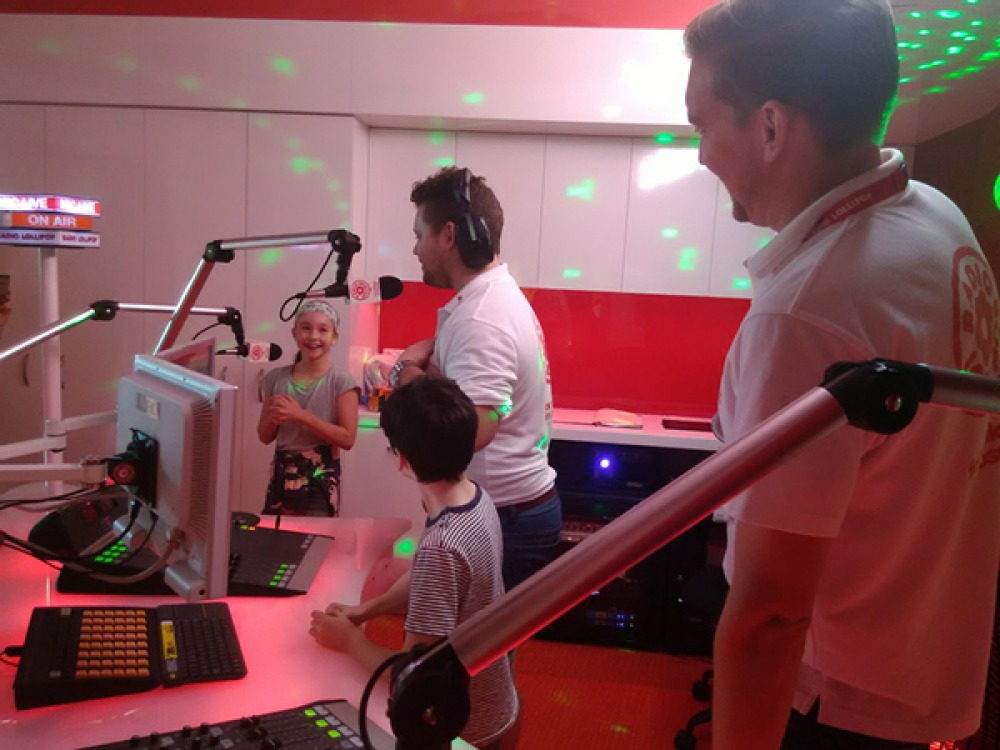 'Some volunteers come along because they might have had a health problem in the past, and therefore know what it's like. They've all got their own talents and that reflects in what they do on the ward. On dressing up days I'm not sure who has the most fun – the kids or the volunteers! When we sing in the places like Eldon Square at Christmas to fundraise, a number of adults say they remember Radio Lollipop from when they were younger – it's amazing how we stick in people's memories.'

The volunteers intend to get back out onto the wards soon, and they're looking forward to celebrating the milestone. Kathy sums it up nicely when she says: 'We'll adapt. We always do.'
Fundraising, donations and volunteering are key to keeping Radio Lollipop Newcastle's work going and volunteer runners in the Great North Run play a huge role in raising important funds. If you'd like to help, email the volunteer coordinator at vcb.newcastle@radiolollipop.org or the fundraising team at newcastlefundraiser@radiolollipop.org.
SEPTEMBER CHARITY CALENDAR
LOST VOICE GUY AND FRIENDS: CHARITY FUNDRAISER FOR US ACTIVE
26TH SEPTEMBER
The Stand, Newcastle
thestand.co.uk
Some of the funniest stand-up comedians in the country are heading to The Stand to raise money for local charity uS Active, who empower and support young people experiencing mental health difficulties.