Passion fruit and pomegranate pavlova layer cake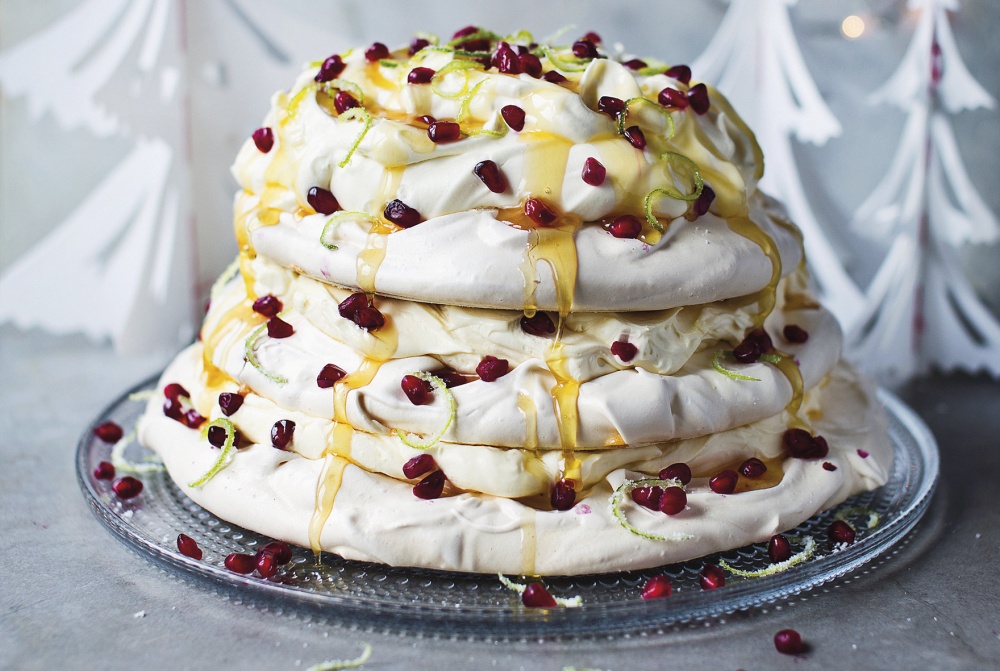 A beautifully tiered pavlova will make an impressive centrepiece
It's perfect for everyone to gather around at a celebration.
Heat the oven to 110C/gas ¼. Line three baking sheets with baking paper, then draw a 27cm circle on one sheet and a 22cm circle and an 18cm circle on the other sheets.
Whisk the egg whites in a large bowl using a hand-held electric whisk, until they form stiff peaks. Still whisking, add the sugar, a little at a time, until the mixture is thick and glossy.
Spoon half the mixture over the largest circle, and divide the rest between the smaller two, putting slightly more on the middle-sized circle. Use the back of a spoon to spread the mixture to the edges of your circles and make pretty swirls and peaks. Transfer to the heated oven and cook for five hours, then turn off the heat and leave in the oven to cool completely.
To assemble, stir the passion fruit juice and sugar into the double cream – the mixture will thicken with the acid from the juice. Stir in the Cointreau and curds to make a luscious thick cream. If it is not thick enough (some passion fruit are juicier than others), whisk a little; if too thick, add a splash more cream.
Place the largest meringue on a flat serving plate and spoon over one-third of the cream. Scatter with some pomegranate seeds and lime zest. Top with the second largest meringue and spoon over another third of cream and more seeds and zest. Top with the smallest meringue and finish with the rest of the cream, seeds and zest. Drizzle all over with the honey and serve.
Tip!
Keep your egg yolks for custards or quiches.You need to add a pinch of sugar or salt (depending on whether you want them for sweet or savoury dishes) and beat well before freezing in freezer bags or small containers. Label how many yolks you have and whether they are sweet or savoury. Defrost in the fridge before using.