Three Delicious Spicy Skewer Recipes Perfect for Summer Barbecues
Sunshine and barbecues go hand in hand and to add a little spice to your summer feasting, we share three ways to make spicy skewers
From spiced lamb to salmon tikka, bestselling author Maunika shares three recipes from her latest cookbook, Tandoori Home Cooking.
Salmon Tikka Skewers Marinated in Green Chilli, Basil and Coriander
As a firm oily fish, salmon soaks up all the goodness of spices really well. This green marinade is unlike any other. The original recipe was shared by Sunaina Khatri, who I met during my visit to Ahmedabad years back. Her family hail from the Gujarati Muslim community who are renowned for making some of the finest biryanis, kebabs and tikkas. The recipe includes Indian basil which isn't readily available, so swapping it for regular basil and fresh coriander (cilantro) has been a revelation. The marinade coats the pink-coloured salmon chunks and is delicious served with a relish or dip.
Spiced Lamb Skewers with Black Pepper, Cumin and Dried Mango
Adding sour notes to tandoori cooking is a classic north Indian technique, which has made its way out of the region of Kandahar. This recipe uses dried mango powder to supply that sour note. For these lamb skewers, I include some additional lamb fat to the meat which renders as it grills to give lots more flavour. Ask your butcher for some extra fat diced into small pieces. Marinated in yoghurt with crushed black pepper, cumin seeds and garam masala, these tikka are tangy, spicy and so, so good.
Spiced Chicken Skewers with Pickling Spices, Mustard and Chilli
I'm such a fan of achari spice mix that all my books include recipes that celebrate it. Achari Murgh Tikka has always been a family favourite. I first ate it as a young girl when our family visited Khyber at Fort in Mumbai, where it always feels like a special evening and the food is delicious. The decor is old school with painted murals on the walls that are dimly lit by decorative chandeliers from the '80s. Ghazals play in the background with chatter from the tables. It's like going back in time to your safe space. The menu is limited and focuses primarily on the cuisine from the north-west frontier of India. The achari spice mix includes fennel, cumin, mustard and nigella seeds, all coarsely crushed, but the secret is definitely using mustard oil. I recommend keeping a small bottle in your store cupboard. The pungent, savoury flavour lends an intense taste to the tikka.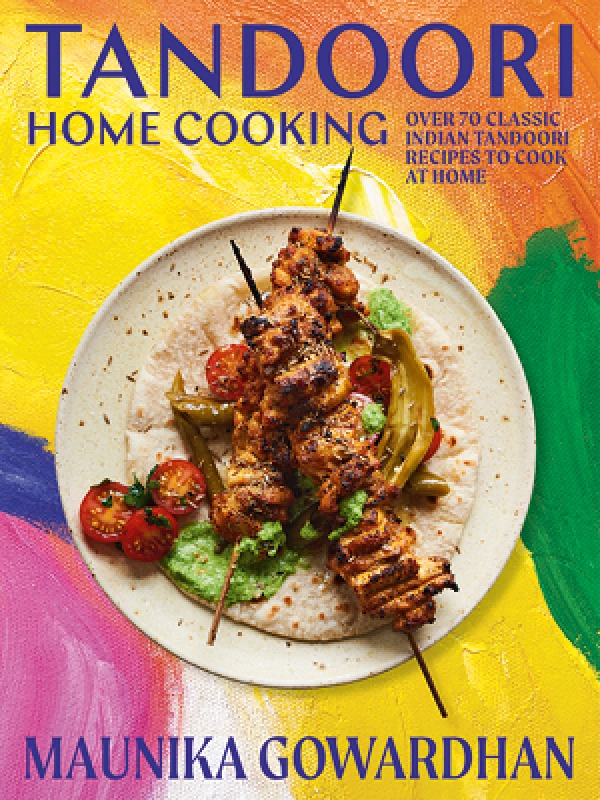 Tandoori Home Cooking by Maunika Gowardhan (Hardie Grant, £25) Photography ©Issy Croker