All the Benefits of Getting a Real Christmas Tree and How to Choose the Right One
Here's what you need to know about picking out a real Christmas tree
There's nothing that will get you in the mood for Christmas quite like going to pick out a real Christmas tree. We caught up with Sam Clark from specialist Cowell's Garden Centre to find out more about the benefits of a fresh Christmas tree, as well as his tree-mendous tips for choosing the right one for you (and how to care for it afterwards).
There's no denying there is something especially festive about a fresh Christmas tree, but in addition to the visual and olfactory elements, there are also a lot of hidden benefits to choosing a real tree.

By choosing a British-grown Christmas tree you are helping to support the local economy and local growers. Real trees are more sustainable thanks to reduced transportation, and they are ecofriendly as pine and fir trees absorb carbon dioxide and release oxygen back to the environment. Plus, they're biodegradable so you can switch it up each year with no waste.

Sam Clark runs the bedding and house plant department at the popular Cowell's Garden Centre in Woolsington, but with 15 years' experience working with hardy plants too, he says his expertise covers anything botanic across indoor and outdoor planting, including the humble Christmas tree.

'Obviously the trees don't have as high of an environmental value as planting a native woodland, but they offer habitats for animals and insects, space for nesting birds and, especially with the reduced use of pesticides and spraying, they're really quite good for the environment,' he explains.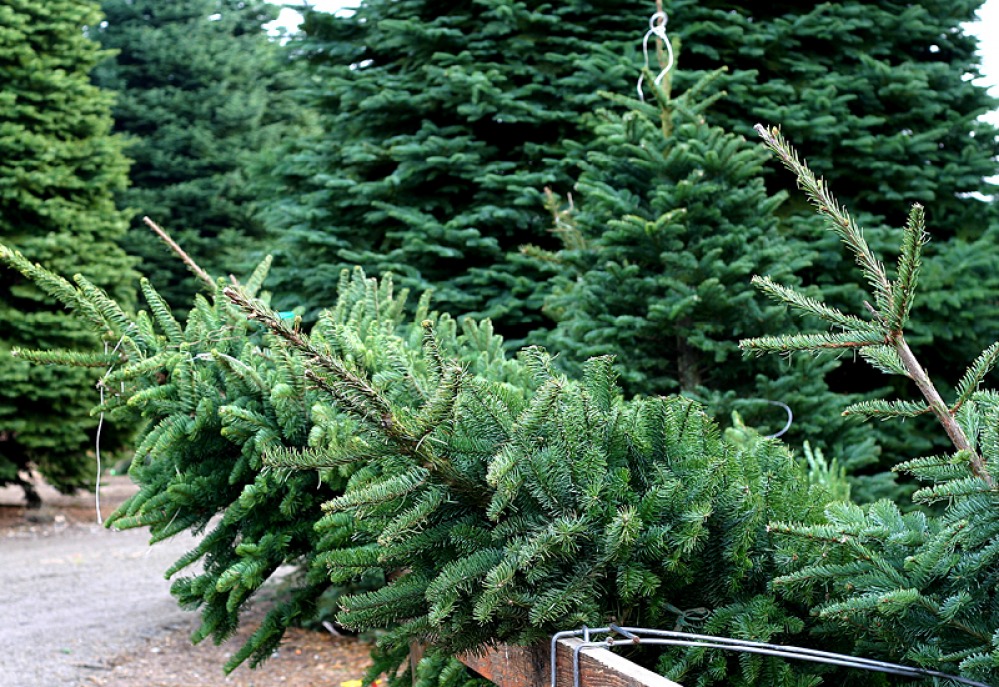 'We make a point of visiting the growers of the trees we stock quite a few times, and because they have huge acreage, they rotate their tree planting so they're always planting new. They'll actually leave an area fallow once it's just been felled to help the ground recover but luckily they've got enough plantation space to be planting every year. It's a closed cycle in that sense, plus, the areas can't be used for agriculture anyway so to use them for growing Christmas trees is actually great for land usage too.'

Having local Christmas tree plantations is a huge step forward for the sustainability of fresh trees. 'This year we're just offering two different varieties of Christmas tree, so we're doing the Nordmann Fir and the Fraser Fir,' Sam continues. 'We source them from two suppliers who we've worked with for 35 plus years, so we've got a good understanding between us. They know the trees that we really want and we know we'll get good quality every year from them.'

How long these two types of tree grow for depends on the size grades, and Cowell's offer anything up to a 10-foot Christmas tree. 'Being firs, the Nordmann and the Fraser are slightly slower growing than the traditional British Christmas tree, which always used to be the Norwegian Spruce,' Sam explains.

'It also depends on what your growing seasons are like. Obviously this year's been quite poor because of the excessive heat so they haven't put as much extensive growth on. They tend to like the wetter, more overcast weather that we're more normally used to, but you'd be expecting these trees to get to a good six or eight foot in anywhere between five to 10 years.'
While they may take a long time to grow, the one thing nobody wants is to take a lifetime to choose a tree. To help make the decision a little easier, Sam tells us the main differences between the two types of tree on offer at Cowell's, and what to look for when choosing between them.

'The main difference between the two is that the Nordmann Fir is much more of a close, compact tree and they're sheared a little bit more, with a bit more tiering so they're a lovely traditional triangular shape,' he explains. 'Then the Fraser Firs are a little bit slimmer, more of an upright tree, but they've also got a really nice fragrance to them. It's almost a citrusy, pineapple kind of fragrance which is really nice at home.

'From having lots of experience selling Christmas trees, I know that generally everyone is looking for something very slightly different and what one person may find perfect is not necessarily the same as the next,' says Sam.

'But the most important thing that people tend to look for is uniformity, like the old saying that symmetry is key to beauty. So we look for a nice straight leading point for your fairy, angel or star, and then well-spaced tiers and branches so you can hang your baubles, tinsel and decorations.'

As both types of tree are firs, they are what is known as non-drop Christmas trees. Because they come from parts of the world where the soils are a little bit poorer, they've evolved to retain more moisture in their needles. One of these trees, cut and cared for correctly, could actually last you from about the 25th November to around about New Year if you look after it.
'Having local Christmas tree plantations is a huge step forward for the sustainability of fresh trees'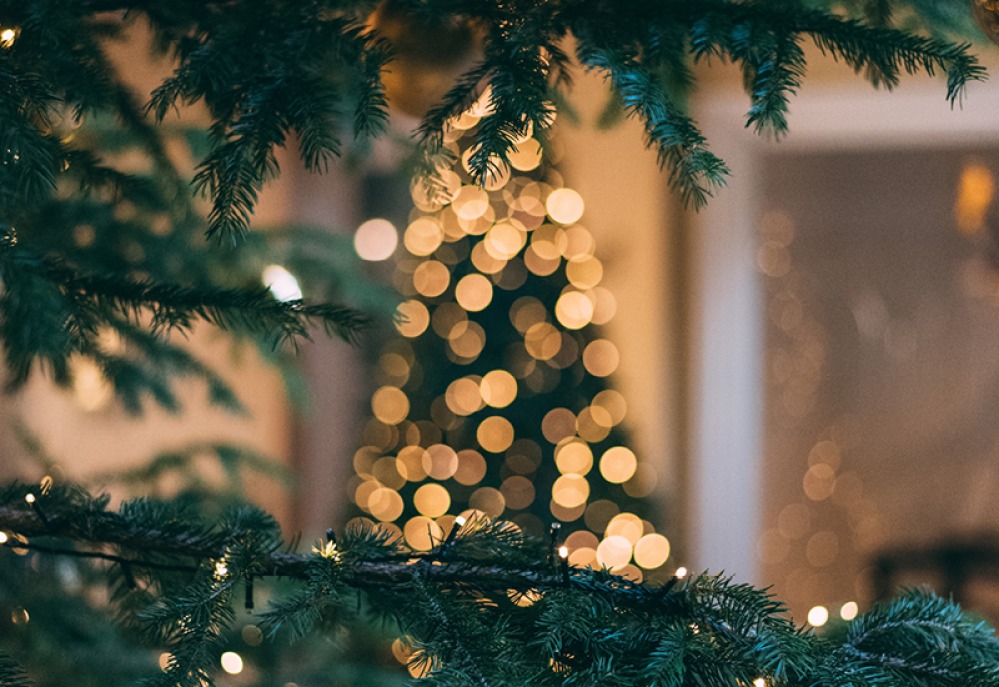 Every tree sold at Cowell's comes with an aftercare sheet, but Sam has plenty of tips on how to look after your tree, and some of the most important things to remember to keep your tree alive all the way up until the big day.

'It's all about maintaining the tree,' he says. 'For example, it's making sure the bottom of the tree is cut. Exactly the same as a bouquet of flowers you'd pick up from a florist, you have to cut the bottom off once you get your tree to make sure it can take up water.

'After that, make sure the tree goes straight into water, and keep that water topped up so that the bottom of the tree never dries out. We cut off the bottom for you, but once it is cut you've only got up to an hour before it'll seal itself up again, so take it home and pop it in water straight away. Even if you're not going to put it up that same day, you can have it in a bucket in your garage or porch or shed so it's cool but out of the elements, then wait until you have time decorate it with the family.

'Try to keep it away from an open source of heat,' Sam adds. 'So radiators, fires, log burners – anything that would dry the foliage out excessively. Basically, if you can keep it cool and you can keep it well watered, you've got multiple weeks worth of enjoyment.'
If you follow these top tips your tree should last all the way until the new year, however once the festive season is over, the next question is how you're going to dispose of it. A lot of the local councils will recycle Christmas trees (they'll collect them and and put them into their local composting site), or there's also a few local zoos who will take trees and use them for animal enrichment, putting the trees in the enclosure for animals to hide under or play with.

Cowell's however like to recommend the St. Oswald's Hospice tree recycling service. 'The past few years we've had link-ups with other local businesses and our charitable partner is St. Oswalds Hospice,' he says. 'They do a collect your-tree scheme so you pay a small charitable donation of your choice and they'll send their charity van round to pick up your tree from the front of your house. They take it away to compost it and use it within their grounds to mulch their flower beds and things like that, and you've helped a local charity which is lovely. So that's a really nice way to get rid of them.' Saving yourself the hassle of a trip to the tip, being kind to the planet and helping raise money for a local charity – what could be better?
Cowell's, Woolsington will be selling their Christmas trees from 26th November. For more information head to cowellsgc.co.uk or call them on 0191 286 3403.
FIND THE BEST PLACE TO BUY YOUR CHRISTMAS TREE NEAR YOU
Wilde Farm
Stay warm and cosy this festive season by letting Wilde Farm bring your Christmas tree to you. With a selection of Nordmann Firs on offer – a tree with a lovely symmetrical shape, great smell and non-drop needles – ordering your Christmas tree couldn't be easier – simply select the size and dates you need and they will deliver direct to your doorstep. Plus they will come back in the new year to collect your tree to feed to their rare breed goats and sheep. It's a win for everybody!
Ponteland NE15 0AB
07391 035717
wilde-farm.co.uk

Broomhall Christmas Trees
Based on a farm on the outskirts of Newcastle, this family-run business has been helping people find their perfect tree for over 35 years, and if they've learnt anything over this time it's that everyone's perfect tree is different. Opening on 27th November this year, Broomhall Farm has a selection of real trees available ranging in height from four to 16 feet, as well as offering a same or next day local delivery service for those who have over estimated the size of their car!
Broomhall Farm, Newcastle NE5 1NS
01661 820217
broomhallchristmastrees.com

Edelweiss Christmas Trees
There are usually thousands of trees on offer here so whether you're looking for a Norway Spruce, Lodgepole Pine or Nordmann Fir, they'll have something for you. With a grower exclusive to them, they always have plenty of stock, helping to bring the Christmas spirit to as many homes as possible. Why not collect some of their free off-cuts to take home and make your very own wreath?
Double Row, Seaton Delaval NE25 0PP
0191 237 7887
edelweisstrees.com

Whelly Hill Farm
The family at Whelly Hill Farm have been selling real Christmas trees for the past 18 years, so they know exactly what they're talking about. They supply a wide range of varieties and sizes, going up to 20 feet, and the selection consists of Nordmann Fir, Fraser Fir, Norway Spruce and Scots Pine. Once you have chosen your perfect tree it will be netted and loaded into your vehicle – what could be easier?
Whelly Hill Farm, Hartlepool TS27 3BH
07973 281211
whellyhillfarm.com

Poplar Tree Garden Centre
Based in the village of Shincliffe, Poplar Tree Garden Centre covers all your plant-based needs, including your Christmas tree. Alongside an impressive selection of artificial trees, they sell fresh Norway Spruce in a range of sizes. Strong and sturdy,
with an excellent shape and classic Christmas scent, these are as traditional as you can get. Make a day of it by stopping off in the Brambles Coffee Shop for cake and a hot drink or, to really get in the festive spirit, they're even doing afternoon tea with Santa.
Hall Lane, Shincliffe DH1 2NG
0191 384 7553
thegardenflorists.co.uk
East Grange Farm
For those looking for a Nordmann Fir Christmas tree this year, look no further than East Grange Farm. Known for their uniform shape and superior needle retention, East Grange get their trees from an award-winning grower in North Yorkshire and with a new supply cut and delivered each week, you know theirs are as fresh as can be. Alongside the popular trees, they also sell stands, decorations and homemade wreaths, as well as a selection of potgrown trees.
High Shincliffe, Durham DH1 2TB
0191 384 2718
eastgrange.com

Northumbria Christmas Trees
A family-owned business in Northumberland, Northumbria Christmas Trees are dedicated to growing top-quality Nordmann Fir to the highest standards and practices. As a specialised low volume grower, they give maximum attention to each individual tree and as such they are all hand trimmed, -shaped and -harvested. They also practice sustainable growing practices, meaning for every tree harvested another is planted.
Callerton Garden Centre, Westerhope NE5 1NL
07799 048261
northumbria-christmas-trees.co.uk

Durham Christmas Trees
For a unique, festive family experience head to Durham Christmas Trees. Take your time to wander through the plantation before picking your perfect sustainably-grown tree – these zero-mile trees have never travelled before leaving the farm. Once you have chosen your tree, simply tag it and it will then be cut down for you to take home or for delivery, to keep it as fresh as possible. Their PYO fresh-cut trees are Nordmann Firs and sizes range from three to 11 feet.
Heigh Hall Farm, Bowburn DH6 5NJ
07805 668090
durhamchristmastrees.co.uK

Raby Christmas Trees
From 26th November, you can take your pick from a large selection of freshly chopped trees from Raby Estate's Christmas tree plantation, alongside fresh wreaths and foliage to decorate your home too. While you're there, make an occasion of it by enjoying a hot cocoa from the café and a browse around their Christmas shop. After the festive season, you can even return your tree to be recycled as either whole trees or sustainable chippings at Raby Castle.
Staindrop, Darlington DL2 3AH
01833 660202
raby.co.uk

Croft Christmas Trees
This seasonal farm shop sells a range of decorations, firewood, local produce and the region's largest choice of freshly-cut and sustainably-grown Christmas trees. With a wealth of experience in growing and looking after a broad variety of sizes, shapes and types, choose from a selection of Nordmann Fir, Norway Spruce, Blue Spruce and more. Plus, their new seating area is the perfect place to enjoy a hot drink and a selection of cakes while you're there.
Grange Farm, Jolby Lane, Croft-on-Tees DL2 2TF
01325 720673
croftchristmastrees.com