The North East's Leading Farm Shops and Producers
Looking to get fresh produce? Then look no further as these farm shops supply the best ingredients grown and reared here in the North East
Fresh fruit, fresh vegetables, fresh meat, fresh pretty much everything. From potatoes to pork, these leading North East farm shops and producers specialise in all things natural.
Bradley Burn Farm Shop and Café
The farm shop and café at Bradley Burn is housed in a cosy log cabin, complete with wood-burning stove to add to the snugness. Customers can take their produce home or enjoy some homemade treats by the fire.
Wolsingham DL13 3JH

Brocksbushes Farm Shop
A good range of seasonal, freshly grown fruit and vegetables is available at Brocksbushes, along with a tantalising selection of home-baked cakes, slices and other treats like fresh meats, chutneys and a full range of dairy products.
Corbridge NE43 7UB
Broom House Farm
Visiting Broom House Farm is more than a trip to the butcher's; it's a day out. True, their meat is pretty special – all beef and lamb is properly hung and prepared, ensuring delicious flavouring – but the coffee shop and woodland activities are definitely worth a look too.
Witton Gilbert DH7 6TR

Broom Mill Farm
Matthew and Tracy Betney have been running Broom Mill Farm since 1989. Not only are the animals bred and reared right there on the farm, they're also fed with produce that is grown there too.
West Auckland, Lower Teesdale DL14 9PJ
Carroll's Heritage Potatoes
Whether you're boiling them, mashing them, frying them or chipping them, potatoes are important. That's why the folks at Carroll's Heritage Potatoes take them so seriously, and produce a staggering 17 different varieties. Check out their website and send off for your spuds online.
Tiptoe Farm, Cornhill-on-Tweed TD12 4XD

Cross Lanes Organic Farm
Fancy yourself as something of an eco-warrior? Cross Lanes Organic Farm is for you. Sheep graze on the roof and food miles and carbon footprints are monitored. Oh yeah, and local organic produce is sold too. Because hey, even warriors like fresh artisan bread, right?
Cross Lanes, Barnard Castle DL12 9SL

Farnless Farm Park
Red meat is on the menu at Farnless Farm Park from deer and bison grazed naturally on grass pastures. A great range of cooking oils and condiments is also on offer here so you can be sure of cooking your meat with nothing but the best.
Bishop Middleham, Ferryhill DL17 9EB

Gilchesters Organics
The guys at Gilchesters take grain seriously. Leaders in crop research, they can provide any flour you may need – make your own wholemeal spelt bread or get a little bit Italian and knock up a homemade pizza. Order your flour online and get busy.
Hawkwell NE18 0QL

G&S Organics
Farm-fresh fruit, vegetables and meat right on your doorstep – literally. Log onto the website and select which box you'd like; you can even have your very own monthly meat delivery if you wish.
Longframlington, Morpeth NE65 8DA
Haswell's Homer Hill Farm Shop
At Homer Hill, you'll find more than just a farm shop, you'll find a coffee shop and a butchery too. So you can buy your locally-sourced cheeses, your homemade pies and your fresh meat, then relax with a drink and maybe even a bite to eat before you head home.
Rainton Gate, Houghton-le-Spring DH5 9RG

Heatherslaw Corn Mill
At Heatherslaw Corn Mill you'll find the only working water mill in Northumberland on a site with a 700-year history of milling. It'd be fair to say they've got a decent amount of experience to draw on, and it shows in their flours – we never knew so many different types existed. Order your flour online or pick some up at the mill on Tuesdays or Thursdays until spring 2017, when the shop will reopen.
Ford and Etal Estates, Ford Forge, Cornhill-on-Tweed TD12 4TJ

Hillheads Farm Shop
The farm shop at Hillheads has been selling fresh produce for more than 25 years. Their stock includes local eggs, potatoes, fruit and vegetables and a delicious selection of locally-sourced jams, chutneys and sauces.
Killingworth NE27 0BQ

Knitsley Farm Shop
A butchery, a bakery, a delicatessen and a farm shop can all be found at Knitsley. Local cheeses and other dairy items are available, as are artisan breads and a seriously tempting dessert range.
Knitsley, Consett DH8 9EW

Lowfields Farm Shop and Tea Room
'Fresh', 'locally produced' and 'traditional' are all words you can safely use when describing Lowfields Farm Shop. Come for the produce, stay for the all-day breakfasts and chunky chips.
Willington, Crook DL15 0TP

Mainsgill Farm Shop and Tea Room
There's a fair amount of meat on offer at Mainsgill Farm. So much meat, in fact, that they even sell special meat boxes, if you just can't decide which cut you'd like. It's safe to say that your Sunday roast will be in good hands by paying these guys a visit.
East Layton, Richmond DL11 7PN

Moorhouse Farm Shop
Moorhouse Farm Shop specialises in a wide variety of meat, along with many other locally-sourced products (including honey from local bees). Take a break from shopping in their coffee shop and refuel, before your trip home.
Stannington, Morpeth NE61 6DX

New Close Farm Shop
Everything that is grown and reared on the farm at New Close is sold in its farm shop. On top of this, they make a delicious selection of cakes and pies using only ingredients from the farm.
Sacriston DH7 6NB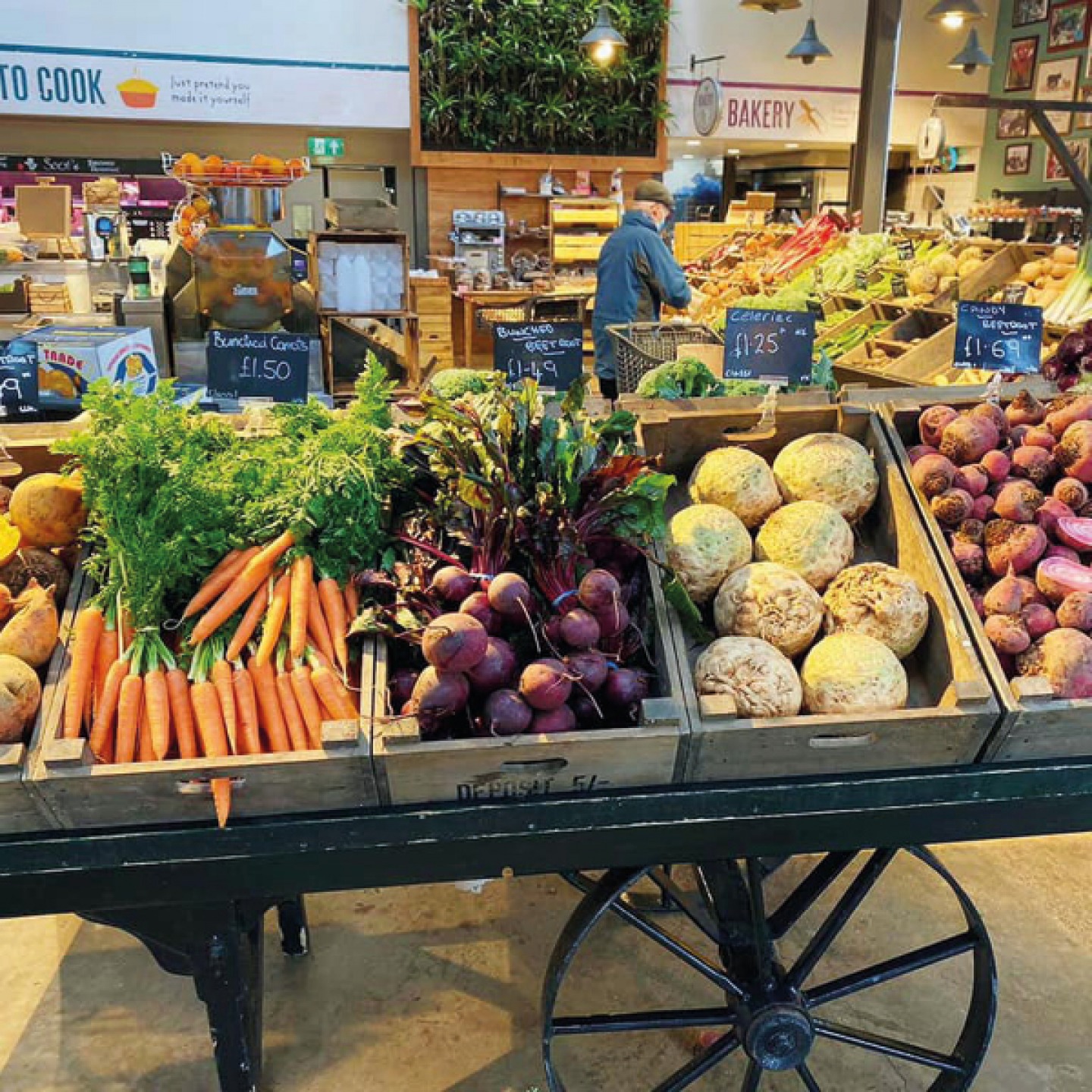 North Acomb Farm Shop
This place has been going since 1978. In the shop in the farmyard, you'll find a quite dizzying selection of meats, dairy produce and local preserves.
Bywell, Stocksfield NE43 7UF

Oxford Farm Shop and Tea Rooms
Rather than fruits, vegetables or meats the Oxford Farm Shop and Tea Rooms is renowned for its chutneys, jams (made using homegrown strawberries and raspberries) and even meringues – slightly sweeter than your average farm shop.
Ancroft, Berwick-upon-Tweed TD15 2TA

Piercebridge Organics Farm Shop & Café
Piercebridge Organics are big on organic things, obviously. So big, in fact, that they stock more than 2,000 organic products. These include the standards: your meats, your fruits and your vegetables, but they also have pulses, canned products and pastas.
Piercebridge, Darlington DL2 3SE

Roots Farm Shop and Café
You'll find some very friendly butchers at Roots Farm Shop and Café. If you'd like to know a bit more about the meat you're buying, they'll be only too happy to have a chat with you. Don't forget to check out the rest of the shop for some fresh produce, artisan breads and regional cheeses.
East Rounton, Northallerton DL6 2LE

Sunnyhills Farm Shop
Pie? Pasta salad? Pâté? They're all available at Sunnyhills Farm Shop, along with a number of other delights. There's also a deliciously tempting ice cream parlour onsite, stocked with award-winning treats from Doddington Dairy.
Belford NE70 7DP
Vallum Farm
There's a huge amount available at Vallum Farm, including their extremely popular homegrown vegetables. They also boast delicious artisan produce served in their restaurant, tea room and ice cream parlour, which is also available for purchase in the patisserie and deli. Well worth a trip up to Hadrian's Wall country.
East Wallhouses NE18 0LL