15 of the Best Farm Shops Across Yorkshire
Fabulous Farm Shops
From home-reared meat to freshly laid eggs, there's few things better than getting your produce direct from the source. Here are our favourite farm shops where you can buy the very best this festive season.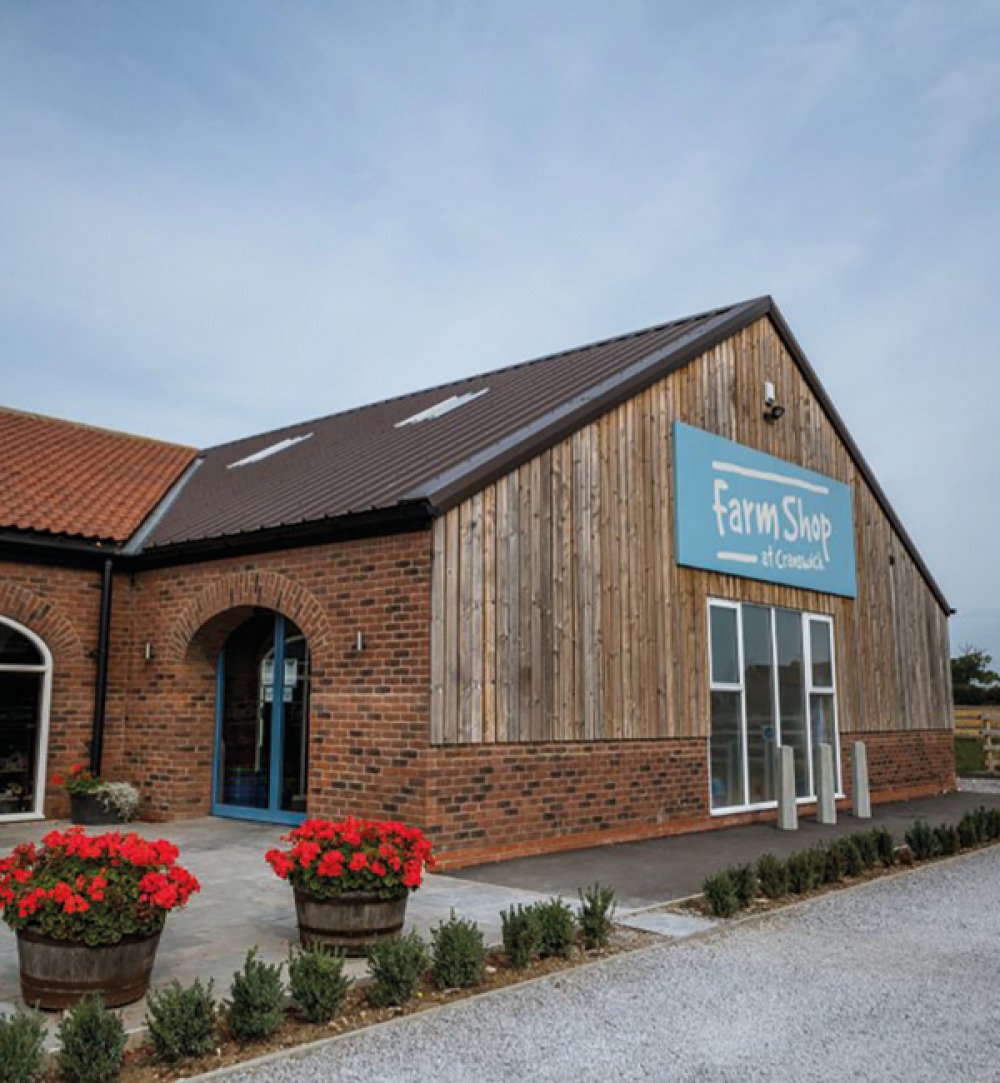 FARM SHOP AT CRANSWICK
Beverley Road, Cranswick, Driffield YO25 9PQ
01377 271038
farmshopatcranswick.co.uk
This family business focuses on quality, working with local farmers and producers to provide a fantastic range of food and drink stocked throughout the farm shop and served in their café. Priding themselves on showcasing carefully selected organic and locally-sourced produce, expect to find shelves full of seasonal fruit and vegetables, jams, chutneys, homemade pies, pastries and cakes. At the deli counter, shop an impressive range of regional, British and continental cheeses, olives, stuffed peppers, home-cooked meats and pâtés – and if you're after the perfect foodie gift, create your own hamper filled with locally-brewed beers, Yorkshire spirits, chocolates and other foodie treats.
FODDER
Great Yorkshire Showground, Harrogate
HG2 8NZ
01423 546111
fodder.co.uk
Supporting more than 430 local farmers and producers, Fodder is full of fresh fruit and vegetables, delicious cakes and bakes, and all the produce you need to stock up your pantry. Find a range of meats at the award-winning butchery, or head to the deli where you can sample homemade soups, salads, award-winning pies and scrumptious sausage rolls, as well as more than 60 varieties of Yorkshire cheese. Visit the shop to find everything you need for the perfect Christmas feast, or head to their website to order mouthwatering mains, delightful desserts, pies, quiches and platters, which can all be delivered to your door.
CRAGGIES FARM SHOP
New Road, Cragg Vale
HX7 5TT
01422 417417
craggiesfarmshop.uk
In the rolling hills of Cragg Vale you'll the find family-owned butcher, deli and farm shop, Craggies. Championing local farmers and producers, you'll find shelves full of scrumptious sweet treats, specialist jams, marmalades and chutneys, as well as delicious beer from neighbouring breweries. There's three generations of butchery experience here, and the team provide high-quality, fresh meat sourced from the surrounding area including tasty cuts of pork, poultry and beef. You'll also be able to shop homemade pies and pastries, dairy essentials and locally-grown fruit and vegetables.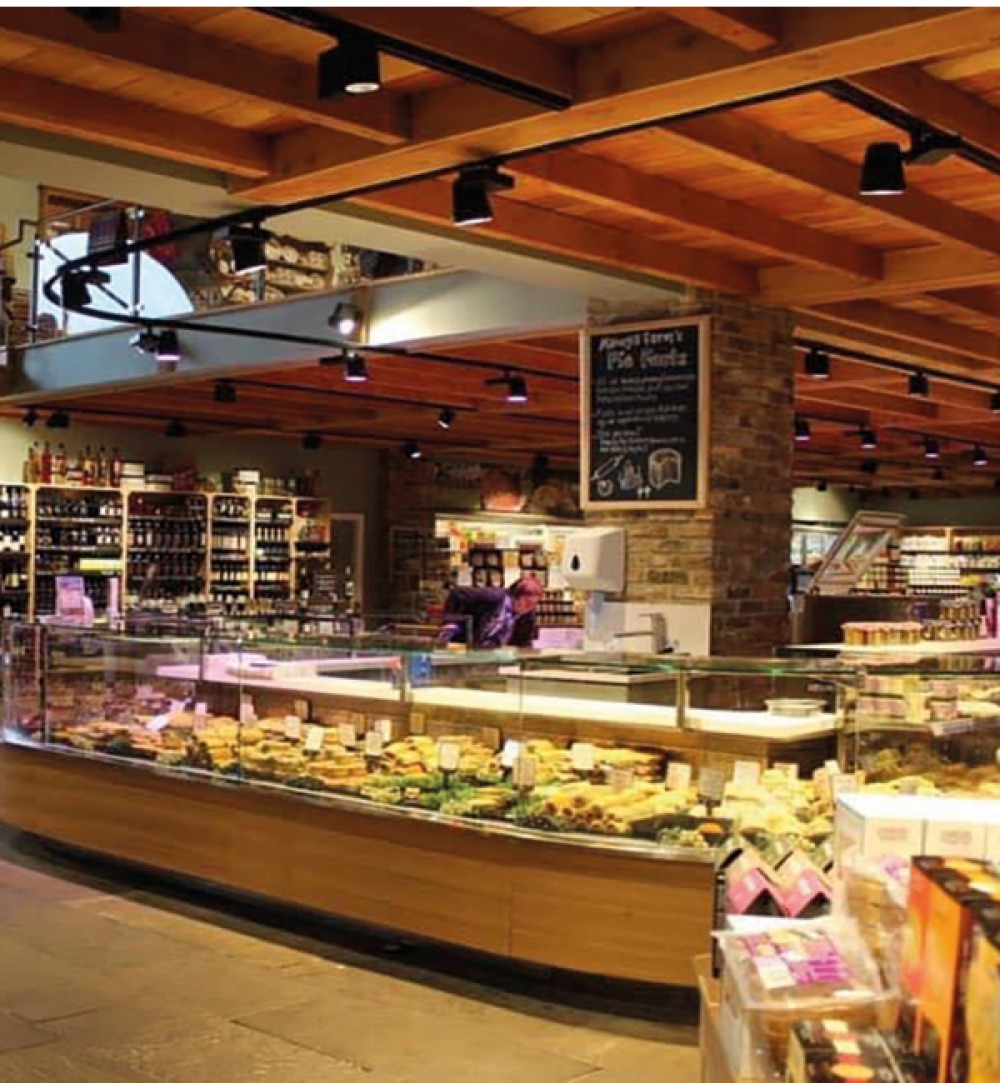 MAINSGILL FARM SHOP
East Layton DL11 7PN
01325 718860 mainsgillfarm.co.uk
From purchasing a 57-acre farm in 1995, to now farming 645 acres and running a two-storey farm shop, the Henshaw family have built Mainsgill from the ground up. On the main trans-Pennine route, this farm shop is hugely popular with locals and passing motorists alike, whether it's a quick pit-stop on your journey, or even a weekly shop. They also have everything you need for the festive season; home-reared turkeys and meat, fresh fruit and veg, homemade pies and desserts, decorations and of course gifts.

HINCHLIFFE'S
Netherton Moor Road, Netherton, Huddersfield
HD4 7LE
01484 661231
hinchliffes.com
One of Britain's oldest farm shops, Hinchliffe's has been run by the same family since 1929, with a continuing commitment to sustainability and field-to-fork produce. In the farm shop you'll find the butchery where the expert team prepare and cure their beef, as well as make their own pies and award-winning sausages onsite. You'll find freshly baked breads and cakes at the in-house bakery, an extensive range of fish and seafood, plenty of fruit and vegetables, and a deli counter packed with British and continental cheese and charcuterie. Visit the farm shop, shop online, or sample the delicious food first hand at onsite restaurant, The Rusty Bull.

TOWN END FARM SHOP
Airton, Skipton BD23 4BE
01729 830902
townendfarmshop.co.uk
With a number of accolades to their name (including being crowned this year's Retailer Awards Best Farm Shop and Deli for the North East and Yorkshire), a trip to Town End Farm Shop is a must to stock up on everything from fresh bread, milk and cheese, to seasonal fruit and vegetables, beer, gin and dried goods. If you're looking for the perfect foodie gift, shop their selection boxes, popular Yorkshire hampers, or book onto one of their sausage making or charcuterie courses.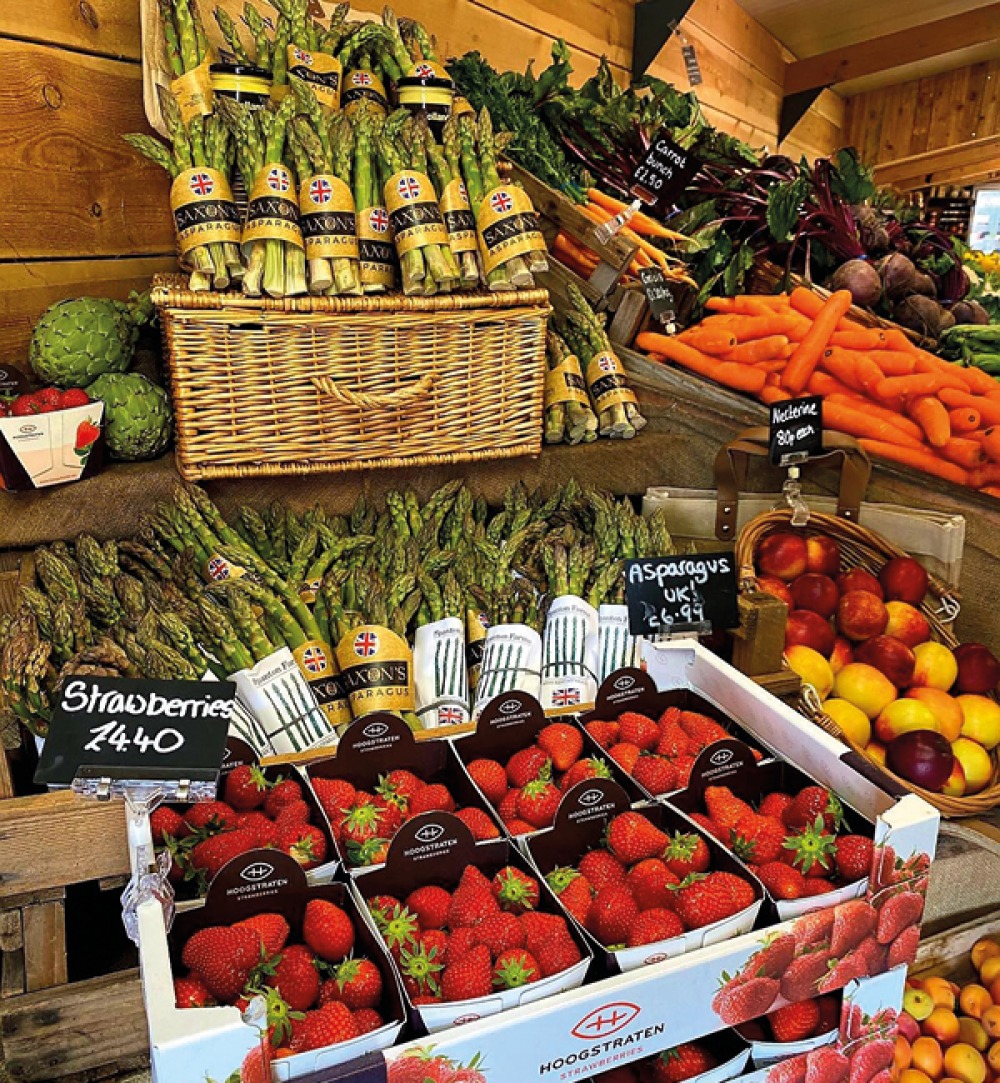 MACKENZIES FARM SHOP
Wood Nook Farm, Hardisty Hill,
Blubberhouses LS21 2PQ
01943 880369
mackenziesyorkshirefarmshop.co.uk
This well-stocked farm shop started as a smokehouse in 1999 and is now full of all the necessities you need this festive season. From fresh turkey and pigs in blankets to smoked fish platters, venison pâté and organic veg boxes, Mackenzies is the perfect one-stop shop. Fancy treating the family on Christmas morning? Order one of their Ultimate Christmas Breakfast Boxes filled with sausages, bacon, black pudding, Yorkshire eggs, freshly squeezed orange juice, butter and bread.

MINSKIP FARM SHOP
Minskip Road, Boroughbridge, York
YO51 9HY
01423 329063
minskipfarmshop.com
Minskip is a multi-award winning farm shop which is full of fresh produce, including seasonal vegetables from their market garden, meat from local farmers and butchers, and an emporium of local produce from Yorkshire producers and artisan makers (95 percent of which is sourced within 30 miles of the farm shop). Amazing eggs are the highlight here and you can sample the golden yolks for yourself at the world's first egg restaurant, Yolk Farm, or buy yours at the shop to take home.
MCCALLUMS FARM SHOP
Bank End Farm, Bank End Road, Finningley, Doncaster DN9 3NT
01302 770224
mccallumsfarmshop.co.uk
Based between Blaxton and Westwoodside, McCallums Farm Shop started 15 years ago selling strawberries to the public at the gates of their pick-your-own fields. Now the farm shop stocks more than 75 local suppliers, with produce sourced within a 20-mile radius of the farm. McCallums have their own in-house butcher, and as well as fresh cuts of meat and pantry produce, you'll also be able to stock up on homemade pies and ready meals which are made daily.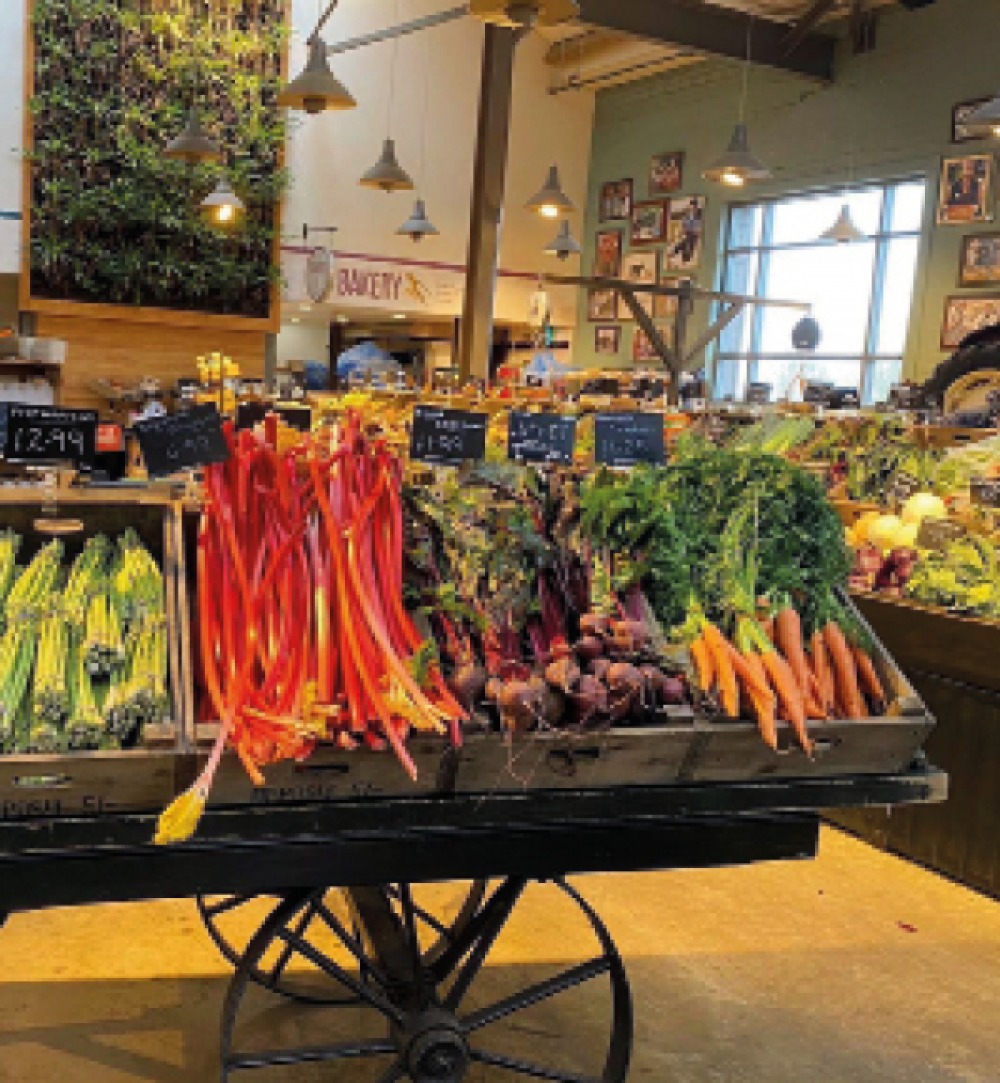 CEDARBARN FARM SHOP
Thornton Road, Pickering
YO18 7JX
01751 475614
cedarbarnfarmshop.co.uk
Just a mile away from Pickering, this award-winning farm shop is bursting with local produce, and almost everything you'll find here has been made or farmed in Yorkshire. Whether it's fresh meat, Whitby fish, seasonal
fruit and vegetables, local cheese, delicious beers, or
tasty deli produce, you'll find it all at Cedarbarn. And if you're after a quick meal, pick up a selection of Cedarbarn's own homemade ready meals, or visit the on-site café.

BLACKER HALL FARM SHOP
Branch Road, Calder Grove, Wakefield WF4 3DN
01924 267202
blackerhallfarmshop.co.uk
Open seven days a week, offering award-winning, fresh, seasonal and local produce from their own farm and other great Yorkshire farmers and producers, Blacker Hall is a one-stop-shop. Their award-winning butchery is the backbone of the shop, taking meat from their own farm, whilst at the deli counter you'll be spoilt for choice with the extensive range of pork pies, quiches, cheeses and antipasti. Stock up on fresh fruit and vegetables, freshly-baked breads and locally-caught fish and seafood before taking a well-earned rest in the restaurant. Not got time to stop? Visit the Drive Thru café for the same fresh flavours to take away.

KEELHAM FARM SHOP
Gargrave Road, Skipton BD23 1UD
01756 664170
keelhamfarmshop.co.uk
In the heart of the Yorkshire Dales, Keelham Farm Shop are passionate about sourcing the best local and seasonal produce from Yorkshire. Championing more than 250 Yorkshire suppliers, as well as stocking their own homemade pies, sausage rolls and fresh sourdough, you'll find everything you need for the perfect Christmas feast here. Want to try before you buy? Head to the kitchen restaurant to sample some of the fresh produce stocked in store.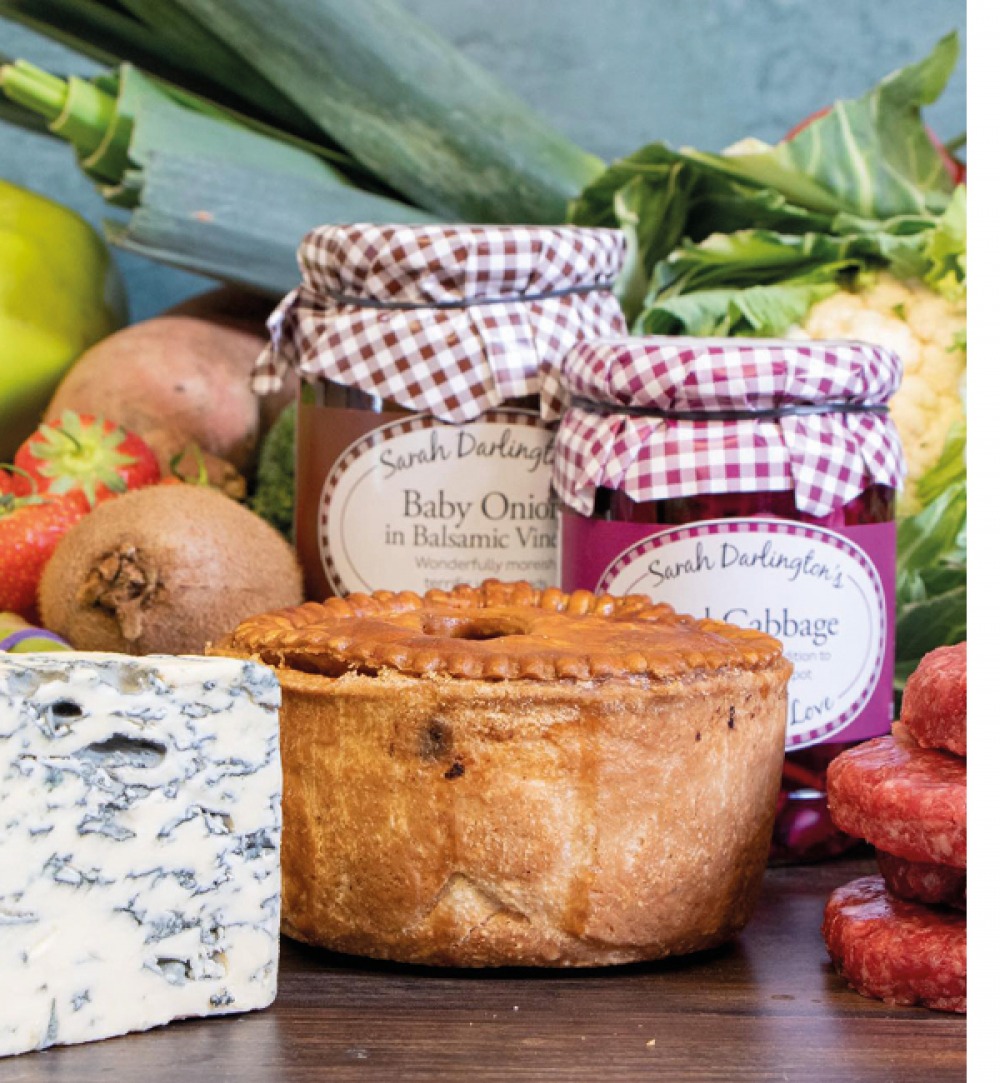 BEADLAM GRANGE FARM SHOP & DELI
Near Helmsley YO62 7TB
01439 770303
beadlamgrange.co.uk
Pride of place in Beadlam Grange Farm Shop is the meat counter where expert butchers are on hand to offer advice on the best cuts of meat, and cooking tips for your Christmas turkey. You'll be able to shop seasonal fruit and vegetables, bread, cakes, milk and dairy produce which are delivered daily. There's also a range of local cheese, home-cooked meats, pâté, savoury pastries and seasonal salads at the deli counter, and don't forget to browse the popular range of Yorkshire gins, beers, and wines.

ROOTS FARM SHOP
East Rounton, Northallerton
DL6 2LE
01609 882480
rootsfarmshop.co.uk
Established in 2008 with a desire to improve the sustainability of the family farm, aiming to sell quality local food to the community, Roots has become a local foodie hub. Find everything from an in-house butchery, fresh fruit and vegetables and artisan bread to local preserves, Yorkshire cheeses and home-baked goodies.
DREWTON'S FARM SHOP
South Cave, East Riding of Yorkshire HU15 2AG
01430 425079
drewtons.co.uk
Working closely with more than 250 Yorkshire farmers, growers, producers and suppliers, Drewton's ensure customers have access to the highest-quality and freshest produce available. At the butchery, all the meat is from Yorkshire, and you'll find everything from pheasant and partridge to duck directly from the Drewton Estate. For continental charcuterie, locally-smoked fish and fresh salads, visit the deli counter or browse the well-stocked shelves for sweet treats, local jams, spirits, beers, and worldly cuisines.