In 1912 the first NUT motorcycle rolled off a modest production line in a factory on St Thomas Street, Newcastle; the city from which NUT drew its name. A year later its creator, Hugh Mason, would ride one to victory in the Isle of Man Junior TT
Living North met two men currently piecing together the unlikely story of this legendary local bike company. Local motorcycle enthusiasts Chris Scott and Terry Gay are united by a common interest: the much coveted and strikingly handsome NUT motorcycles. Built on Tyneside between 1912 and 1933, it's thought that fewer than 400 were ever made before the Great Depression of the 30s finally curtailed manufacture of this ultra rare marque.
Production was at its height during the 20s but the brand really announced itself to the wider industry in 1913 when NUT creator, Hugh Mason, rode an early model to victory in the famous Isle of Man Junior TT. 'He would have been something of a hero on Tyneside when he won,' explains Terry. 'If you were a motorcycle manufacturer or enthusiast at the time, it was the biggest race in the world. It's obviously still very famous today – just no longer part of the Grand Prix circuit.' Terry's enthusiasm for the NUT brand is born out of the rarity of these machines and the fact that little information actually exists on the man behind it, Hugh Mason. Together with Chris Scott, who is the NUT marque specialist for the Vintage Motorcycle Club (VMCC), they are beginning to piece together the remarkable story of Hugh and NUT. Terry has produced a potted biography of Hugh's life that appears on the official Isle of Man TT website, but admits there are still many missing pieces of the NUT jigsaw that he'd like to find. Chris has one of the best collections of NUT memorabilia out there and is the proud owner of two NUTs: a six horsepower 'Veteran' V-Twin with a 770cc engine – thought to be one of the only ones in existence – with the frame numbered '15'. His second NUT is the 'Solo' V-Twin from the 1923/24 season that features NUT's own engine.
Among the boxes of original, never-before seen pictures and NUT artefacts Chris shows me is a stunning pair of tinted racing goggles from the mid 20s, thought to have once been worn by Hugh Mason himself. Chris and Terry have ambitions to one day write a book on NUT and are as well placed as anyone to do this, in the meantime they were only too happy to share what they know so far with Living North.
'Hugh Mason was born in Tattershall, Lincoln in 1878,' explains Terry. 'He was educated in Guernsey before moving to the North East to work as a fitter and turner at North East Marine Co Ltd.' Terry and Chris speculate that Mason, an engineer by trade, was attracted by the great shipbuilding heritage the North East and specifically Wallsend had established at the end of the 19th century. He was married in 1899 then, a couple of years later, linked up with local man Jock Hall, a cyclemaker based on the town's High Street – the person who would help him establish NUT. Very little is known of Jock Hall and Chris and Terry welcome anyone who might be able to shed light on his life. With Mason's engineering knowledge and Hall's ability to make cycle frames, the pair began putting motorcycles together. Chris has an original image of Mason astride what is believed to be one of the first NUT motorcycles he and Jock Hall manufactured. The picture is clearly posed in a studio and reveals the basic nature of the early NUTs. 'It was basically a glorified bicycle with a reinforced frame,' Chris laughs, but the clever design of the bike, especially in the later years, meant that most of the parts were interchangeable which reduced production costs and simplified maintenance. 'As far as we're aware that's the only one that was ever made,' says Chris of the bike Mason is sitting on in the studio portrait. 'Looking at things like the tank and forks, the picture was probably taken around about 1903.' This machine, thought to have been built in Wallsend, carried Mason's personal HM monogram and was a direct forerunner of the NUT marque.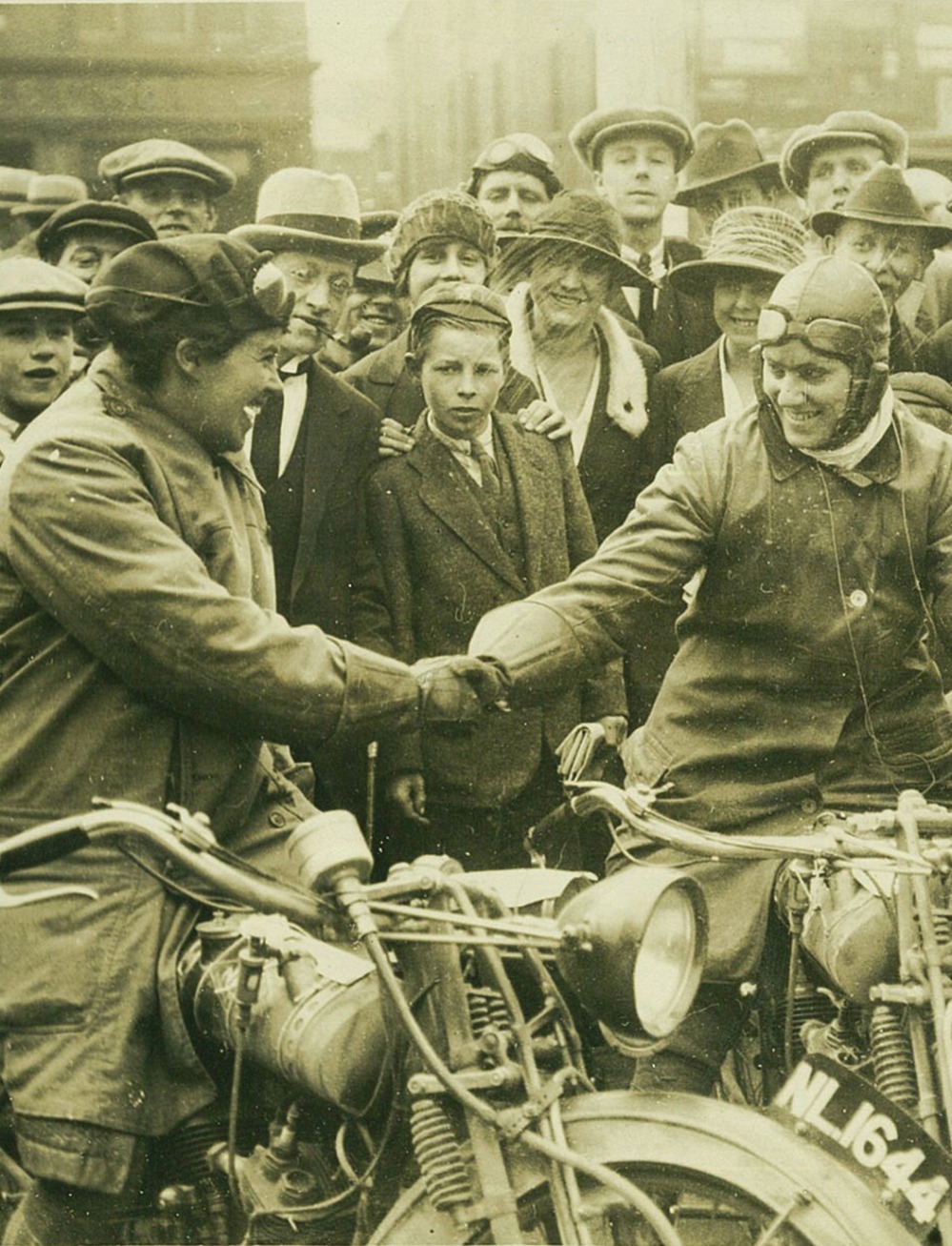 The trail then goes cold until the beginning of 1912 when Hugh and Jock began producing motorcycles in a rented space at Angus Sanderson & Co Ltd Coachworks on St Thomas Street, Newcastle. Chris explains that, at the time, these coachworks were the only premises in the country operating with a three tier garage, and motorcycle manufacture was very much a burgeoning business. NUT (standing for Newcastle upon Tyne) was a business venture funded by the garage's owner Sir William Angus Sanderson, with Mason acting as Manager, Designer, Test Rider and Racer whilst relying on the technical expertise of Jock Hall. Mason had formed a formidable reputation as a trials and speed rider and had entered the Isle of Man Senior TT in both 1911 and 1912 but been forced to retire each time. Both years saw him ride a Matchless motorcycle but it was his campaign in 1913, on an NUT bike, that would be the one to remember.
For the 1913 race Mason dropped down from the 500cc Senior TT to the 350cc Junior class. He was regarded as a small, tenacious rider and the account of his success in 1913 certainly backs up this description. The Junior category consisted of 32 competitors who would race four circuits of the 37.5 mile course in June 1913 between Wednesday 4th and Friday 6th, with a day off scheduled in between. Mason was greeted with foggy conditions at Douglas early in the week and during a practice lap proceeded to crash and break his jaw. Having been lying unconscious for some time, he was discovered by the Collier brothers, famous motorcyclists of the time – Charlie Collier won the very first Isle of Man TT in 1907. Dispatched to hospital, Mason is reported to have slept continuously from the Monday before waking on Wednesday and insisting he was okay to race.
Still suffering the effects of Monday's crash on race day, no sooner had Mason got back on the bike than he had come off again, this time at Quarter Bridge. Despite this he resumed the race and managed to overtake the eleven competitors ahead of him, still suffering from headaches and reportedly vomiting as he rode!
'Having been lying unconscious for some time, he was discovered by the Collier brothers... Dispatched to hospital, Mason is reported to have slept continuously from the Monday before waking on Wednesday and insisting he was okay to race'
After surviving the first day of competitive racing he returned to hospital and again, slept right through to Friday and the final day of racing. Still troubled with headaches and vomiting, he kept going, even barracking officials during his third circuit for not telling him that he was ten seconds behind the first placed rider. The officials protested that they hadn't wanted to encourage him to race any faster, given the crashes he had already suffered, but Mason pushed on regardless and romped home to first place by a margin of 46 seconds. His friend and colleague Robert Ellis finished eighth, also riding an NUT and was the race's leading amateur. On Saturday 7th June 1913, The Evening Chronicle reported, 'The NUT has been designed by Mr. Hugh Mason (the rider of the winning machine in the TT race), who is not only an expert engineer of perhaps unique experience, but has also had probably an unparalleled experience of the road, and its necessities from all points of view, either for pleasure alone, long tours, or for competition work in all its forms. Above all this, his practical experience has been proven beyond all question by the splendid results already achieved, the latter of which is a fitting climax.' Mason himself commented, 'I knew I had the fastest machine, and without trouble I knew I could win. I was determined to win, but it was very hard to keep awake, and once I was off the machine I wanted to go to sleep.'
A couple of weeks after the win a complimentary dinner was held at the Collingwood Restaurant in honour of Mason and eighth placed finisher Ellis. Dishes served included: Thick Brown NUT Clear Out-of-the-Way Soup (anyone having a spill will not be allowed to finish the course), Fried Fish Gudgeons with First-and-Eight-Plaice Junior Sauce and Lobster Mason-aese, and Heels Overhead Valves Tart, Patchquick Pudding (guaranteed to stick). 'From a historical point of view it's quite important,' says Chris. 'Winning the TT was an absolutely massive event. You can imagine Mason sitting in his office when he returned with the phone ringing off the hook after the TT win. He must have been thinking "What are we going to do? We've got little or no money, how are we going to meet these orders?" These bikes were virtually unheard of before he won the TT.' Mason's win put NUT on the map and the company immediately set about capitalising on it. Their subsequent brochure included 350, 375 and 500cc JAP side-valve twins, a 775cc twin for sidecar haulage and an Isle of Man TT replica model. The St Thomas Street works, where NUT were initially based, couldn't cope with the flood of orders and the spring of 1914 saw the company relocate to the former Swan Electric Light works at Benwell in the West End of Newcastle. Further models were introduced, including a gearbox equipped, chain / belt drive hybrid roadster, with 1915 marking the introduction of the first chain-driven NUTs.
Regrettably, the First World War curtailed NUT's output, though Mason and the company did produce a limited batch of ambulance side-car motorcycles to help with the war effort. Their Benwell factory was given over for munitions manufacture. Angus Sanderson & Co, who were still NUT's parent company, expanded their St Thomas Street Coachworks to accommodate the manufacture of Bristol fighter and Armstrong-Whitworth bomber planes. After the war NUT tested the water with a series of adverts that depicted a walnut rolling down a hill with the 'nut' opening in the final advert to reveal the first post-war NUT. Uncharacteristically, their new model was a 500cc side-valve luxury tourer, boasting reliability and a quiet engine, with an on-the-road price of 150 guineas. It's hard to imagine anyone roaring to a TT victory on this kind of NUT and perhaps this signalled the beginning of the end for the partnership between Angus Sanderson & Co and Mason. As an accomplished racer, Mason had an entirely different vision for NUT.
Production briefly returned to St Thomas Street but despite post-war orders starting to roll back in, things suddenly screeched to a halt. Sir William Angus, Director of Angus Sanderson & Co, withdrew capital from NUT in favour of a four wheeled motorcar. Unable to pay for bought-out work that had already been commissioned, NUT went into liquidation with debts of over £20,000. Here the story comes full circle with Mason's colleague Robert Ellis who finished seven places behind Mason in the 1913 TT, stepping in to rescue NUT. Chris and Terry guess that Ellis had either come into money or was from a well-heeled family for him to be in the kind of position to buyout NUT, either way business resumed in 1921 under the name Hugh Mason and Company Ltd. Perhaps the name change was born out of the fact that, for the first time, production shifted away from Newcastle and now took place across the Tyne at Derwenthaugh. Production of the basic 500cc tourer continued but the ideology seemed to swing back towards racing, with a sports side-valve twin now available with a 70mph potential. Unfortunately, by 1922 Britain's economy was struggling and NUT sales were slow, forcing the firm to close once again. New life was breathed back into the brand the following year when production resumed under the name NUT Engine and Cycle Co, with the new models powered by NUT's very own 698cc engine. W.C. Thompson was the designer, with competition no longer a focus of the company; instead the firm settled on building attractive sports and sports touring twins. The familiar cylinder-shaped tank was replaced by a slap-sided design, with a curvaceous saddle tank eventually being introduced in later years. By the end of 1923, however, Mason had severed his ties completely with NUT, and set up a Matchless dealership in Newcastle. His reasons for this aren't clear but the move away from producing racing bikes would have no doubt affected his enthusiasm for the business. The same year Mason had a final tilt at the Isle of Man TT, this time in the Senior race on a Matchless motorbike. Aged 45, it was a decade on from his first victory, but mechanical trouble forced him to retire.
By 1928 Mason was living with his family in Stamfordham and still racing. Fittingly he met his maker astride his motorbike. Aged 50, the night before he was due to take part in a Gymkhana speed event, it's thought he had headed out for a ride but was found 100 yards from his home having crashed. No one else was involved, with the coroner recording the death as accidental. In the year before Mason's death, NUT had briefly returned to its roots by producing a lightweight motorcycle powered by the humble 172cc Villiers two-stroke engine, which was followed by an altogether beefier 350cc engined short-wheelbase – a bike that would go on to break the then sand-race record at Redcar where it clocked an incredible 93mph. By the end of the 20s NUT had continued its nomadic existence on Tyneside, having had four different addresses, before finally operating from two further bases in Walker, first on Station Road then one on Whitworth Street. Sadly the depression of the 1930s signalled the end for NUT and in 1933 the company went into liquidation for the final time. Buyers simply didn't have the necessary cash to make the dream of NUT ownership a reality anymore. However, anyone who has ever achieved that dream will tell you just how special these bikes are.