Artist Portrait - Emma Holliday
The coast provides an endless source of inspiration for the North East's artists, here Emma Holliday tells us about her favourite memories, love of the coast, and the time a seascape ended up in the sea
Originally from the South, artist Emma Holliday has lived and worked in the North East for over twenty years.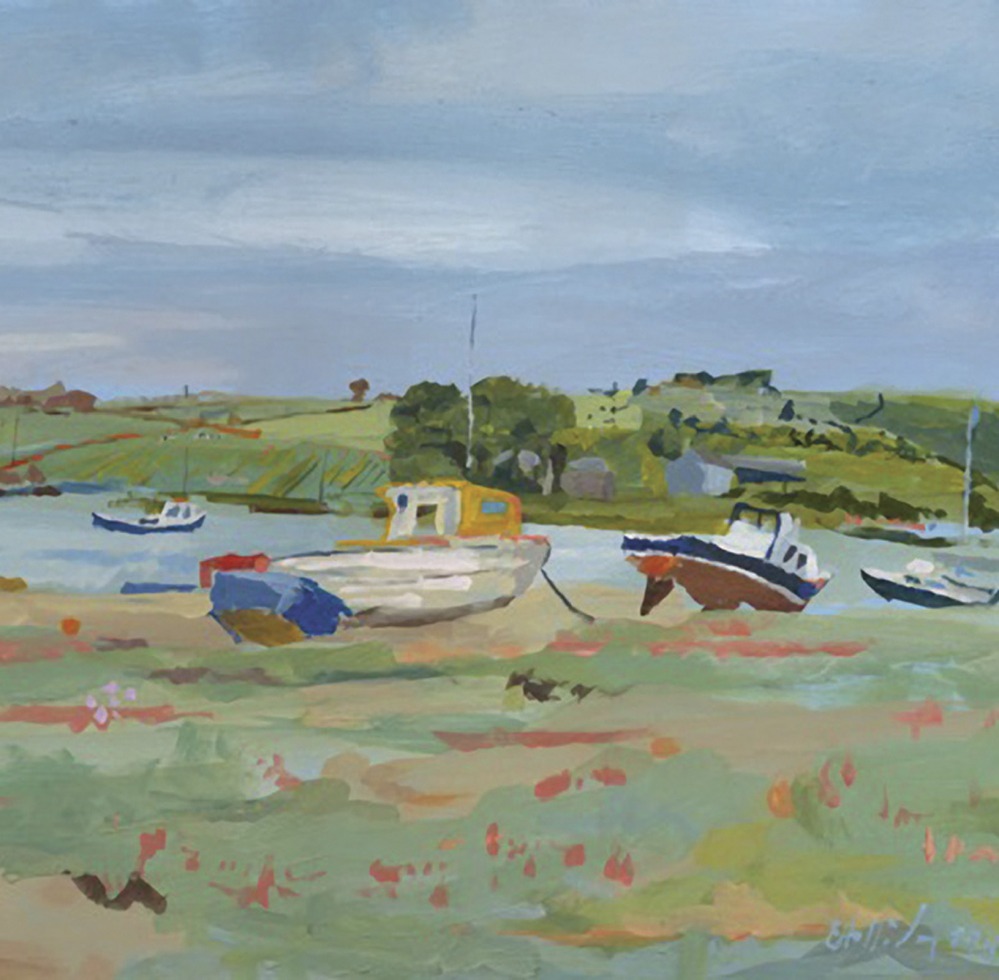 Working in acrylic and oil, painting outside in all weathers, Emma creates lively and expressive seascapes, townscapes, still lives and whatever else catches her eye on any given day. 'I have always sketched and painted. It's how I express myself, and I have sketchbooks dating back to when I was young. I worked at many different jobs before being able to spend all my time painting. I'm self taught so it was hard to know that I even wanted to paint full time – I used to think that depending on painting for an income would affect my painting, but actually it makes no difference to my work. I got a studio at 36 Lime Street in 2000 and this helped me focus on painting. It makes a huge difference having space, and it's been a fantastic place to work and exhibit over the years.'
She describes her paintings as expressive. 'I paint what is in front of me, but it's how I feel inside that creates the painting. There is a lot of emotion in the way I paint and what I choose to paint.' The coast is a huge inspiration – 'I love the space and the fact that it's never the same as the time you were there before. Even on a cold, windy, wet day, a walk along the beach makes you feel refreshed. The light and colour is always a new experience. I remember when I was a tiny child in Wales walking with my sisters towards the sea and never seeming to get there, the sand all crinkled and the lowest tide ever. My fondest memory of the coast is always the last time I was there, which in this case was a few days ago with a very happy dog!' She admits that her favourite beach is probably Longsands. 'It has lots of emotions connected with it, both happy and sad. I love being able to see the North Pier and it's a nice stretch of beach for a good walk. I also like the coast around Alnmouth for its glorious pink shade.'
Emma always works straight from life, 'which means lots of kneeling in the sand! I have a bag with my paintbox, brushes and water/turps (depending on the medium) and I kneel on the ground mostly. Occasionally I use an easel. I like to capture the movement and light at that time so I work quickly. I can take a long time to find the spot to paint from, exploring the area I'm in. I return to the same beaches over and over but it's always different. The most challenging aspect of painting seascapes is the cold, wind and rain! And the tide, which can come in unexpectedly fast. I have had to fish my brushes and paints out of the waves more than once, and have lost one painting to the sea when it blew off the cliff edge.' However, it's all in a day's work for a coastal artist!
'I have had to fish my brushes and paints out of the waves more than once, and have lost one painting to the sea'