At Home with William Yeoward
Keep your fingers crossed for an Indian Summer
Acclaimed designer William Yeoward opens up his own home and shows us three very different, late summer lunch ideas.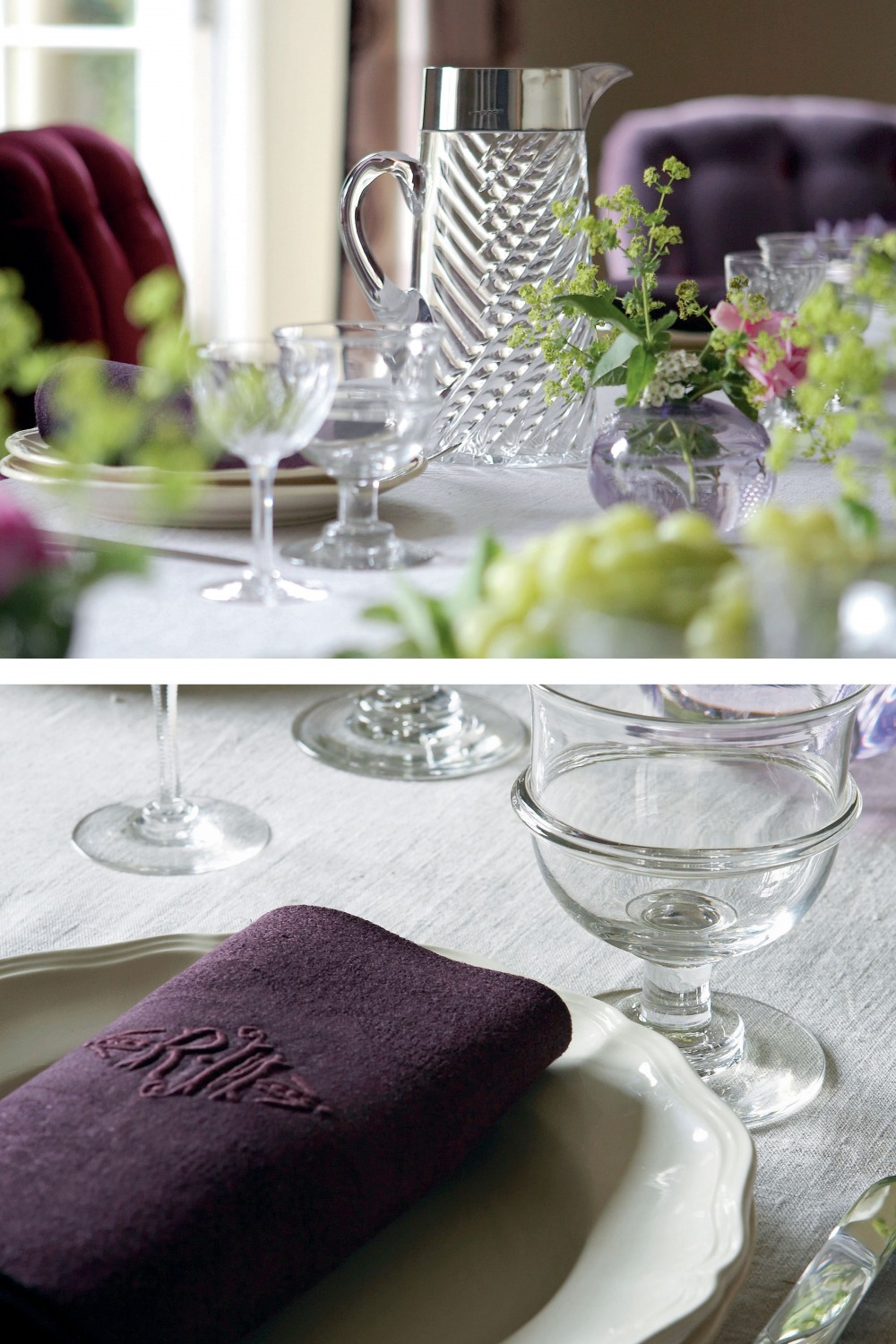 Late Summer Lunch
Dining rooms are like chameleons – their appearance can be changed to suit different circumstances. When arranged for a summer lunch, my dining room has a totally different ambience from when it's set for dinner in winter. In summer, when the curtains are open and you can step straight into the garden through the French doors, it would look laboured for the table to be laden with huge amounts of tableware or smothered in dark, heavy colours. The impression has to be one of lightness, to match the season. 'Simple' is the key, but that doesn't mean that the china and glass have to be totally plain. Pale plates with pretty shapes and clear glasses with subtle detail provide interest whilst being unfussy. A few pebble vases of unpretentious flowers complete the delicate effort.
« Most of the crystal on the table is clear, with cutting that refracts the summer light coming through the French doors. The water jug has a silver rim, which has subtle glamour and adds to the reflections.
« The only 'solid' colour on the table is seen in the napkins, which punctuate the summery freshness of the pale tableware arranged on a light cloth.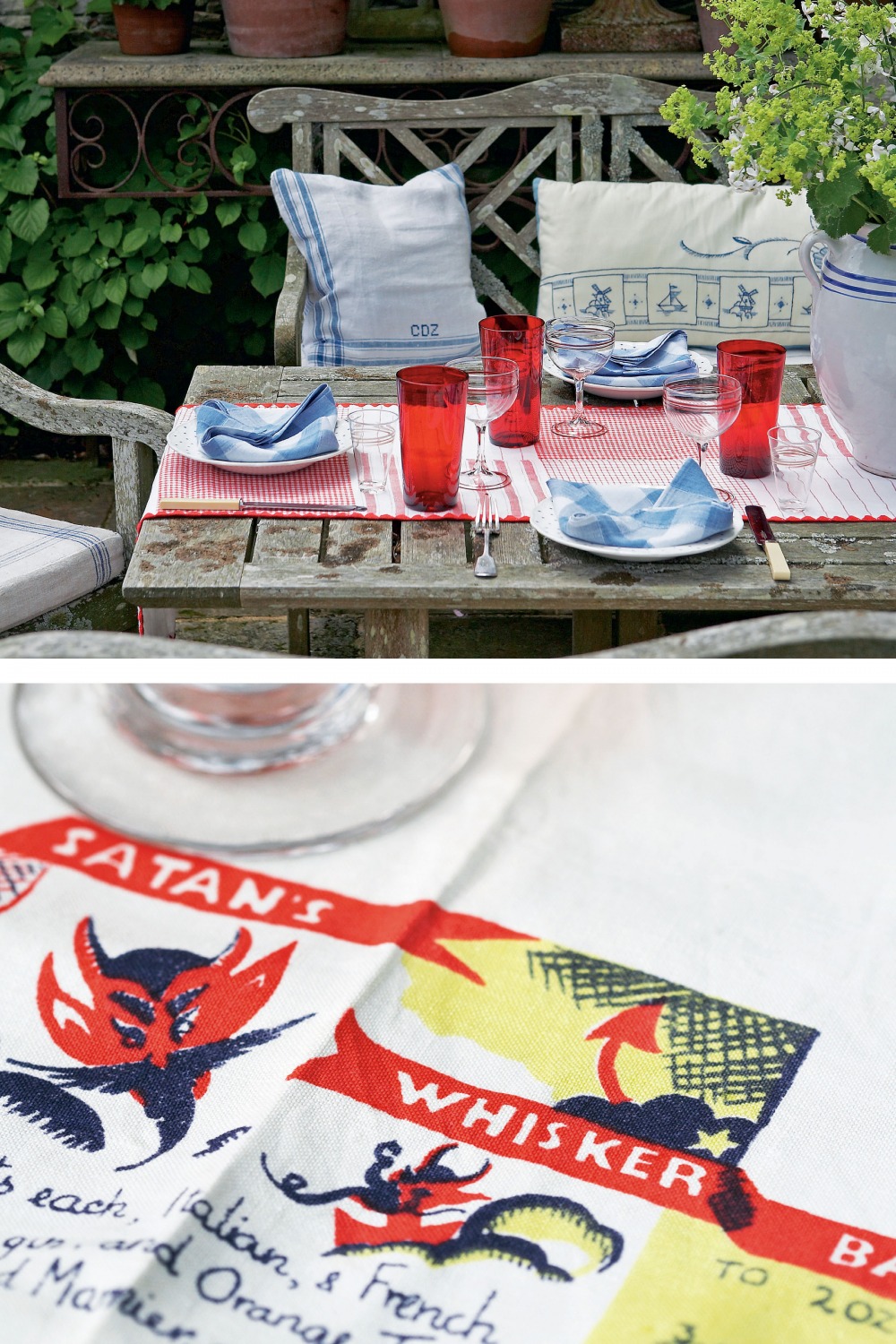 Lunch Outdoors
I seize every opportunity I can to have lunch outside. Somehow, the fresh air sharpens one's tastebuds and food tastes especially delicious. One part of my garden is arranged specifically for dining, with a wooden table and benches that have weathered over the years and now have a wonderful patina of age. The table is a straightforward, traditional design with a slatted top, while the benches and chairs are more decorative, with curving top rails and a slightly Chinese motif used for the backs. The furniture looks good all year round – an important consideration in winter – and is robust enough to be left outdoors, whatever the weather. It stands on old stone slabs, which provide a firm surface and dry off quickly after rain, and is sheltered by a dry stone wall. Against the wall, a table with a stone top and curvilinear iron base forms a platform for plants in flowerpots and a stone urn. I never think that the table setting for a casual lunch outdoors should be taken too seriously but it certainly shouldn't be thrown together without any thought – that would be a let down and diminish the enjoyment. All you have to do is choose some cheerful accessories and stick to a colour scheme, which need not be overly subtle. Here is a really good example of when a fabric runner is better than a cloth, as it allows the table's attractive texture to be seen.
« I always put cushions on wooden garden furniture – after all, you do need a bit of comfort – but they are not covered in anything fragile. Here, their covers are made of good scraps of heavy linen salvaged from damaged tablecloths – the sort you pick up in village flea markets all over Europe. No matter how many flowers there are around about, I still like to have some on the table. Sprays of Alchemilla mollis look good in a white jar with blue bands echoing the stripes on the cushions.
« A vintage tablecloth with irrelevant cocktail recipes can be amusing used in this casual way.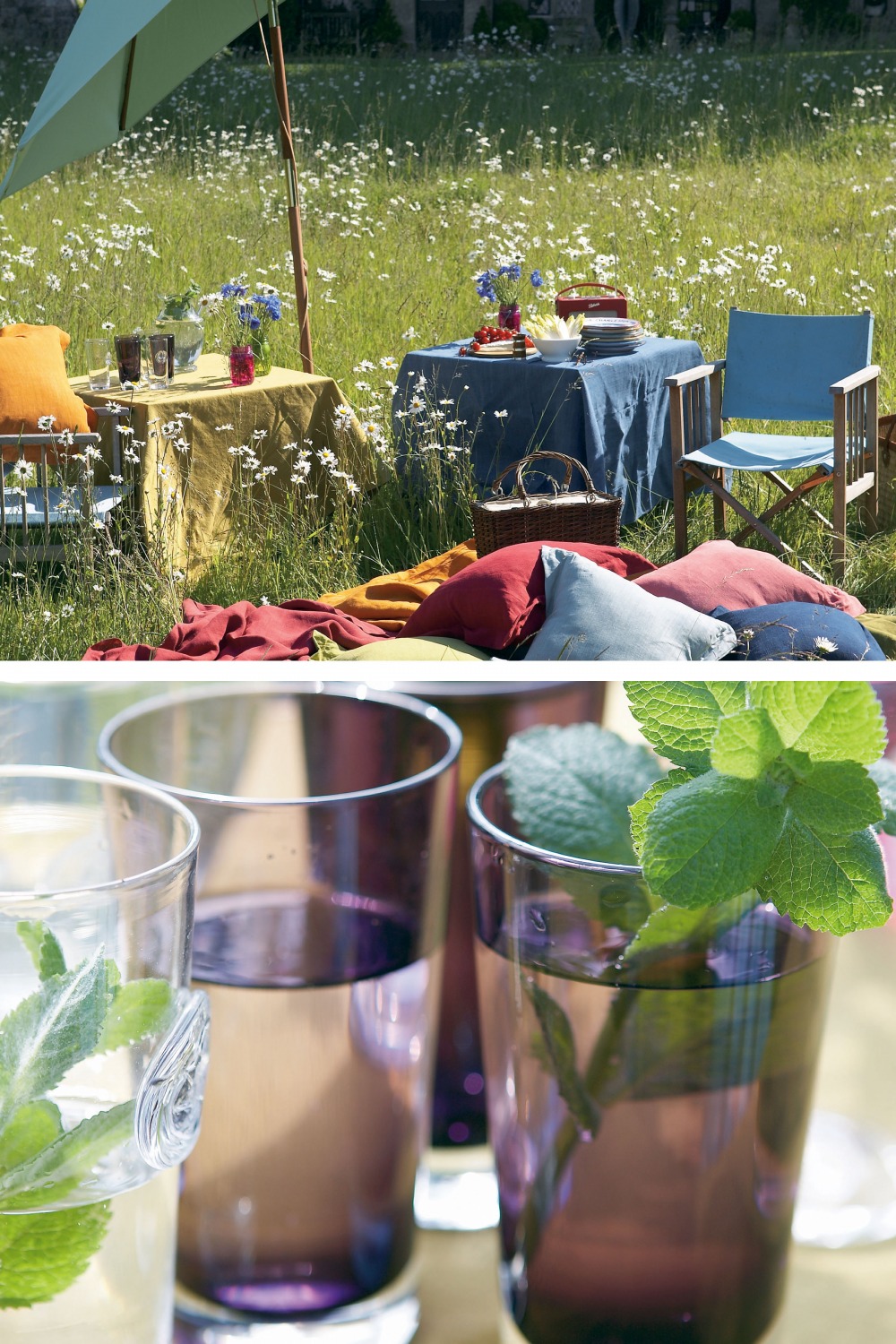 Picnics
The part of my house that was originally the schoolmistress's cottage looks across a ha-ha to what was once a farmed field but is now a wild flower meadow. It's the perfect spot for a picnic, even though it's only yards from my front door. I always have a couple of folding tables for setting out the food, and canvas-slung, director's chairs for those who prefer to sit rather than spread out on cushions on the grass. I don't see why a picnic shouldn't be, in its own way, every bit as stylish as a meal in a more permanent location, so I take along full-length tablecloths and masses of fabric to lay on the ground, in lots of different colours, to create a living vignette. Hopefully, the sun will shine, so umbrellas are important – and if it rains, they are essential! I always prefer to buy organic food if I can, and it seems especially appropriate in the close-to-nature setting of a picnic.
There is a certain holiday mood about a picnic, so it's an opportunity to enjoy the sort of rustic, souvenir plates and dishes that have great charm but are not always easy to use in other contexts. Something else that often appears on our picnics is my retro radio – but only played very quietly, of course!
« Having a picnic in our wild-flower meadow is one of the joys of summer. It's all very relaxed, with lots of cushions to lounge on – these ones are big and square, rather like French pillows. The covers are made of linen, in wonderful colours that have an oriental depth to them. When you look at the house from here, you can see how the space between the original schoolmistress's cottage (at left) and the schoolhouse (at right) has been roofed over to join the two buildings and create a new entrance and hall.
« Tumblers are more stable than stem glasses for picnics and look more informal. The smell of fresh mint really does evoke the season and its colour is fabulous in conjunction with amethyst.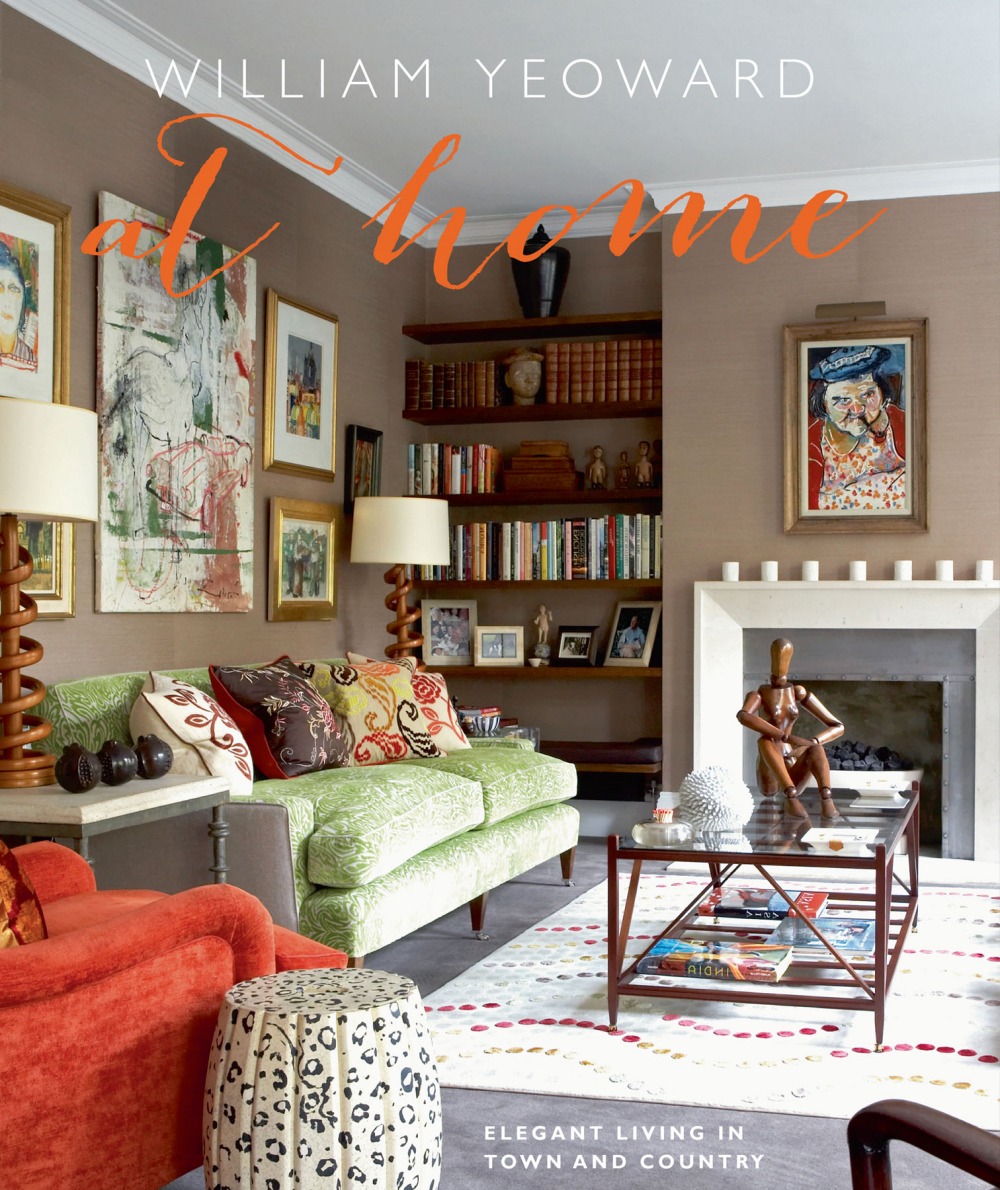 William Yeoward at Home
Published by CICO Books, £25. Photography by Gavin Kingcome.