Bamburgh, Seahouses, Beadnell and Embleton
Dotted along a small stretch of Northumberland's most breathtaking coastline, discover four very individual coastal villages
In Bamburgh, as well as the instantly-recognisable castle and vast sandy beach, you'll find a pretty village packed with welcoming pubs, a brilliant bistro and oodles of history, including the Grace Darling Museum. To the north, you'll find the golden sands of Budle Bay, popular with birdwatchers, while to the south (a decent yomp along the beach, or a 10-minute drive) lies Seahouses. Despite their proximity, the two villages could hardly feel more different. For Seahouses think penny arcades, crazy golf, a harbour busy with boat trips and a plethora of proper fish 'n' chip shops – this is Northumberland's most traditional seaside resort town. Further south again, past the villages of Beadnell (stop for a beer in the garden at Beadnell Towers and check out the only west-facing harbour on the east coast) and Low Newton-by-the-Sea (where you can grab a pint at The Ship in the whitewashed square overlooking the sea), you'll find Embleton. This peaceful village is only a short stroll from beautiful Embleton Bay – a broad sweep of sand overlooked by the ruins of Dunstanburgh Castle, and bordered by the golf course.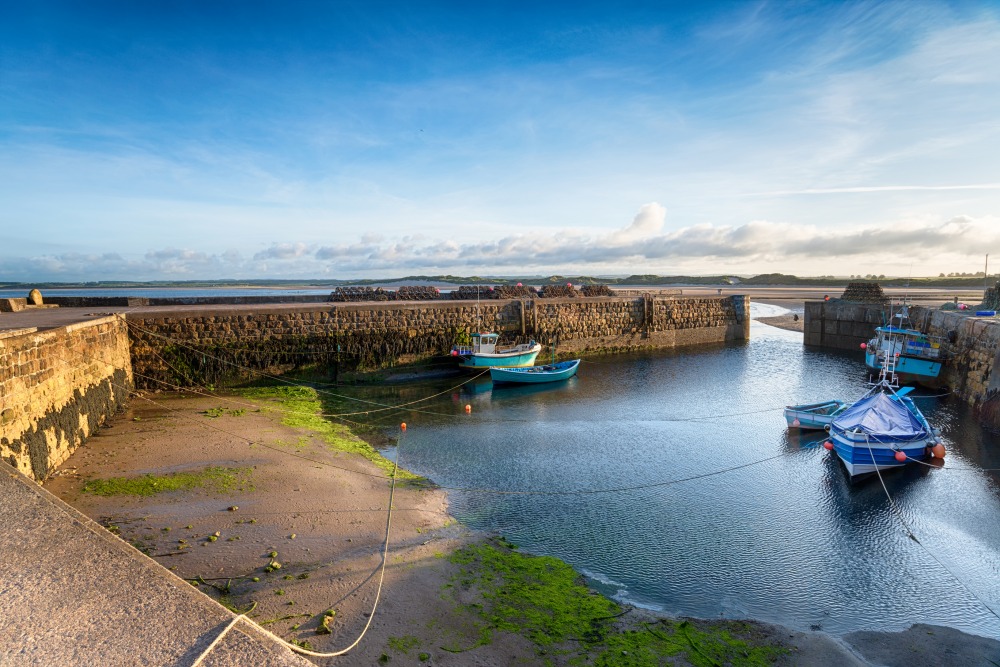 Base Camp
In Bamburgh there are myriad of accommodation options including The Victoria, a popular hotel, nearby Budle Hall B&B, and lots of self-catering cottages. In Beadnell, the pick of the accommodation is of the self-catering variety. Coquet Cottages have some luxurious options —including the Coast House, an impressive newly-built family home sleeping eight guests. There's lots of light and bright sociable living space here, and large patio doors open onto a private garden with sea views towards Dunstanburgh. Just outside Embleton, Spitalford is a cute and comfortable cottage dating back to 1269, sleeping four. Between Embleton and Craster and within walking distance of both, Proctors Stead is a hugely popular caravan park with two self-catering holiday cottages, including the cosy (and appropriately-named) Dunstanburgh View cottage. In Craster, check into the brand new Red Herring. A Coastal Retreats cottage, the former schoolhouse is just up from the pub, has just been renovated and now sleeps four.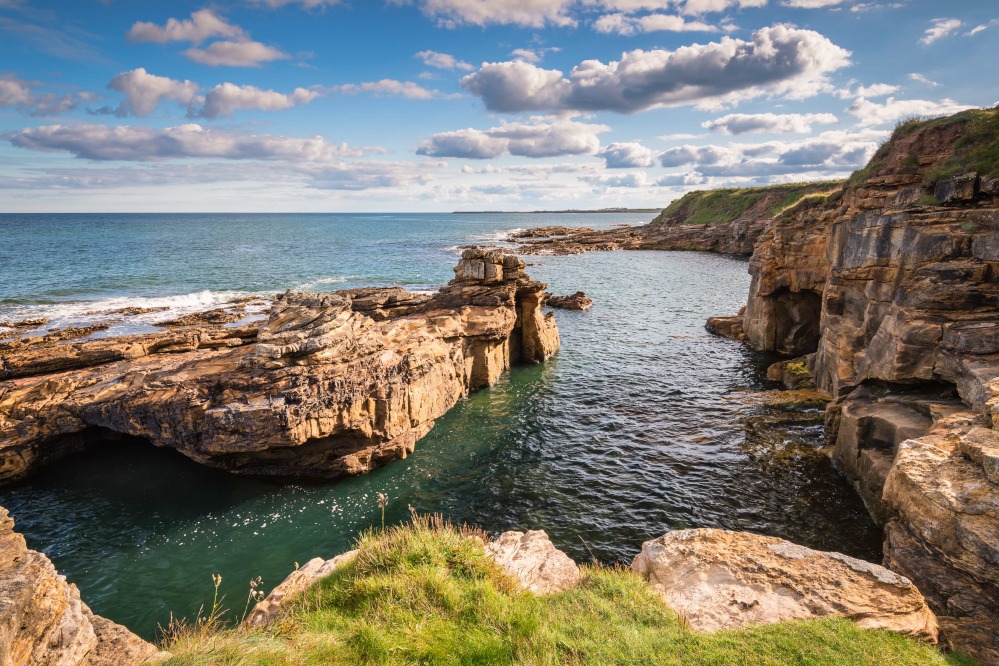 Perfect Weekend
Obvious though it is, don't overlook a visit to Bamburgh Castle, where you can discover an incredible history, dramatic views and a collection of unique treasures. In the village, the RNLI Grace Darling Museum commemorates the life of Victorian Britain's heroine – from her childhood and life in the lighthouse to the rescue of survivors from SS Forfarshire in 1838.
A weekend in Bamburgh wouldn't be complete without a trip to Bamburgh's butchers (R Carter & Son) for supplies for a cracking breakfast, barbecue or to stock your picnic basket. Make sure you book ahead to guarantee a table at The Potted Lobster – a brilliant bistro specialising in local seafood (with a dog-friendly section and some limited outdoor seating too). Creel & Reel is a new pop-up found in the car park and serves up fresh lobster daily, among other fabulous seafood. Seahouses is the place to go for a family day out. Spend all your change at the amusement arcades, check out the cave of wonders that is the Farne Gift Shop, then have a round of crazy golf at The Bunker. Pick up your fish and chips from Lewis's and eat them overlooking the harbour, then grab an ice cream from Coxons traditional parlour to round things off.
In Beadnell the wide sweeping bay is popular for watersports, and you can learn to surf and SUP here. In Embleton, there are a couple of pubs and a village shop where you can grab supplies to take to the beach. On the way down to the beach you'll pass Dunstanburgh Castle Golf Course, a traditional links course with a friendly clubhouse (we'd recommend stopping in for chips). The ruins of the castle itself, which has been perched on the headland since the 14th century, are spectacular. On the road from Embleton to Craster, make sure you save time to call in at Eleanor's Byre, where you'll find an unusually good range of quality homewares, gifts, quirky finds and one-offs. Their car park is also home to Embers, where they serve up the most fabulous wood-fired pizzas from a converted container – be sure to say hello to the two cute Highland cows in the field next door.
Head into Craster to browse through original artwork at The Mick Oxley Gallery. And of course you can't leave without picking up some famous Craster kippers from L Robson & Son. Work up an appetite with a walk south to Rumbling Kern and Cullernose Point, and by the time you get back to the village you'll be ready for a restorative pint and a crab sandwich in The Jolly Fisherman's beer garden, which offers panoramic sea views.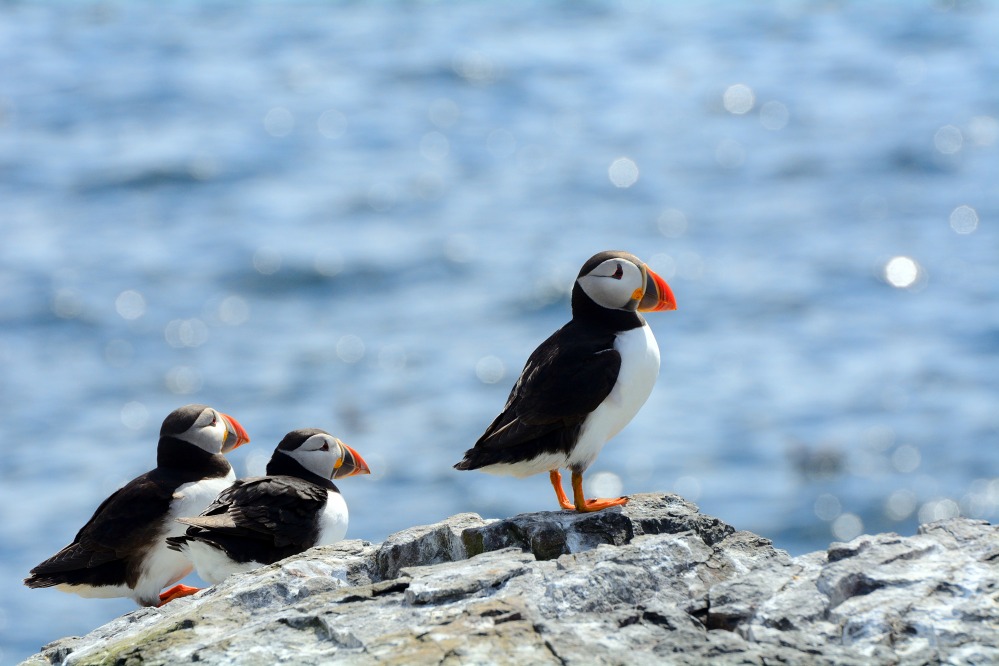 Must See
Must See
Seahouses harbour is the gateway to the Farne Islands, which are home to one of the most exciting and diverse seabird colonies in the UK (including huge numbers of puffins), as well as one of the largest grey seal colonies in England. There are 28 islands managed by the National Trust, and specially-licensed boats sail regularly from Seahouses harbour. Landings on the island are for now not allowed, but various trips sailing around the islands are available, depending how much time you have and what you're interested in, so take some time to plan your perfect trip and see what you can spot.