The Best Places to Eat for Veganuary
It's easy to go vegan when there are plenty of options across the North East and Yorkshire
Here's our pick of the best places to eat this Veganuary.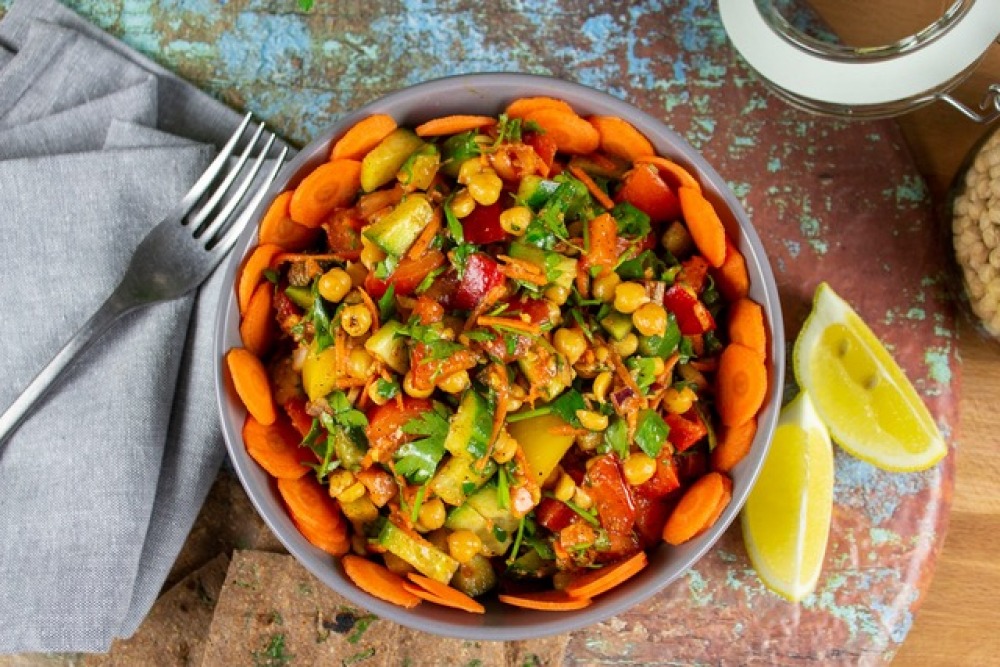 Bam Bam's Vegan Kitchen
24–26 Commercial Street, Halifax HX1 1TA
07852 338173
bambamsvegankitchen.co.uk
Bam Bam's Vegan Kitchen offers authentic Filipino plant-based food. With a seasonally-changing menu find out what they're currently serving from their social media, but expect everything from noodles to burgers, and curry to VFC (Vegan Fried Chicken). Proving vegan food doesn't have to just be leaves on a plate, they use seitan, tofu and vegetables to keep their menu as interesting and wide-ranging as possible. If you love their food as much as we do, you can also get some 'Porkie Pies' to take home with you. Homemade with a variety of toppings, jelly and hot crust, glazed pastry, choose from plain, cheeze and pickle, black pudding and apple sauce with stuffing.
Alkaline Kitchen
15 Albert Road, Middlesbrough TS1 1PQ
alkalinekitchen.co.uk
A fully vegan health cafe in Middlesbrough, Alkaline Kitchen serves innovative food including smoothies, juices, teas, coffees, sweet treats, acai bowls, wraps, pizza, currys, nachos and omelettes, as well as having a salad bar full of nutritional goodies. With a true belief that plant-based eating doesn't have to be dull, they use the freshest and finest ingredients in all of their meals in order to get the fullest enjoyment from a vegan option, while also staying oil and preservative free. And with a mural-covered pink wall, hanging basket seats, exposed brick and fairly lights throughout, the venue itself is just as Instagram-worthy as the food.
Corarima
10 Cross Street, Wakefield WF1 3BW
01924 695713
corarima.co.uk
Corarima is a vegan-friendly, gluten-free restaurant in Wakefield, giving you the chance to sample the sensational flavours of Abyssinian cuisine. Lovingly prepared by Ethiopian and Eritrean chefs, the use of lesser-known spices such as corarima, rue, ajwain and fenugreek, results in warm, spicy, smoky and distinctive flavours. Choose between pulse-based or vegetable-based main dishes. Their authentic food is combined with modern décor and complemented by beautiful touches of Abyssinian art, to create a warm and inviting environment where you can share and explore a new style of food this Veganuary.
Karma Kitchen
6 Bigg Market, Newcastle NE1 1UW
07578 947797
karma-kitchen-cafe.co.uk
Family-run Karma Kitchen aims to bring good, honest and tasty Punjabi food to tables in the North East. Sunita and her two daughters have combined their heritage with their love for cooking, to create a 100 percent plant-based Indian restaurant. If your biggest fear for Veganuary was going a month without a good curry, they prove you simply don't have to. They offer starters such as tofu Tikka and Kattal Chaat Puri, curries including lentil Tarka Daal, chickpea Chana Masala and cauliflower Aloo Gobi, as well as their very own Tandoori pizzas, with toppings such as Bombay potatoes and setian Bhuna. Never compromising on quality, this is a great choice to enjoy a different yet delicious vegan culinary experience this January.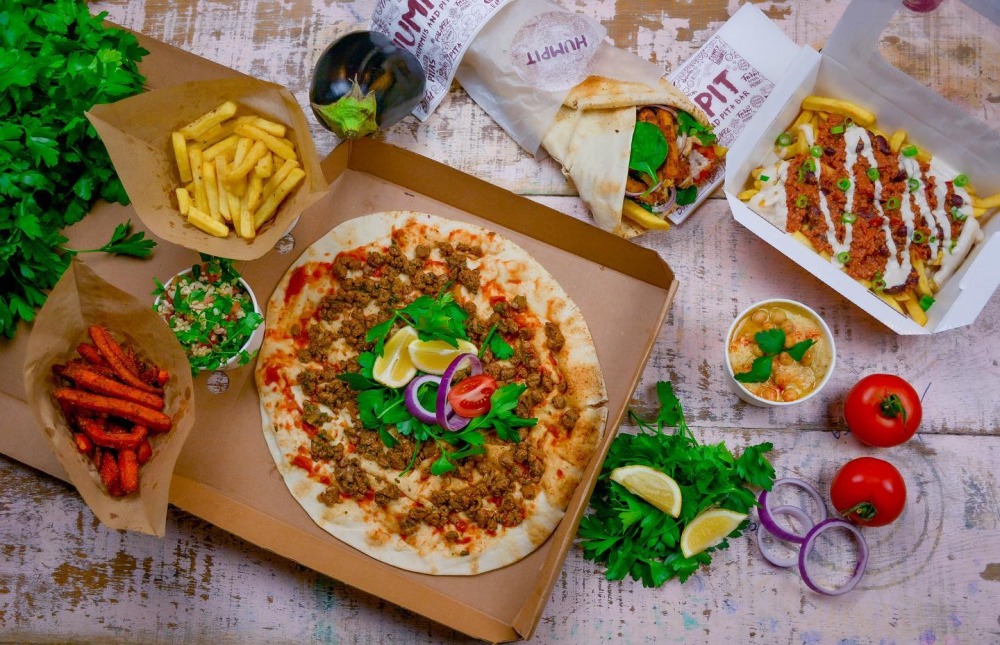 Vegano
33a Blandford Sqaure, Newcastle NE1 4HZ
0191 597 8257
vegano.uk.com
Serving from breakfast through to evening meals, Vegano offers a wide variety of delicious, cruelty-free food in a modern and cosy setting. Choose from dishes such as a chikn kebab with tzatziki, chimichurri and handmade flatbread, spaghetti carbonara with smokey mushroom pancetta and crispy fakon lardons, or a double cheez burger with two smashed plant-based pattys, to prove that vegan food doesn't have to be boring. So, whether you're seeking a good quality coffee and cake or want to tuck into a three-course Italian inspired menu with a glass of wine in hand, Vegano will cater for all your vegan needs this January.
Bundobust
6 Mill Hill, Leeds LS1 5DQ
0113 243 1248
bundobust.com
Born from a collaboration between one of the UK's most highly-regarded Indian restaurants and a revered craft beer spot, Bundobust serves vegetarian and vegan Gujarati street food seven days a week, as well as beer from their own brewery. Despite owning four locations now, the Leeds restaurant is the original and is a must-visit when taking part in Veganuary. It's recommended that you order two or three dishes per person, or alternatively a combo is a great way to experience Bundobust with friends, and with bhajis, okra fries, raghda pethis, chole saag and bhel puri on offer, this independent, casual dining offering is a game-changer.
Humpit
45 Leopold Street, Sheffield S1 2GY
07943 626987
humpit-hummus.com
Born from a love of hummus (and a difficulty in finding somewhere to eat it in traditional style), Humpit started in the streets of Leeds. Now, you can enjoy a bowl of hummus, with a fresh warm pita on the side to rip and dip, in four locations in Yorkshire alone. We recommend the Sheffield store for those taking part in Veganuary for the first time, as its small size won't be intimidating while the variety of options gives you lots to try. Humpit offers their delicious chickpea spread as a bowl, pita or salad, as well as a 100 percent plant-based menu of falafel balls, roasted cauliflower, and sweet potato fries too.
Love Brew Café
20 Eastborough, Scarborough YO11 1NW
01723 374482
love-brew.co.uk
A cosy café in North Yorkshire, Love Brew's aim is to offer dishes that can be enjoyed by all and in June 2021 they successfully managed to make their menu completely plant-based. Not by serving bowls of seeds, leaves and dust, but rather a menu of good, tasty meals and a cabinet of delicious cakes and bakes. Experimenting with vegan takes on classic plates, you can expect dishes such as banana blossoms smothered in a delicious homemade batter 'bish and chips', 'not a classic Caesar' colourful salad with roasted chickpeas, jackfruit, croutons and vegan parmesan, and a 'chuna sandwich' made of chickpea-based tuna, alternative mayo and sweetcorn.
Little Green Social
83–89 Goldspink Lane, Newcastle NE2 1NQ
0191 230 5167
littlegreensocial.co.uk
This family-run, plant-based cafe in the heart of Sandyford pride themselves on innovative cooking and sustainability. With an ever-evolving menu, they focus on the ancient techniques of food fermentation, as well as the use of seasonal produce to create exciting new dishes. Their menus offer a wide variety of options from granola to a full English for breakfast, burgers or cauliflower gyros for lunch, curry or pizza in the evening, small plates such as hummus and pita, as well as vegan tarts, cheesecakes and ice cream to finish. In addition to the friendly service, relaxed surroundings and natural wines and cocktails, this is a great place to visit for a top-quality vegan culinary experience.
Clean Bean Restaurant & Bar
22 North Terrace, Seaham SR7 7EU
0191 447 4748
cleanbeanseaham.co.uk
The ethos here is simple: to serve delicious food which champions clean, healthy, nutritious and fresh locally-sourced ingredients. Having travelled the world together, owners Linda and Paul bring a truly multi-cultural flavour to the restaurant's lunch and evening menus, and their simple approach to dishes, which allows the ingredients to sing, has helped Clean Bean become a firm favourite in the region. Although not a solely vegan eatery, around half of their menu already is vegan or can be made vegan on asking. This means this Veganuary you can enjoy dishes such as Japanese-style ramen, lentil pie au gratin, cajun spiced sweet potato wedges and more.