City Breaks to Book this Summer
Not in the mood for a beach holiday?
We've picked out four tempting summer city breaks to book now
Norway's capital is on the country's south coast, sitting proudly at the head of the magnificent Oslofjord. With plenty of Viking history to explore, summer is a fabulous time to visit as temperatures regularly reach 20 degrees and the city blooms into life with green parks, safe swimming spots and plenty of wilderness to explore within easy reach.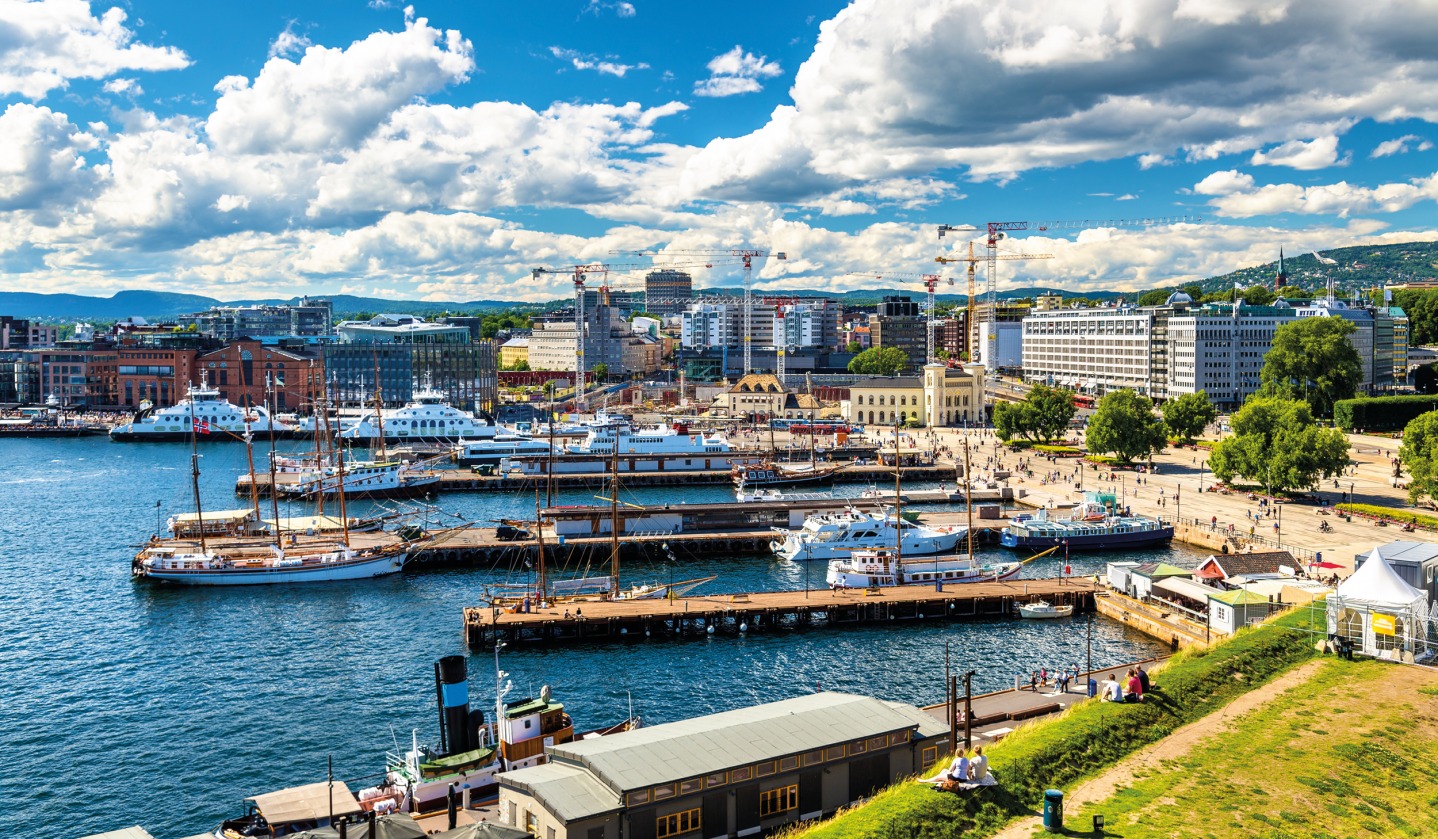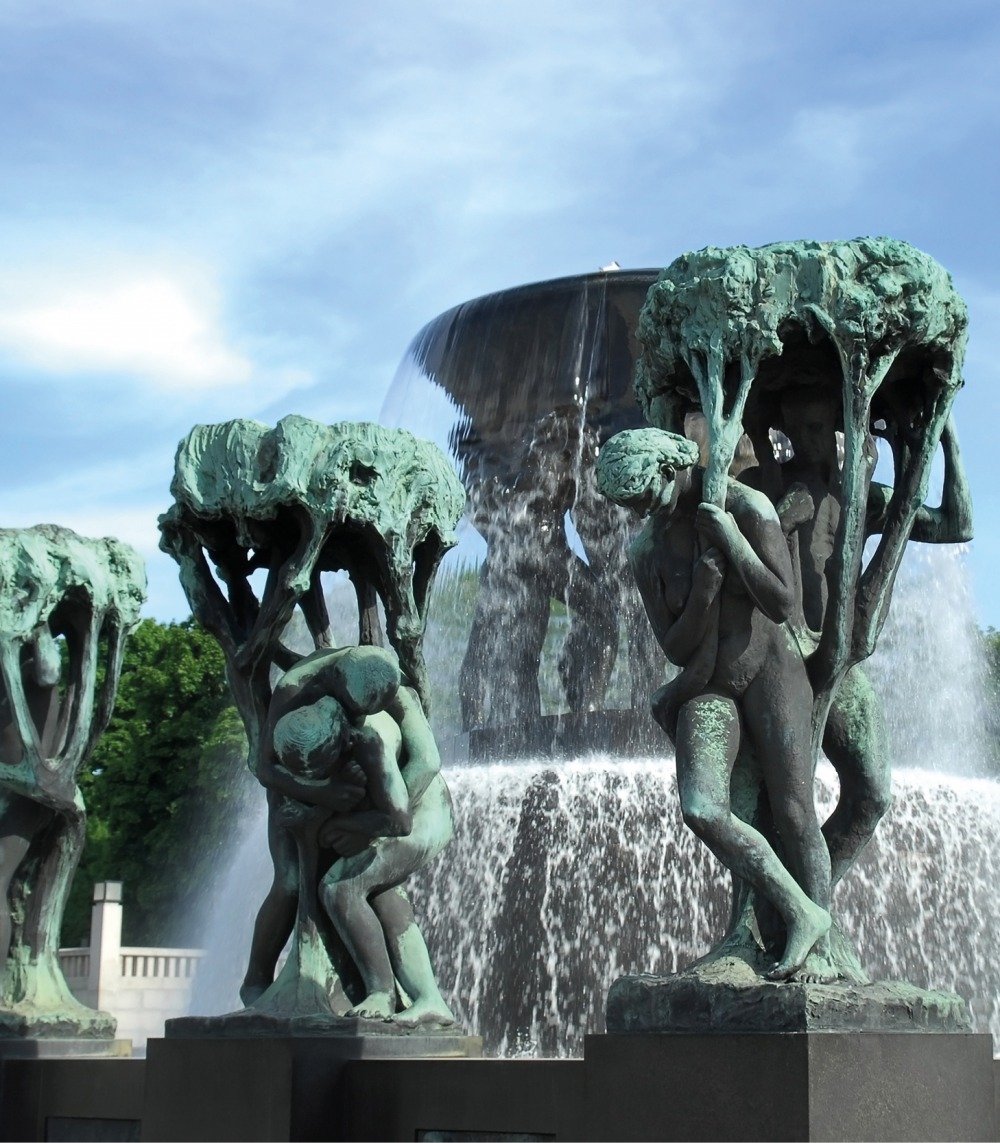 Explore
Oslo Visitor Centre offers free guided walking tours all year round and they're a great way to get an overview of the city and learn about the area's history. Oslo's famous Viking Ship Museum is currently closed for major redevelopment works, but there are plenty of other places to find out more. The Historical Museum holds Norway's largest archaeological and ethnographic collections – from the Stone Age and the Viking Age to the Middle Ages and more recent times. In their Viking Age exhibition find out about the Viking war culture and the journeys they took, as well as how society changed during the Viking era.

The national Museum of Science and Technology is a more contemporary offering, with more than 100 interactive installations and 25 exhibitions covering everything from technology and science to planes and trains. It's on the same site as Oslo Science Centre and the National Museum of Medicine too – they're all just a 10-minute train ride from the city centre.

Back in the city, don't miss the chance to see Vigeland Sculpture Park, where there are more than 200 sculptures by Gustav Vigeland in bronze, granite and cast iron. It's free to enter and well worth exploring.

It wouldn't be a Norwegian holiday without exploring the fjord – take a ferry from the Aker Brygge pier and you can be on the idyllic island of Lindøya within 20 minutes. This idyllic spot is dotted with colourful cottages and there are plenty of gorgeous beaches for swimming on the southern part of the island (the northern part is a nature reserve). The same ferry can take you to the tiny island of Hovedøya, where there are scenic hikes through forests and along beaches, and the ruins of a 12th century Cistercian monastery to explore. On your return to Oslo, take time to explore the area around Aker Brygge pier, which is a hub of shopping, dining and entertainment, with a strip of well-thought-of restaurants and bars along the boardwalk.

Oslo is becoming a real foodie destination too, so make sure you explore its culinary offerings. Find fresh seafood at the harbour, visit the dedicated Street Food food hall in the city centre for international flavours and a buzzing atmosphere, or try Michelin-starred modern Nordic cuisine at Restaurant Kontrast.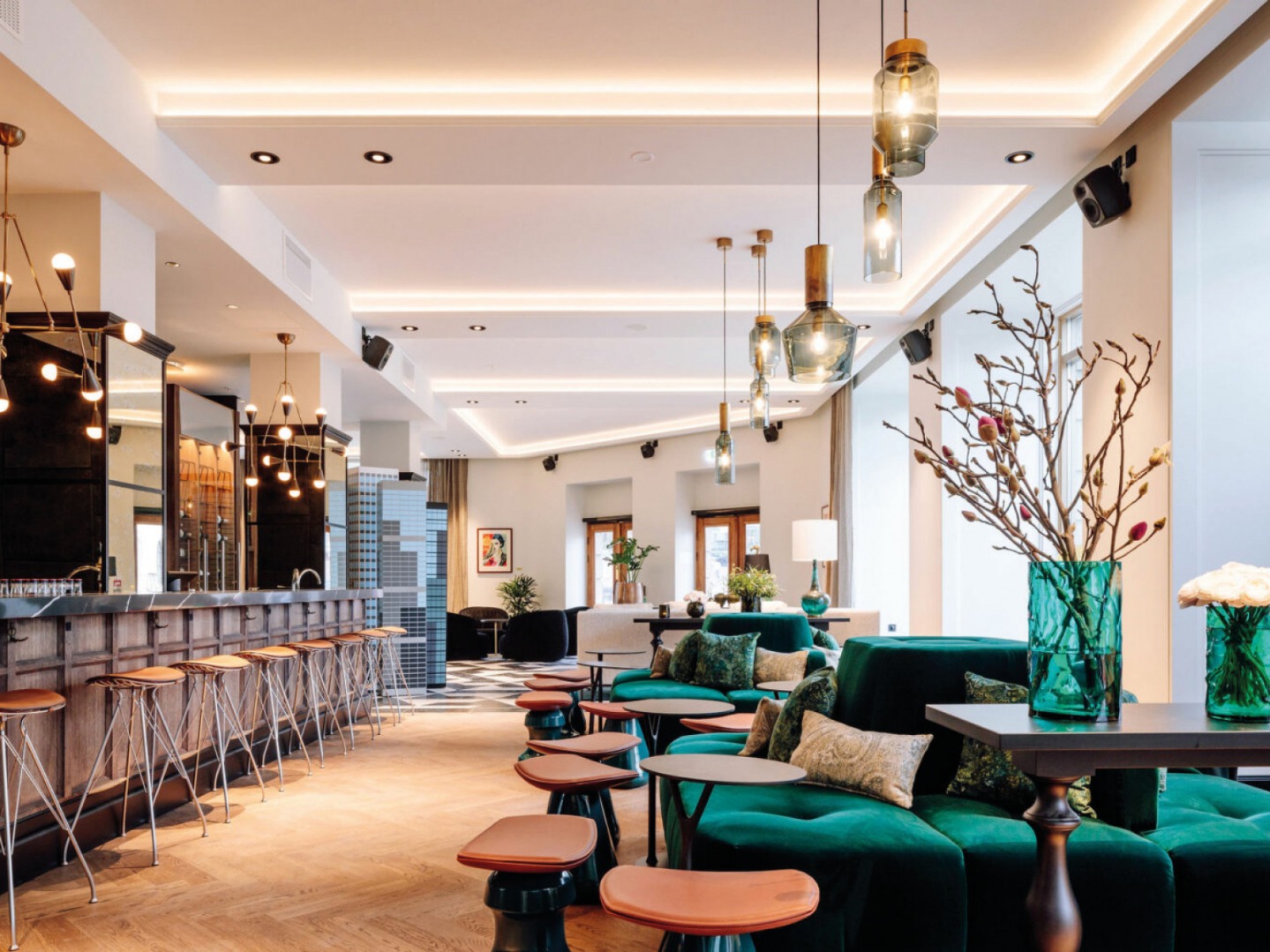 Stay
The epitome of a cool Scandi city, Oslo isn't cheap, but its popularity means there are plenty of options when it comes to accommodation. The Amerikalinjen is a vibrant boutique hotel located in the old headquarters of The Norwegian America Line. Their modern Scandi rooms have views over the Opera House and fjord beyond, and there's a café, a bar, and a restaurant on site.

The Thief promises to steal you away from the everyday – it's based on a small islet in downtown Oslo which used to be a haven for smugglers and thieves. The hotel is filled with art and designer furniture, and has a spa and a renowned restaurant. Guests can take a dip in the sea by the hotel, relax in the rooftop bar, or cross the footbridge to the bustling Aker Brygge area.

A slightly cheaper option, Thon Hotel Spectrum has 187 modern rooms and a breakfast room which serves a daily buffet. It's just a short walk from Central Station, shops, bars and restaurants.
Loganair fly between Newcastle and Oslo six days a week.
Once the heart of the powerful civilisation and empire of Ancient Greece, today the Greek capital is still dominated by iconic landmarks dating back centuries. It is also one of the most beautiful cities on the Med – a buzzing, charming and picturesque city well worth a visit.
Explore
Start, predictably, with the Acropolis. This hilltop citadel is where you'll find iconic structures such as the Parthenon and the Temple of Athena Nike, as well as countless statues, columns and temples. It's worth paying for a skip-the-line ticket and heading to the (slightly) quieter south-eastern entrance, but you'll still need to allow about three hours to have a proper look around. Don't miss the Theatre of Dionysus (an ancient theatre which is considered to be the birthplace of Greek drama), and, of course, the Parthenon itself. Built in the fifth century BCE, this temple has had a dramatic history – being converted, seized, blown up, looted and (more recently) restored – but it still has the power to take your breath away. Once you leave the hill, a tour of the Acropolis Museum nearby completes the experience here.

The National Gardens offer a gorgeous retreat from the busy Athenian streets – a beautiful oasis of vine-covered walkways, gravelled paths and ponds. The Botanical Museum is the place to learn about the garden's royal history, and there's a zoological garden and a playground here too.

If you're looking for a more modern activity, check out one of the 60 open-air cinemas which are dotted around the city, in parks, on roof terraces and in hidden corners. The charming Cine Thision is among the oldest, having been screening films every spring and summer since 1935 (with what they describe as a 'forced pause' during the Second World War).

Perhaps surprisingly, two of the world's top 50 bars can be found in Athens. Don't miss the chance to sample homemade fruit 'wines', beer and bread at Line, or try innovative world-class cocktails at The Clumsies (we'd go just for the name).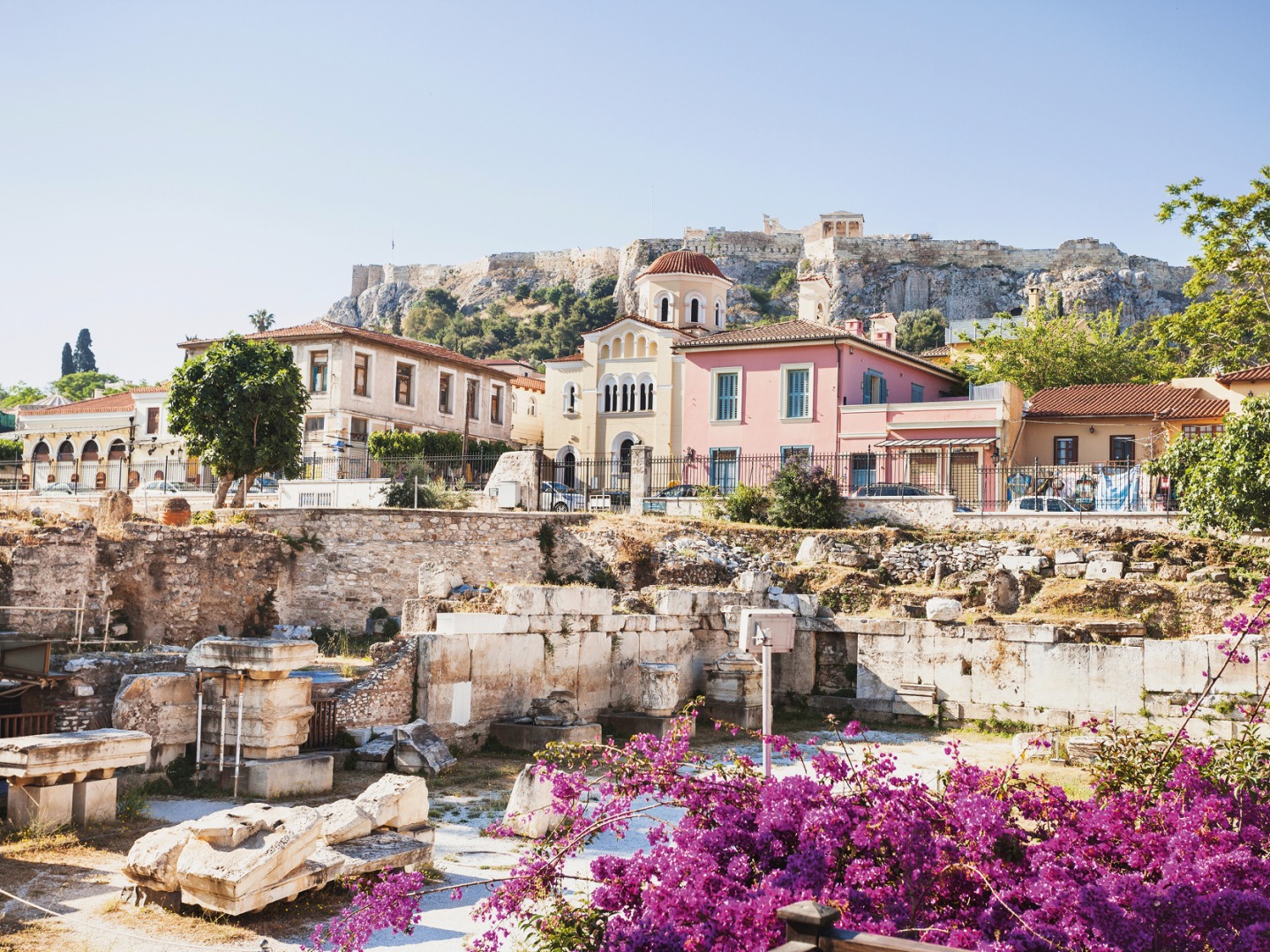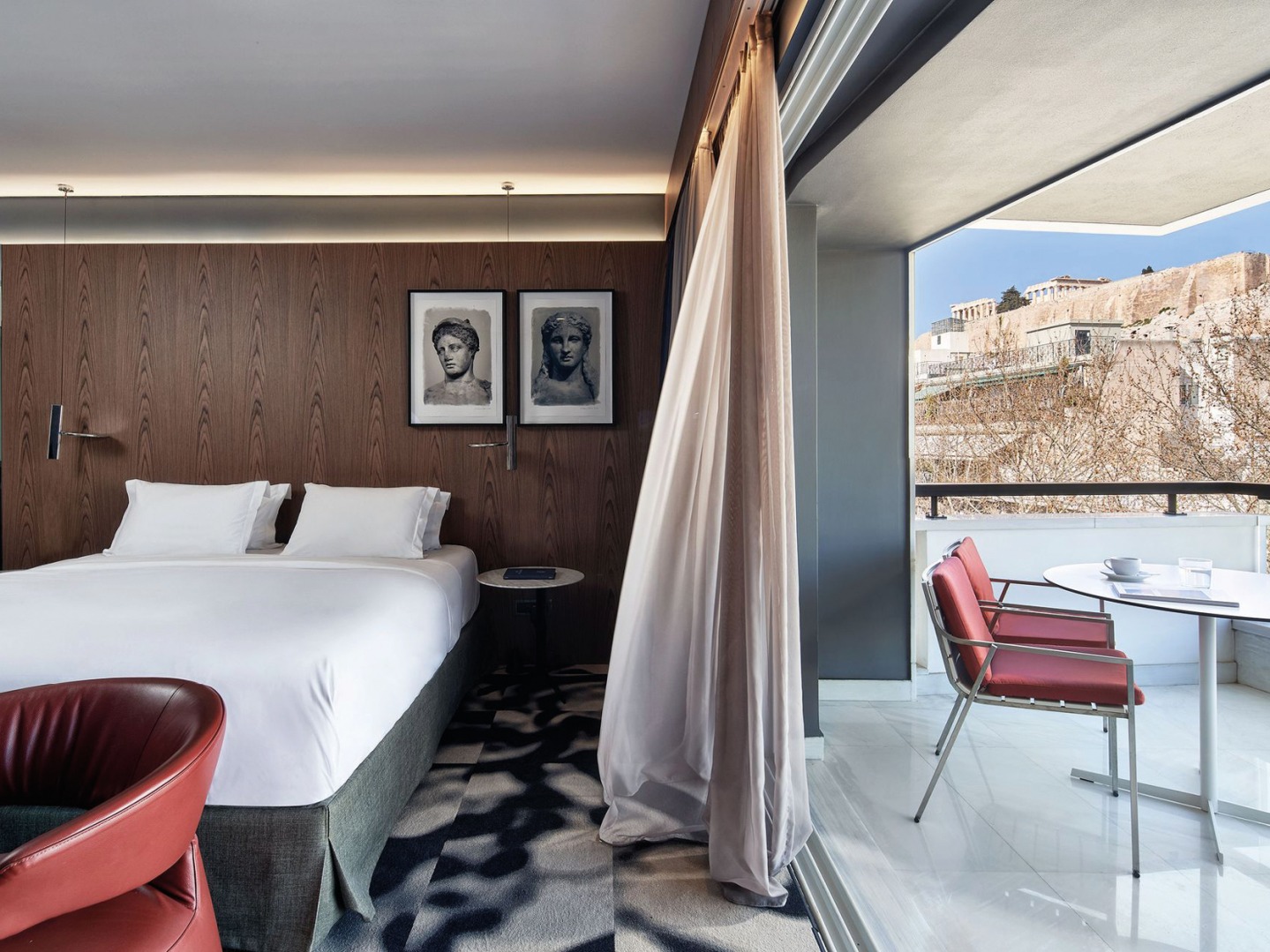 Stay
Extending from the sea to the mountains, Athens is a sprawling city these days. The centre however, where the ancient ruins cluster around the Acropolis, is compact and walkable. To be in the heart of the action, stay in Kolonaki – an upmarket neighbourhood with designer stores, galleries and high-end restaurants. At the historic St George Lycabettus hotel you can enjoy breakfast with views of the Acropolis in their sixth floor Grand Balcon, book a table at La Suite rooftop restaurant, or relax on the open air rooftop pool terrace with the city spread out below you.

To really drink in the history of the city, the Plaka neighbourhood is the place to be. Having been inhabited for more than 2,500 years, its tangled streets and alleys wind upwards towards the Acropolis and are lined with tiny shops and pavement cafés. Right in the heart of Plaka, you won't find a better location than Palladian Home, a neoclassical mansion with comfortable rooms and a shared kitchen on each floor. The nearby AthensWas design hotel is a smart option, with well-designed rooms and suites, a fabulous rooftop restaurant serving modern, Greek-inspired dishes, and a brilliant location right on Dionysiou Areopagitou pedestrian street.

If you'd prefer to stay by the sea, the historic port of Piraeus is just a 20-minute metro ride from the city centre and has undergone something of a rejuvenation in recent years. The Port Square Hotel offers modern rooms (some with balconies and sea views) and a stylish all-day bar and restaurant, and it's just steps from the main port, from where you can catch a boat to explore the Aegean islands.
Aegean Airlines fly from Newcastle to Athens twice a week in summer.
At the mouth of the River Daugava on the edge of the Baltic Sea, Riga is a melting pot of culture and history. With the largest concentration of art nouveau architecture in Europe, it's a cultural hub for the Baltic region. The historic centre of Riga is a UNESCO World Heritage Site, and there's loads to see.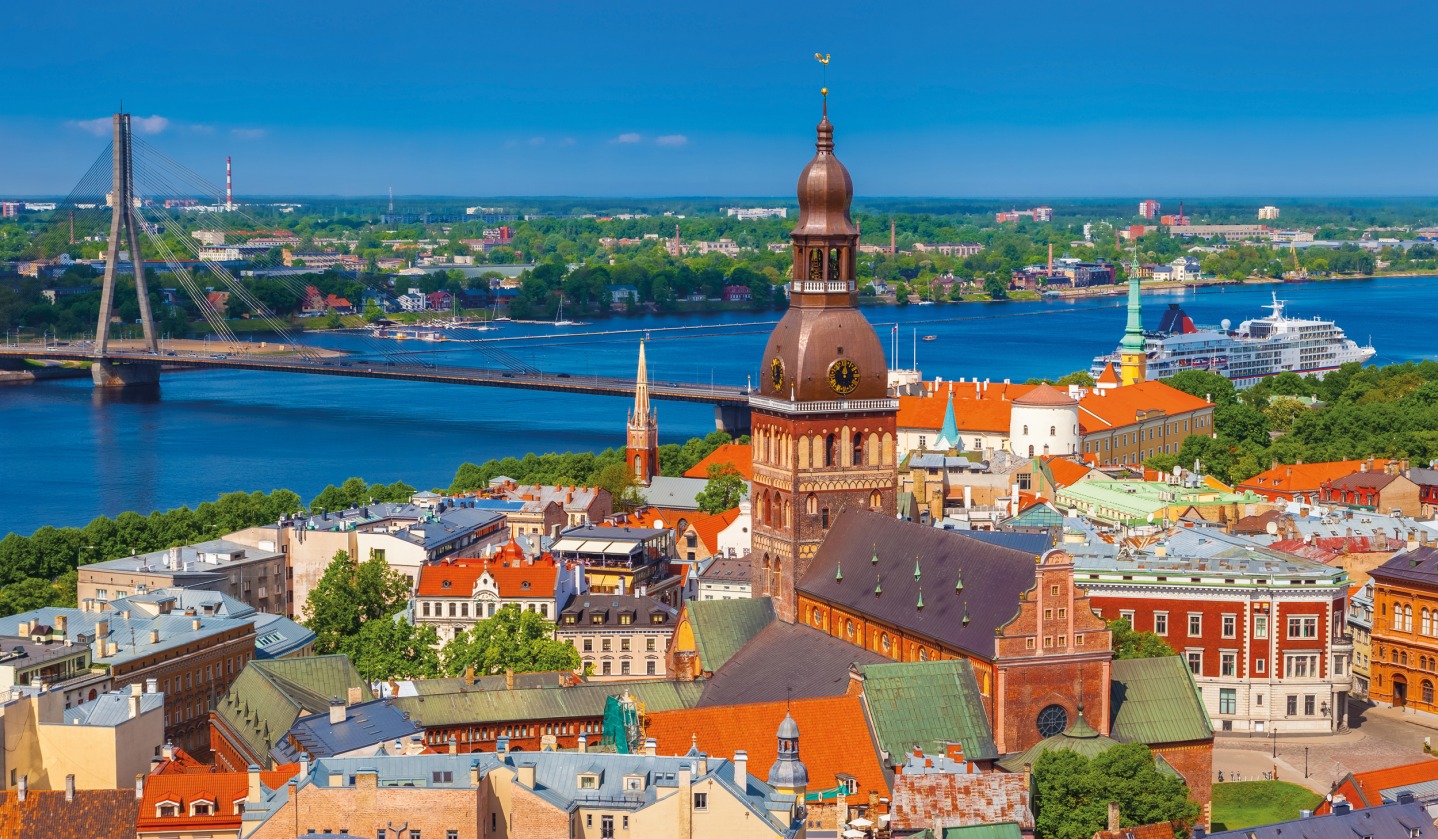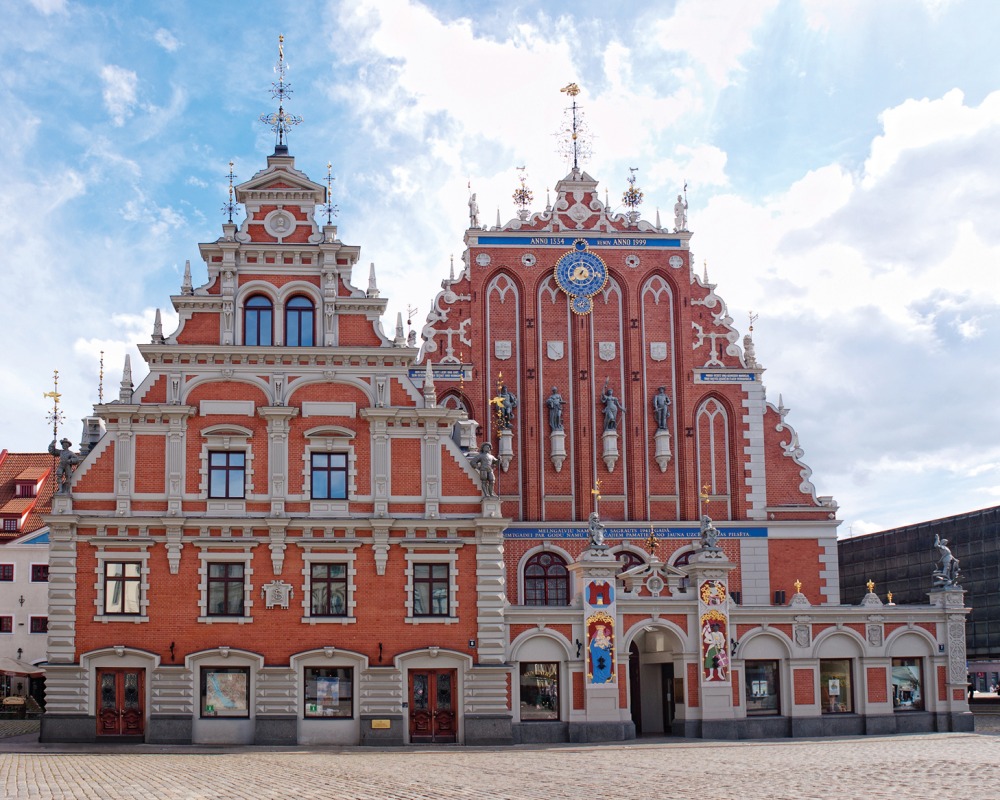 Explore
Riga's medieval old city is a charming maze of narrow cobblestone streets and alleyways just waiting to be explored. Much of it is pedestrian-only, and it's packed with shops, restaurants and bars. On Rathausplatz (or Town Hall Square) you'll find the iconic House of the Blackheads. Originally built in the 14th century for the Brotherhood of the Blackheads (a guild for unmarried merchants, shipowners and foreigners in Riga), this beautiful building was destroyed by bombing in the Second World War but has since been successfully rebuilt. Make sure you see Riga Cathedral, and St Peter's Church too (you can climb the tower here for a fabulous view over the city).

When the military forces of the Soviet Union occupied Lativa in 1940, they based their headquarters in an imposing building in central Riga known as The Corner House. There's a small free museum here but it's worth taking a guided tour of the site to fully appreciate the horrors inflicted on Latvian citizens, who the occupying regime considered to be enemies of the state.

After that, you can visit the Freedom Monument, which is dedicated to those killed in action during the Latvian War of Independence. It escaped destruction during the decades of Soviet occupation and stands as a symbol of Latvian independence.

If you're out and about early in the morning, Riga's Centraltirgus (or central market) is a great place to get a feel for the city. The market is housed in four old zeppelin hangars, and you can find everything from fresh produce, cut flowers and clothing to food outlets and souvenir shops. Book a Food Tasting Tour to make sure you don't miss out on the best options.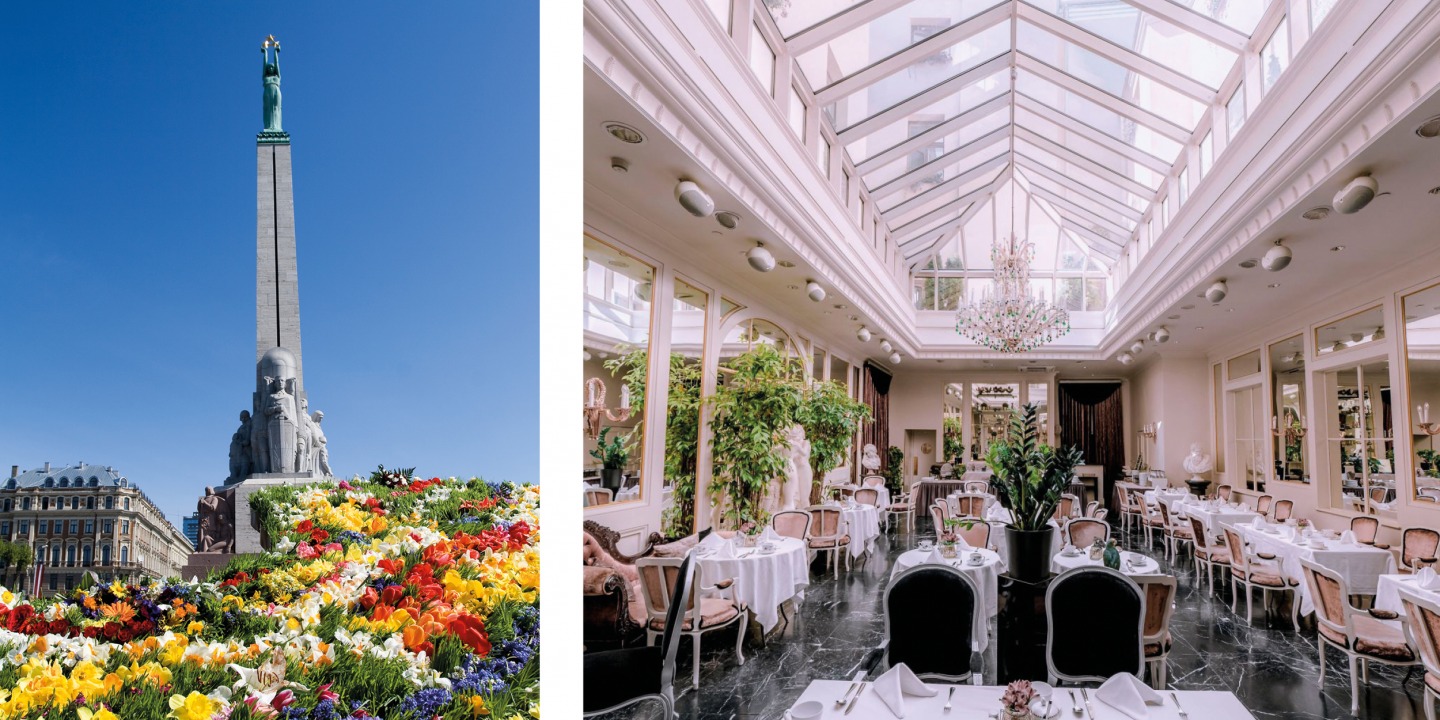 Stay
You want to be in the centre of the action here, so Riga's old city is where it's at. Old Riga Hotel 'Vecriga' is a quirky hotel housed in a characterful 15th century building dotted with contemporary artwork, and there's an Italian restaurant on site. For something more upmarket, Dome Hotel is a five-star boutique option with a restaurant that serves French-influenced fine dining. In the summer, the chefs cook outdoors on the rooftop terrace, so you can enjoy freshly-prepared dishes in the sunshine with views of the cathedral.

Grand Palace Hotel Riga makes its home in what was once the Central Bank of Latvia. Built in 1887, it was transformed into a hotel in 2000 and is now the only member of 'Leading Hotels of the World' in Latvia. Its personalised service sets it apart – think flowers arranged in your room, a full concierge service and special excursions and guided tours. It has a variety of restaurants and bars, but make sure to visit the Orangerie Hall for breakfast – it's a beautiful glass-roofed space.

Right on the edge of the old city, Grand Poet Hotel and Spa by Semarah overlooks the Bastion Hill. This design-led hotel has 168 stylish rooms (including 20 impressive suites) many of which overlook the Freedom Monument and neighbouring park. Indulge with a luxurious treatment in the Hedonic Spa, dine on refined plates in the hotel's restaurant, and wind down for the evening in the exclusive hotel bar.
Ryanair operate two flights per week between Riga and Newcastle.
This fair city is well known for its vibrant nightlife and many cultural attractions, but few realise its origins stretch as far back as the ninth century when it began life as an important Viking trading settlement. Divided in two by the river Liffey, it continues to attract a multicultural population who seemingly fall in love with its energy and ambition to hold its place in the world as a city to be reckoned with.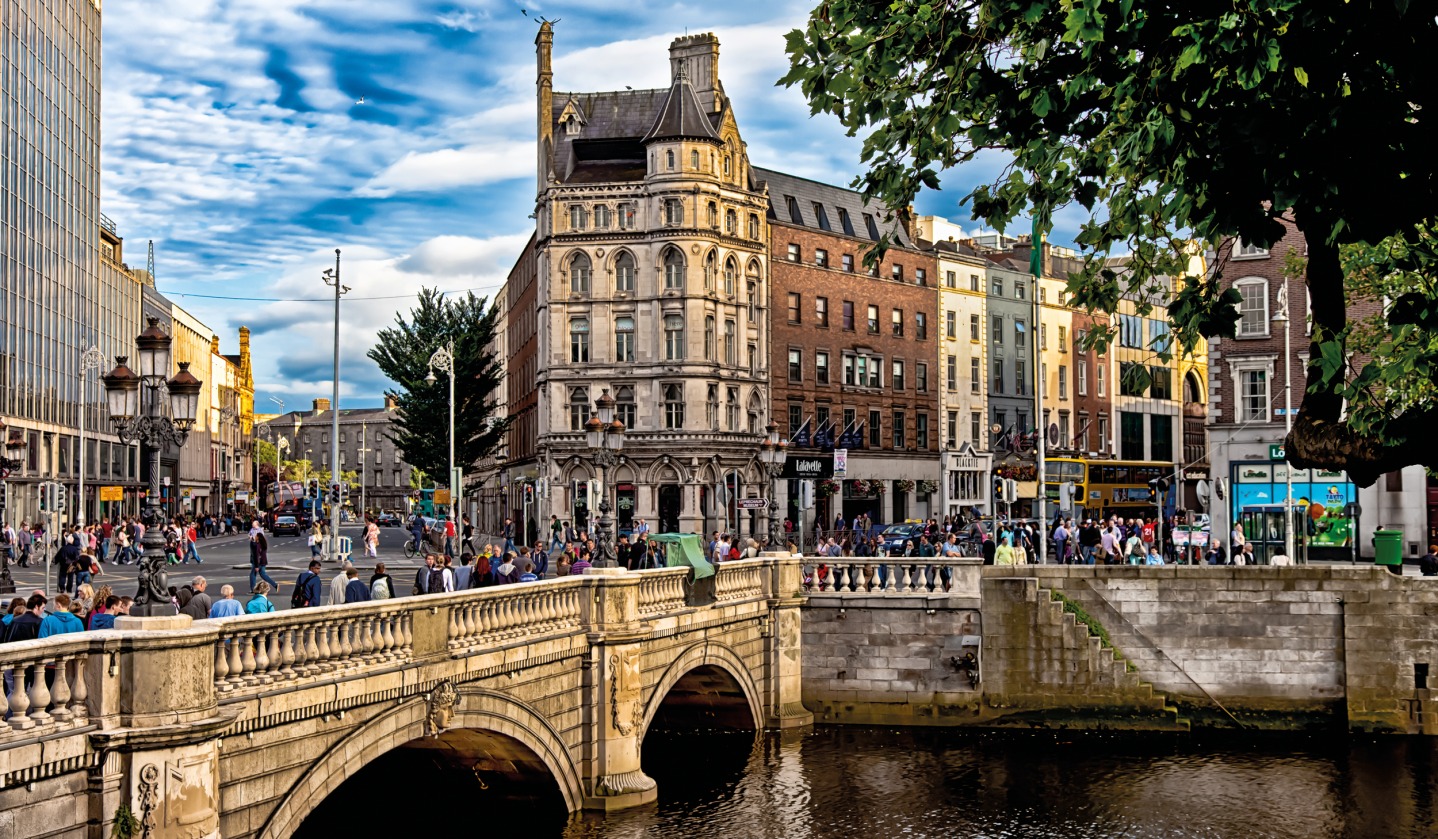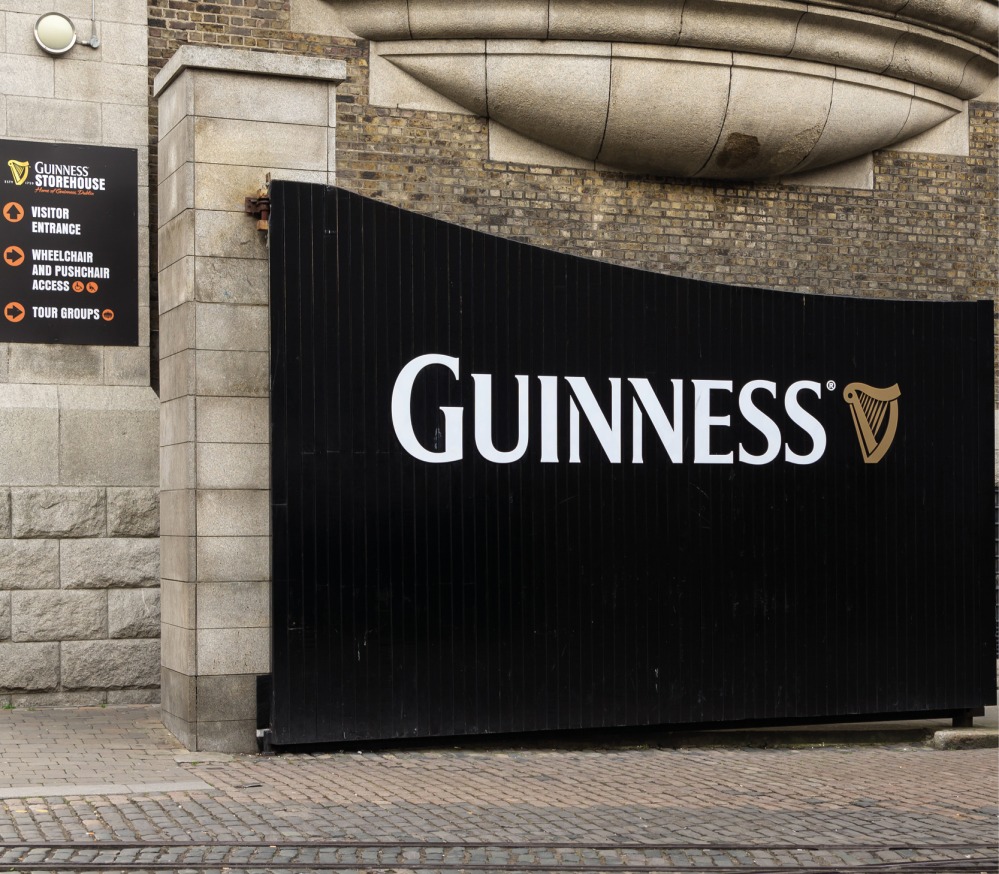 Explore
Most visitors head straight to the Temple Bar district where narrow cobbled streets hold many cultural surprises amongst the tourist-trap bars, but Dublin is a city of contrasts and visitors should make time to wander the classical Georgian terraces (18th century Dublin was briefly the second largest city in the British Empire), visit the many shops on Grafton Street, the bars on Bottle Street, Phoenix Park, and enjoy the sweep of Dublin Bay with its cliffside walks and bracing sea air.

Culture buffs need to make a list of priorities if they are short on time here, but shouldn't miss MoLI: Museum of Literature Ireland for a deep dive into literary Dublin both past and present. Marsh's library is tucked away near St Stephen's Green. Opened in 1701 it is both a museum and research library but is definitely one of Dublin's hidden gems. The Book of Kells is one of Ireland's greatest treasures and this manuscript is housed in the beautiful, barrel-vaulted Long Room at Trinity College. Take a guided tour to discover the history behind this historic seat of learning and the book itself. Next up, Dublin Castle. Founded in 1204 it was, for the next 800 years, the centre of English and British rule in Ireland. Now it's home to several museums, a Gothic Chapel Royal and rather sumptuous State Apartments.

A visit to Dublin could not be complete without a trip to the Guinness Storehouse. Ireland's most popular attraction, here you can learn all you ever wanted to know about the black stuff and the family behind the Guinness dynasty. It's worth booking a tour in advance to avoid the queues but once there make sure to visit the brewery rooftop and Gravity Bar with its 360-degree view of Dublin spread out below. Whiskey lovers should head to the family-owned Teeling where you can take a tour, see the artisan whiskey being made and finish with a tasting.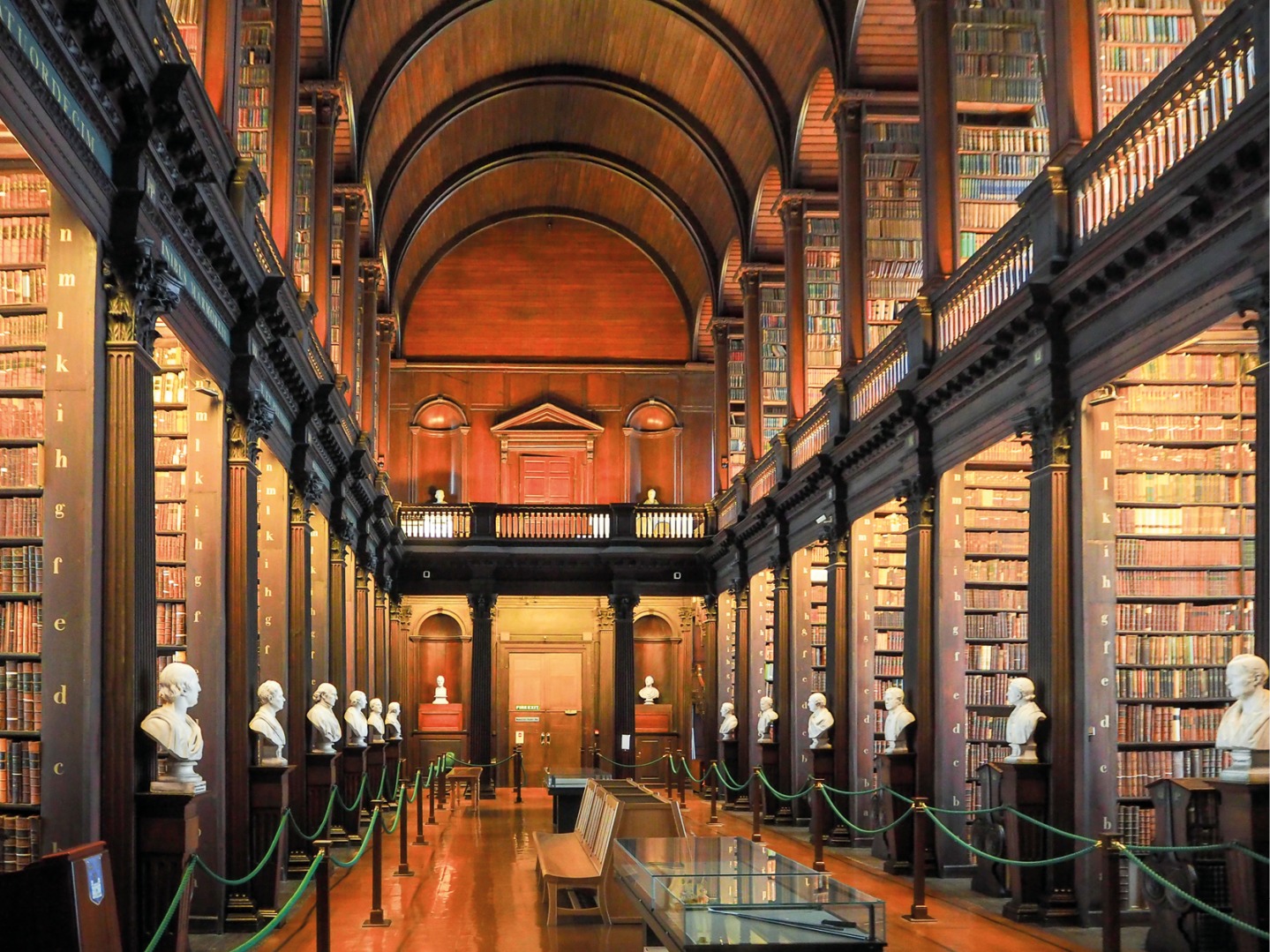 Stay
The Merrion is an iconic institution in the heart of the city, its walls covered with an outstanding collection of Irish Art. This five-star hotel is a favourite for visitors seeking its classic Irish charm and warm welcome and it is home to the two-Michelin star restaurant Patrick Guilbaud, the popular Cellar Bar and the intimate No23 Cocktail Bar.

Tucked into a quiet side street just beside the Grand Canal, The Dylan is a calming oasis in this whirlwind of a city. Small and friendly, it has so much on its doorstep (including a gym round the corner) that it makes the perfect luxury base for your break. There are plenty of bars and restaurants on the surrounding streets but the hotel's Eddison restaurant serves lunch and dinner on its sunny terraces.

Foodies should head to Clanbrassil House – a firm favourite amongst Dubliners, this tiny restaurant has a warm neighbourhood feel serving hearty dishes from its chalkboard menu. Chapter One is where to go for that special blowout dinner (book in advance to secure a table), the burgers at Bunsen near MoLI are delicious (once tasted never forgotten) and for pizza head to the Dublin Pizza Company to pick up from their hole-in-the-wall and take back to your favourite bar.

Grogan's is where to go for a nightcap, head to The Long Hall on South Georges Street for some people watching, or settle in to 9 Below, the speakeasy on St Stephen's Green where the opulent basement bar will make you wish you'd booked a longer break.
Fly direct to Dublin direct from Newcastle Airport