Fifi O'Neill Shares Her Style Tips in Her Latest Book Shades of White
White has long inspired visions of serenity and effortless elegance. Like a chameleon, it has the uncanny ability to morph into many shades from earthy to icy with many nuanced hues in between
Whether as a backdrop or on furnishings, muted palettes and subtle shades result in soothing and stylish spaces that lend themselves to endless decorating possibilities. There are hundreds of shades of white. Every colour in the spectrum has a white version with underlying faint hints of tonality, each with its own unique beauty. From feminine pastels to earthy tones and understated neutrals, white is nimble, timeless, and adaptable to any style, whether it be rustic, modern, romantic, vintage,or classic. It pairs equally well with period or eclectic furnishings and accessories, and easily makes friends with other colours.

The homes featured in this book embrace the ethereal quality shades of white impart to interiors, and demonstrate why the peaceful hue's soothing grace and tranquil charms make it a perennial favourite the world over.
The Power of White
A neutral palette of cool whites maximises light and space and, when layered with textures and tone-on-tone hues, creates a cocoon-like canvas, making it effortless to usher in subtle color accents and unify eclectic furniture.
Textures
In finishes, fabrics, and design elements, textures that beg to be touched play a starring role in keeping whites warm and inviting. layering textiles, woven rugs, woods, books, organic accessories, architectural items, seagrass, and rattan brings instant interest, heightens the coziness quotient of any room, and contributes calm, serenity, and a warm welcome. texture is not always about material. Patterns can also add a visual dimension but, as with other decorating components, balance is key.
Furnishings
Just like textures, furniture is an integral element that defines the aesthetic and feel in predominantly white interiors. Ornate details and elaborate carvings give old world pieces their unique presence; fluid and polished items define modernity; painted furnishings dressed in easy-going textiles characterise cottage interiors; and handmade, natural coverings and raw surfaces evoke rusticity.
Fabrics
From natural to synthetic fibres and knitted to woven pieces, fabrics have countless qualities and appearances ranging from sturdy to delicate, ethereal to cosy, and many more variations. Using a combination of textiles gives a room a curated feel. Linen, cotton, and canvas have a tactile quality while cashmere, silk, and lace imply sophistication. Sheepskin, chenille, and wool are all about comfort. With its uneven grain, distressed leather adds warmth, while fluffy fur equates with softness, although if you're a true animal lover, go strictly faux.
Accessories
Neutral rooms are naturally calming, but without the proper accessories they can miss the swoon-factor. The right items can set the mood, adding continuity and character to a white scheme and a fashion-forward allure to more laid-back rooms. Accessories can share similar finishes, shapes, or materials, but when it comes to white interiors, keeping a neutral tonality is both stylish and dynamic.
Art
Muted walls are galleries, ready and perfectly suited to show off art like photographs, paintings, canvasses, posters, tapestries, murals, wall hangings, and artful objects of similar value like baskets or platters. Although there are somerules of scale, balance, and proportion, there is no reason to sacrifice using what you love.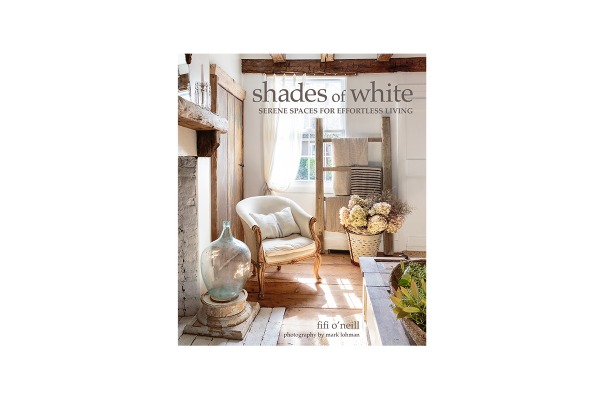 Shades of White by Fifi O' Neill, published by CICO Books (£25) Photography by Mark Lohman © CICO Books