Grand Designers - FaulknerBrowns
With some of FaulknerBrowns' prized buildings under threat, Living North visited the architects to learn more about their acclaimed back catalogue and future innovations
Some of the most inventive (and often controversial) buildings in the world have sprouted from an office in Killingworth.
Tucked behind a splodge of low-level industry, the architectural practice of FaulknerBrowns is an oasis of thought and care. Living North has come here to speak to FaulknerBrowns' longest serving partner, Neil Taylor, a man who is battling to preserve the practice's award-winning legacy.
Neil starts by telling us about Harry Faulkner-Brown, a legend who joined the Army during World War II and parachuted into Arnhem in 1944, aged just 23 (you can buy his memoirs, A Sapper At Arnhem, on Amazon). He was awarded the Military Cross for his bravery and after the war moved to Canada to work as an architect. He then returned to the UK and in 1962 formed a new practice in the North East of England with three partners – the company was called Faulkner-Brown, Hendy, Watkinson, Stonor until the 1980s.
They started off in a house in Jesmond, and their first success was the design of nearby Jesmond Library, which opened in 1963 and was awarded a Bronze Medal by the Royal Institute of British Architects (it's now listed). Also in the 1960s they designed Wallsend Library (listed earlier this year), the Lightfoot Leisure Centre in Walker (which Harold Wilson used for an election rally), and their own beautiful office in Killingworth (it was one of the first buildings in the optimistic new town, which then evolved around them).
The practice continued specialising in libraries and leisure facilities, the most notable of which was Bletchley Leisure Centre, which opened in 1973. It was an oddly shaped swimming pool ('Imagine doing a pool that didn't have a length in it,' says Neil. 'It was all about social exchange.') which was controversial for its modern design and huge pyramid – but it was also loved. Despite a preservation campaign it was demolished in 2010.
The Concordia complex in Cramlington, a similar leisure development also designed by FaulknerBrowns, was opened by the Queen in 1977, and in the same year Neil arrived at the firm after studying architecture at Sheffield University. Born in Morley near Leeds, he achieved a distinction at university and was top of his year, attracting job offers from big firms in London, Manchester and Edinburgh. However, despite never having been to Newcastle before, he chose FaulknerBrowns.
'I felt that FaulknerBrowns could offer me what I was looking for,' he explains, 'Which was a lot of very quick experience to see if I could actually design nice buildings.'
He says that when he applied for the job he remembers seeing Newcastle United's East Stand (another FaulknerBrowns design) on the cover of The Architect's Journal. The company was also busy designing the Tyne & Wear Metro (the FaulknerBrowns office has a trough-shaped ceiling which reduces noise – a design they used years later on the Metro). There were only 35 employees at the time (there are 130 now) and he quickly got hands-on experience.
'I was very ambitious I think it's fair to say,' says Neil. 'The first major building I did was Chester-le-Street's civic offices, a very socially driven design that allows access by the public.'
It's the Chester-le-Street offices which are worrying Neil, and which prompted him to raise awareness that they are at risk. Opened in 1982, the building won a Royal Institute of British Architects award and several other awards, as well as appearing on the cover of magazines. However, since last year it has been empty following the relocation of services to Durham, and Neil fears the building may be demolished.
'The first major building I did was Chester-le-Street's civic offices, a very socially driven design that allows access by the public'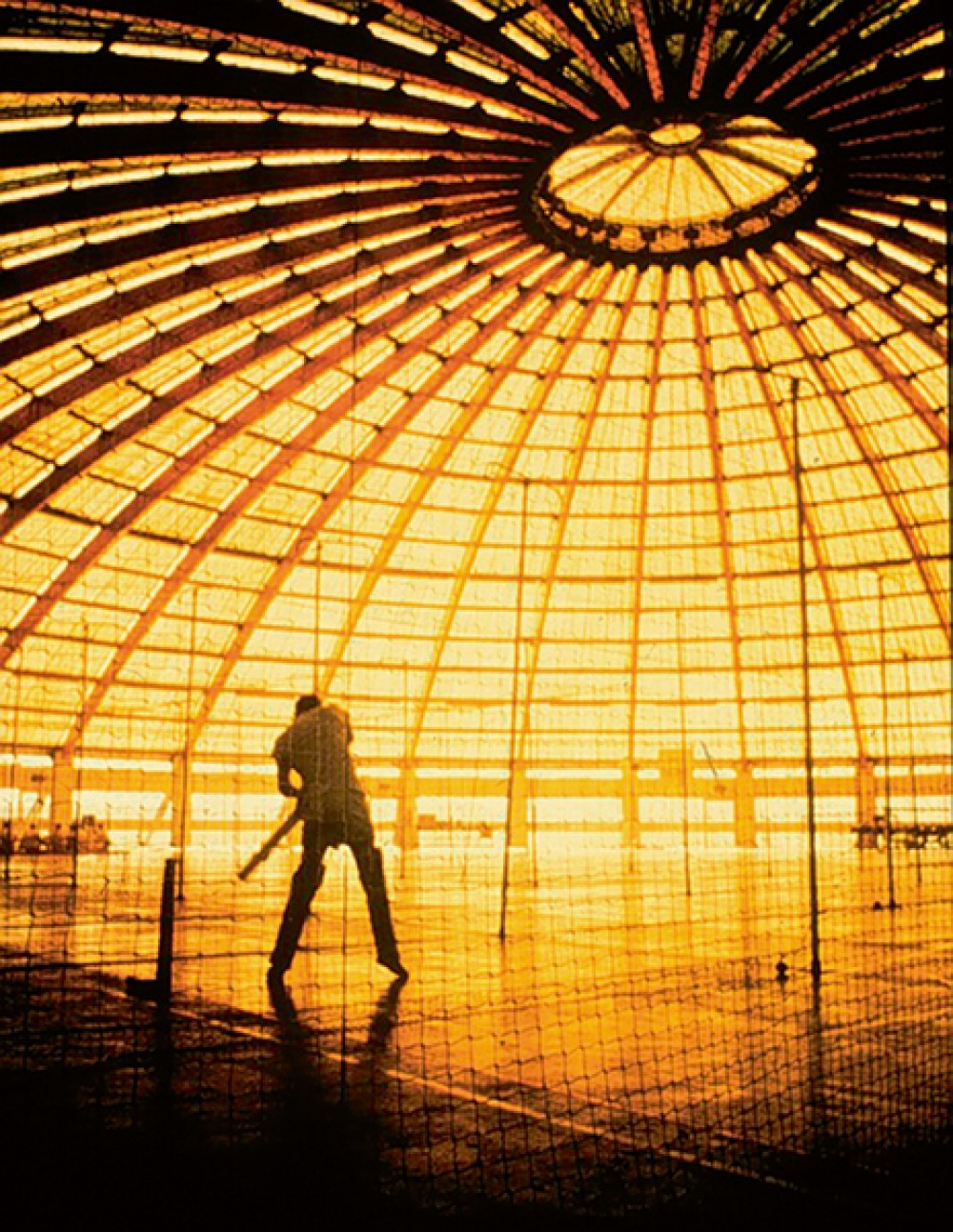 When asked how he would feel if it were knocked down, Neil says, 'It's something to be very proud of, so it's very difficult.'
It's not the only building he's worried about – the future of the Lightfoot Centre has been debated recently and another building designed by the firm was shuttered last year: Wet N Wild. FaulknerBrowns took a central role when the North Shields leisure development was proposed, finding an operator and investor, who they invited up from London to visit the site next to the Meadow Well estate. This was in September 1991.
'The investor came up from London,' says Neil, 'But the night before they'd set all the cars on fire, so we had to find a route that avoided seeing all these burnt out cars.' They avoided the carnage of the riots, the investor committed and Wet N Wild opened in 1993. However, in October last year Wet N Wild entered administration and the waterpark is now closed. It's another threatened FaulknerBrowns building. Then came the snow. FaulknerBrowns tried for a long time to get indoor ski slopes with real snow built in the UK. So far the buildings have proven uncontroversial, but no less difficult to get developed. For years nobody believed they would make money, so FaulknerBrowns visited Australia where indoor snow was being tested, built a model, created a business plan and hired a forecasting centre to prove it would be popular. They then took a risk by funding detailed designs for a site in Milton Keynes.
They managed to persuade an investor to fund the scheme and construction of their innovative design went ahead, with the UK's first indoor slope with real snow opening in Milton Keynes in 2000. Since then the firm designed the next three indoor ski slopes in the UK – in Glasgow, Manchester and Castleford – and copycat slopes have opened elsewhere, though the North East still doesn't have one, which rankles Neil.
'We've been trying like mad to get a ski slope up here,' he says. 'We've been trying for 10 or 15 years. We've got to get a site that's relatively low cost which is not too difficult up here, but you need a planning regime that is happy with a very big building. And you need confidence.'
He won't tell us the precise site, but says they are looking at North Tyneside and Gateshead. While the North East waits, FaulknerBrowns have been designing elsewhere: Manchester's velodrome, an aquatic centre in Dubai, a velodrome in Holland, and the canoeing and sailing centres for London's Olympics in 2012 – they were disappointed to come second in the competitions to design the swimming pool and velodrome ('We were really upset about it,' says Neil.)
The practice is currently designing a horse racing track in Lyon, two velodromes in Canada, a national sports academy in Holland and an aquatics centre in Turkmenistan. Neil says they've also designed a new concept called the Cube, which will contain around 30 to 40 extreme sports, including BMX, skateboarding, bungee jumping, deepwater diving and canyoning. Developers are interested. 'What I'd love to do is put one between the Sage and the Baltic,' says Neil. 'That would be amazing for the North East, but the first won't be built up here probably. We're looking just outside London, round the M25, and we've got interest in Europe.'
Before Living North leaves, Neil shows us around his firm's offices. Everyone is carefully dressed and studiously examining their computer screens. Models of past and future designs are on desks and bookshelves. One model catches our eye – a new library being built in South Shields. It's circular and looks a lot like one of the firm's first buildings.
'Architecturally it's got a lot of derivatives from Jesmond Library,' Neil chuckles. 'Good things always come back.'