Harissa is my go-to spice paste for whenever I want a big hit of flavour with minimal effort, and it's especially good in pasta
I love fennel, but if you're someone who is usually put off by its strong flavour, try it here. Caramelised and soft, it adds texture and complexity to what is basically a very simple cherry tomato sauce.
Ingredients
30g pumpkin seeds
1 large fennel bulb
200–250g rigatoni or tortiglioni (depending on how hungry you are)
3 tbsp olive oil, plus extra for drizzling
3 fat garlic cloves
250g cherry tomatoes
handful of dill or parsley
1 lemon
2–3 tbsp harissa (depending on how spicy you like it)
30g parmesan, pecorino or veggie alternative (optional)
sea salt and freshly ground black pepper
Method
Toast the pumpkin seeds in a small, dry frying pan over a medium heat until they start popping. Remove from the heat, sprinkle with salt and set aside.
Put a large saucepan of salted water on to boil. While the water is heating up, very finely slice the fennel bulb, picking off the green fronds for later.
Drop the pasta into the boiling water and cook for one minute less than the packet instructions.
Meanwhile, heat the olive oil in a large frying pan over a high heat. Add the sliced fennel, along with a pinch of salt, and fry, stirring occasionally, for around five minutes until the fennel is just softened and starting to caramelise.
Meanwhile, finely slice the garlic and cut the cherry tomatoes in half.
Add the garlic to the fennel and cook, stirring, for one minute more, then chuck in the cherry tomatoes, along with a ladleful of the water from the pasta pan. Bubble away, stirring occasionally, until the tomatoes have broken down into a sauce. Reduce the heat to super low.
Roughly chop the herbs and zest the lemon.
Once the pasta is cooked, drain it, reserving half a mug of pasta water. Tip the pasta into the sauce, then add the harissa. Stir to combine, then drizzle over a bit more olive oil and enough reserved pasta water, until each piece of pasta is coated in the glossy sauce.
Stir through most of the herbs and all the lemon zest. Season with salt, pepper and lemon juice to taste.
Divide between two bowls, then grate over the cheese, if using. Top with the toasted seeds, along with the remaining herbs and the fennel fronds, to serve. Banging.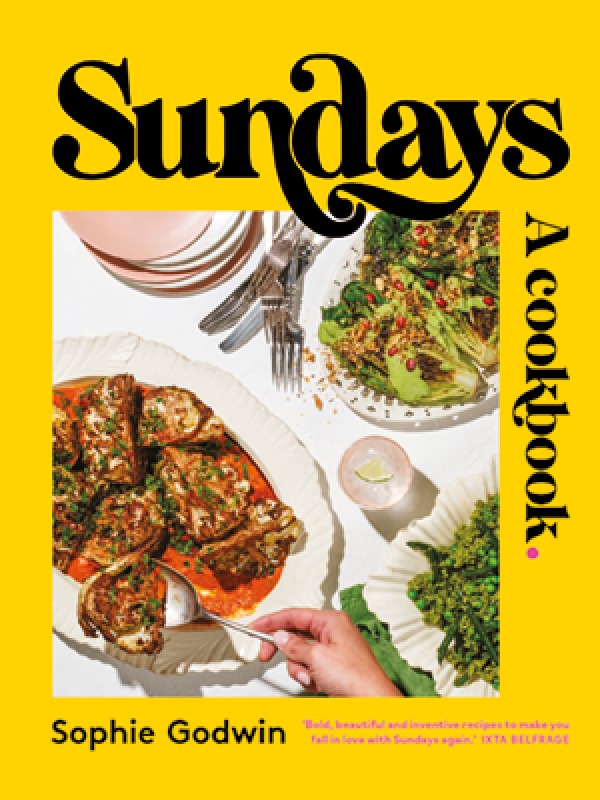 Sundays: A cookbook by Sophie Godwin (£20, Murdoch Books)