Meet the Interior Designer - Danielle Quinn
Danielle Quinn is an interior designer and stylist with a flair for sourcing original items and reworking antiques.
She can be found every weekend at Tynemouth Market with her pop-up Thrift Shop
Why did you set up your own company?
I've been in the interior design sector for about 10 years now. I did my degree in interior architecture and gained a qualification in soft furnishings and curtain making. I was always working for others. I worked in Fenwick and BoConcept doing interior design and I lived in Manchester for two years. I decided to move back to the North East and set up on my own. I've always wanted to do it but it was a case of never having the confidence. It was a massive leap and was a really stressful time but I decided that it was now or never.
How would you describe your collection at Thrift Shop?
I do the interior design Monday to Friday and I have the stall on a Saturday and Sunday at Tynemouth Market, selling homewares that I've either bought, reclaimed or made myself. I also offer a painting furniture service as an add-on, and source homeware items from all over, whether antiques or just anything that would look good in your home.
'With selling at the stall I've met some really amazing people, from photographers to stylists to antique dealers. It's amazing how many people walk around the market'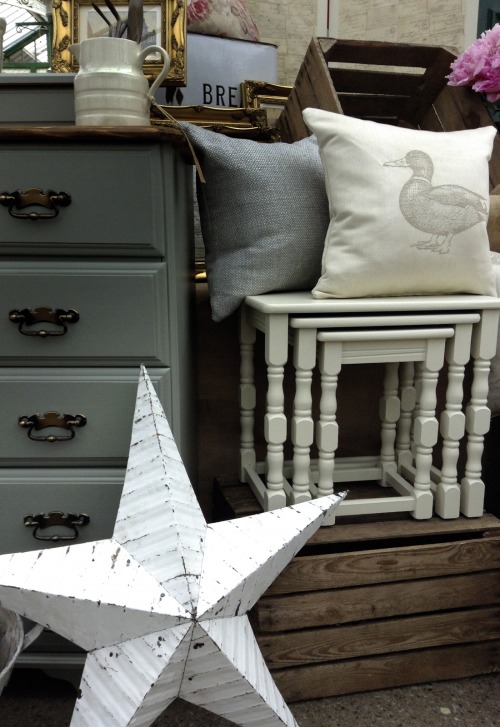 What's the best thing about what you do?
The freedom. Every day is different. I do work seven days a week, 12 hours a day. But I'm doing what I want to do. I'm a firm believer of 'you get out what you put in' and I think even if my days are long, at least I'm doing something that I enjoy. And with selling at the stall I've met some really amazing people, from photographers to stylists to antique dealers. It's amazing how many people walk around the market.
What's been the biggest challenge so far?
It's getting your name about and trying to push your business, that's always been a challenge. I think that's an ongoing thing. There's the social media side of things too because everyone is online and I've always found that a challenge because I'm a bit of a technophobe.
Where do you find your inspiration?
I subscribe to so many magazines and I'm constantly going on Pinterest. I also go to a lot of auctions and trade fairs. I take inspiration from everything in everyday life. For example, I was in Jesmond Dene and I saw some amazing stonework on the bridge and wondered if I could translate the effect into my work. I found a wallpaper which was a similar kind of stone effect. We wanted to create the outside inside feel.
What are you working on at the moment?
For the stall I'm working on a French-style dressing table, which we found at a local auction. It was in quite bad condition, but I've stripped it down and painted it and I'm going to give it a distressed look. I'm also working on an open-plan living, dining and kitchen area for another client with soft colours and a nautical theme. I'm working on small projects at the moment but it keeps me going.
Is there such a thing as your average working day?
It really varies. Some days I could be at a client's home, presenting mood boards and having a really nice day. On others, I could be at my workshop from about seven in the morning, just painting and sanding furniture until goodness knows when. I often go to trade fairs and auctions to keep an eye out and see what I can find. I try and spread it out so that not every day is the same so I don't get bored. There's never an average day for me but actually I quite like that.
Where would you like to be in five years time?
I would love to have my own shop to combine the interior design and the market stall. I'd love to be able to have an eshop on my website so that you can buy my products online. I'd have to get someone else to deal with that side of it because as a technophobe I wouldn't have a clue where to start!
www.daniellequinn.co.uk