Northern Deckline - The Rise Of Composite Decking Installations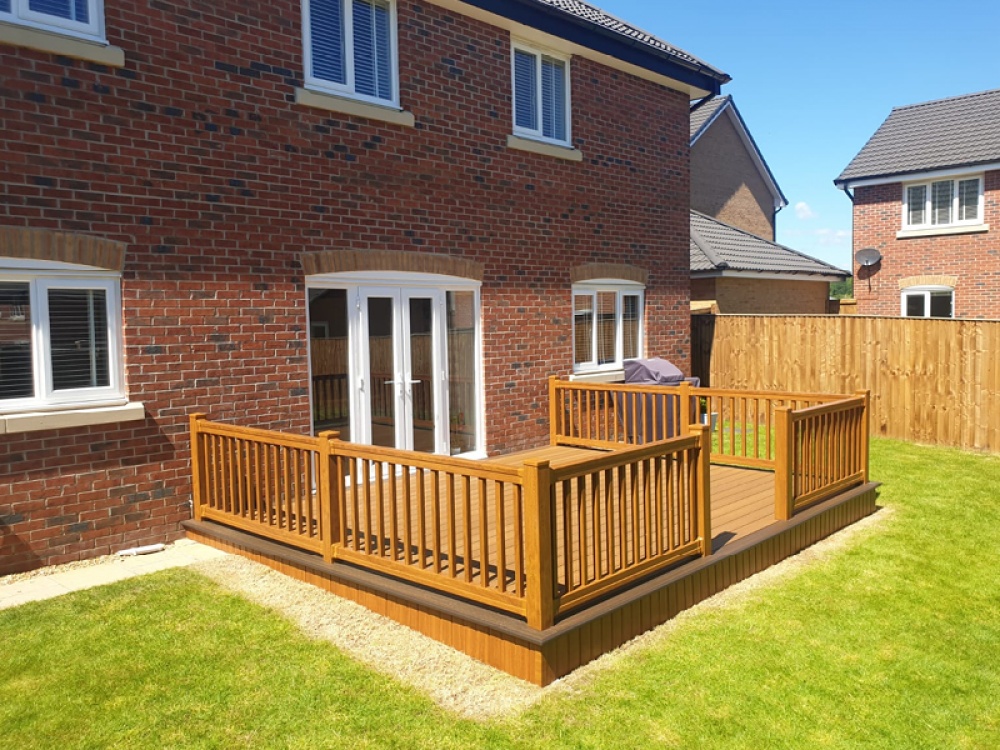 Partnership
The experts at Northern Deckline prove how decking can improve, and even transform, your outdoor space
The Covid-19 pandemic was a defining moment for many industry sectors, mainly in a bad way, but there were some industries which benefitted hugely from the endless weeks stuck at home. Takeaways were one, but the home improvement sector was undoubtedly another. Home-schooling and setting up temporary home workstations took up much of our time, but in between binge-watching Netflix boxsets and learning how to bake a cake, many of us took some time to look around the house and find jobs to do.
Whether you are a DIY expert, or you just think you are, it was easy to cast your eye around the kingdom you were cocooned in for weeks on end and conclude that there would never be a better time to get those home improvement jobs done; if only because you'd now run out of excuses. Decking is a very popular home improvement job, mostly because it is considered to be one of the most cost-effective. This is because the value it puts on your house as a 'luxury feature' offsets the relatively moderate cost, and that can't be said for other jobs such as a new kitchen, bathroom or an extension, where the added value is far exceeded by the cost.
Why composite decking is so popular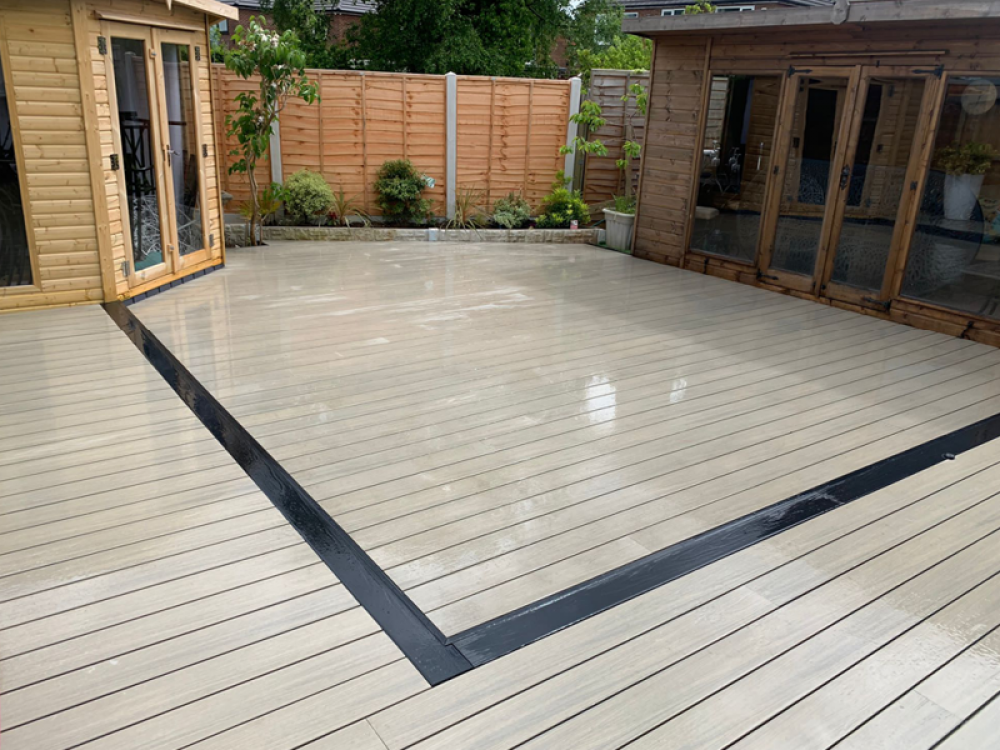 So decking installations became very popular during lockdown, because tradesmen doing outside jobs was one of the few industry sectors that was unaffected by the pandemic. Not only that, the Covid-19 restrictions introduced by the UK Government meant that 'some' outside contact with small groups was allowed, and hence people went to great lengths to create 'man sheds', outside bars and all manner of external hospitality areas – and decking was often the common denominator.

Decking is a popular home improvement project because it makes your outside space more practical, usable and attractive. Even if the unreliable UK weather means we can't plan too much outdoor entertaining, decking at least provides a flexible and adaptable space for barbecues, al fresco dining and for the kids to play safely in the summer holidays. As an extension to the home, decking creates usable space and if you choose composite decking – a combination of wood fibres, plastics and a binding agent – there are a whole host of benefits to enjoy.
The benefits of composite decking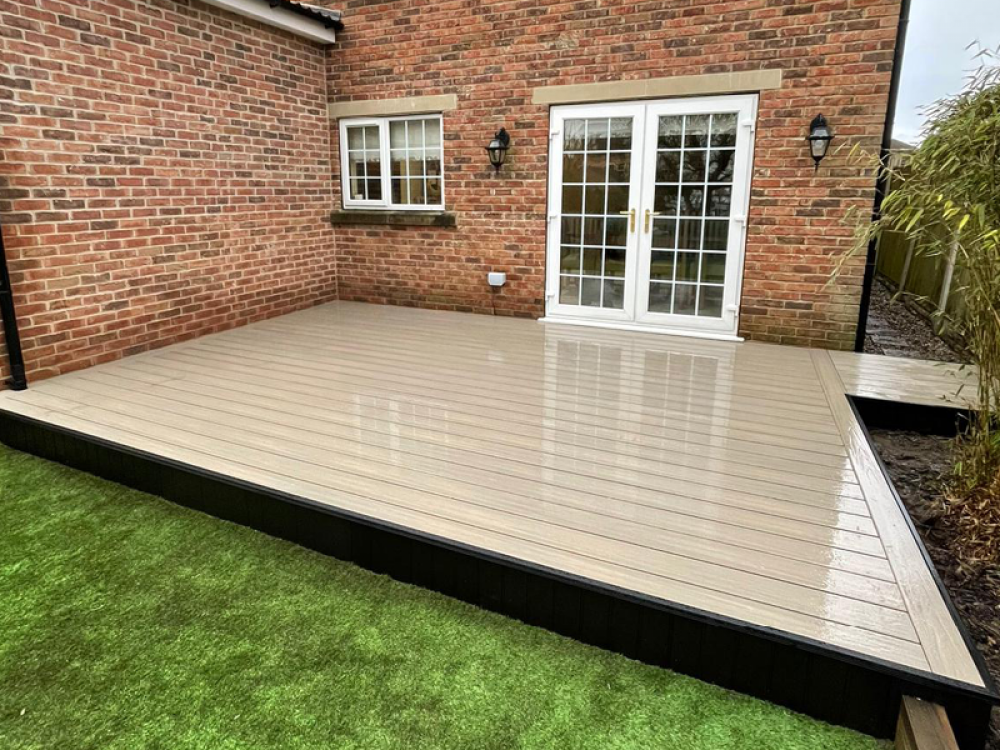 Durability – composite decking won't absorb moisture, won't weather and won't fade in colour.
Low maintenance – there is no need to re-stain or re-paint composite decking every year, and it is easy to clean.
Carbon off-setting – the use of reclaimed materials and the long durability means composite decking is very good for the environment.
Colours – you have many more colour choices when compared to painting decking yourself, and the colour you choose will maintain its look long term.
Safe – composite decking doesn't warp, split or crack, so there is no possibility of catching splinters in bare feet or fingers.
Decking installation specialists Northern Deckline received a rush of composite decking installation orders with people adapting their outdoor spaces so that they could entertain a restricted number of guests, and also commercial businesses in the hospitality sector, opening up new and improved beer gardens and outdoor eating areas.
Composite decking installation examples. You can see some of the Northern Deckline installations below: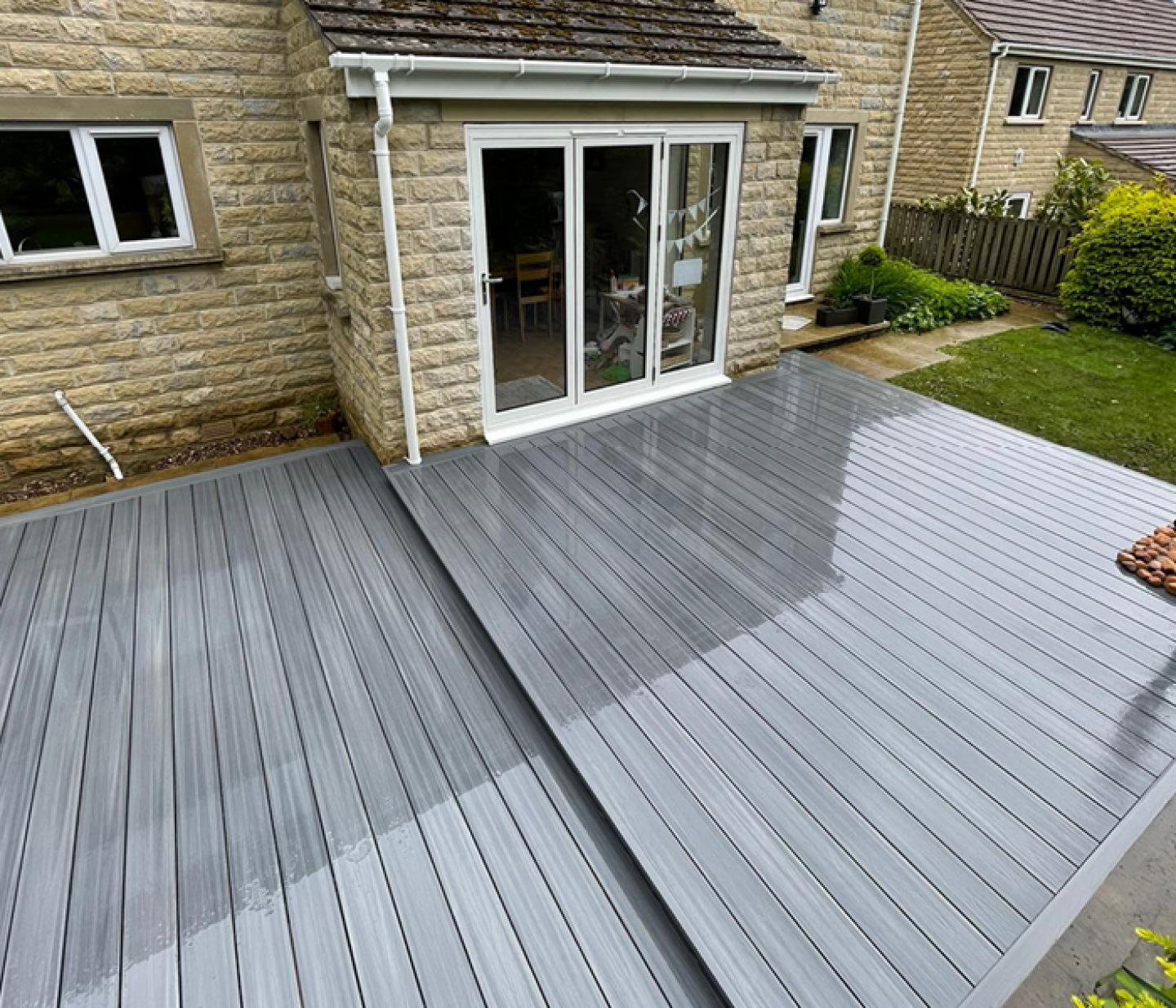 This home in Sheffield now has an outdoor space that is usable in all weathers, instead of a grassed expanse which can often be soggy, muddy and unappealing.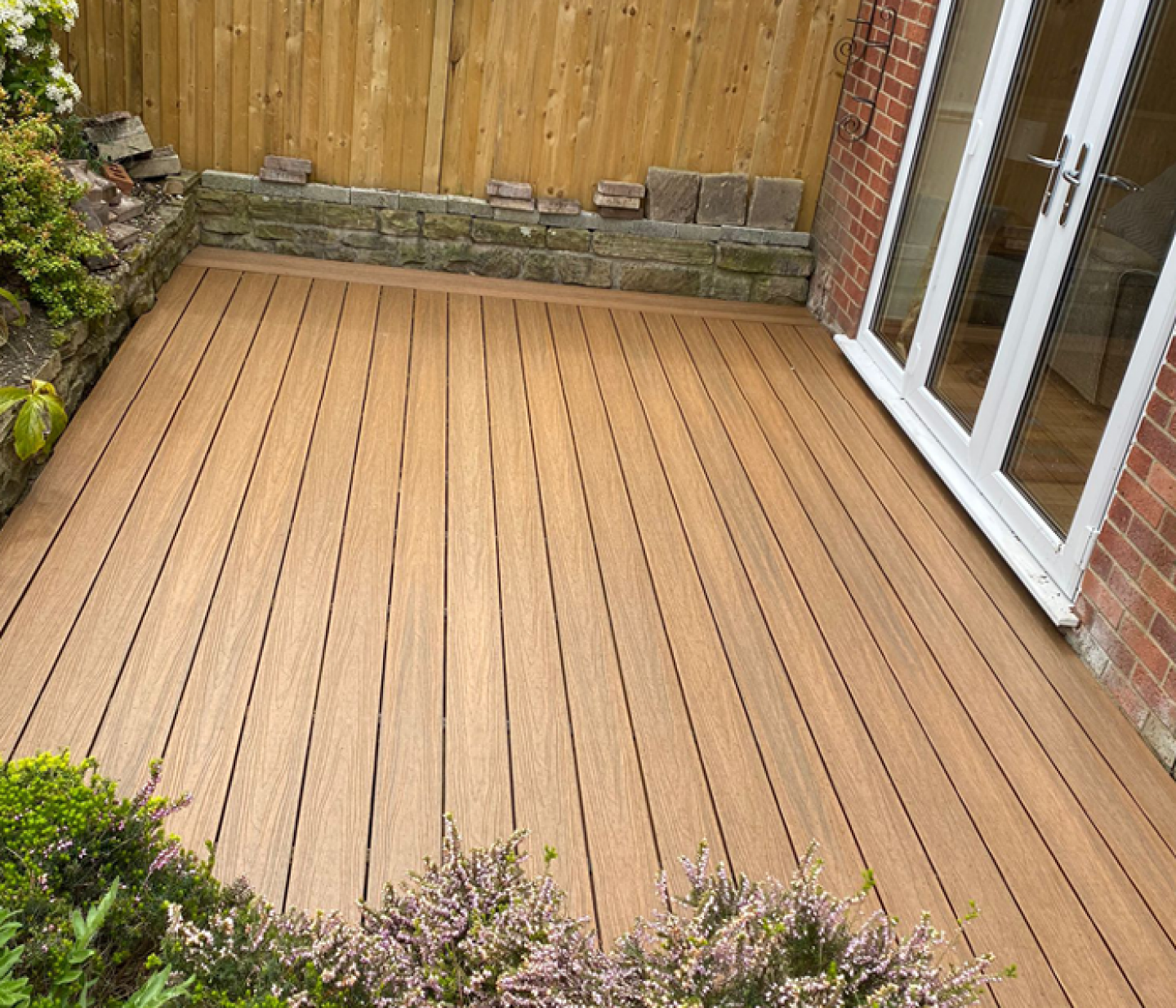 In Leeds, this family can now open their patio doors onto a brand new decking installation and bring the outside in.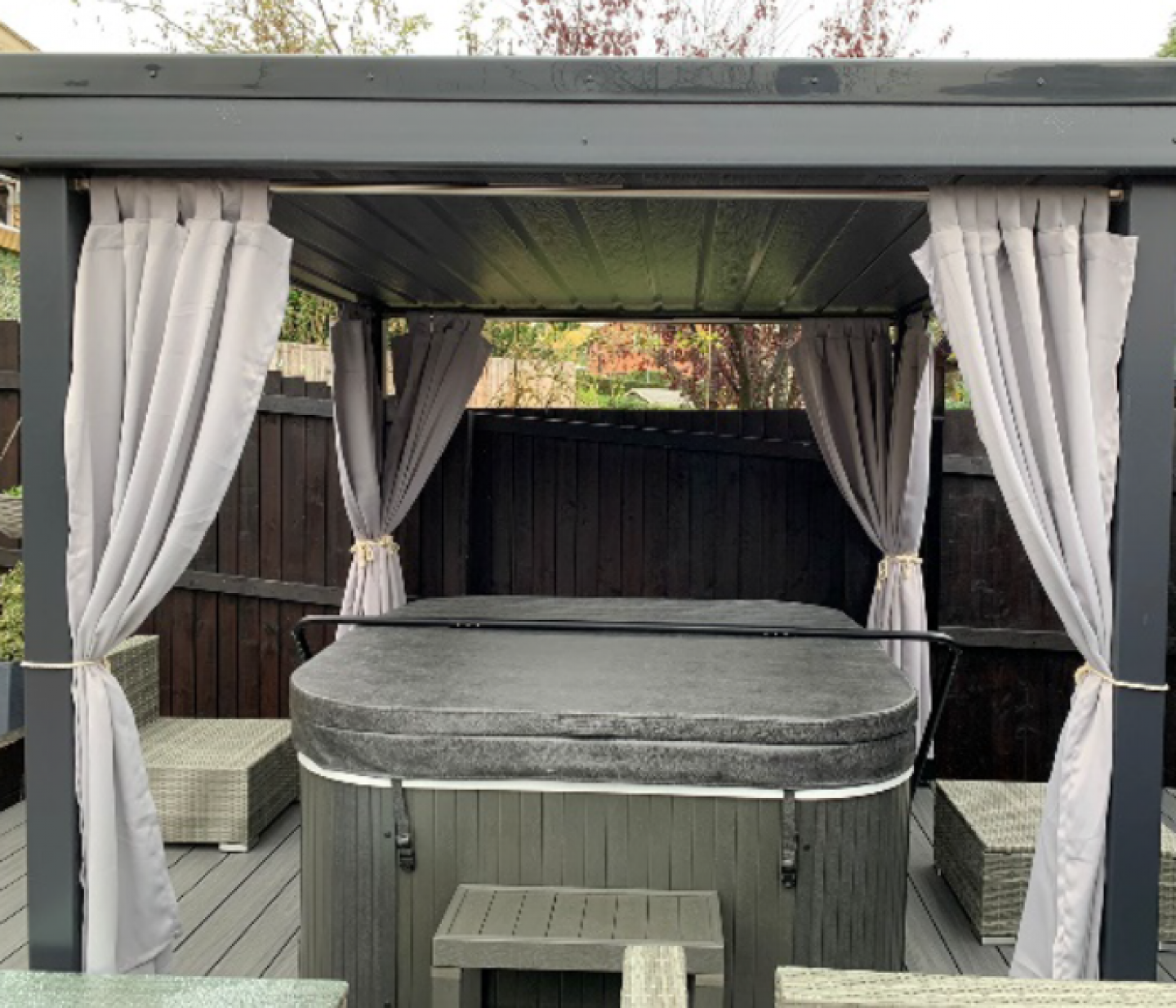 This family has gone one step further and created an outdoor hot tub area for some amazing all-year-round entertainment. The area is surrounded by decking to make it safe, durable and attractive.
If you have the space and the ambition, then contact Northern Deckline and we can design the right decking installation for you. Our experts can utilise any kind of space to maximise its potential and deliver a practical, attractive and cost-effective decking solution.
So even though the pandemic has passed and the home improvement craze has subsided, the benefits of composite decking still stand, and still represent one of the best home improvement projects there is, so don't delay and join the composite decking craze today.