Think You Know Newcastle?
A new app has been created which sends mini histories of Newcastle to your phone or tablet as you walk around the city
The tales are mostly unknown, quite shocking and, to be honest, rather weird.
So you think you know Newcastle's history? Well, do you know about the bears which escaped in the city centre in 1954 and caused panic? Do you know about the 19th-century hanging which attracted a crowd of 20,000? What about the suffragettes who were accused of bombing a post office in 1913? Or the showman who strapped wings to his donkey and nudged it off the Castle Keep roof to see if it could fly? (It couldn't.)
If some of these stories are unfamiliar to you, that's exactly what the designers of the new Hidden Newcastle app were hoping for. Developed by staff at Tyne and Wear Archives & Museums, it features 75 weird, surprising and often forgotten stories which have occurred in Newcastle's lively city centre over the past 800 years – they're the kind of tales which rarely make it into sanitised history books, and have instead drifted into folklore.
John Coburn, Digital Co-ordinator at Tyne and Wear Archives & Museums, is the person who came up with the idea and managed the app's creation. 'The usual tendency is to focus on the more familiar types of histories,' he says, explaining why they chose the less familiar stories from the city's history. 'We really wanted to get away from that. We understand from researching other projects that the audience has a real interest in niche stories, the really thematic and emotionally resonant histories, without necessarily being interested in the big important histories we might have focused on in the past.'
Anyone wishing to use the app can simply download it onto their phone or tablet (it's free). They can then see text, images and video. The app also includes a map to find the locations mentioned, and there's an alert function which lets you know when you're near a relevant site. John explains that this is actually the second generation of the app. An earlier version, which lacked alerts and had only 25 stories, was created by Tyne and Wear Archives & Museums (TWAM) in 2012. This revamped version came about after NE1 (a company set up to help promote the city centre) offered to fund a comprehensive redevelopment.
All the stories included have been researched by staff from TWAM. They delved into photographs, documents and newspapers held in the region's libraries and museums, which, according to John, is where the original inspiration for the app came from – while working on other projects they would trawl through the material and frequently become intrigued and eager to bring what they found to a bigger audience.
'We'd get down there and look through material and you almost always encounter stuff that's surprising and unusual,' says John, a 34-year-old Geordie who's worked in the heritage sector for over a decade. 'We just knew that we had this treasure trove of lesser talked about stories that were really incredible.'
Once they had gathered material which they thought would work well for the app, John says the most interesting part of the project became the debate over what was appropriate, and how the material should be handled (considering it includes tales of murder, debauchery and some questionable treatment of donkeys).
'There is material in the archives that essentially is a tragic story,' he explains, 'And it's a question of how do we handle that in a way that doesn't feel like we're exploiting it and being voyeuristic and so on. It can be a challenge.'
One story which demonstrates the challenge is about a 17th-century witchfinder who stuck a needle in anyone accused of being a witch or a wizard to see if they bled – if they didn't bleed they'd be killed. A detective found out that the witchfinder was using a retractable needle, so the witchfinder was exiled from the city (the remains of those killed are at St Andrew's Church).
Other stories cover more recent events, such as the visit of US President Jimmy Carter in 1977, Arnold Schwarzenegger training for Mr Universe at the City Pool, the Government sending warships to quell Tyneside's strikers in 1926, and apparently there were 'chastity patrols' when the Beatles performed in the city in 1963.
It's fascinating stuff, and John says further stories could be added in the future if new funding was made available, and there has been discussion of creating similar apps for Sunderland and Gateshead if funding appeared. What's for certain (according to John) is that there is going to be a lot more innovation coming in the region's heritage sector. It's the future of history.
'We'd get down there and look through material and you almost always encounter stuff that's surprising and unusual'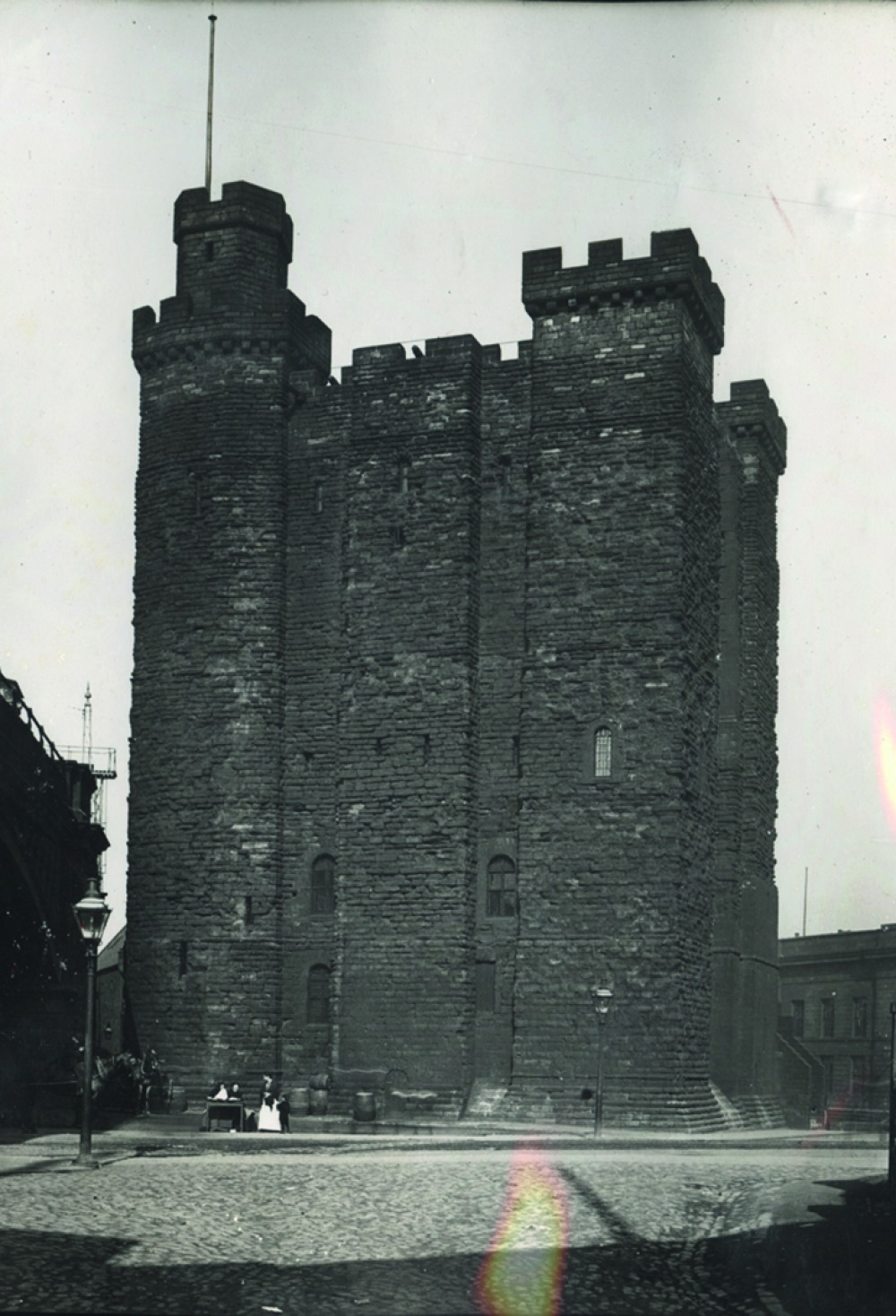 Newcastle Stories
The flying donkey of the Castle Keep
In 1733, a showman drew a huge crowd of spectators to the Castle Keep, claiming that he was about to fly from the top, wearing wings. On realising that perhaps he had gone too far with this particular money-making scheme – and seeing the 100-foot drop from above – he decided to strap the wings to a donkey for a rudimentary test flight. The animal fell like a stone, but miraculously survived the ordeal, helped in no small part by its descent being broken by landing on an onlooker – who died as a result.
The Barras Bridge bombers
An explosion at Barras Bridge Post Office in the early hours of 10th June 1913 bore all the hallmarks of an attack by suffragettes. Alterations were being made to the building and the timing of the incident suggests that damage to property to raise awareness of their cause was preferable to human casualties. Two policemen in the area saw a bright flash 'followed by a report'. Burnt fuses and gunpowder were later discovered, as was some damage to stone facings and brickwork. The attack was part of a long campaign for equal rights for women, and Newcastle at the time was a breeding ground of radical activity. In 1909, Winston Churchill, then First Lord of the Admiralty, had had a visit to the city constantly interrupted by protestors, as did Chancellor of the Exchequer David Lloyd George a few months later.
The tragic rooftop chase
In the early hours of 29th August 1932, street musician Robert William Hall died after a dramatic rooftop chase by police. He fell from the Benwell Hotel, on the outskirts of Newcastle city centre, after an attempted burglary. During the pursuit, Hall – also known as Robert Dodds and William Jones – had knocked down a chimney pot and threw slates and masonry onto the crowd gathered below. In attempting to knock off another stack, he fell into the hotel's back yard, fracturing his skull. An accomplice was arrested. Hall's criminal career included a shooting in Chicago for which he served an 11-year term in Sing Sing Prison in New York, and threatening police with a razor during a break-in at The Forth Hotel.
The runaway bears of Eldon Square
Three bears caused mass panic across Newcastle city centre on 20th March 1954 when they broke free from their temporary cage in Eldon Square. They ran off separately to the Haymarket, Percy Street and Morden Street, injuring several people in their path who included terrified shoppers, a car park attendant, an Evening Chronicle photographer and a policeman. Children were dragged into shop doorways to escape. The bears – standing six-foot high on their hind legs – were the main attraction of a show at the city's Palace Theatre and were on the loose for an hour before being recaptured, tethered and muzzled. One had ripped the bumper from a car, bitten a woman on the back of the neck, and knocked Police Inspector SJ Manging over twice in Eldon Square when he tried to placate it with sugar lumps. The bears' trainer, Norwegian Hans Peterson, later explained that the animals were normally friendly and had perhaps been frightened by the crowd – but they would be performing that night as usual in the theatre.
The fair on the frozen Tyne
The winter of early 1814 was so bitter that the River Tyne gradually froze over for three weeks. Between 15th January and 6th February, a stretch from Redheugh to Glasshouse Bridge, at the mouth of the Ouseburn, became layered with ice and frozen snow 10 inches thick. The phenomenon attracted huge crowds, at first very wary, who began to venture on to the frozen surface and started skating. Within no time, skating races were being arranged, football matches played, horses and carriages rode across, and a full range of stalls and booths set up for entertainment, to sell everything from fruit and cakes to 'spirituous liquors'. Even Newcastle MP Cuthbert Ellison joined in. Confidence in the ice's weight-bearing properties extended to fires being lit and the whole scene resembled a country fair. Sporting events carried on every night until late, particularly during the full moon, while keelmen – short of work with the lack of shipping, but with a canny eye on making money – erected gangways to help revellers negotiate the quayside edges, made unsafe with ice shattered by the action of the tide.
The Hidden Newcastle app is available for iOS and Android and can be downloaded for free at www.hiddennewcastle.org.