Three Foodies Giving a Demonstration at Our Newcastle Christmas Fair
Anthony O'Shaugnessy, Kevin Mulraney and Chris and Becca Green will be heading to our Newcastle Christmas Fair
At Living North's Christmas Fair we'll be welcoming some of the North East's leading chefs, artisan bakers and food and drink producers to our chef demonstration kitchen. We speak to three of them to give you a flavour of what's to come.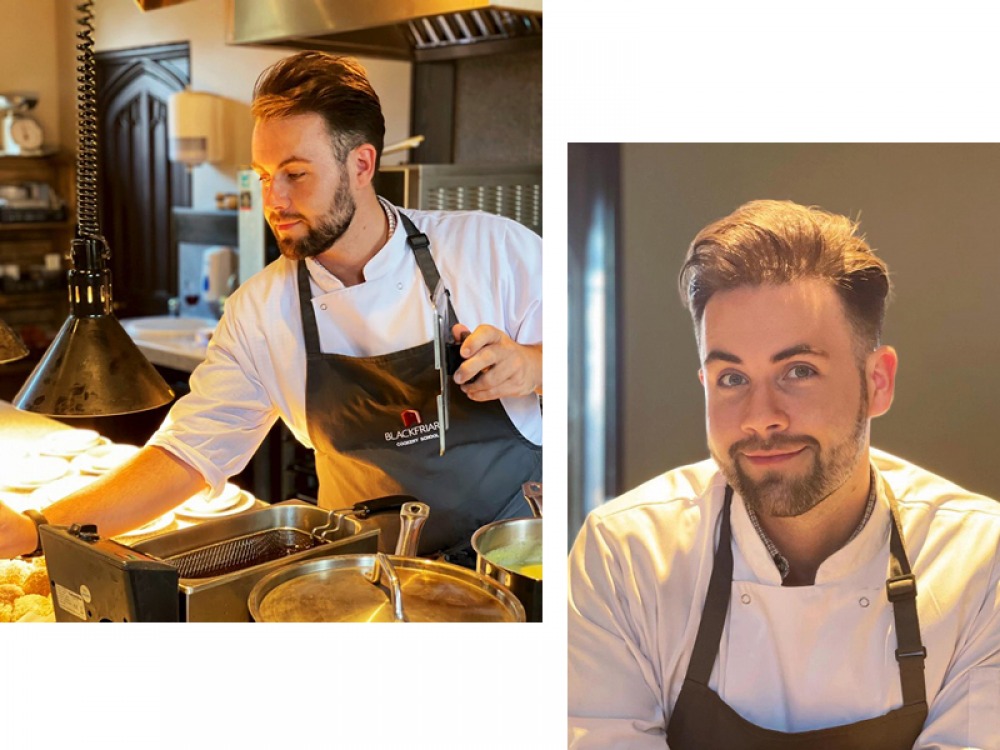 Anthony O'Shaugnessy
Head Chef Tutor at Blackfriars, Newcastle
Once a 999 dispatcher working in the North East Ambulance Service, Anthony's route into the kitchen was an unusual one, as he moved away from the North East to learn the trade and appeared on BBC's MasterChef in 2018. 'My route into the food industry was quite unusual,' he reflects. 'I began training as a chef's apprentice on minimum wage, and although it was a big drop from my previous career, it was a very useful period which enabled me to train in all aspects of kitchen work, including preparation, menu planning, pastry section and service.'
'Having always had a passion for food, it wasn't until I left home at 18 that I really started my adventure in food, and at that point I was very keen to explore my tastebuds,' explains Anthony. Graduating from university with a bachelor's degree in Science of Psychology with Neuropsychology, and working in the Ambulance Service, Anthony missed not having a creative career. 'After years of cooking at home, I thought about entering the food industry, however I couldn't afford to take time off work, go to college and retrain,' he says. After taking an interest in the show MasterChef, he decided to apply. 'MasterChef seemed like a fun way to explore my interest and test how much I enjoyed food.'
Anthony wowed the judges with his takes on some classic North East dishes and reached the semi-final of the competition. 'I didn't expect to get so far, all I expected was to get either a green light or a red light as to whether this was the industry for me,' he says. Following the show Anthony left his job in the Ambulance Service and moved to Leeds, where he trained in a restaurant as a chef's apprentice.
'We have a strong food culture here which doesn't get enough recognition, and I do think there is much more of a story to tell'
Over the last few years Anthony has gained invaluable experience and built a diverse skill set working as a chef and cookery school tutor in Yorkshire, but when an opportunity to join the team at Blackfriars back in his home city came up, he jumped at the chance. Now, as head chef tutor, he is improving the cooking skills of thousands across the region. 'We have a catalogue of over 75 cookery classes and courses [at Blackfriars] and a huge variety of world cuisines such as Thai, Vietnamese and Malaysian, as well as more traditional skillsets like bread making, patisserie and home butchery,' he says. 'I like to keep a finger on the pulse when it comes to people's taste in food.'
Anthony is hoping people come away from watching his demonstration at the Fair with some nostalgia for a classic North East dish, or the desire to try something local that they haven't eaten before. 'I have three ideas which I would love to demonstrate at the Christmas Fair, but I'll keep them under wraps until I can figure out which one deserves the spotlight,' he says. 'I love how much North East dishes resonate with people even beyond the North East. We have a strong food culture here which doesn't get enough recognition and I do think there is much more of a story to tell, and I would love to highlight another Geordie gem at the Christmas Fair.'
blackfriarsrestaurant.co.uk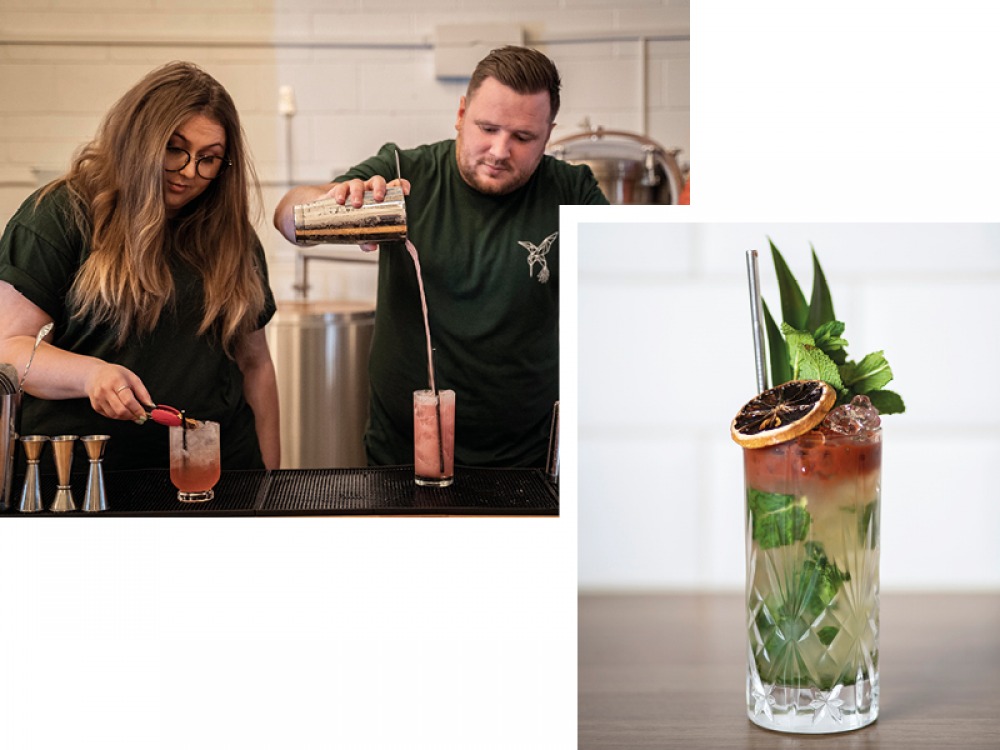 Chris and Becca Green
Hummingbird Cocktails, regionwide
Growing up in the hospitality industry, with his mum running pubs and hotels, Chris Green naturally ended up behind the bar. However, Chris wanted to focus more on the extraordinary side of things – getting into cocktails and mixology which led him to train under award-winning mixologists, then win prestigious Master of Malt competitions, and reach the finals of major international drinks competitions.
Becca on the other hand started working in hospitality when she was at university, and met Chris when he helped train her in bar service and mixology. Nine years down the line, the pair are married and have created their own cocktail business, Hummingbird Cocktails, which tours the North East hosting pop-up events.
'At the start of 2022 Chris got Covid quite badly and when he was recuperating he started working on a cocktail book,' Becca says. 'While working on it, Chris approached our local brewery and taproom, Brewis Beer Co., and they asked if we would be interested in doing a pop-up in their tap room. After great initial feedback Hummingbird was born.'
'We are definitely aiming to bring the festive spirit to our demonstration'
Now Hummingbird Cocktails host pop-up events across the North East. 'We provide a menu of five cocktails and one is always our signature Hummingbird Smash. We change the menu with every event, always striving to provide new and interesting cocktails that aren't widely available elsewhere,' Becca says. Developing the cocktails is Chris' role, taking inspiration from classic and contemporary drinks and developing his own personal twist on his creations. 'His inspiration comes from bars around the world, which like him, like to push the boundaries. Death & Co. in New York is probably his biggest inspiration in terms of bars and what drinks they are doing, but more locally Bramble in Edinburgh and Mother Mercy in Newcastle are two of our favourite places to grab a cocktail,' Becca explains.
Being a North East business allows Becca and Chris to use the plethora of local ingredients and suppliers we have on our doorstep. 'A favourite of ours is Hepple Gin, we really love their product,' Becca says. Gin and rum are used a lot in their cocktail creations as they make a popular base to develop a drink from. 'We use a lot of citrus too as it balances out the sweetness that usually comes with cocktails and helps round them off to allow for a sweet, sour and sometimes slightly bitter drink. Chris also makes his own syrups, often using local products including Just Like Heaven beer from Brewis Beer Co.'
Changing the menu with each event allows Becca and Chris to provide a new experience at each of their pop-ups. 'It lets our customers constantly try something new and exciting. We don't believe in showmanship, just great quality drinks served with a friendly face.'
Hummingbird Cocktails are already hosting events across the North East, as well as working on their own cocktail book and a range of at home cocktails, and for their demonstration at our Christmas Fair they'll be showcasing Chris' recipe for Glögg, a type of Scandinavian mulled wine. 'We are definitely aiming to bring the festive spirit to our demonstration,' Becca explains. 'We'll have a winter-themed drink that can be scaled up for parties, as well as a Hummingbird staple and a drink or two from Chris' own creations.'
facebook.com/hummingbird.ltd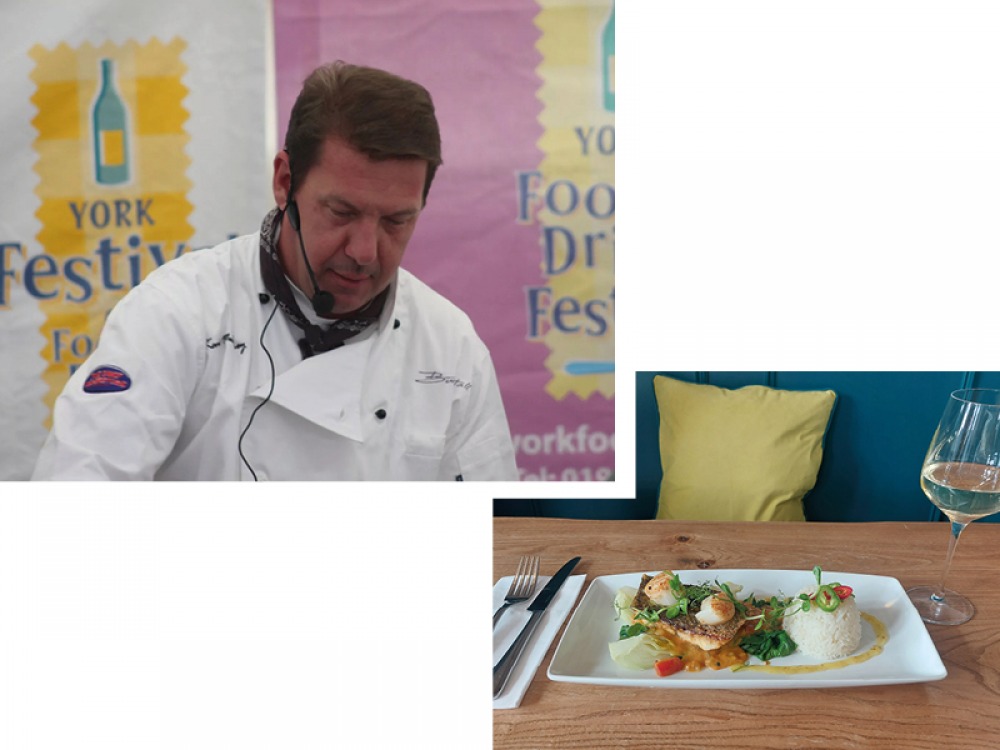 Kevin Mulraney
Head Chef and Owner of Bewicks, Rothbury
Although Kevin once had a dream of becoming a professional drummer, his path to becoming owner and head chef at Bewicks in Rothbury was one which saw him cook in some of the top restaurants in London, as well as owning his own restaurant, The Yacht Club in St, Katherine's Dock. 'It turns out I was a better cook than a drummer,' he laughs. 'I actually got an apprenticeship when I was 16 at the Naval & Military Club in Piccadilly and I did three years there.'
After a career of climbing the culinary ladder, reaching the top and owning his own restaurant in London, Kevin decided to head back to the North East to act as consultant chef for top restaurants and outlets across the North, before settling down and founding Bewicks.
'I'm classically French trained so I like to think [of Bewicks] as London food in North East portions, so it's fancy food but you don't go home hungry,' he explains. 'What we try and do is make a cross between Betty's Tearoom meets La Gavroche. You'll have some people sat having a nice afternoon tea or cream scone and then the person on the next table could be having a half lobster Thermidor with fillet steak – it's a real eclectic mix.'
'I like to think of Bewicks as London food in North East portions'
At Bewicks the focus is on sustainability, fresh produce and in-season ingredients. 'We do four menus a year and it's lots of hunting, shooting and fishing. As soon as partridges are in season we're on it and wood pigeons are prevailing for us at the moment – we've actually got a twist on the classic chicken Kiev but we're doing a pheasant Kiev with a lovely wild pheasant breast with garlic, basil and pesto butter inside with panko breadcrumbs,' Kevin says.
There are some dishes however which are permanently on the menu, as they've become so popular with customers and a speciality at Bewicks. 'Our posh scampi, which is panko breaded monkfish with homemade tartar sauce served in an oyster shell, never comes off the menu. We keep it simple but well executed,' Kevin says. 'Everything is as local as we can get it. The mussels are from the Shetlands, we only buy oysters from Lindisfarne and crabs come in from North Shields Fish Quay. We've very lucky to have the sea and the moors so close by – we've got the best of everything,' he says. The team at Bewicks also smoke their own hot smoked salmon on site and use Rothbury's local butchers for the meat for their famous Border Reivers Scotch egg. 'We make sure our specials are specials, not just something we want to get rid of.'
Returning to Newcastle Racecourse to showcase his skills again, Kevin is looking forward to bringing a modern twist to some of the classics. At our LIVE spring event he cooked up wood pigeon with Gruyère cheese mash and a Scotched quail egg, and at Christmas he's thinking game once more. 'It's going to be seasonal, some sort of game, and something a little bit different,' he says. 'I like it to be simple enough for people to be able to follow it when they get home.'
bewicksrothbury.com