Three Foodies Heading to Our York Christmas Fair
Callum Leslie, Kathryn Bumby and Jordan Sweeney will be giving a demonstration at our York Christmas Fair
At Living North's Christmas Fair we'll be welcoming some of Yorkshire's leading chefs, artisan bakers and food and drink producers to our chef demonstration kitchen. We speak to three of them to give you a flavour of what's to come.
Callum Leslie Head Chef at The Black Swan Oldstead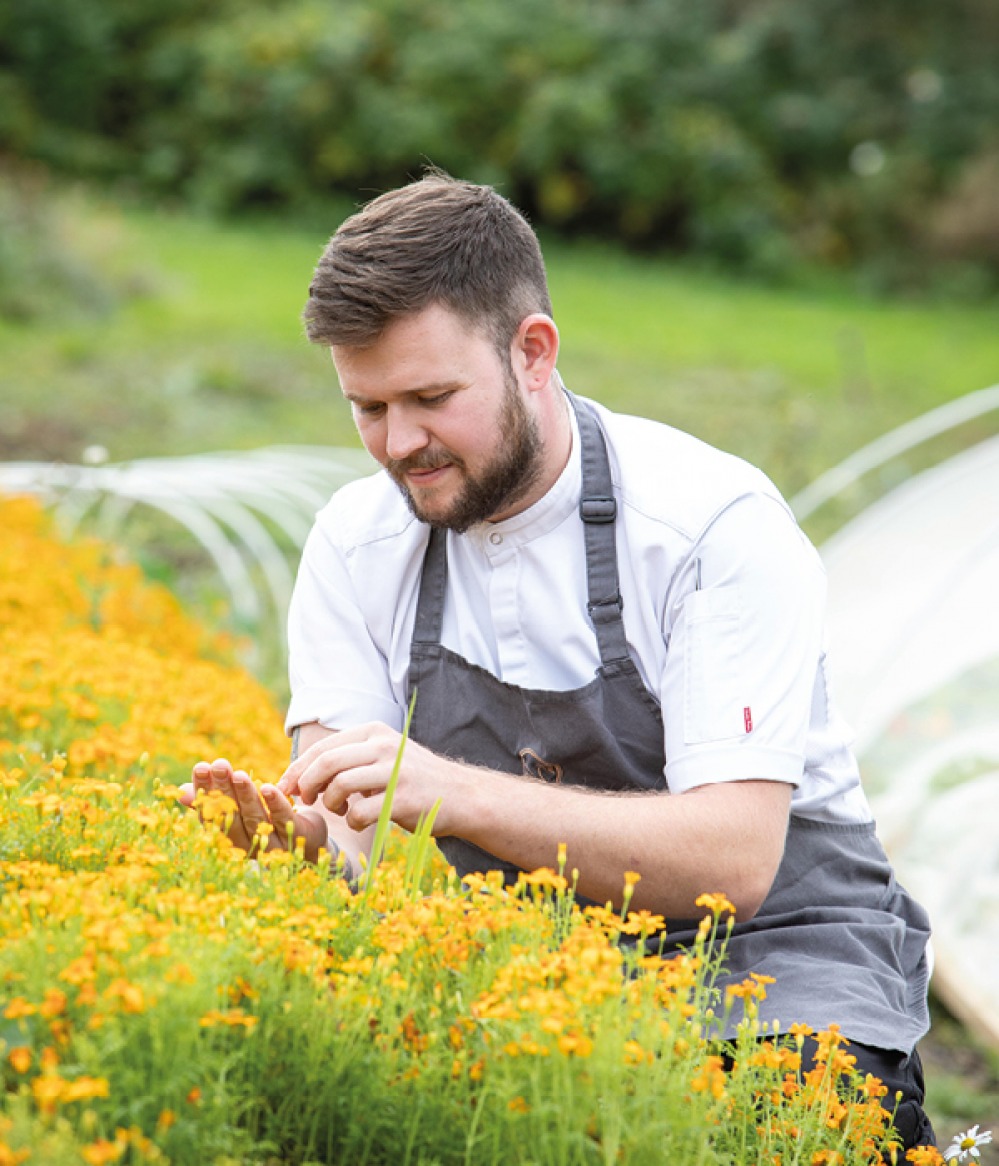 Coming from a large family where food has always been important, and being the first person in his family to take a job in hospitality, Callum never thought he would end up as head chef at one of Yorkshire's leading Michelin-star restaurants. 'I've got five younger siblings, so mealtimes have always been important. Both my mum and step-mum are excellent cooks, and Grandma's Sunday roast is always a winner,' he says.
Taking his first job as a pot washer on a Saturday, Callum completely fell in love with the buzz of the kitchen. 'I was thrown in at the deep end for sure, but it really cemented my desire to pursue this as a career,' he says.
Callum then went on to enrol on the professional cookery course at his local college in Huddersfield. 'I then land my first job at the Michelin-starred restaurant, The Box Tree in Ilkley before working at numerous Michelin-starred restaurants in the South of England including Midsummer House in Cambridge, Marcus Wareing at the Berkeley in London and Restaurant Sat Bains in Nottingham,' he explains.
However, Callum considers himself as a bit of a countryman and his roots were calling him back up North. 'Yorkshire is home to a bounty of incredible suppliers and produce, and of course family too, so it was an obvious move for me. When Tommy offered me a role at The Black Swan, I jumped at the opportunity,' he says.
'Part of truly getting to grips with our closed-loop approach to running the business is to completely immerse myself in the entire process from start to finish'
Being a huge advocate for game, we can expect Callum to be whipping up a tasty seasonal dish during his chef demo at our Christmas Fair. 'Game really is central to rural life, and I love to cook with it in the restaurant and at home. Since we'll be in the heart of the season, it seems only right to showcase our spectacular wild Yorkshire game alongside some of the best, locally-sourced seasonal produce. I don't want to give too much away so I'll keep my cards close to my chest for now,' he says. And although diners visiting The Black Swan experience food and flavours like no other, Callum wants to bring a more relaxed and homely approach to his demonstration. 'I want to show that wild game is accessible and achievable for everyone, as well as it being a fantastic way to eat more sustainably too.'
blackswanoldstead.co.uk
Kathryn Bumby, Owner and Pasta Maker at The Yorkshire Pasta Company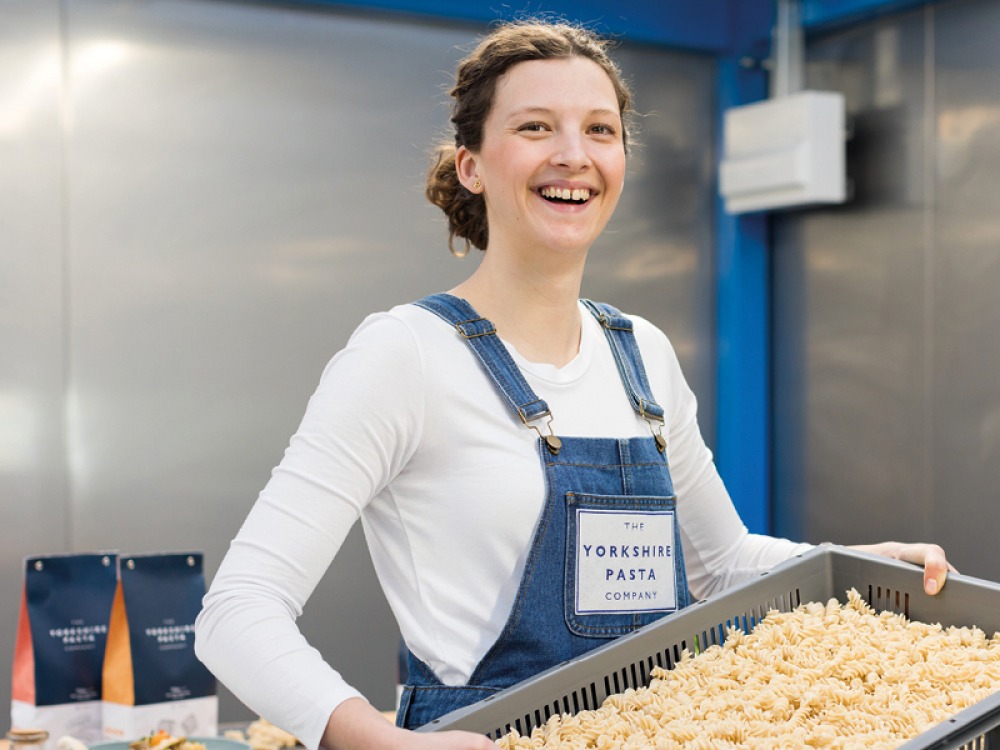 After realising there was a gap in the market for a British pasta made to a high standard, with British ingredients and not imported in plastic packaging, Kathryn Bumby decided to launch The Yorkshire Pasta Company. 'In March 2019 during a walking holiday, I asked my husband "why do you think no one makes pasta in the UK?". That thought seeded itself in my mind and it began to keep me up at night,' Kathryn explains. 'I began spending evenings and weekends driving around the UK and searching the internet to see if it was true – there was no British-made pasta.'
Kathryn and her husband travelled to Italy to understand how true artisan pasta was made. 'It was at this point that I realised the pasta available in the UK wasn't a patch on that in Italy, and the mass-manufactured, supermarket stuff is not real pasta,' Kathryn explains. Travelling the breadth of Italy getting help and support from locals to learn the ropes of making real pasta, Kathryn mastered the skills she needed to start her own company back in Yorkshire.
Unlike mass-manufactured supermarket pasta, which is made in two hours, The Yorkshire Pasta Company use authentic methods which take two full days to make their pasta. 'We dry our pasta on wooden racks at low temperatures overnight for 14 hours. This allows flavour to develop as the dough matures and each piece is bronze drawn to give it a rough surface. This is where the magic happens as each piece then clings to sauces, hugging them, and creating a beautiful dish of food,' Kathryn explains.
'It was at this point that I realised the pasta available in the UK wasn't a patch on that in Italy, and the mass-manufactured supermarket stuff is not real pasta'
Being a farmer's daughter, Kathryn has always had a keen interest in food and was brought up with an understanding of the provenance and quality of food, as well as the need to respect ingredients. She is also a big advocate for sustainability and supporting local producers as much as she can. 'All our flour comes from the mill just down the road and because we don't import durum wheat (semolina flour) typically used to make pasta, we use our bespoke blend of wheat flours developed and kept as a family secret,' she explains. 'We can always guarantee that 70 to 80 percent is directly from farmers in Yorkshire, and then some farmers further afield in Lincolnshire and Humberside.'
Packaging is another big part of The Yorkshire Pasta Company's sustainability plan. 'We package in striking paper bags which are 100 percent recyclable and completely plastic-free. We take a sustainable approach to a classic product and we run Yorkshire Pasta HQ on solar energy, with all our products being vegan and vegetarian friendly.'
At Kathryn's chef demonstration, she hopes to take the time to share what makes her artisan, Yorkshire pasta so different to the mass manufactured pasta we see so often on the shelves. 'I'll also use the time to share some cooking tips and a favourite recipe that is bold in flavour and a real hug in a bowl – perfect for these winter months.'
yorkshirepasta.co.uk
Jordan Sweeney, Bar Manager at Rudding Park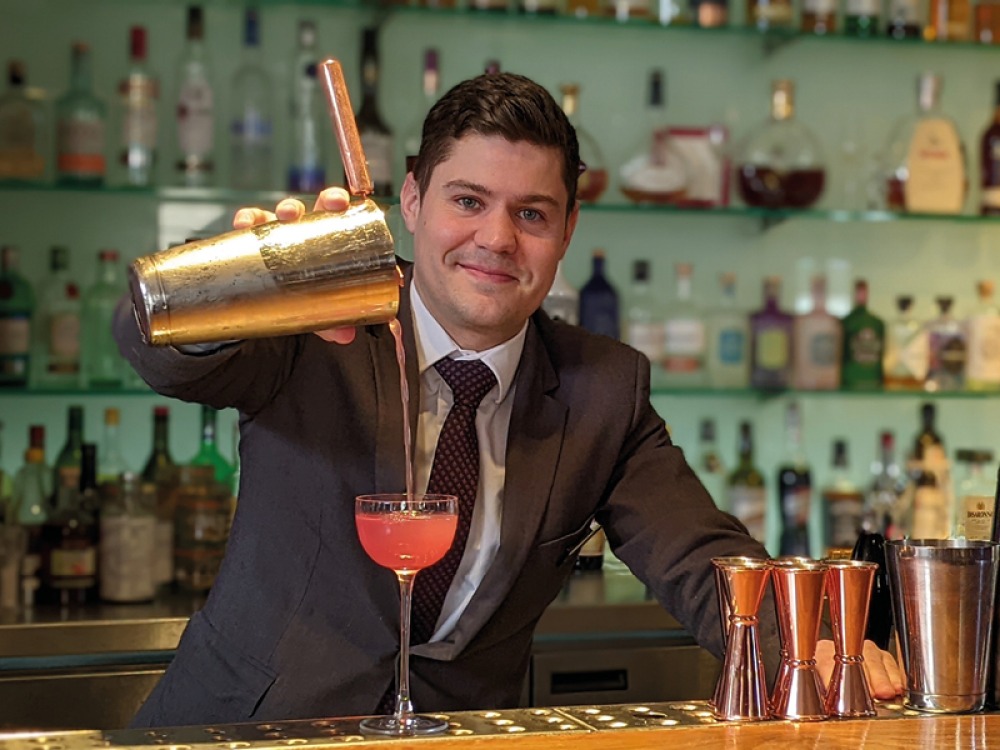 Jordan's taste for quality cocktails developed when he was working in a small independent bar in Beaconsfield. 'It was an incredibly forward-thinking bar for its time, utilising modern techniques such as low vacuum distillation with rotary evaporators,' he says. 'It was here I met the other half of the Rudding Park bar management team, Harrogate-raised Rhys James.' After forming a bond over their passion for quality drinks, Jordan and Rhys co-founded their own distillery and worked for the Langham Hotel in London before moving north.
Now Jordan heads up the bar at Harrogate's Rudding Park. 'I've been here for just over a year and the focus is delighting our guests and ensuring smooth service,' he says. Whilst part of his role is to train the next generation of bartenders, Jordan can often be found in the drinks laboratory, conceiving and developing new cocktails and drinking experiences alongside Rhys. 'We both approach cocktails from different angles which complement each other. Rhys is an artist (he has artwork in the Saatchi Gallery in London), and loves travelling, whereas I love nature, distillation and deconstructing seemingly simple and common flavours to produce surprising results,' Jordan explains. 'Between us it's a bit of a hodgepodge of inspiration and our creative days in the lab typically involve a lot of music and chaotic brainstorms – it's wonderful.'
One product of Jordan and Rhys' creative processes is Rudding Park's newly launched sustainable cocktail menu, Garden to Glass. 'The cocktails utilise the home-grown produce cultivated by our fantastic team of horticulturalists in our enormous Kitchen Garden. The menu changes throughout the year and we are currently working on new winter cocktails for the holiday season,' Jordan explains.
'You can certainly expect some modern techniques and experimental flavour combinations. We like to say we deliver drinking experiences, not just cocktails'
Surprisingly, one of the most popular cocktails at the bar is a non-alcoholic drink – Jordan's alternative take on an Aperol spritz. 'It combines an alcohol-free bitter orange aperitif with house-made fresh raspberry cordial and soda. Another popular cocktail includes a coffee kombucha we produce from the leftover coffee grounds from our breakfast service,' Jordan says.
And whilst no ingredient is off limits, Jordan is able to make even the most basic (and most elaborate) ingredients work in a fabulous tasting drink. 'I think water is the under-appreciated hero of every cocktail, but we do look at ingredients and see multiple uses and flavours in them. We enjoy experimenting with common ingredients and unlocking unique flavour profiles, for example we're looking at using beetroot, black truffle, and even frankincense and myrrh for the new menu,' he says.
At Living North's Christmas Fair, Jordan is hoping to create some Christmas-inspired drinks perfect for the holiday season. 'You can certainly expect some modern techniques and experimental flavour combinations. We like to say we deliver drinking experiences, not just cocktails,' he says. And for those not drinking this Christmas, fear not, Jordan and his team take the same amount of care and attention in creating a memorable drinking experience for all. 'We want our non-drinking guests to experience the same quality cocktails, therefore non-alcoholic drinks sit front and centre on the menu, along with the alcoholic ones.'
ruddingpark.co.uk
Living North's Christmas Fair tickets are now on sale. Head to livingnorth.com to take advantage of our early bird discount tickets (until 9th November). 10th–13th November at York Racecourse. Tickets available each day on the door.