Top Restaurants, Pubs and Cafés in Hexham, Northumberland
Hexham isn't short for choice when looking for amazing places to eat
Here are just a few favourites you'll want to add to your foodie bucket list.
The Beaumont
Beaumont Street, Hexham NE46 3LT
01434 602331
thebeaumonthexham.co.uk
This townhouse in the heart of Hexham features a stylish open-plan restaurant, lounge and bar area. Inspired by the changing seasons, dishes from the ever-changing seasonal menu are prepared in the open kitchen. Start with local scallops and pancetta followed by Northumbrian beef or lamb ­– if you're planning an earlier visit, try the restaurant's popular afternoon tea. Sunday lunch is something of an institution here too.
Bouchon Bistrot
4–6 Gilesgate, Hexham NE46 3NJ
01434 609943
bouchonbistrot.co.uk
Now something of a Tyne Valley institution, the chefs at Bouchon bring French-style cuisine to this corner of Northumberland. With a deservedly good reputation dining here is an occasion and you can expect to find all the classics here – for an authentic French dining experience start with escargots drizzled with garlic and parsley butter, followed by crispy duck confit served with Lyonnaise potatoes and red wine sauce.
Charred
20–22 St Mary's Chare, Hexham NE46 1NQ
01434 752172
charredhexham.com
This modern bar and grill specialises in steak and lobster, with lobster fritters, lobster Thermidor, surf and turf and seafood grills all on the menu. Don't miss their weekly burger nights and steak nights too.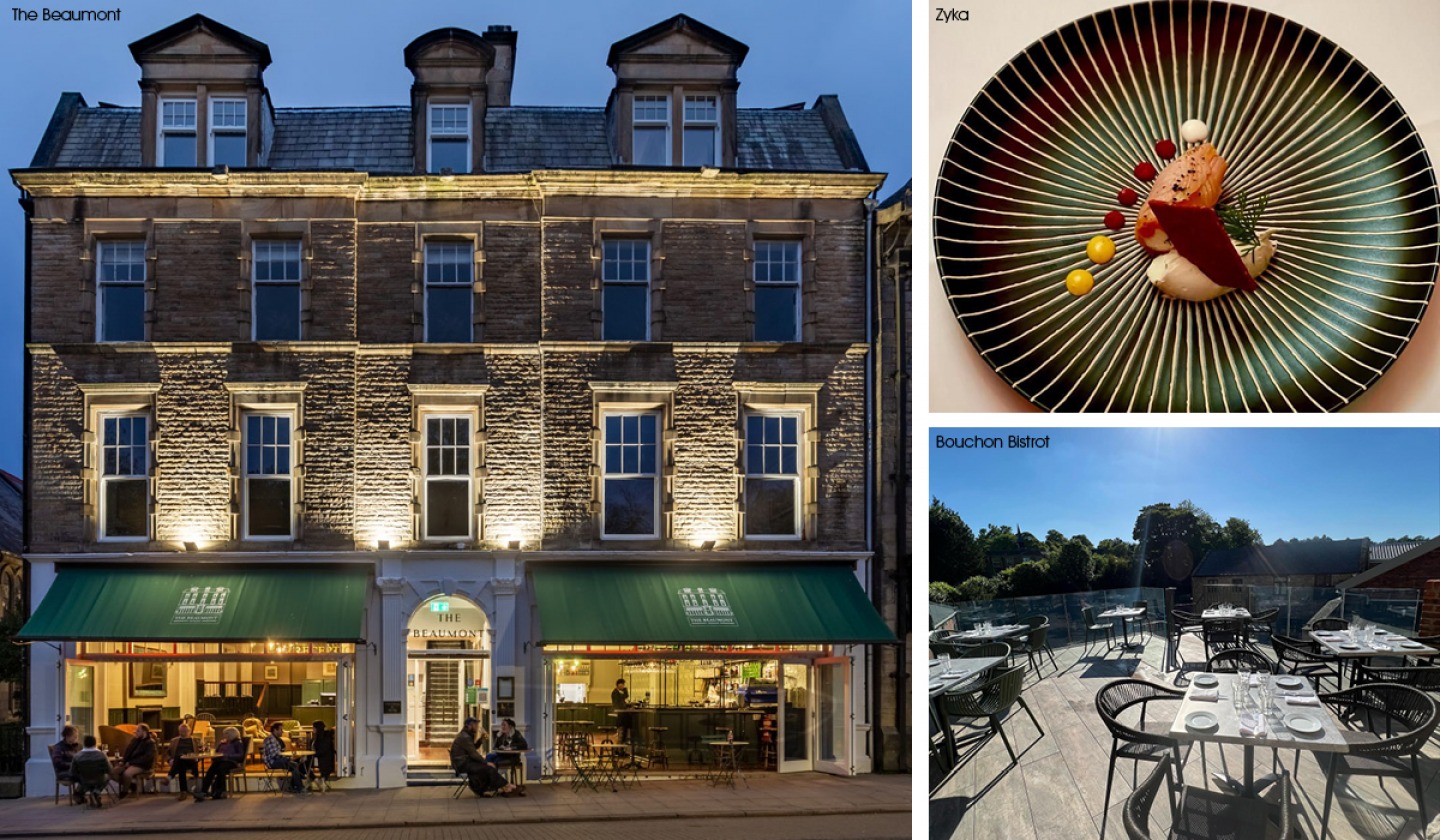 Danielle's Bistro
12 Eastgate, Hexham NE46 1BH
01434 601122
danielles-bistro.co.uk
This neighbourhood bistro serves innovative British and Mediterranean dishes using the best local ingredients all dished up in a warm and friendly environment. It's a great place for a catch-up with friends or family, and the three-course menu is great value at £23 per head.
Zyka
44 Priestpopple, Hexham NE46 1PQ
01434 600333
zykahexham.com
Zyka is a modern boutique restaurant; a stylish place for fine dining in Hexham, under the control of Chef Khaled Miah. Choose from their contemporary or classic starters, then indulge on your choice of game, duck, chicken, beef or lamb dishes. Khaled and his team use the leanest cuts of lamb and chicken and the freshest ingredients to ensure all of their meals are healthy, light and, of course, taste amazing.
Saathi
28 Priestpopple, Hexham NE46 1PQ
01434 603509
saathis.co.uk
Award-winning Saathi is an Indian restaurant that serves authentic regional dishes using fresh, local produce along with freshly ground and blended spices.
Nearby Corbridge has some great foodies too, try these:
The Angel of Corbridge
Main Street, Corbridge NE45 5LA
01434 632119
theangelofcorbridge.com
This historic coaching inn dates back to the 1500s. Enjoy a traditional Sunday roast in the Bar, or if you are bringing your four-legged friend along dine in the Angel's Table or Lounge. Sit back and relax with the all-day seasonal menu, or try a fish supper from the Angel's very own fish and chip shop behind the pub.
Il Piccolo
St Helen's Street, Corbridge NE45 5BE
01434 634554
ilpiccolo.co.uk
Run by Sicilian-born chef Emanuele Orto and his wife Pam, Il Piccolo is an Italian restaurant with a twist. Enjoy a pre-dinner glass of red at the Stuzzico Wine Bar, and relax in the friendly atmosphere as you enjoy traditional Sicilian-style dishes in this popular neighbourhood bistro.
The Valley Restaurants
Old Station House, Station Road, Corbridge NE45 5AY
01434 633434
19 Market Street, Hexham
NE46 3NX
01434 601234
www.valleyrestaurants.co.uk
These restaurants are something of an institution in the Tyne Valley and long-term favourites with locals for their authentic Indian cuisine and varied menu featuring old favourites and new dishes. They have an outpost in Newcaste too.