Tree-mendous Christmas Tree Tips and Where to Pick The Perfect Tree
Here's our ultimate guide to bagging the real deal.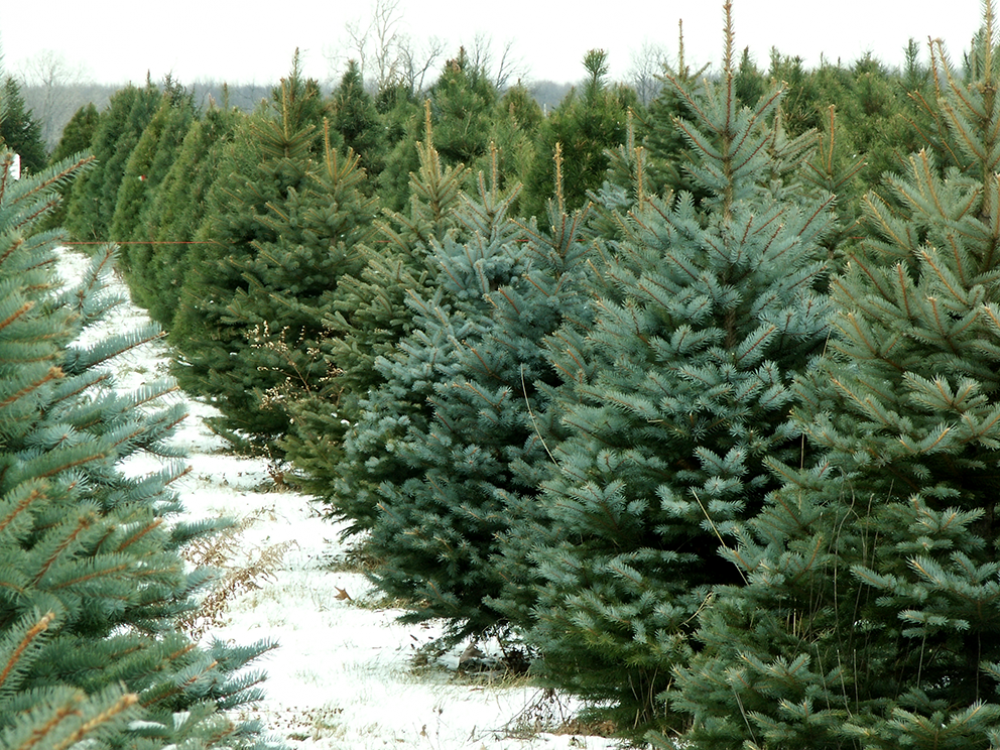 Whether you're a longtime lover of the real thing, or you're finally making the sustainable switch from an artificial one, nothing beats the pine scent of a real Christmas tree. But it's vital you choose the right tree as your major festive feature, and where you find it is just as important.
But what makes a real tree the best option? Well, it's the more traditional choice and we've already mentioned that wonderful scent. Plus, you can make finding the tree a real family ritual and there's such a variety that you'll always find one to suit your space. They're also temporary, so you can switch up your style year on year. But, arguably the more important aspect is that by buying a real tree, you can support local growers and businesses.
Switching from an artificial tree to the real thing can be a rather big deal for some, but it is by far the best choice for the environment. Real trees have a much lower carbon footprint than artificial ones, and each one will absorb up to a ton of carbon dioxide over its lifetime – cleaning the air and helping to slow climate change. Many places where you buy your tree, especially those accredited by the British Christmas Tree Growers Association, will replace every tree they fell with a new one. When a Christmas tree is disposed of efficiently it is 100 percent biodegradable (just don't let it rot) and many councils and tree growers will collect the tree after Christmas, stripping and chipping it for use in parks and other spaces. In contrast, artificial trees cannot be recycled and will simply end up in landfill once they are discarded.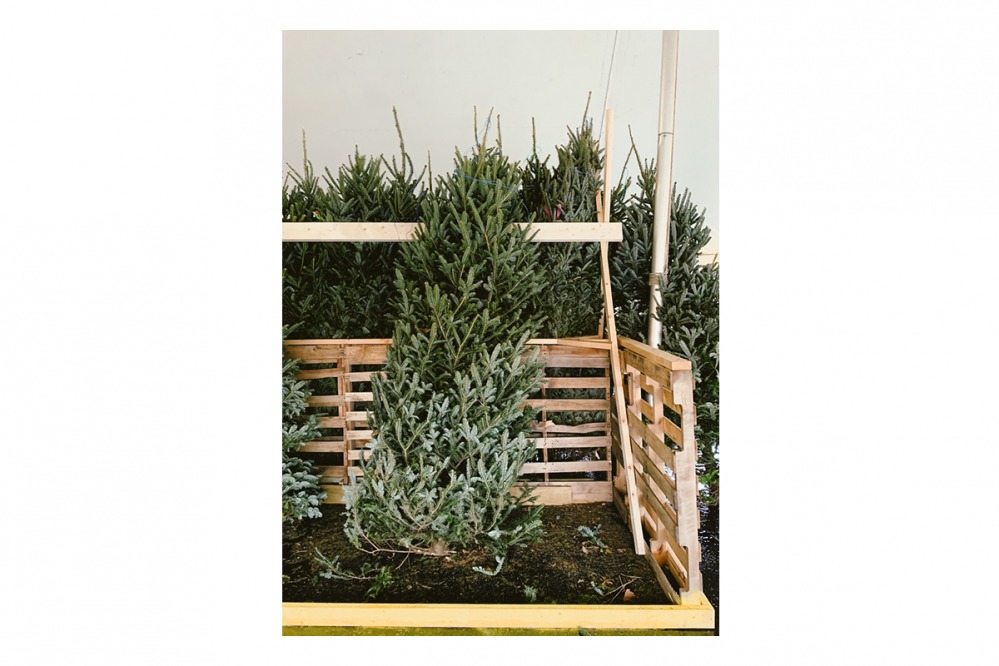 Be Prepared
You need to do some preparation before you head out to find the perfect tree. Remember to measure your doorways as well as the space – especially the height – you want your tree to stand in, then take that measuring tape with you. The last thing you want is a re-enactment of that scene in Elf where Buddy tries to put the star on the huge tree which, of course, comes crashing to the floor. Bigger is only better if you have the space. Consider the positioning of your tree too. While we love cosying up by the fire at Christmas, you don't want to place your tree next to a source of heat if you want it to last – it'll dry out quickly and won't keep that lovely, fresh look for long. If you have a heated floor, consider placing a cork tile between the tree stand and the floor to diffuse some of the heat.
Choose Wisely
Now that you're heading out to find your tree, it's time to start thinking about what type of tree you really want. You'll have heard of the Norway Spruce and Nordmann Fir, but there are plenty of others to choose from.
Originally from southern Russia, Nordmann Fir has become the most popular Christmas tree in the UK because of its beautiful shape. The traditional Norway Spruce is the one which gives off that familiar Christmas scent, but it sheds its needles more readily, so do prepare for that (watering it daily will help retain some of those needles). On the other hand, Nordmann and Fraser Fir trees, and Blue Spruce, are less messy but also less aromatic. While the Norway Spruce and the Norman Fir boast plenty of space for decoration, the Fraser Fir is ideal for smaller rooms.
The Douglas Fir is a conifer which is widely planted in UK and it is often used as a Christmas tree because of its attractive shape and dark colour, as is the Scots Pine. The White Pine should retain its needles for a good amount of time, therefore keeping its full appearance, and it's less likely to cause allergic reactions compared to the more fragrant trees.
Now you've picked your perfect type of tree, it's time to pick the best of that bunch. Look for needles that are shiny, avoiding any that show signs of browning or withering.The colour of the needles should be a dark green rather than pale, and they should feel waxy to the touch, not dry. Don't be afraid to give the branches a little shake – if lots of needles fall off, then it's already past its prime.
Stand the tree up and shake it out so you can see how the branches fall, if there are any noticeable gaps and if it is symmetrical enough. Also consider decorations – if it is very thick and bushy it will be harder to decorate.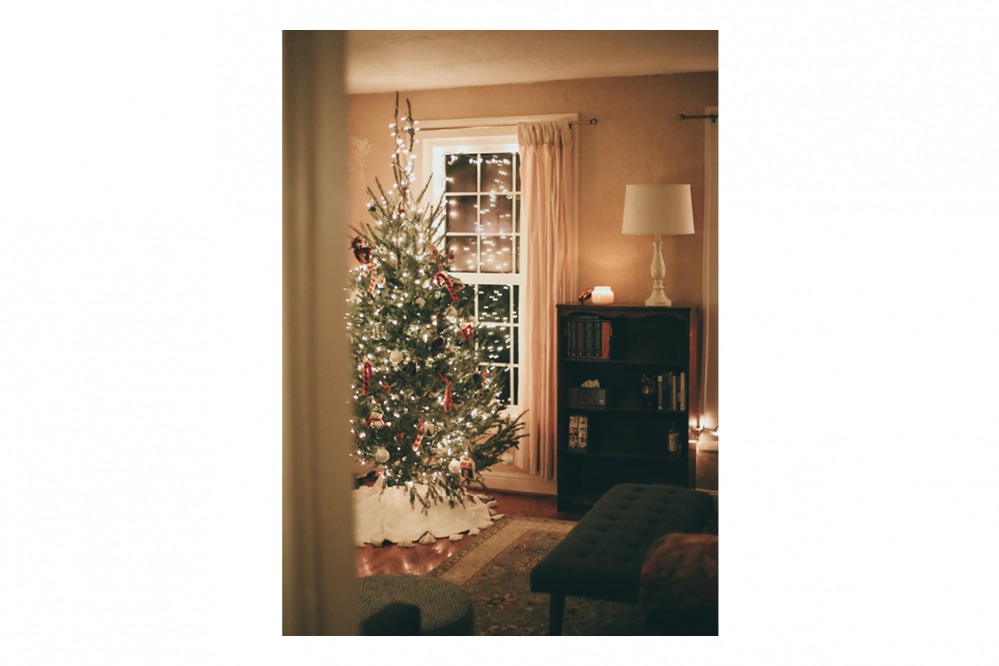 Care and Attention
Once you've found your perfect match, if it's not netted up ready for you to transport, you can use an old blanket to wrap your tree to prevent it from losing needles on the drive home. Some companies will deliver, so you can save your car from the mess.
However your tree gets home safely and securely, you'll want to make sure it has plenty of fresh water – just like any other plant. There are things you must do to ensure its longer-lasting health. First, saw off the bottom three centimetres or more of the trunk to create a fresh cut and open up the pores in the bark, which can block up with sap within a few hours of its cutting. Don't cut the tree base at an angle or in a V-shape, as this may make your tree unstable. It now requires a constant water supply to maximise its beautiful display throughout the festive period, so you'll need to check the water level daily (Christmas trees can drink two to three pints of water a day). For freshly-cut trees, a water-retaining stand is essential.
So it's all set up in the perfect position – now it's time to decorate. Lights tend to go on first, try to use LED tree lights which emit less heat and are better for the environment. Everyone has a different way of decorating but whatever you add to your tree, any fragile features should go higher up so as not to tempt your pets to play with them, and remember heavy decorations will drag down the branches on a slimmer tree.
That's it! Your Christmas tree looks and smells amazing. Now it's time to sit back and enjoy it into the New Year.
NORTH EAST
Broom Hall Farm Christmas Trees
With a large selection of Nordmann Fir, Fraser Fir and Spruce trees ranging from 4ft to 16ft, Broom Hall Farm opens in November for Christmas tree devotees to find the perfect one.
Black Callerton, Newcastle NE5 1NT
01661 820217
broomhallchristmastrees.com
Chopwell Wood
Every tree sold here helps to fund the work in the wood throughout the year – so by buying from them you're not just getting a beautiful tree, you're doing your bit for our woodland. From 27th November, expect forest-fresh trees all grown locally.
Rowlands Gill NE39 2JA
01207 542495
friendsofchopwellwood.org.uk
Croft Christmas Trees
You'll find a vast choice of freshly-cut and sustainably-grown trees here. From November 19th, find Nordmann Fir, Norway Spruce, Blue Spruce and potted trees too. After the success of last year, Inside the Box are returning with an extended selection of festive treats while you pick your tree – expect hot chocolate, mulled wine, gingerbread lattes and hot mince pies from the vintage horsebox.
Croft-on-Tees DL2 2TF
01325 720673
croftchristmastrees.com
Cowell's Garden Centre
From Fraser and Nordmann Fir to pot grown Norway Spruce, there's a fantastic variety of trees here. They know the importance of filling your home with the scent of pinewoods in December, so there's always plenty of choice, and the team here are really helpful (and patient) as you search for the perfect tree.
Woolsington NE13 8BW
0191 286 3403
cowellsgc.co.uk
East Grange Christmas Trees
As pumpkin picking season comes to an end, the Christmas barn comes to life selling freshly-cut, locally-sourced Nordmann Fir trees, as well as handmade wreaths, decorations and stands, from the last weekend of November.
High Shincliffe DH1 2TB
0191 384 2718
eastgrange.com
Edelweiss Christmas Tree Co.
There are usually thousands of trees here to choose from, so whether you're looking for a Norway Spruce, a Blue Spruce, Fraser Fir, Nordmann Fir, Noble Fir or the Lodge-pole Pine – there's something to bring the Christmas spirit into every home.
Seaton Delaval NE25 0PP
0191 7318897
edelweiss-trees.com
Hamsterley Forest
They've been supplying sustainably-sourced Christmas trees all over County Durham for over a generation with forest fresh pine, spruce and fir trees – all available at the Christmas Tree Centre here from December 4th.
Bishop Auckland DL13 3NL
01388 488312
Meldon Park
Each year, Meldon Park hosts a cut your own event, and saws are provided, so you can enjoy seeking out and sawing down your chosen tree in the surrounding fields. It's great fun for all the family – but get there early for the biggest selection.
Morpeth NE61 3SW
01670 772341
Northumbria Christmas Trees
Specialist growers and suppliers of Nordmann Firs, this company will pick and deliver directly to you on the same day for orders placed before 11am, or you can head to Callerton Garden Centre to pick out your own. There are even some that are more than 7ft tall for lofty spaces.
Westerhope NE5 1NL
07799 048261
northumbria-christmas-trees.co.uk
Raby Christmas Trees
From 27th November, you can take your pick from a large selection of freshly chopped trees from Raby's Coach Yard, alongside wreaths and foliage to decorate at home. Why not make selecting your tree a special occasion? Enjoy a warming hot chocolate from the cosy Stables Café, and explore the Enchanted Forest Trail.
01833 660888
Darlington, DL2 3NF
raby.co.uk
Scotts House Farm Christmas Trees
Find plenty of potted trees here alongside Nordmann and Fraser Firs and Scots Pine up to a huge 14ft, with friendly staff on-site to help you choose the perfect tree.
West Boldon NE36 0BE
facebook.com/scottshousefarmchristmastrees
Whelly Hill Farm
Orders for real Christmas trees start from late November at this family-run business. They supply a wide range of varieties and sizes, which start from 5ft and go up to 20ft, including Nordmann Fir, Fraser Fir, Norway Spruce and Scots Pine, and their 'prime grade' tree quality ensures that the needles last longer.
Hartlepool, TS27 3BH
07973 281211
whellyhillfarm.com
Wilde Farm
Wilde Farm offer an exclusive delivery and collection service – a handpicked Nordmann Fir will be brought directly to your door and they even return in the New Year to collect it, and it's then fed to their rare breed goats and sheep on the farm. We suggest booking early to avoid disappointment.
Ponteland NE15 0AB
0191 284 8652
wildefarm.co.uk
YORKSHIRE
Bawtry Forest Christmas Trees
In the heart of Bawtry Forest, the tree farm has been creating a magical atmosphere for more than 40 years. There's thousands of freshly cut trees, from the Norway Spruce to the Nordmann Fir, as well as a festive bauble barn with hand-decorated baubles, so you can head home with everything you need to start decorating.
Doncaster DN10 6DG
01302 951020
bawtryforestchristmastrees.co.uk
Billingley Christmas Tree Farm
Thousands of real Christmas trees are grown around this farm and every November, one of the barns is turned into a magical display to choose your tree from – there's also the chance to meet Santa and his reindeer. You can also order your farm-fresh tree online and have it delivered, no matter where you live in Yorkshire.
Barnsley S72 0JF
01709 895162
billingleychristmastrees.co.uk
Dodds Christmas Trees, Leeds
Dodds offer fabulous premium-grade Christmas trees, with the option to have your tree delivered to your door, on a day chosen by you, with a new stump cut ready to be displayed perfectly on your tree stand. If you're in Leeds or the surrounding area, your tree will be delivered for free.
0113 415 2512
christmastreeman.co.uk
Hull Christmas Trees
Selling Christmas trees for more than 50 years, the team at Hull Christmas Trees are true experts when it comes to premium quality trees. With a wide selection of Nordmann Fir, Norway Spruce and pot grown trees, as well as stands, pomanders and wreaths, you'll find everything you need here this Christmas.
Hull HU10 7TT
07774 104571
hullchristmastrees.com
Methley Estate
The farm manager at Methley Estate planted the first tree here in 1996 – and now the farm has 18,000 trees growing at any one time, so there are plenty to choose from. From Norway Spruce to Fraser Fir, find yours here from 20th November.
Leeds LS26 9DU
07922 896598
methleychristmastrees.co.uk
Raby Christmas Trees
From 27th November, you can take your pick from a large selection of freshly chopped trees from Raby's Coach Yard, alongside wreaths and foliage. Why not make selecting your tree a special occasion? Enjoy a warming hot chocolate from the cosy Stables Café, and explore the Enchanted Forest Trail.
01833 660888
Darlington DL2 3NF
raby.co.uk
Ripponden Christmas Tree Farm
This tree farm was set up in 2007 and now has more than 6,500 Christmas trees. Their Nordmann Firs make up around 75 percent of everything that is grown here, because they're so popular, but there's also Norway Spruce, Blue Spruce and Fraser Fir, with a few lesser-known species if you fancy something different.
Ripponden HX6 4NU
07814 184130
rippondenchristmastreefarm.com
Rudfarlington Farm
With more than 1,000 trees and 20 years of experience, Rudfarlington's Christmas Tree Farm are on-hand to help you select a stunning Christmas tree – whether it be a Nordmann Fir, Norway Spruce or a Fraser Fir. Open from 16th November, there's also the farm's Christmas barn, filled with rustic gifts, ornaments and decorations.
Harrogate HG5 8LX
07703 435480
christmastreesharrogate.co.uk
Scampston Estate Christmas Trees
The dedicated team here aim to produce the finest Nordmann Fir, Fraser Fir and Norway Spruce trees straight from the fields. Each year, the trees are hand-shaped and pruned so you can expect a perfectly-proportioned Christmas tree. When a tree is harvested, another is planted in its place, so you can be sure that the production is sustainable.
Malton YO17 8NG
01944 759111
scampston.co.uk
Swillington Organic Farm
Swillington's trees are proudly grown in Yorkshire – and from 28th November, you can take your pick from hundreds of freshly grown Christmas trees, ranging from 3ft–15ft. The team here will also wrap it for you so it will easily fit in the car, or there's a local delivery service too.
Swillington LS26 8QA
0113 2869129
swillingtonorganicfarm.co.uk
York Christmas Trees
Last year, York Christmas trees supplied the tree for 10 Downing Street, so you know you're in safe hands with these champion growers. From 24th November, you can pick your own tree directly from the field, which will be cut down for you to take home that day. There's also a fun-filled family barn with a wide selection of fresh wreaths and decorations to make the experience extra magical.
York YO32 2RH
07957 220837
yorkchristmastrees.co.uk
Woolley Edge Christmas Tree Farm
This year, Woolley Edge Christmas Tree Farm are providing a magical experience for the whole family. After selecting your premium quality tree, take a ride across the Christmas tree plantation on their Tree Train, and browse the extensive range of decorations, lights and wreaths in their giant new barn. You can grab a warming drink and refreshments there too.
Wakefield WF4 2LQ
07973 910717
woolleyedgechristmastreefarm.co.uk