Vick Hope on the Importance of Mental Wellbeing
Popular presenter Vick Hope returned to her childhood school, Dame Allan's, to officially open its new wellbeing centre, The Snug. She shares the importance of supporting young people's wellbeing
As an Amnesty International Ambassador and mental health advocate, Vick is proud to broadcast her Northern voice to the UK to share people's stories.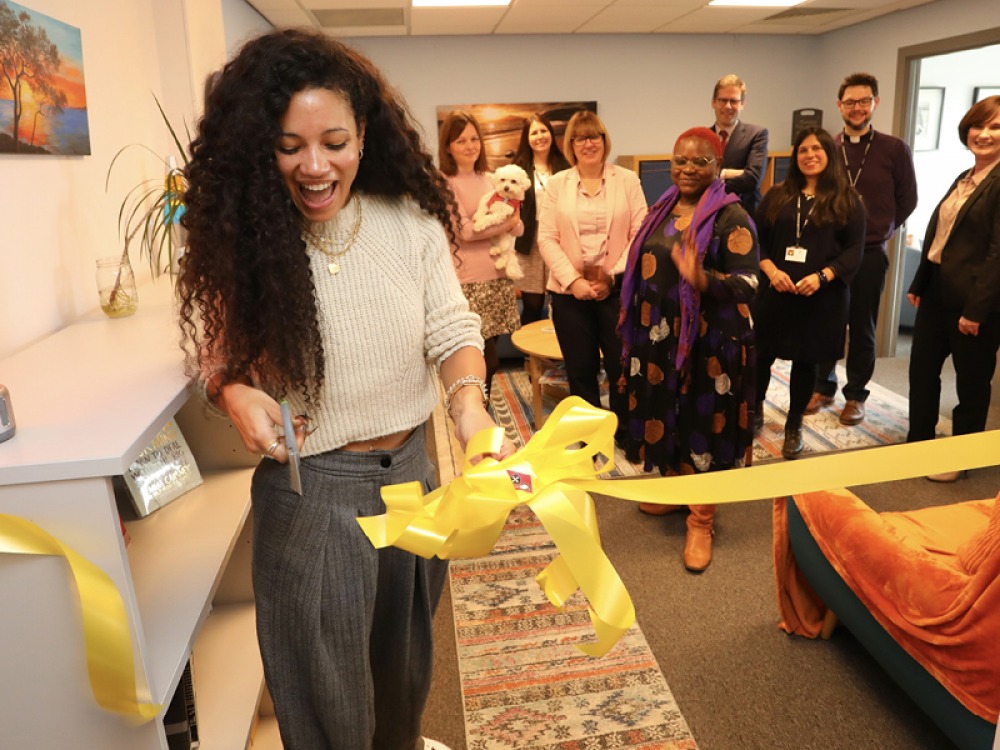 Vick, whose family live outside Hexham, attended Dame Allan's Schools between 2000 and 2007. On her return to the school, she reconnected with teachers, gave a talk to students and took a tour of its new facilities. 'It's like a proper trip down memory lane,' Vick says. 'So much rushes back to you. All the sights, but also all the feelings – how it felt to walk down the corridors so many years ago and all the different things that would go through your head. It puts a lot of things into perspective, having lived a little bit of life, but you also remember how important this place was in making you who you are and building you. It's like the foundations of everything.'
The new wellbeing centre, The Snug, has been created in the heart of the historic Senior School site in Fenham to house specialist support services including counselling, psychotherapy and special educational needs, as well as providing a dedicated safe space for students.
'I'm really proud of the school,' Vick reflects. 'I've always thought that Dame Allan's had a really brilliant pastoral care and support network and really put emphasis on a child's wellbeing, and them being happy. It's not about being the best academically – it's about being well rounded and being happy and The Snug is a natural next step for that. It's about having that space for kids to know that whatever they're going through can be nurtured, that they can take just a little bit of time out.
'You can feel pressured and overwhelmed – that's so normal and so natural, but knowing that that's natural for everyone and that you have a space to take some time out and feel calm and at peace – that's what young people deserve and that's how you get the best out of them. It's how they thrive and fulfil their potential. You can go into your studies able to take more on because you're calm. That's so important.'
Opening The Snug was an honour for Vick. 'It's been thrown into sharp focus over the last few years because of everything that's been going on but we've had a youth mental health crisis in the UK for a lot longer than that,' Vick explains. 'But if there's one positive that we can draw from a very difficult couple of years it's that everyone's realised this is something we have to talk about, because everyone's going through something and you never know what someone else is going through.'
Life Hacks, which she co-hosts with Katie Thistleton on BBC Radio One, allows Vick to connect with listeners and invites experts to help young people prioritise their mental health and navigate life's challenges. 'I, like so many people I know, struggled with my mental health at university. I've lost friends who struggled. So on a personal level, it's important that I do everything I can to make sure that that doesn't happen and that the kids are nurturing their minds and looking after themselves and their wellbeing,' Vick says. 'Also it feels like we have a responsibility and if we can do anything to make things better, we totally should. I'm really happy that the BBC have Life Hacks because it's not the same for everyone. The playing field isn't level everywhere and not all children have the same resources.
'Dame Allan's is an amazing place and the fact they have The Snug and they're making the message clear that they support you if you are struggling, to know that you're not alone and there's somewhere you can go is so important – not every school has that. What a brilliant thing to begin, what a brilliant ball to get rolling, but the truth is that not everyone is going to have those resources and that support network. So being a part of the British Broadcasting Corporation and being in a position to say for two hours, every Sunday, everyone (no matter where they are) has access to this service where you can tell us what you're going through and get expert advice – it's why I started broadcasting. You do it because you want to hopefully help, make a difference and share people's stories by taking a microphone or a megaphone and handing it to the people out there who have a story to tell, because they could help someone else.'
Vick enjoyed seeing the students and getting a glimpse at the next generation of Dame Allan's alumni. 'When we were talking in The Snug, the students were so aware of the importance of their mental health and I'm so happy that they know that, because when I was a student I didn't realise that I needed to look after my mind, and if I had, it would have saved a lot of pain at times,' says Vick. 'I'm so heartened and so happy to hear people talking so openly and honestly and practically and tangibly about their mental health. It's a really friendly school that puts the emphasis and the ownership on supporting the kids and their happiness, and that makes me smile.'
Vick co-hosts brand-new primetime show Britain's Best Young Artist on CBBC alongside The Kaiser Chiefs frontman Ricky Wilson. You can also listen to her shows on BBC Sounds.