What to Expect from Whitley Bay's Crime Fiction Festival, Bay Tales Including Vera Author Ann Cleeves
Bay Tales is back for 2023. Living North catch up with the organisers and some of the authors involved, including literary icon Ann Cleeves, to find out what to expect from Whitley Bay's crime fiction festival this year
Bay Tales will take place at Playhouse Whitley Bay on Saturday 4th March, and organisers Vic Watson and Simon Bewick promise this event is going to be even bigger and better than last year. There's a chance to meet authors, get books signed, win exclusive prizes and enjoy a sneak peek of some brand new titles. Whitley Bay's favourite indie bookshop The Bound will also have new and backlist titles available in their onsite bookshop.
Having proved so popular last year, there was no question about bringing the festival back again. 'We didn't have much choice,' Simon admits. 'The response from our first festival last February was so incredible, and as soon as it had finished we were being asked by publishers, authors and most importantly, the audience, what we were going to do for 2023!'

Bay Tales brings the very best in crime fiction to the region, celebrating the work of authors and connecting them with readers. During the pandemic, Bay Tales events took place online every Wednesday evening for more than 20 weeks but plenty more flocked to their live show. 'We're thrilled we get such a mix of local attendees and those coming from outside the region. We think it's a great opportunity to introduce new authors to more casual readers, and show the serious crime readers travelling for the event just what the North East has to offer,' Simon says.

Vic agrees: 'It's a real delight to invite people from outside of the region to Whitley. Last year we had folks travelling from as far as Cornwall and Sweden. It was also great to host members of the community who'd never been to a festival before.'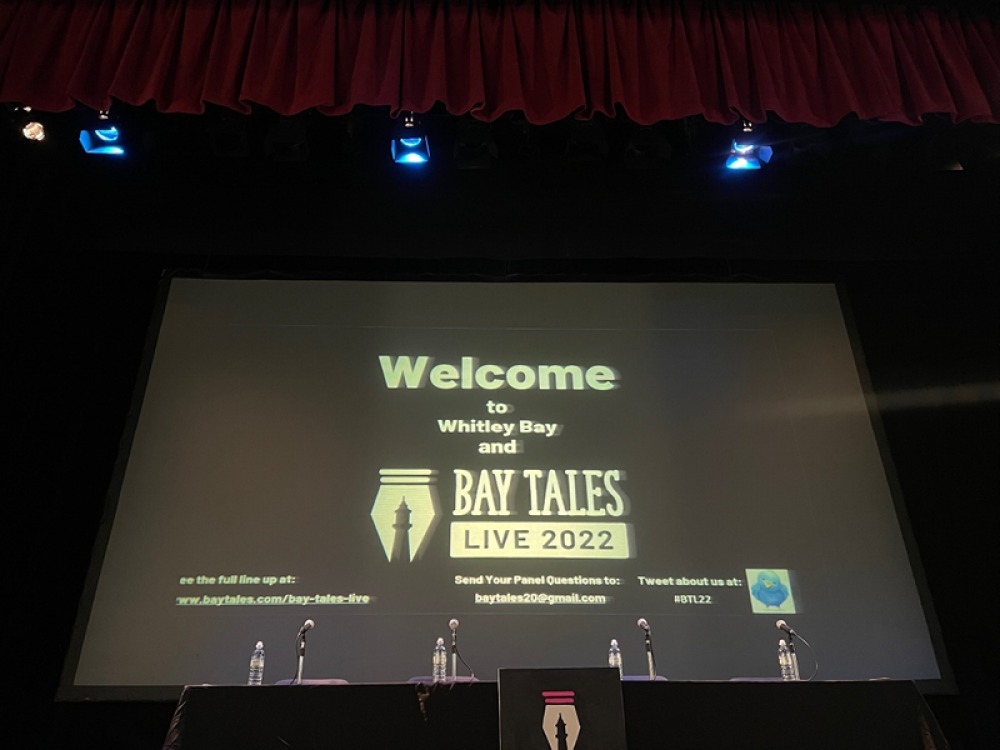 Ann Cleeves, Ruth Ware, CJ Tudor and Abir Mukherjee are just a few of the big names involved for 2023, as well as Northern writers including Trevor Wood, Karen Woods and Jonathan Whitelaw. 'We're also working with local businesses to offer discounts for attendees, supporting local charities, and running two free fringe events for ticket holders: Noir at the Bar where they can see 10 authors reading from their work on Friday night, and a recording of On the Sofa podcast with best-selling authors Victoria Selman, Abigail Dean and Fiona Cummins,' Simon adds.

'When we ran our free online events throughout the pandemic, many people told us [that reading] was something that helped them massively and we gave them lots of new ideas for reading material. And we're so pleased to be working with Whitley Bay Library this year – we believe libraries have an incredibly important role in society today.'

Simon says that the fact so many of the authors appearing at Bay Tales Live have had their work bought or optioned for screen shows how much appetite there is for all aspects of crime fiction today. 'I genuinely think there's a piece inside people that enjoys the transgression of reading crime,' Vic adds. 'I also think they enjoy that there's generally a resolution at the end.'
Ruth Ware is just one of the talented authors taking part in this year's event. The Sunday Times and New York Times international bestselling author of thrillers including In a Dark, Dark Wood, The Woman in Cabin 10, The Lying Game and new release The It Girl is on the Simon and Schuster panel.

'It's lovely to be out on the road again and meeting readers,' she says. 'In lockdown, virtual events were fantastic and it was so nice to keep in contact with readers but there's just something really special about getting out to meet people. Bay Tales is obviously quite a way from where I live on the south coast so it feels like quite an adventure, and visiting such a lovely part of the country is a real treat.

'There's no substitute for human contact and I think it's really important for everybody to keep virtual events going. But I think meeting someone face-to-face, having a chat and saying things you might not feel comfortable saying online is so important. I often get people meeting me in the signing line, or coming up to me after events and saying lovely things about their own ambitions to be a writer or their journey (really quite personal stuff that they wouldn't feel quite comfortable saying on record on a Zoom call). I know from my own experience that some of the signed copies that I have from writers from over the years are among my most treasured possessions. They feel like real talismans to have proof that I met them. It's lovely to be doing that again.'
'We think it's a great opportunity to introduce new authors to more casual readers, and show the serious crime readers travelling for the event just what the North East has to offer'
Ruth's upcoming release, Zero Days, and her most recent release, The It Girl, are sure to be on the agenda for the Simon and Schuster panel. 'The It Girl isn't [Agatha] Christie-ish in a sense that Christie would probably have disapproved of my badly behaved characters,' she laughs. 'But it definitely has elements of the pleasures that I take from a Christie novel – the satisfying kick of the plot and the way things click together. That's what I wanted to pay homage to. The other great pleasure for me and my books is that I love to mix things up – I've set my books in Scotland, in Cornwall and in Northumberland – and this one is no exception. It's set half in Oxford and half in Edinburgh. That's always a real joy for me – to explore the UK through fiction.'

The popularity of crime fiction has worked in Ruth's favour, and she puts that down to the uncertain times we're living in. 'There's something quite comforting in seeing horrific events play out in print with an expectation of some sort of resolution and justice,' she explains. 'Crime novels don't always end up with everything tied up in a perfect, Poirot-esque bow but there is usually some form of resolution and restorative justice. It is satisfying to read knowing there's someone that will figure things out and make stuff right, whether that's a traditional detective or whether, like in my books, it's just a regular person. That can be enormously comforting to read in stressful times. It's no coincidence that Agatha Christie rose to her greatest popularity in World War Two in a time of paper rationing. I think perhaps that is part of what we see now. It sounds strange to say that crime can be a form of comfort reading, but I really think it can.'
Ann Cleeves, author of Vera, Shetland and the Matthew Venn series, is now a patron of Bay Tales. She has been enjoying a peaceful period writing at home after a very hectic late summer and autumn.

'I did a lot of travelling to celebrate the publication of The Rising Tide in September,' she says. 'Most memorable was a tour of Australia (Vera is hugely popular there) and our launch event in Playhouse Whitley Bay with actors Brenda Blethyn and Jon Morrison. Like everyone else, I'm looking forward to watching the new series of Vera on ITV. I never see the scripts or the films in advance, so I'll be there in my front room with all the other viewers.'

Ann is equally passionate about her involvement in Bay Tales. 'I'm a great admirer of Vic and Simon,' she admits. 'They supported crime writers and readers with virtual events throughout lockdown, bringing people together and promoting new authors. The first Bay Tales was far more successful than we'd ever hoped. Lots of people there hadn't attended a literature festival before and there was huge enthusiasm, a great sense of warmth and friendship. We attracted people from all over the country and beyond, but it still felt like a real community event.

'The North East has lost many of its traditional industries, but artistic endeavour has always triumphed. We're showcasing our beautiful region, making strangers feel welcome and filling the coast's hotels, guesthouses, bars and cafés. And Whitley Bay's wonderful independent bookshop, The Bound, which is our most valuable supporter.'

For the event, Ann has chosen one of her own favourite authors to join her on stage in the opening session of Bay Tales Live, Brian McGilloway. 'I love Brian's books,' she says. 'He's one of our very best writers, with amazing reviews and awards. His books are dark, but very compassionate. He's also one of the kindest men I know, so expect a chat about family, and loss, but a lot of laughter too.'

Ann highlights the importance of reading for positive wellbeing. 'That's why I sponsor a reading for wellbeing project, working with Public Health England, the library services and voluntary groups,' she explains. 'Reading is an escape. It takes you to a different world. And if you have unsettling and depressing thoughts rattling around in your head, it's good to be inside somebody else's for a while. After lockdown, when there was an epidemic of loneliness, reading can also be surprisingly social. There's nothing like sharing a passion for a book with a group.'
'The first Bay Tales was far more successful than
we'd ever hoped. Lots of people there hadn't
attended a literature festival before and there was huge enthusiasm, a great sense of warmth and friendship'

Ann reveals that her books' 'beginnings' are never set in stone before she begins writing. 'I work much better in the mornings, so you'll catch me at my kitchen table way before dawn at this time of year, still in my pyjamas, drinking lots of tea and making up stories,' she says. 'Characters develop from place, I think. We're the people we are partly because of the communities that make us, the friends we played with, and the views we saw from our windows. I can only write about places I know well: I grew up in North Devon, lived for a while in Shetland and have known it for nearly 50 years, and now my adopted home is the North East.'

Simon and Vic are grateful for Ann's ongoing support for Bay Tales. 'Ann has been an incredible patron for us,' says Simon. 'Having her support is a stamp of crime fiction authenticity, but she's been so generous in her time and bringing some of her favourite writers to Whitley Bay.'

Vic adds: 'We're so grateful to Ann, North Tyneside Libraries and Council and Living North. Having such eminent supporters shows the belief people have in us. By being supported by these organisations and Ann, we have been able to reach lots more fans of fiction who may not have heard of us otherwise.'
An item you couldn't live without?
Simon: Probably my laptop – for writing, for running our online events and at the moment with a ton of design we're preparing to make Bay Tales Live as professional looking as any of the major festivals.
Vic: My Kindle. I do love physical books but the E-reader is so great for travelling and having access to so many books.
Ruth: It's sad to say, but it would have to be my mobile phone. It's such a lifeline these days and I find myself more and more in my books, when I want to put the characters under the ultimate pressure, taking their phones away from them because in modern day times that's just the scariest thing – to not be connected.
Ann: My diary. I just can't get the hang of the digital version.

A book, series, or podcast you recommend?
Simon: One of the series I've recommended a lot over the last two years is the Jimmy Mullen series by local writer Trevor Wood. Set in and around Newcastle it has a lot to say about social issues as well as being a rollicking crime series.
Vic: Simon stole my answer! Trevor's series would be wonderful on TV. My favourite book last year was Out of Her Depth by Lizzy Barber who's appearing at Noir at the Bar on 3rd March.
Ruth: I have dozens of podcasts that I love! One which has really informed the book that I'm writing at the moment is a podcast called Darknet Diaries which is all about information security, hacking and the murky online world which we all inhabit without really knowing it. I started listening to it as research and just became completely hooked – but be warned it will make you absolutely paranoid about everything.
Ann: Small Things like These by Claire Keegan.

Advice you'd give your younger self?
Simon: As someone who left the North East for 30 years before returning four years ago, I'd probably say 'there's no place like home' (while clicking my heels!).
Vic: Just keep being you, you'll find your people. Surprisingly, they were crime fiction readers and writers!
Ruth: Keep going. I didn't have much confidence in my own abilities. I really wanted to be a writer but I didn't know anyone who was a writer and it didn't seem to me as a younger person something that someone like me could really do as a living, so for years I didn't do anything with it because I didn't believe I'd ever get published. When I finally did find the courage to put my work out there, I was so glad that I did and it's led to where I am today, a full time writer. Id like to say to my younger self: 'take pride in your work, you're better than you think you are'.
Ann: Be less of an observer and more of a participant.
Tell us about a hidden gem in the North East.
Simon: Coming home after so many years away I'm getting the chance to find or rediscover so many of them. As a keen cook who lived in Warwickshire for a long time, I'm loving access to so many great ingredients, especially fish and shellfish. You'll find me at Collingwood Seafood in North Shields early every weekend.
Vic: I love going off the beaten path and finding new restaurants and pubs. Living North has proved a great guide for this over the years. I'm a big fan of the Holly Bush Inn at Greenhaugh. There's not much better than sitting in their garden on a sunny day admiring the views.
Ann: I love the Bastle Trail in Tarset. About nine miles through the most diverse landscape – wooded valleys, bare moorland, and all stunningly beautiful.

What advice can you give budding writers?
Ruth: The main thing is to read! It's really hard to be a serious writer if you're not widely read. For me, when I start writing a new book, I have to stop reading in my own genre so I can leave a space for my own words. But having that bank of experience in writing is really valuable. I would also say, don't be frightened to make mistakes. Stephen King explained it brilliantly when he said 'write with the door closed, rewrite with the door open'. I can relate to that. I have to persuade myself each time I write a book that the first draft is just for me. I can afford to slip up and write scenes that I'll later delete. I think writers can feel a great deal of pressure when they start writing with publication in mind because there's a feeling that it has to be perfect and that you can't make any mistakes. For me, and I think for a lot of other people, it's important to shut that door until you finish that first draft. Then you can think about the book for public consumption.
Ann: Get to the end. It's very tempting to polish early chapters, but editing can wait until the story structure is in place.

What can we expect from you in 2023?
Ruth: I have a book coming out in 2023 called Zero Days, which is a thriller about a young woman who comes home from work to find her husband has been murdered and the police initially treat her as a grieving widow. Then she becomes aware that they suspect her of being involved in his killing, so she has the choice to sit around and hope they figure out that she didn't have any involvement, or to go on the run and try to solve the murder herself.
Ann: The Rising Tide will be out in paperback in March, so I'll be out and about with that. I'm also doing an event in Alnwick with another terrific North East writer Emma Flint, whose new novel Other Women is published in the spring too. Then there's lots of overseas travel this year – back to Australia, two trips to the US, and a Danish book festival held in a former prison.
Bay Tales Live 2023 takes place on Saturday 4th March. Doors open at 8.45am and there's a packed-out programme until 5.45pm. Find out more and book tickets at baytales.com