15 independent doughnut shops you need to know about this National Doughnut Week
This week we celebrate National Doughnut Week, so here's where to find the best in the North East and Yorkshire
Not only does this week celebrate the iconic taste of the popular deep fried doughnut, but National Doughnut Week also helps raise funds and awareness for The Children's Trust – a UK based charity that supports children with brain injuries. Take part in the fun whilst raising awareness for the trust by registering on their website to receive a pack of goodies that will help promote the week, and the charity.
nationaldoughnutweek.org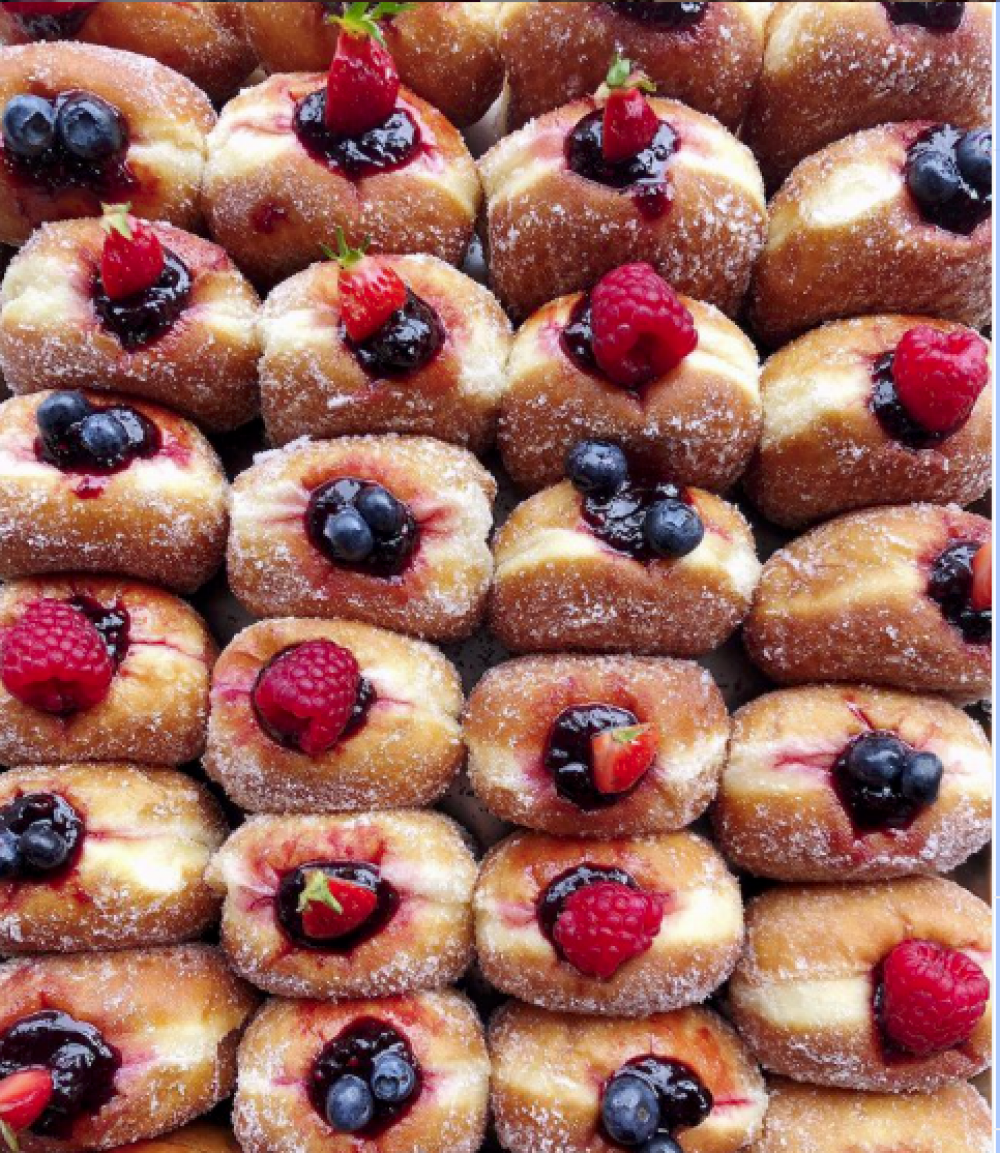 Proven Goods Co.
Specialising in hand-rolled, slow proven doughnuts, Proven Goods Co. have everything you need to celebrate in style this week. Fresh batches are filled and glazed each morning in their Hoults Yard shop. With monthly flavour changes, there are always plenty of new doughnuts to try, or why not pick up a bag of cinnamon sugar doughnut holes, if you want something more traditional?
Hoults Yard, Walker Road, Newcastle NE6 2HL
Glazed Handmade Donuts
Glazed Handmade Donuts' recipes are 100 percent plant based. The first vegan doughnut shop in Newcastle, Glazed are currently working on a second shop, set to open in The Grainger Market. In the meantime, head to their HQ on the Coast Road where you will find everything from Yuzu matcha, to lemon, rose water and pistachio doughnuts, as well as favourites such as Biscoff and chocolate ganache.
19 Coast Road, Newcastle NE 7 7RN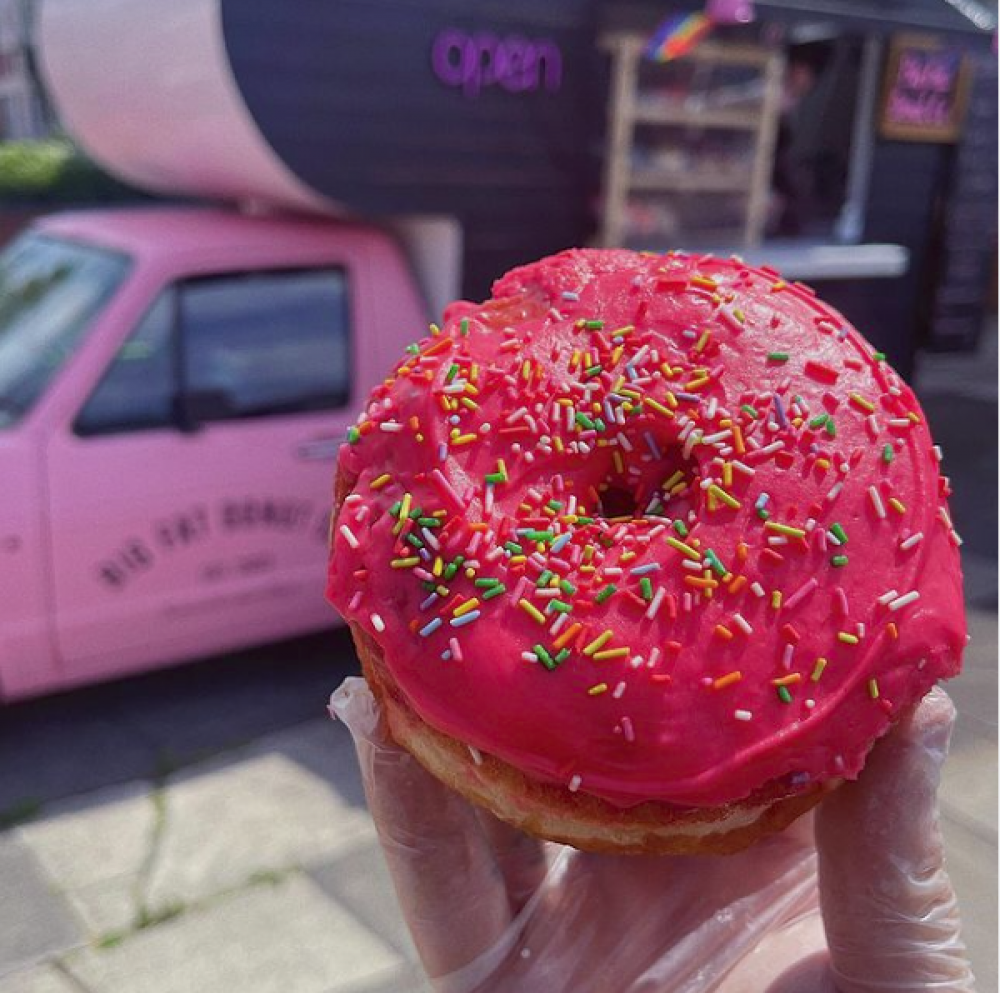 Are you DoNuts
Gateshead's favourite doughnut delivery service provides great tasting rings that can be enjoyed in the comfort of your own home. Offering an extensive menu, from the traditional sugar-covered dough, to fab-flavoured rings and cookie dough-nuts, Are you DoNuts is a great place to get your fix this National Doughnut Week. We love the sound of the Aero minty, with a classic fresh ring drizzled with chocolate sauce and topped with crushed mint Aero. Or, give one of the cookie dough-nuts a try – the Ferrero Rocher sounds delicious.
07485 604062
Big Fat Donut Co.
Fresh doughnuts suitable for vegans is what you'll find at the Big Fat Donut Co. Find this doughnut business traveling around the North East in their pink doughnut truck, serving up some tasty treats, or grab a ring from Local in Jesmond, who stock their doughnuts. You can also get your hands on their freshly-baked doughnuts by ordering online. Whichever way you get your fix, you won't be disappointed.
18 Acorn Road, Jesmond NE2 2DJ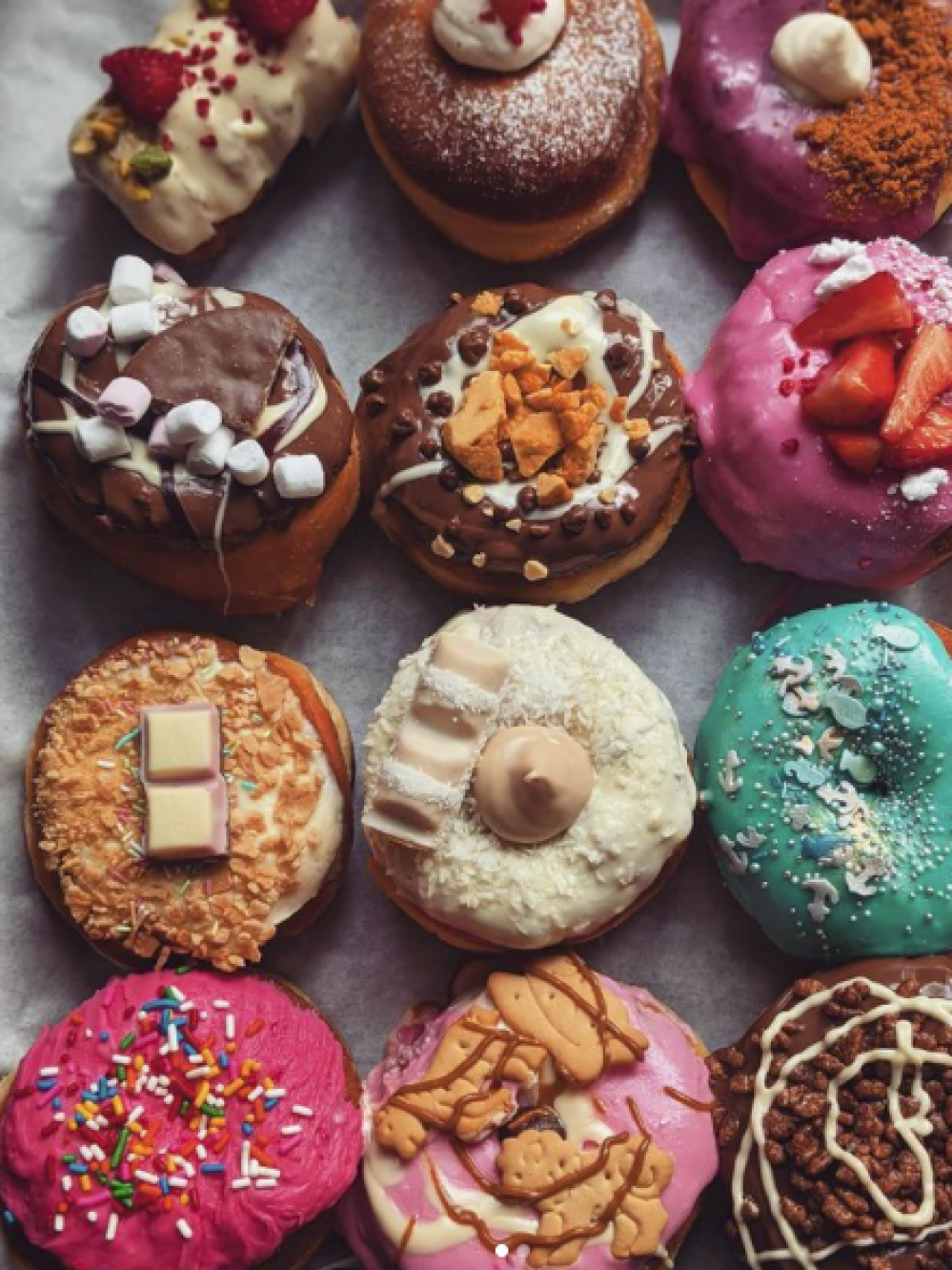 Number Eight Bakehouse
This neighbourhood bakery in Darlington is not to be missed when it comes to delicious doughnuts. Known for their speciality small-batch bakes, including sourdoughs and pastries, Number Eight Bakehouse is perhaps a hidden gem when it comes to doughnuts. Offering flavours such as peanut butter pretzel, cappuccino and watermelon glaze, there is plenty of choice here.
21 Post House, Wynd, Darlington DL3 7LP
07807 491361 numbereightbakehouse.co.uk
R Place
Taking no shortcuts on their journey to making delicious homemade doughnuts are Whitley Bay-based R Place. These guys are known for their carefully-curated recipes, using fine ingredients throughout the baking process, from the scratch-made yeast, to the custards, jams and glazes they use to decorate their doughnuts. Look out for their latest creation in collaboration with Secret Tart, the Donolloni – fluffy dough with white chocolate and vanilla bean custard, topped with white chocolate, chopped pistachios, raspberry coulis, fresh raspberries and a pistachio and lemon macaron.
40A St Ronan's Road, Whitley Bay NE25 8AY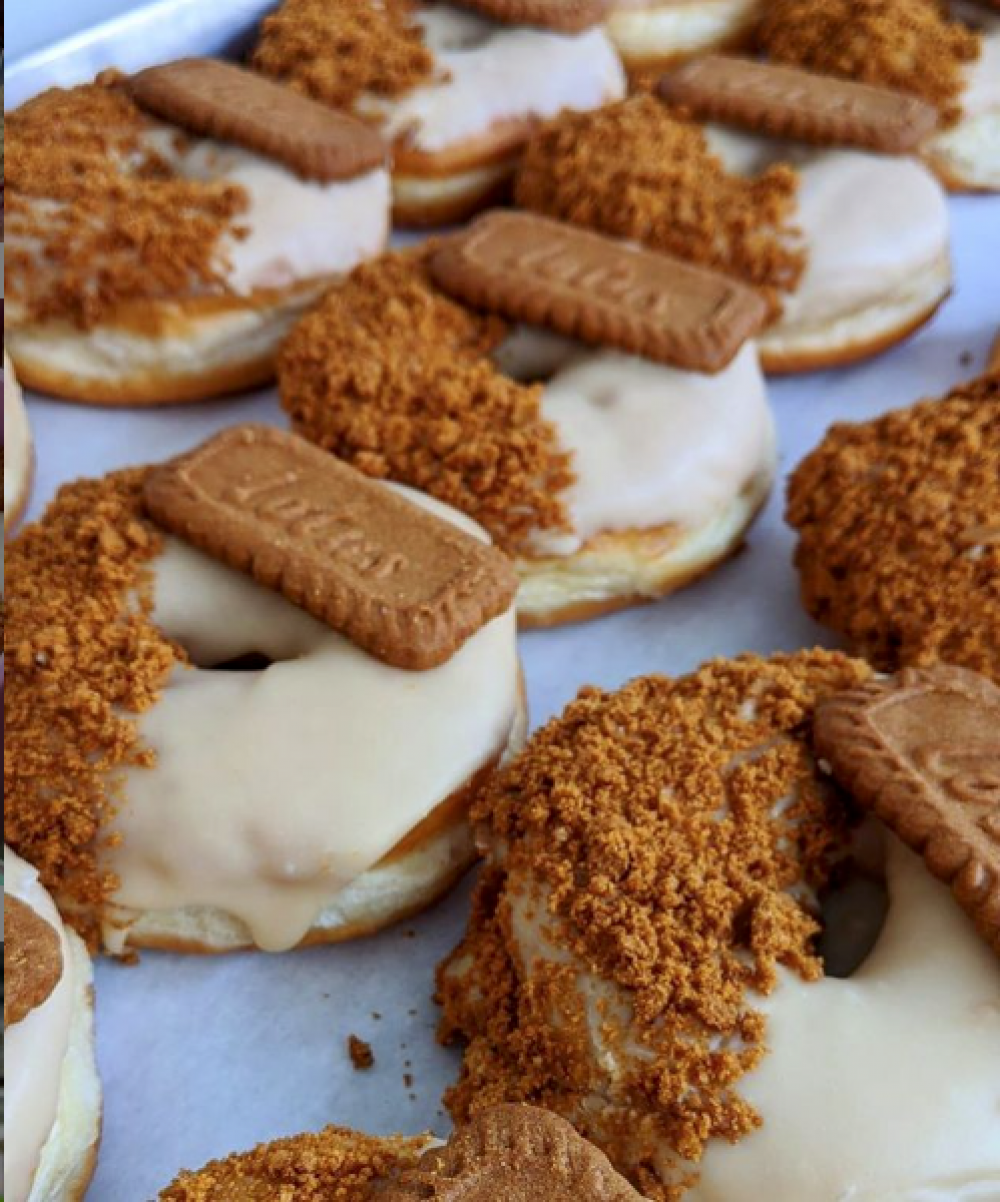 Yum Yum.
Self-confessed 'king of doughnuts', Yum Yum. offer an online delivery service catering for all your doughnut needs. From classic glazed rings, to cookie doughnut specials, this Middlesbrough-based bakehouse will easily satisfy your sweet tooth. We recommend the special mix box of eight doughnuts which includes a selection of milk and white chocolate toppings with sprinkles, curls and nuts over each doughnut. Or, if you're after something a little special, try the Kinder Bueno cookie doughnut.
01642 246971 yumyumdessertsonline.com
Doe Bakehouse
Perhaps the most famous doughnut shop in Yorkshire, known for their Instagrammable aesthetic, is Doe Bakehouse. Offering everything from cream-filled doughnuts, to glazed rings and unusual flavour choices, these dough shops in Harrogate and York have everything you need to celebrate National Doughnut Week. Look out for flavours like the milky star man, the gooey Party Ring glaze and choc cocoa toasted marshmallow, or check out their novelty bakes, including the cake doughnut tower, that can be ordered online.
4 Bower Street, Harrogate HG1 5BQ
07990112531
12a Church Street, York YO1 8BE
07539006350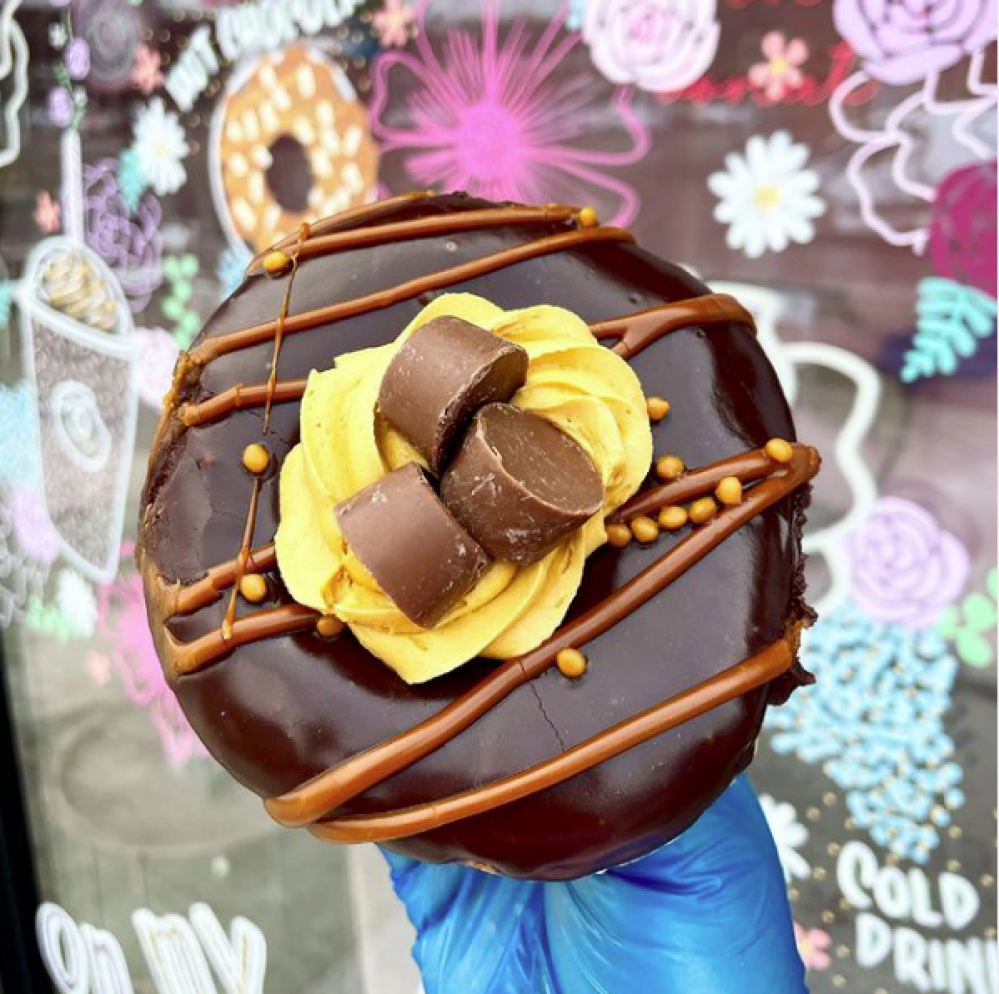 Glazed and Confused
This delicious independent is the perfect place for vegan doughnut-lovers to celebrate National Doughnut Week. Offering local deliveries a couple times a week around the Leeds area, Glazed and Confused create the perfect opportunity to grab one of their scrumptious rings to enjoy in the comfort of your home. Their chocolate doughnut with a salted caramel centre, topped with an ice cream cone, sounds delicious. Or, try their more daring flavours such as the green apple glitter-glazed ring.
Street Lane, Leeds LS8 2AL
DoBoy Donuts
Handcrafted doughnuts that have been deep filled with delicious flavours is what to expect when checking out DoBoy Donuts. With three doughnut shops in Castleford, Leeds and Wakefield, as well as delivery for online customers, there is no reason to miss out on these tasty doughnuts. Keeping things interesting, this Yorkshire business switch their flavours weekly.
Wilowbridge Lane, Castleford WF10 5NW
Unit J/K Cardigan Mills, Leeds LS4 2BL
109 Dewsbury Road, Wakefield WF2 9BL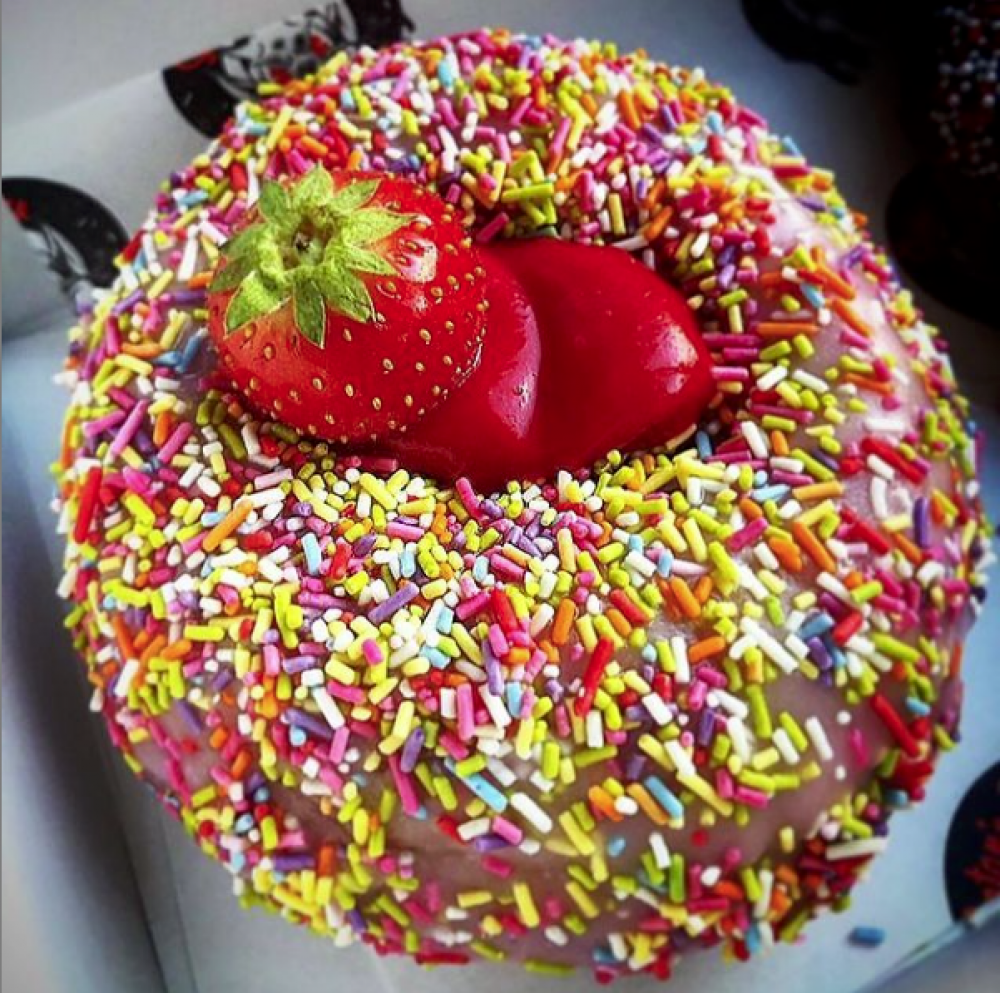 Satan's Glaze
Satan's Glaze in Sheffield is an online doughnut shop that is defined by everything gluttonous about the tasty ring. Order a vegan doughnut that will leave your tastebuds wanting more, or try a variety box for more tempting options. From flavours including strawberry milkshake, pina colada, and a triple chocolate threat ring, Satan's Glaze have something for everyone.
Doh'hut
Selling delicious doughnuts has always been a passion for the team behind Doh'hut. From making small batches on trestle tables in their own kitchens, to winning the British Street Food Awards, and opening their own doughnut shop, Doh'hut dedicate their time to producing high-quality, fresh, handmade doughnuts for all that pass through their doors. From the original sugar-coated dough, to lemon curd and toffee apple flavours, Doh'hut offer something to appeal to everyone's tastebuds. Check their social media pages to find out the latest flavours the team have been working on.
2 Treveylan Square, Leeds LS1 6ED
07460 896542 dohhut.com
Olive and Joy
Although not strictly a doughnut shop, Olive and Joy deserve a mention in our list for their delicious doughnut offerings. Pop into this Sheffield-based café and browse the tempting treats behind the counter. Choose from flavours of blueberry, snickers, vanilla honeycomb and more, alongside our favourite, coffee walnut.
Dyson Place, Sharrow Vale Road, Sheffield S11 8XX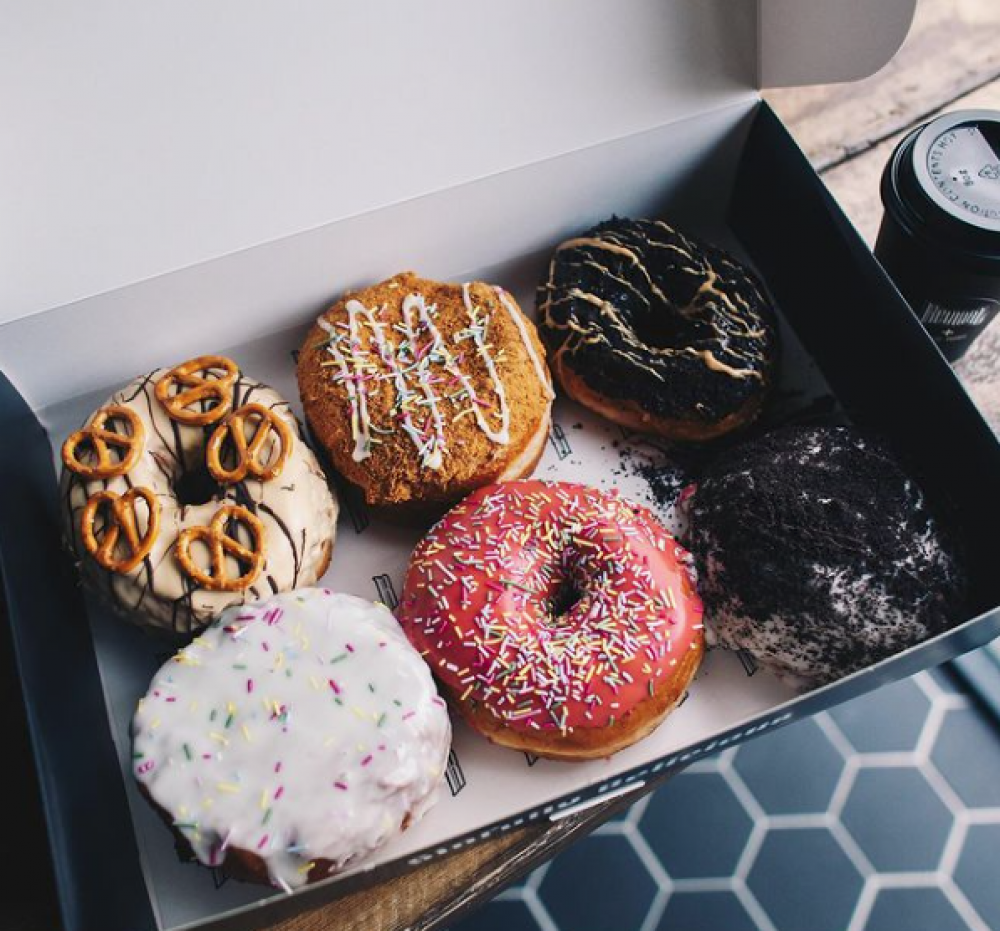 Revival
Hull-based coffee and doughnut shop, Revival, are specialists in artisan doughnuts. This dough shop offers freshly made doughnuts in the heart of Hull city centre and has a menu of regularly changing flavours to match seasons and events. All the doughnuts at Revival are vegan and made using oat milk, so are a great option for plant-based doughnut-lovers. Check out their key lime pie flavour which has a cream-filled doughnut, dipped in lime icing and topped with a digestive crumb, or try the cereal-sy good glazed ring that is topped with pink cereal buttercream, then finished with cereal sprinkles.
77 Ferensway, Hull HU2 8LD
Wildcraft Bakery
Home of gluten-free baking, Wildcraft Bakery offer a range of tasty doughnuts that you can get your hands on either in store, or via their website. Lookout for nostalgic flavours of lemon sherbet amongst their popular flavours such as caramel romance – a fluffy doughnut filled with caramel, then dipped in a chocolate glaze before being topped with a mini brownie and sprinkled in edible glitter. Other favourites include the maple pecan cookie doughnut, the cherry Bakewell flavour and the salted caramel popcorn ring.
6–10 Green Road, Meanwood, Leeds LS6 4JP