5 Minutes With Pete Firman
Award-winning Middlesbrough magician and comedian Pete Firman is getting ready to tour the UK with his brand new show Bag of Tricks
We give him a call to find out what he's been up to and how he remains inspired.
How have you been?
It's been a tricky time, hasn't it? But I'll give you an overview. The show was meant to start in March 2020. That got moved to autumn 2020, spring 2021 and now it's going to happen in autumn 2021. But I was really lucky actually because I don't just do live performances. I've been presenting a show for ITV called Don't Unleash The Beast. It's an immersive gameshow and we made the first series in August 2020. This weekend, we've just finished the second series. That has obviously kept me busy – but I almost did a pantomime too! Last Christmas, the pantomimes looked like they were all going to be called off but the National Lottery funded a handful – one of which was the big one that they do every year at The London Palladium, and another was going to be in the Milton Keynes Theatre. We rehearsed for around a week and a half and the day just before we were about to start, Milton Keynes went into tier three. Luckily I've still been doing other bits and bobs – but in the main I've just been trying to stay sane to tell you the truth.
How would you describe your style?
The show is a good mix of stand-up comedy and magic. I like to think that it's as funny as it is magical. It's magic that will hopefully baffle you. Tommy Cooper is probably one of the most famous comedic magicians and his thing was always about tricks going wrong. Well I'm trying to make the tricks go right (while making you laugh as much as possible). That's it in a nutshell.
You're inspired by…
As a performer… other great performers. It might be people that I watched growing up on TV which made me want to do what I do, or performers that I work with today who I enjoy watching. They make me feel like I ought to keep trying harder and getting better.
You're grateful for…
I'm grateful that I've had work throughout the pandemic because I've got lots of friends that haven't had that. Some have fallen through the cracks on the funding and that's really sad. Those people are so impressive – they might be performers but they've continued to work as delivery drivers. That's fantastic but I'm so grateful for the lucky breaks I've had.
Your favourite comedian?
I'm 41 – so when I was a kid Tommy Cooper used to be on TV a lot. I used to love Morecambe and Wise and the two Ronnies too. I used to love watching comedians with my family and I have fond memories of that shared experience; being at home watching on a Saturday night. That's what's great about comedy (and any sort of performance really) – it's a shared experience. I guess that's sort of what we've been missing throughout the pandemic and that's why it's so exciting to get back out there and do it.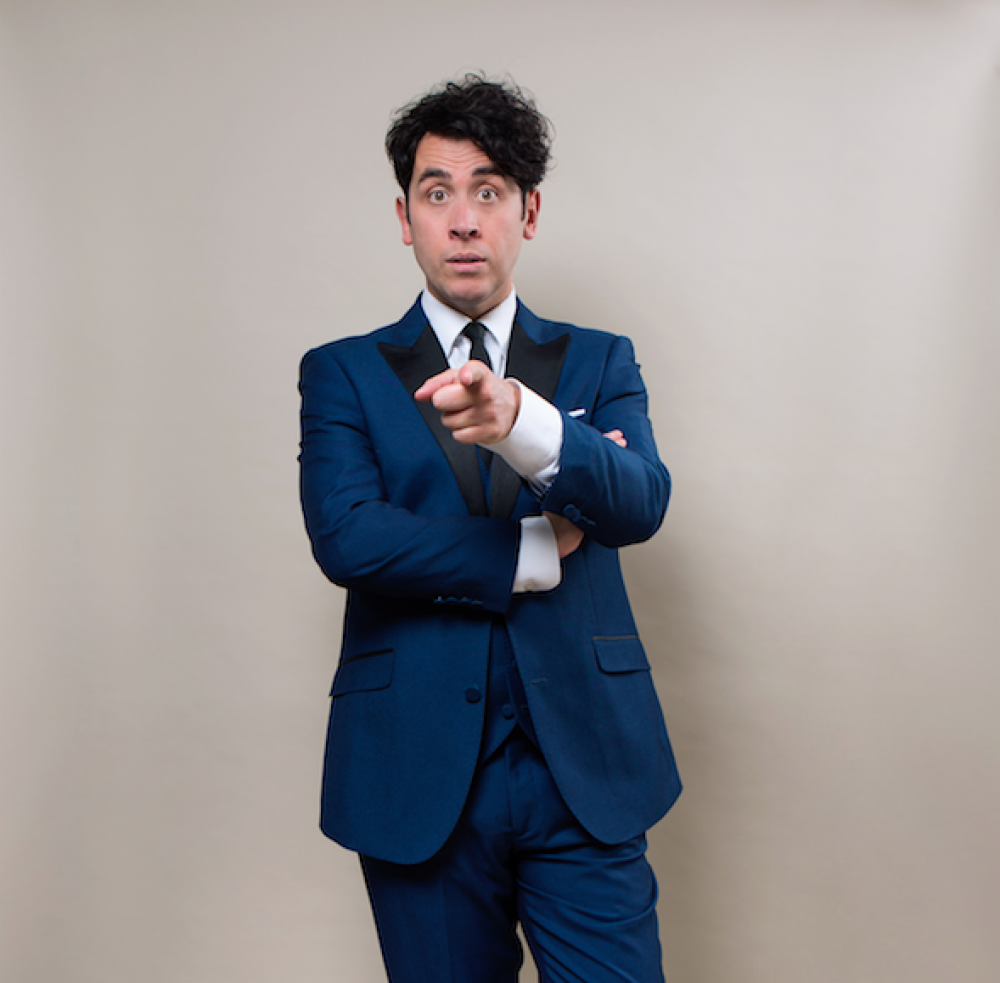 Your favourite magician?
Lots! Because I'm a magic nerd. It would be a bit like being a music nerd mentioning niche performers you've never heard of. But in terms of magicians your readers might know, I'm a big fan of Penn and Teller. As a teenager it was the first time I'd seen a magic show that wasn't cheesey. It felt like a show for my generation. From that day to this, I've been a big fan of theirs.
Favourite place to perform in the North East?
I'm from Middlesbrough, so anywhere on Teesside I find a pleasure to play just because it's home turf. Very often when I play in Middlesbrough or Stockton (I'm playing ARC Stockton Arts Centre on the tour), there'll be lots of people in the audience that I know. Those shows are always really special to me.
Favourite thing about the North East?
That it's home. It's as simple as that. I was up a few weeks ago and me, my mum, dad and sister went for a walk on the beach at Redcar and it was just lovely. We used to do that as kids and it's great coming back.
What can we expect from your new show, Bag of Tricks, and why should everyone be heading to their nearest venue?
Everyone should be heading to their nearest venue because they might not have been able to go to it for the last 18 months! And, aside from at my show, after 18 months of isolation it's time for some shared experiences. I think you should definitely come to my show if you like to laugh a lot, if you're a magic fan and if you like to be amazed – I promise you the show won't disappoint.