Sunderland Man Makes Home Annexes out of Recycled Plastic Waste Tackling Sustainability Issues in Building
Recycling Revolutionised
Gary Giles tells us about bringing innovation back to the industry with a patented quick-build system that can construct home annexes out of recycled plastic waste, and how he endeavours to tackle the world's sustainability issues.
Polystyrene is one of the world's most wasteful forms of plastic, and business insight company Statista predicts that 15.68 million metric tonnes of polystyrene will be produced in the year of 2024 alone.
Found in anything from fridge/freezer lining to clothes hanger packaging, this plastic is often discarded as quickly as it's produced.
Sunderland-born innovator Gary Giles has endeavoured to tackle the world's sustainability issues using that same product, turning polystyrene waste into sturdy pop-up building kits that can be used to construct anything from home offices and garden rooms to exhibition stands, and even flood defences.

'Put simply, here at Ogel we take waste polystyrene plastic, reprocess it into L shapes, and then build walls, roofs and floors out of it,' explains Gary.
'The idea for Ogel came to me way back in 2015. My boss bought a new machine that renders walls, and he said to me "well, if all else fails at least we can use this to make reusable sandbags".
'From that I thought, well if you can make reusable sandbags, you must be able to build reusable walls? I knew nothing about plastic material or recycling, no more than the average person does – but that started me on this journey.'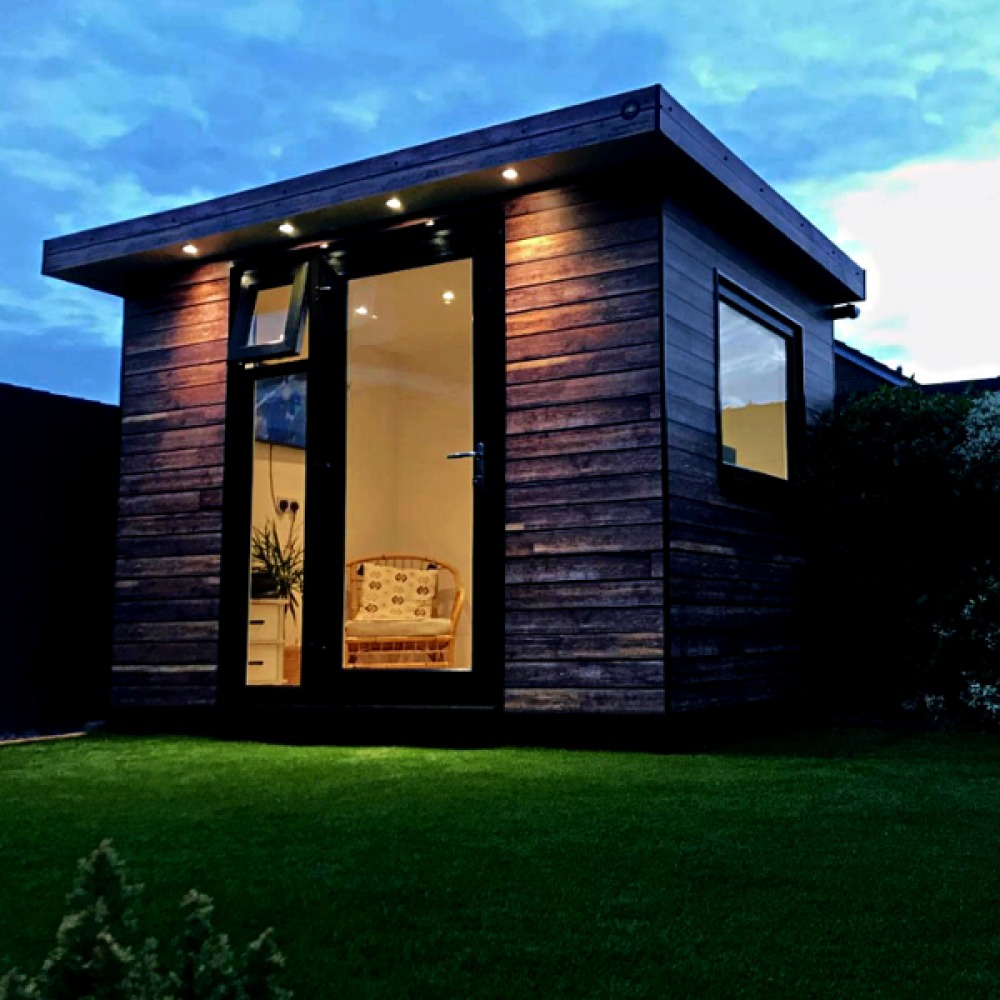 Gary and his team repurpose polystyrene from waste centres and use it to make modern annexes and appliances. These constructions can be built yourself using the home-build kits with simple instructions, a bit like a giant LEGO set.

'The construction is so simple to put together. From a strength perspective we use brackets, so if you can turn a screwdriver then you can build with Ogel,' says Gary.
'It's quick to put together – depending on the size of the building it can be put together in a day, remaining there until you move. If you do move, then you can just as easily pack it down and take it with you.

'One couple in Barnsley put an office pod in their garden, but they've recently decided to move house. They're actually leaving their pod at the property because the size of the room has added £18,000 value to the house.'

UK workers have become more accepting of the concept of hybrid working since the pandemic, though admittedly working from home can come with certain distractions depending on your home life.
This is where Ogel's office pod comes in, providing a fully-fitted office space in your garden – separating your work and home life without having to travel.

'Our biggest usage comes in garden rooms and home offices,' he continues. 'With our taskpod, you can still go to work and sit at a proper desk with all your electrics and a monitor, the difference now being your commute to work becomes 10 yards down the garden path.'

Gary believes that using plastic waste to produce building materials puts an end to the single-use cycle that dominates the recycling industry. Whereas a recycled bottle might eventually be chucked into landfill by a careless shopper, building blocks have a much more permanent use.
'We make "full stop products" because we practice permanent recyclability'
'The problem with most recycled plastic is that people expect the recycled products to be used forever,' says Gary.
'In this world we use the most permanent materials for the most throwaway things, like plastic for bottles. We might recycle them, but then they'll get reused a couple of times and end up in landfill again.
'The timescale of those uses are usually about nine months,' he explains. 'This is why we think if you recycle something, you should recycle it into something that has a permanent use – that way it'll never need recycling again.
'We make "full stop products" because we practice permanent recyclability.'

Although the uses of Ogel so far have been primarily for annex space, the foundations of its patented design allow it to be used for any manner of build. If you can think of it, it's likely you can build it. Thanks to this framework, the future possibilities seem endless.

'We've had thousands of concepts for our building materials. From building hot tubs to salmon farms, exhibition stands, anything you can imagine,' Gary explains.
'Someone with a pile of bricks and enough skill can build anything – from an out-house to the Taj Mahal. All we've done is simplify the process of how you build, de-skilling it so that anyone can build what they want.

'The future for us is moving into flood defences (this was always our original goal, but the accreditation process takes two years) and into constructing micro-homes.
'One big advantage that we have is that our construction is quick, light, and clean. We can build where traditional builders can't.'
ogelworld.com