Meet the Team Behind England's First Carbon-Negative Gin
Cooper King Distillery don't just put sustainability in the spotlight, they also seek to revolutionise the spirits industry
We catch up with Chris Jaume, one of Cooper King's founders who tells us about their journey to becoming England's first carbon-negative gin.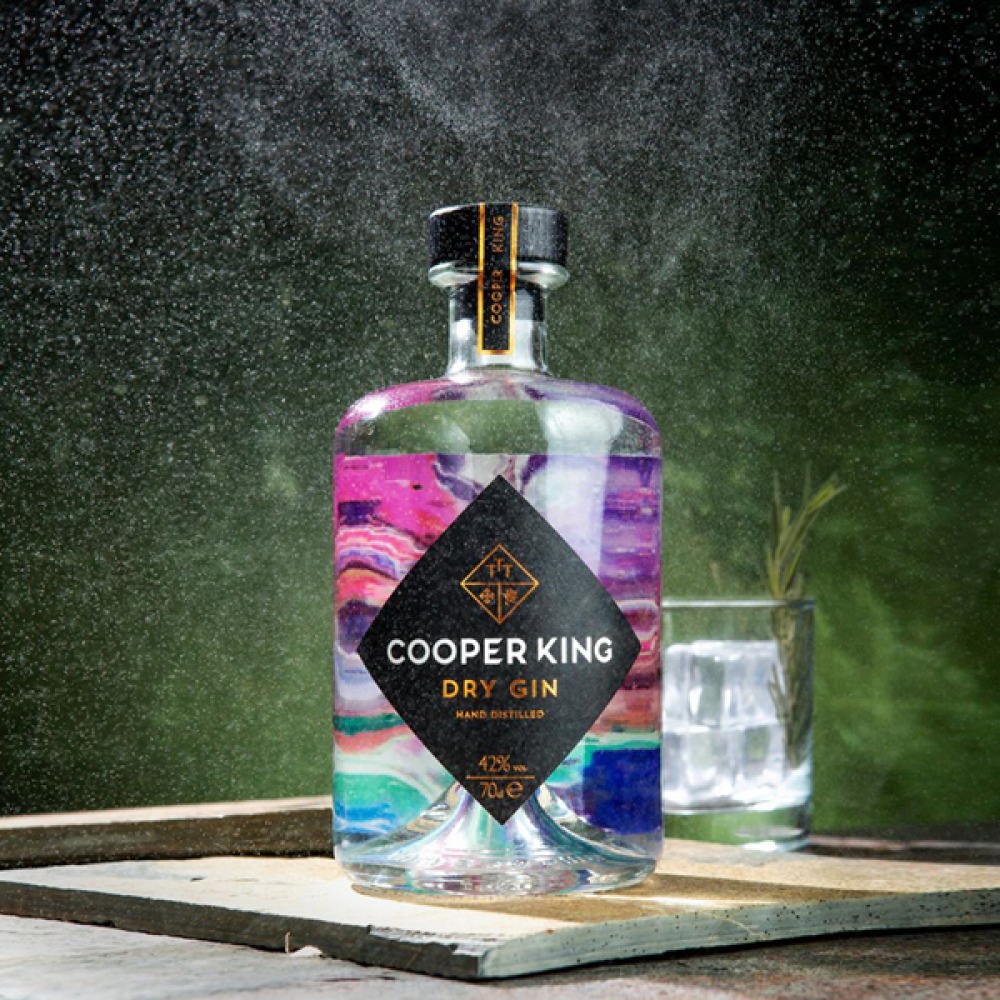 'It was about eight years ago when my partner and I decided to buy a one-way ticket to Australia which is where we absolutely fell in love with whisky and distillation,' says Chris Jaume, co-founder of Cooper King Distillery. Chris was working as an architect at the time and his partner, (and now co-founder) Abbie Neilson, had just qualified as a scientist, but neither of them were happy with the industries they were in and decided to travel to discover their real passion. 'Very soon after we arrived in Australia we went across to Tasmania which is where we found a whisky distillery creating the world's best single malt whisky. It was incredible that this tiny, unheard of distillery had beaten Scotland, the world's most famous whisky producing region, and it was then that we both fell in love with the distilling process of spirits. It inspired us to come back home and create our own,' Chris says.
Chris and Abbie then spent the next two years working with breweries and distilleries to develop their business plan. However, the pair knew from the beginning that sustainability was going to be at the heart of everything they were setting out to achieve. 'When we were living in Tasmania we were both really impacted by the destruction of the areas of protected wilderness, for example, the Great Barrier Reef which was suffering because of tourism. So, from the beginning, we wanted to be able to create a business that could protect more areas like that but closer to home – that underpinned everything from the start,' Chris explains. After setting up Cooper King Distillery in York, Chris and Abbie partnered with the Yorkshire Dales Millennium Trust so that one square metre of native broadleaf UK woodland would be planted for every bottle of gin Cooper King Distillery sell. 'We're not far off 20,000 square metres now. The charity source the land and work with land owners and farmers to plant all the way through the tree planting season and we get involved ourselves too and go out every year – we don't plant every tree that we pay for but we do plant a fair few,' Chris says.
At the distillery each element of the business has been carefully thought out to ensure that sustainability is embedded throughout. From growing their own ingredients and sourcing locally, to introducing the country's first gin refill scheme, Chris and Abbie want to ensure their spirits don't cost the earth to make. 'The wheat for the base of the gin, and the lavender we use, is grown locally and we have our own beehives and have planted our own juniper too. We've also introduced the country's first gin refill scheme and we're slowly rolling this out across Yorkshire so we're now able to offer refills from a shop in Malton and we're opening one in Ripon and we've got one out on the coast in Robin Hood's Bay as well,' Chris says.
The equipment used to make the gins at Cooper King is also part of the sustainability plan and Chris explains that the cold-distilling, innovative vacuum still means that the distillery uses just 10 percent of the energy required to run a traditional gin still. 'The pieces of kit that we use are from Abbie's scientific days and they're not normally found in a gin distillery. When we started using them there were only five or 10 other distilleries in the country running like this. It means we save 26 tonnes of water a year because we don't rely on fresh water to cool the condensers, instead we recycle the coolant water,' Chris explains. Distilling at cold temperatures also ensures the quality of flavour too. 'When you distill ingredients such as lavender or basil in heat they can turn really soapy, but distilling at colder temperatures means you can retain so much more freshness,' he adds.
'The carbon offsetting doesn't include the tree planting – that's something we wanted to do to go above and beyond'
Having sustainability engrained within their business has allowed Chris and Abbie to develop England's first carbon negative gin. 'We knew our footprint was quite low anyway, but we never had it formally measured. When our data came back it revealed that our two bottles of gin emitted just over one kilogram of carbon each, so we decided to offset that kilogram and offset an additional kilogram to ensure we became carbon negative,'
Chris says. Now, Cooper King Distillery are leading the climate change fight and every 700ml bottle of Dry or Herb Gin removes one kilogram of carbon dioxide equivalent from the atmosphere, as well as planting one square metre of native UK woodland. 'The carbon offsetting doesn't include the tree planting – that's something we wanted to do to go above and beyond,' he says.
Chris and Abbie are keen to share their journey and spread the message about greener and more efficient distilling practices. 'It's incredible that a small producer like us is able to speak to members of the European Parliament about what we are doing. Sustainability has been really important for us from the beginning, but we aren't perfect and businesses who are on the same path as us would all agree that there is always room for improvement. At first our efforts got some attention but sustainability didn't seem overly important to our consumers until the pandemic kind of brought the climate crisis to everyones attention. I think people began to realise that something needs to be done much sooner than we had all thought,' Chris says.
'I think it would be great if everyone looked at their water and energy use. On the whisky side of things, we distill using a copper pot and that uses a lot of energy, but we have just installed a big water and heat recapture system, so even if there are gin distilleries using big copper pot stills, there are still ways to reuse the heat energy in the process without having to use a vacuum still like we do.'