Abstract Artists Susi Bellamy and Enrique Azocar on their Colourful Collaboration
If there's one thing the past year has taken from us it was the opportunity to collaborate with other creatives
When the opportunity to work together presented itself to old friends Susi Bellamy and Enrique Azocar, they had no hesitation in accepting.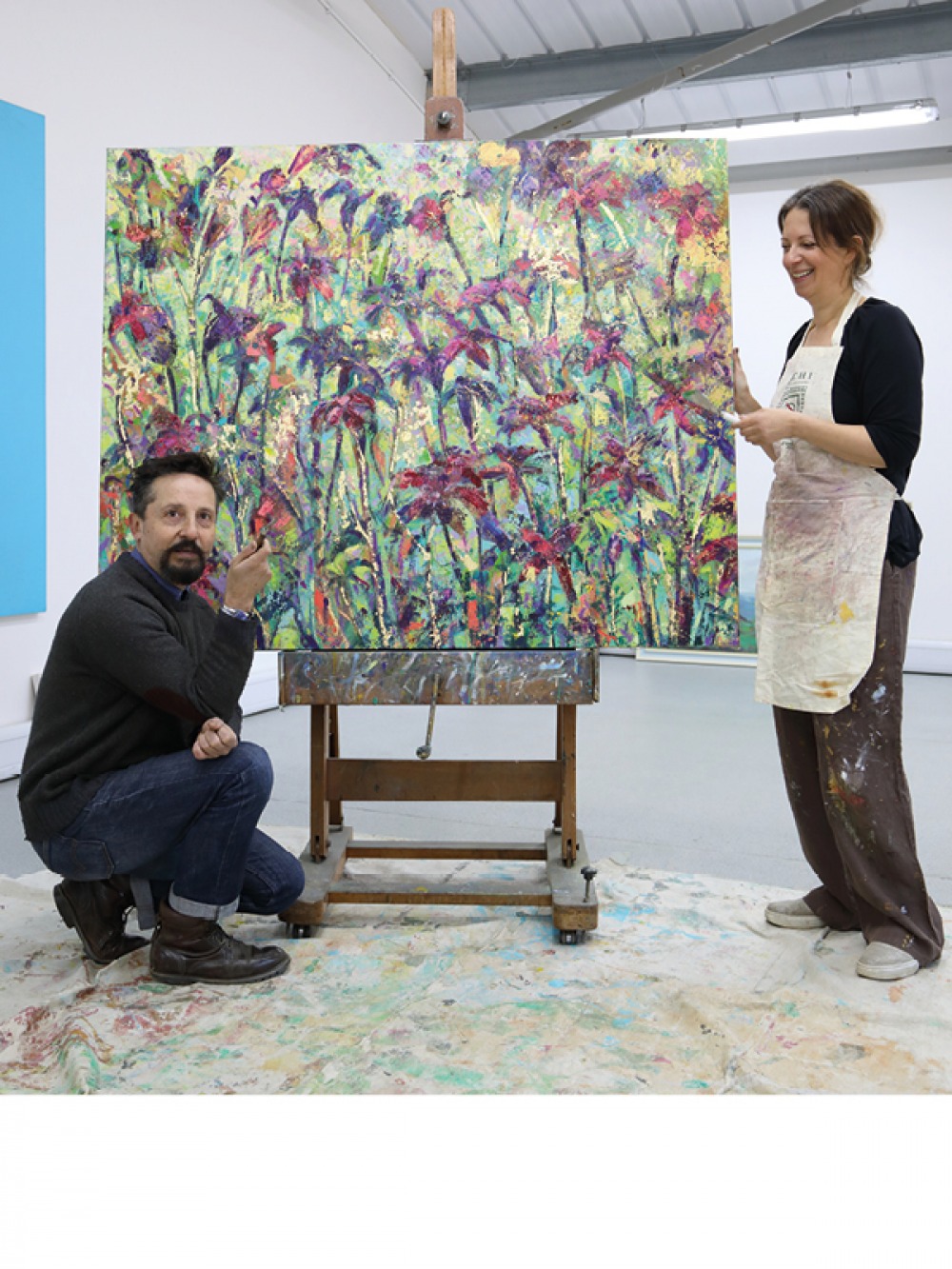 Susi and Enrique studied for their master's degrees at Northumbria University together, but this was the first time they've turned both of their artistic talents to one painting. Working with another artist can be tricky, but their individual knowledge of painting made it an enjoyable process. 'We complement each other very well with our knowledge about painting,' explains Enrique. 'Working with another artist is not easy sometimes, but having similar goals really does help.'
Knowledge is what made Enrique and Susi's work really gel. They spent almost every Saturday in Enrique's Hexham studio working on their disciplines and researching their work together, and being able to discuss art at the same level has had a profound impact on their work. Susi is naturally inclined towards colour and texture, and those Saturdays were spent discussing everything from business, art and feelings to colour mixing and how to work on different textures. 'Susi and I are natural disciplined researchers, hard workers and determined artists. When you are a professional artist you should take it professionally. It always pays off,' says Enrique.
And pay off it did. Each artist brought their own creative style to the table to create something bold and evocative, and the final image is full of colour and depth with a clear response to eachother's mark-making. Their theme for their first collaboration was colour and excess, and they mainly relied on their use of palette knives to create thick layers of paint which gave the piece its unique texture. For Enrique, he finds working with a member of the opposite sex provides a better shape to the work as a whole, and gives it a more of a balanced outcome. Susi's impeccable taste and natural way of seeing colour helped guide the piece, adding the gold leaf for a touch of decadence that made the painting come alive.
Working together brought its challenges, and these were navigated by taking regular breaks to assess their progress and make decisions about the next steps. 'Picture making consists of a multitude of yes and no decisions,' explains Enrique, 'and each time you view the piece you can discover new and different elements.' One of the best parts of any collaborative process is combining the techniques and artistic eye of two people, and for Susi and Enrique this meant incorporating blocks of colour and bold lines which blurred together to create an amazing, abstract piece of artwork.
It was never their intention to create something realistic or identifiable. 'The probability that we'd produce an image was close to zero,' Enrique laughs. Their abstract work allows the audience's eye to 'find something' within the work. It's natural, after all, for your brain to seek out a similarity with real life, everyday objects, as that's what helps us to understand them.
Susi and Enrique continued to work on exploring colour, lines and texture as their inspiration, and the piece seemingly never had an end in sight until, according to Enrique, there was 'a yes to end it all', and it was finally done.