Serena Partridge Creates Artwork Inspired By Her Local Community and It's History
Award-winning Malton-based mixed media artist, Serena Partridge, creates artwork inspired by her local community and its history
She tells us about her current residency at Selby Abbey.
Serena grew up on a farm in North Devon with a creative mum who taught her to sew, and helped her grow a love of crafting. Her paternal grandmother was a keen knitter and always had a project or two on the go too.
As young children, Serena and her sister entered local village and town horticultural shows. Serena created detailed miniature gardens and a tortoise-shaped pin cushion which is still on her desk 40 years later. After school and college, she studied Design Crafts which gave her all the skills she needed to start selling her work, and she developed an interest in historical costume and textiles. 'I was introduced to a number of galleries in my first and second year and was very fortunate to have been given opportunities to exhibit and sell while still a student,' Serena tells us. 'It certainly helped my student finances and eased me into life as a self employed artist and maker.'
In 2006, after travelling for various projects, Serena moved to Malton and now specialises in creating tiny, handcrafted accessories.
Serena has created temporary acquisitions for the Brontë Parsonage Museum, drawing inspiration from Charlotte's life and personal possessions. Reclaimed leathers, fabrics and unusual threads were transformed into gloves featuring maps and mourning shoes, and Serena's work can currently be seen at The Mercer Art Gallery, Harrogate, as part of Dive In, which celebrates 450 years of Harrogate's mineral springs. This exhibition also features images from the town's spa history.
Serena is currently busy completing her residency at Selby Abbey as part of Selby Stories, a new programme of cultural events that celebrates the town, its history and everything that makes the area a unique place to visit. She is spending the winter months gathering stories and inspiration from the historic abbey and will then create artwork to be displayed in spring. Plans for talks, tours and workshops about the artwork are also in development.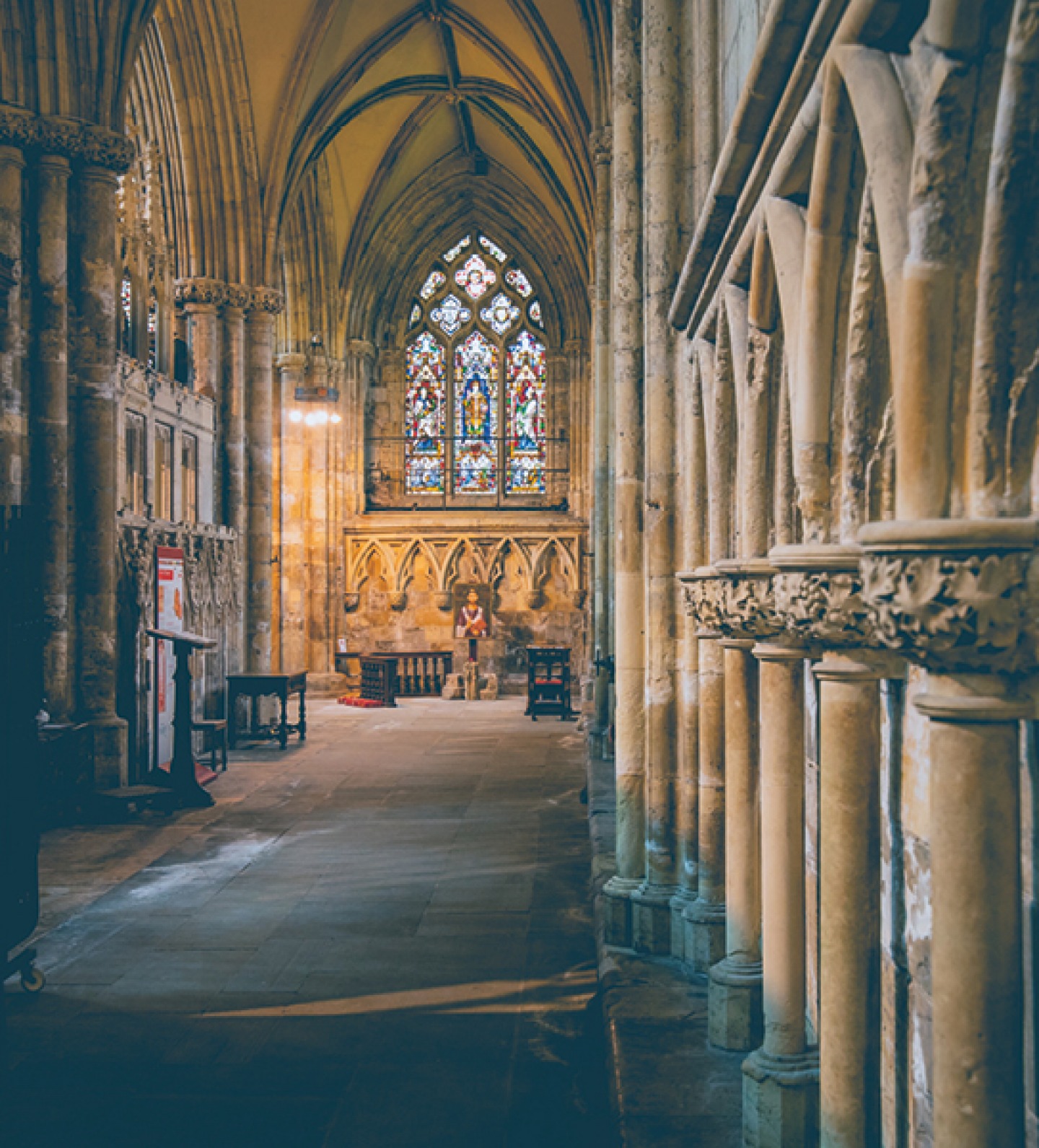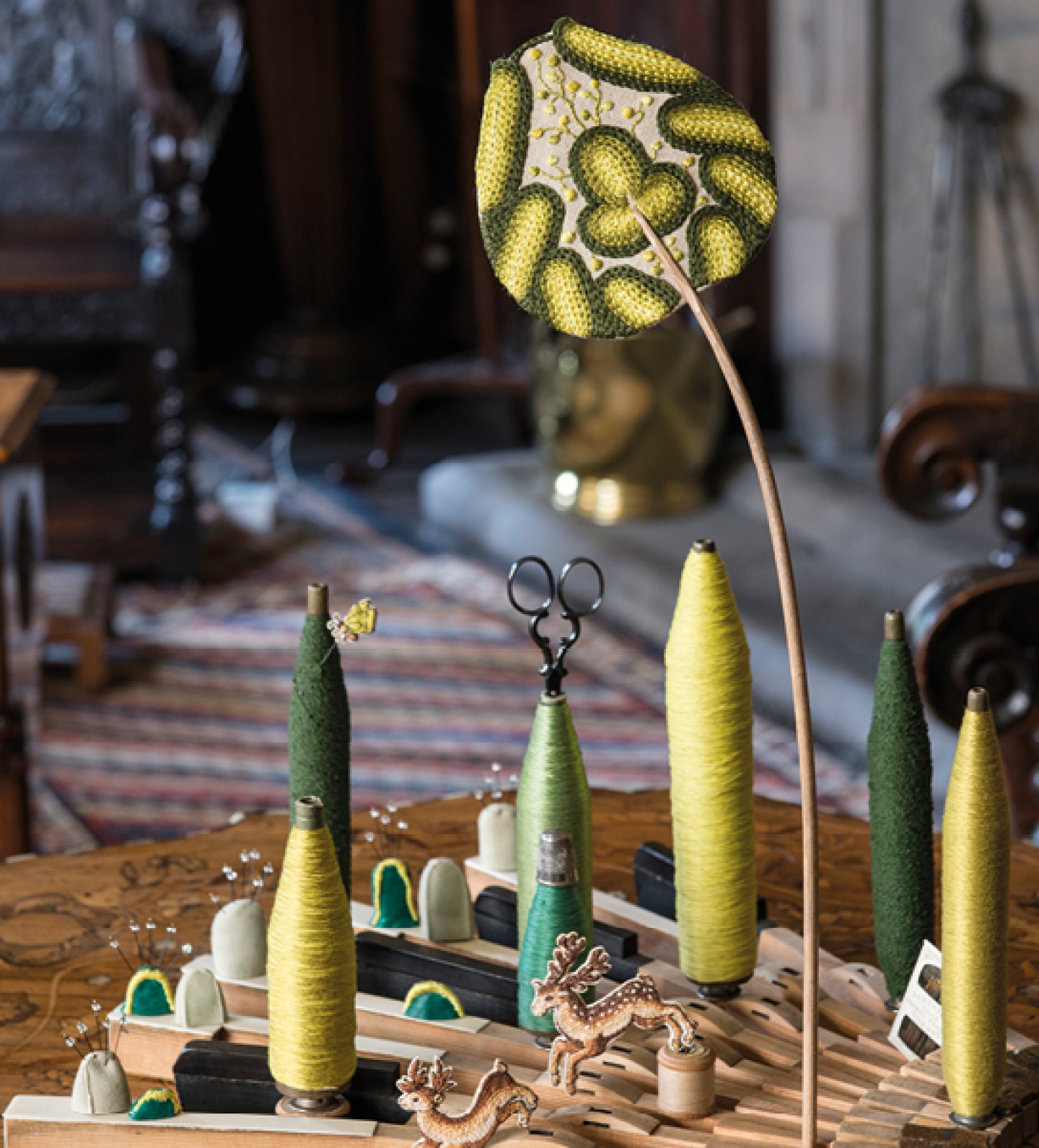 'The abbey is rich with nearly 1,000 years of history, stories and craftsmanship, so there's no shortage of inspiration,' Serena says. 'It's still early days for the project, but at the moment I am particularly fascinated with the Strudwick carvings. Thomas Strudwick was one of the most prominent craftspeople to work on the abbey in the 20th century. He worked on its restoration after a devastating fire in 1906, carving both wood and stonework. If you look very closely at the Strudwick capitals you can see a whole host of carved animals nesting in appropriate foliage. There are birds in a tree with berries, fish amongst seaweed, pigs, rabbits and a deer.' Serena finds the capitals fascinating. 'You need to shine a torch inside one capital to discover a carving of the king's head. I love these fascinating details that sit very discreetly in the abbey and can be easily missed without close attention.'
Serena looks forward to producing new artwork to reflect the beauty of the abbey. 'It's very exciting and an absolute privilege to be invited to work and exhibit here,' she says. 'I enjoy the opportunities and challenges that site-specific residencies offer. There is a sensitivity required, to the abbey community, its history and the physical building itself. Like Strudwick's carvings, I hope the work I create will encourage visitors to slow down, to take time to appreciate and be drawn into the small details that can so easily go unnoticed.'
It's clear Yorkshire's gems are going to continue to inspire Serena's artwork as she looks to the future, and while she loves everything about her local area, she has a particular love for the running community in the county. 'I attended a beginners' course with Pickering Running Club about 10 years ago and then signed up with them, which has been one of the best decisions I've ever made,' she says. 'During lockdown we stayed connected with a different challenge each week. I ended up running 16 miles non-stop up and down a five-metre stretch of my garden and had fun combining work and play by creating some Strava Art around Malton and Norton.'
It's this running that has encouraged her to explore more of the moors and coast. 'I'm a big fan of the Hardmoors Trail and Esk Valley Fell Races, and Parkrun in Dalby Forest is always a positive way to start the weekend. I'm looking forward to trying out Selby's Parkrun during my residency. I'm a bit of a Parkrun tourist, with Sewerby House and Fountains Abbey being among my favourites.'
As a co-founder and co-director of Art Happens Here, a new community interest company based in Malton, Serena hopes to continue working on site-specific projects and engaging with local communities. 'This way of working always takes me in exciting and unexpected directions, with lots of new material and stories to delve into.'
Keep up to date with Serena's work at serenapartridge.co.uk and find out more about Selby Stories at selby.gov.uk.