Achieving A Vintage Floral Style
From fabrics to flowers and the charm of an English cottage garden – colour expert Annie Sloan shares her tips on creating gorgeous spaces using vintage floral style
Annie Sloan is one of the world's most respected experts in paint effects and colour. She believes style and colour are at the heart of a successful interior and one of her favourite themes is vintage floral.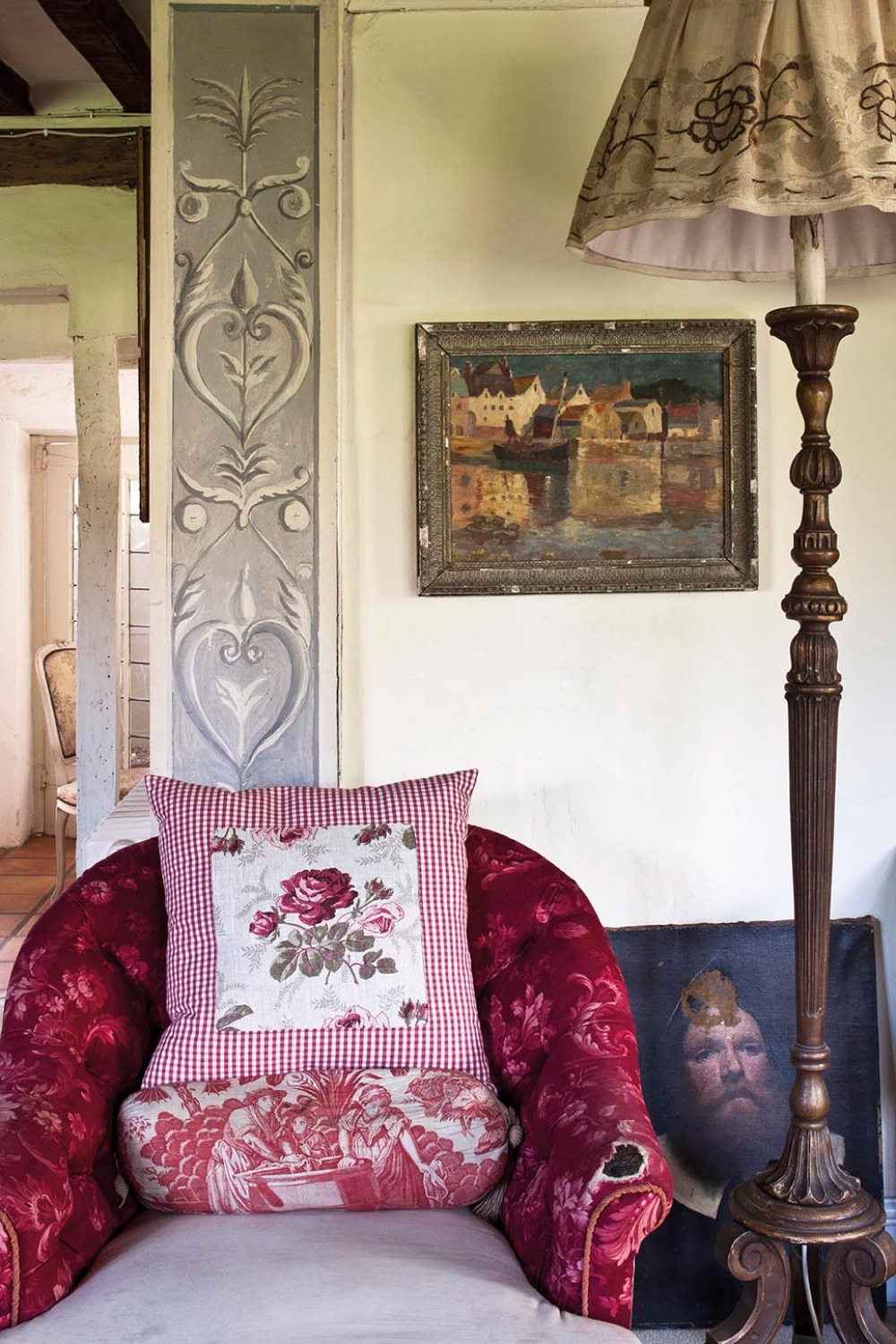 'Vintage floral is about telling a story, bringing history to life, and florals help to tell that story – you only have to think of the poppy and all that it evokes.
By far the prettiest of all the room recipes, it's a wonderfully nostalgic style that evokes a time gone by, of simple elegance dominated by floral imagery. The vintage part goes back to the 1800s but its heyday is the Victorian and Edwardian era. More recent influences include the Arts and Crafts movement, romantic Art Nouveau, abstract prints, as well as the vibrantly coloured flowers of the 1960s and 1970s.
Floribunda, an abundance of flowers, is the defining element, with floral designs – predominantly roses – displayed on fabrics, bedcovers, upholstered chairs, cushion covers, wallpapers, and delicately designed china. The rose holds centre stage – this and other floral motifs are inspired by the tradition of the English cottage garden, which we love. Real flowers, especially displayed in floral pitchers, as well as framed floral prints, are very much part of the mix. Other key ingredients include salvaged furniture, especially the worn look of French country pieces repainted in a distressed fashion, vintage toys and dolls, cut glass, and vintage bed linen.
Vintage floral is all about the faded look – there are plenty of colours used, but they are not bright. Faded suggests vintage, the wear and tear that comes with reclaimed and nostalgic pieces. There is also an emphasis on light, pastel colours. Of course, colour choice is highly personal, but there are some useful guidelines to follow if you are going for a classic rose-dominated vintage floral style. The colours should be as soft as the furnishings. Because floral patterns are the dominant motifs in the wallpaper design and paintings, the main wall and ceiling colour needs to be a knocked-back white, or off-white, to soften the contrast and keep the room looking fresh and light.
The simplicity of white adds a delicate and romantic effect to room interiors, and vintage floral definitely has a touch of romance about it. Warm, off-whites look great against natural or bleached floorboards and exposed beams and window frames. They also add a soft glow to textured patterns, real flower arrangements, and embroidered cushion covers, bedcovers and tablecloths. Decorating whites vary greatly in texture and tone, which gives you plenty to play with in paintwork, fabrics, floor coverings, and chinaware. It is certainly not a straitjacket, even if its primary function is to be a foil for the floral elements.
The quality of light is really important with vintage floral. It is a style that is mainly popular in temperate climates, so there is a natural inclination to use muted, softer colours anyway because it never gets that bright or hot. However, if you live in a hotter zone, it is natural to use vibrant colours in good, strong, bright light. Try to avoid these for the vintage floral look, as it can end up looking garish. Delicacy is the name of the game.
If you are going to introduce real flowers, such as roses, which, for the most part, come in glorious, rich hues, the impact of such colours needs to be set against neutral tones. Brilliant colours should be avoided because they will overpower or clash with the floral furnishings on display. Soft reds work well, especially next to neutrals, and like pinks and peaches they are warm and comforting colours that are pleasant and easy on the eye.
One last word on fabrics: While floral designs will feature strongly, you can also introduce plain and patterned and lace-edged white fabrics, such as bed linen and bedcovers. Vintage Victorian and Edwardian finds would make ideal furnishings.
Floribunda translates as 'a plant, especially a rose, which bears dense clusters of flowers,' and that is the signature motif and springboard for vintage floral patterns. It is inspired by the tradition of the English cottage garden but can take in classical continental French and Italian garden designs, as well as historic American gardens, and even tropical plants. While vintage floral patterns tend to revolve mainly around roses, there are plenty of other plants to showcase, especially those planted in herbaceous borders, including hollyhocks, delphiniums, and lupines.
Whichever flowers you fancy, they can be depicted in lots of different ways. They may be a classic still life or the rich, rather dense Victorian approach; they could be the later and lighter Charles Voysey-style textile designs, or the more modern floral twists by Pat Albeck, or they might even be a floral colour scheme based on pastels.
'Vintage floral is about telling a story, bringing history to life, and florals help to tell that story – you only have to think of the poppy and all that it evokes'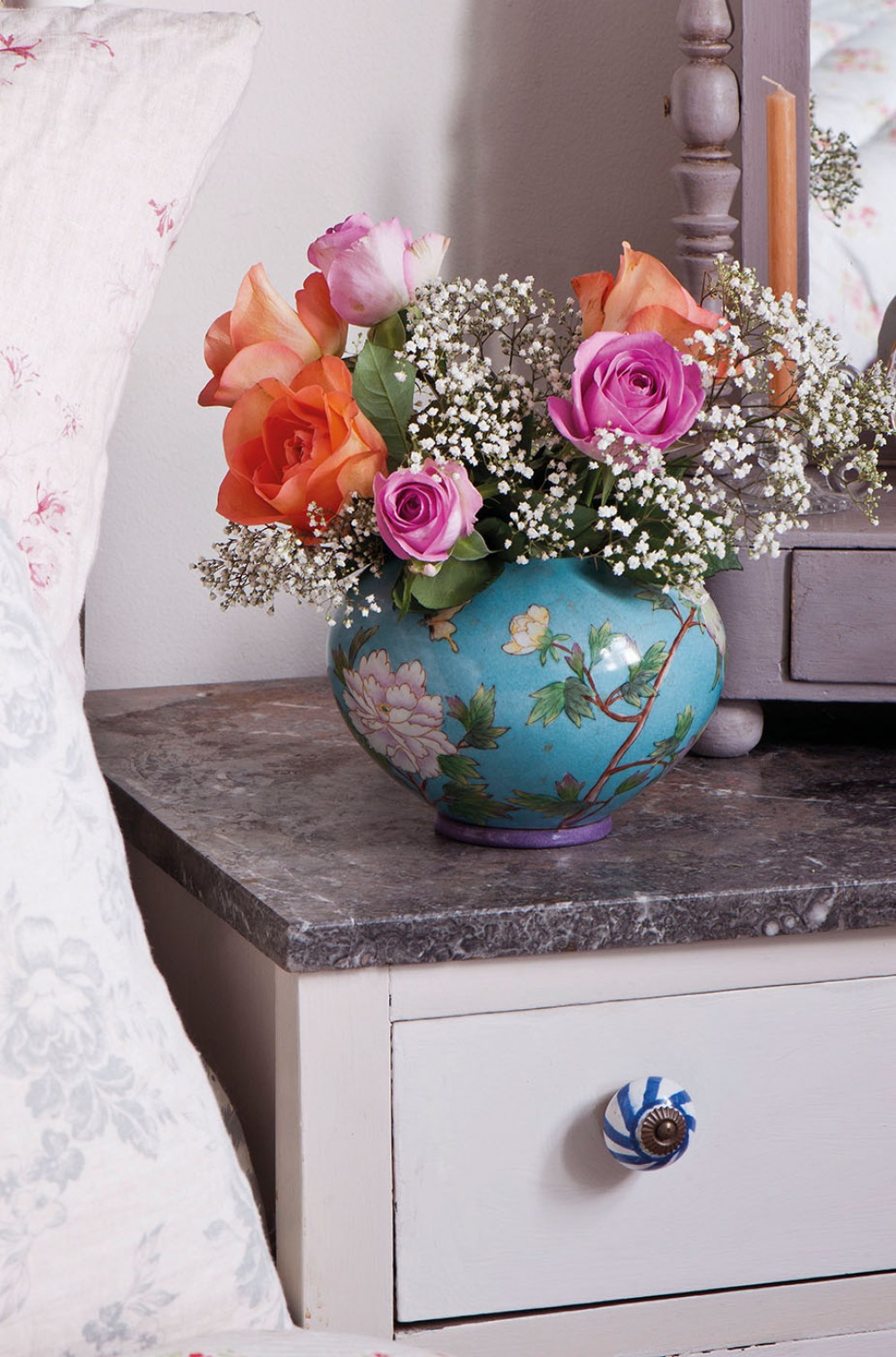 The key to the patterns is that they should be subdued, calm, pretty, and not too alarming. In fact, one definition of vintage floral might be 'nothing to scare the horses.' The pattern of flowers might be set in lace or integrated as posies, bouquets, borders or bunches. There is no shortage of floral patterned wallpapers and coverings to source from design shops and junk shops. Wallpapering with vintage floral patterns is a quick way to get a pretty, romantic look in any room.
You might also try stencils; there are an amazing variety of floral patterns that you could incorporate into a vintage floral decorative wall pattern. It could be Arts and Crafts, Art Nouveau, or fun and funky 1960s style.
Built-in patterns are provided by vintage patchwork quilts and comforters (eiderdowns) with faded floral motifs, which you can source from boutiques and antique shops. They also make excellent wall hangings. The fabric may be chintz but it has to be faded chintz – new chintz won't cut it. However, if you have new chintz, then you could fade it or age it a bit by soaking it in tea, then washing it. Or you could dye it using Annie Sloan Chalk Paint. I have done this to great effect with French Linen. Another option to create a faded pattern is to wash your chintz in Old White, dry it out, then transfer an image that you can source from a decoupage motif book, an old flower or plant book, or from the internet.
Floral patterns can be highlighted not just on textiles and wallpaper designs in delightful faded colours, but also on pillows, aprons, curtains and lampshades. The canvas is as broad as you want it to be. Try to source floral patterns to create a romantic mood that evokes memories of ancient roses, charming old cottages, and endless summers.
From a single-stem, rich-red rose or tulip to big, colourful blooms of freshly cut peonies, to displays of dried hydrangeas, the presentation of real flowers is a surefire way to complete any vintage floral room. The two key influences are the English cottage garden, with its neatly tended wild flowers and climbing roses on a whitewashed thatched cottage wall, and the rose itself, of which there are over 100 species. The rose is a nostalgic, romantic, homey, pre-industrialised symbol that still evokes a gentler age, hence its iconic status with vintage floral.
Cottage garden flowers include phlox, larkspur, and cornflowers, and popular flowers to consider for colour variations or beautiful large blooms include chrysanthemums, lilies, tulips, dianthus (including carnations, pinks, and sweet Williams), gladioli, and peonies. Don't forget to add greenery, such as gypsophila or the silvery-blue foliage of Eucalyptus gunnii – both make fantastic fillers. Dried flowers work very well and, of course, have a much longer display life. Dried hydrangeas can look amazing with touches of russet, mauve, and crimson. Garlands of dried, real or even synthetic flowers can also make a great visual impact hung on walls, doors and windows.
To display flowers, choose vases that have a flower or vintage floral motif or flower shape. Cut glass is in keeping, and you can even opt for Japanese pottery designs.'