Art & Kindness Want You to be Creative and Kind
The message to 'Be Kind' has never been so important
Based in Yorkshire, new art business Art & Kindness weaves together a passion for art and a desire to promote self-care and kindness, by encouraging you to be creative.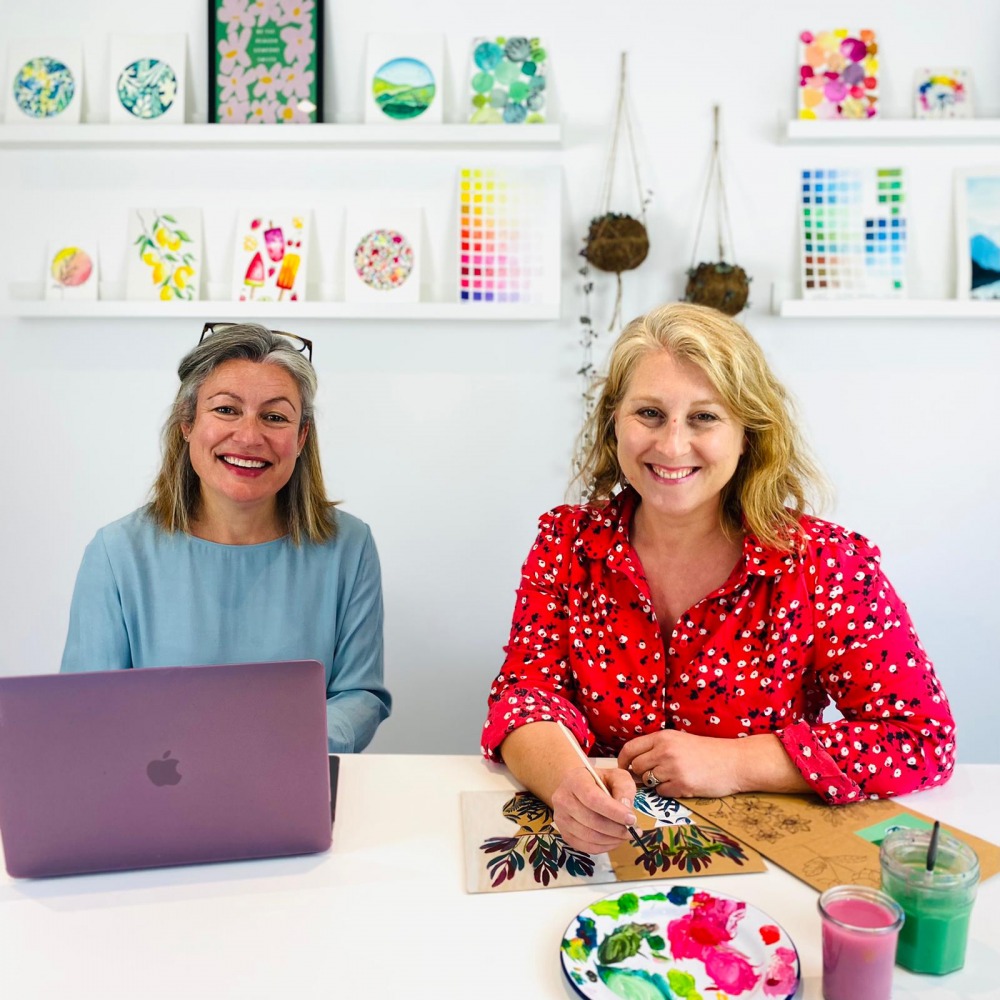 Tell me a bit about yourselves.
Heather: I'm a qualified counsellor and have spent the last 18 years working in mental health. Over the years, and particularly during lockdown, I've really seen the importance of focusing on our wellbeing, self-care and the incredible power of kindness. I'm very proud to be Yorkshire born and bred, and passionate about supporting my local community. I love meeting new people, walking my dog, singing at the top of my voice to Beverley Craven, and my happy place is sitting in front of a roaring log burning fire.
Olivia: I'm an artist and a qualified teacher, and I am really passionate about sharing my love of art. Art has played a big role in my life. With my husband in the armed forces for 20 years, and juggling home life and three young children, my saviour has always been art. Painting and creating really helps me escape, relax and calms my mind. I have lived in Yorkshire for 20 years and have loved living here. My second creative home is Brittany, France, and sitting by my easel, painting, is my happy place.
What is Art & Kindness?
Both: Art & Kindness is a new Yorkshire business on a mission to encourage you to be kind to yourself, others and our planet, through art. Whether you are a complete novice or a dab-hand at painting, we design art projects to inspire you, help you unwind and discover your inner creativity.
How did the idea come about?
Olivia: Having run art and language classes over the past 10 years, I missed the connection with the community during lockdown. I also know how important it is to support each other during these strange and worrying times, especially being so far from my home country with little family support nearby. So, when Heather and I got together to chat about how we coped and what we could do, we decided to launch Art & Kindness.
Heather: In my work I have experienced the power of art, as a means to express and process, relax, calm the mind and reduce stress. Supporting adults and children, counselling in a school in Bradford during lockdowns, really highlighted the importance of not only encouraging others to take time to focus on their self-care, but also making sure I focused on my own. I also really noticed the importance of kindness to self and others. I believe the phrase I used most during lockdown was 'be kind.' Practicing acts of kindness can rejuvenate, boost and help develop strong positive connections between people. Kindness to yourself and others is such an important and accessible action. Out of all these experiences came the idea of creating Art & Kindness, with my long-standing friend and inspiring artist Olivia. Art & Kindness weaves our passions for art, kindness and self-care together, to give you a playful art experience that is authentic, purposeful and meaningful.
What can we expect from your kits?
Both: Our kits provide you with the tools you need to be creatively kind to yourself and others, including complementary video tutorials, instruction sheets, supplies and inspiration. We guide you to mindfully create two beautiful art pieces for yourself, six gorgeous art cards and two postcards, to send as small acts of kindness to important people in your life. Get your kit, watch the tutorial, and create at a pace to suit you. With our kits you will enjoy an authentic, meaningful, self-development experience, where you will create with purpose.
How can art help support your wellbeing?
Heather: Art has a magical therapeutic effect. Art is a brilliant addition to your self-care toolbox and can play a major role in supporting children's and adult's wellbeing. Making art is important. It can help us to express stress, it can be calming and it can greatly help with our self-esteem. Art can help bring people together, spread love, and sometimes heal. And now NHS England seems to agree. GPs across the UK are writing out 'social prescriptions' for patients suffering with depression and anxiety. Instead of pills, they're prescribing getting involved in the arts, from art and craft classes to singing lessons. This certainly isn't seen as a replacement for other treatments, but complementary to these. What a great idea!
'Making art is important. It can help us to express stress, it can be calming and it can greatly help with our self-esteem'
How do you hope this idea will create a ripple effect of kindness?
Heather: As the Dalai Lama said: 'just as ripples spread out when a single pebble is dropped into water, the actions of individuals can have far-reaching effects.' This quote perfectly sums up how kindness has many ripples, as your act leads to someone else's kind act, and on and on it goes, touching so many more people than you can imagine. We are encouraging you to start a kindness wave with your art cards. Think of a person, or people, that you could give a random card to… perhaps a good friend, someone in your family, your child's teacher, sports coach or a neighbour? Who has impacted your life, particularly in the last year during lockdowns and Covid? We're sure you will be spoilt for choice. Sharing your art is the best gift of all and being kind is what makes the world go around.
Why is it important that the contents of your kit are sourced locally?
Both: Money spent with local businesses and industries helps support our local economy. This in turn creates another ripple effect, keeping jobs and prosperity in the region, something we work hard to do. For example, all our card is manufactured and sourced from a local Yorkshire FSC Certified mill. Also, the paintbrushes we sell are sourced from Rosemary and Co, a Yorkshire business where paint brushes have been handmade for more than 35 years.
Why is it also important that they're good for the planet?
Both: We believe our planet definitely deserves kindness too, and always consider our impact on the environment. All our card and stickers are made from 100 percent post-consumer waste – paper that has reached the end consumer and then been turned back into paper. It is also acid free and FSC certified. Our packaging is fully recyclable and biodegradable, and we use glassine sleeves as a sustainable alternative to plastic, and paper tape instead of plastic sticky tape.
How do you support charities?
Both: As a business, we prioritise giving back and acts of kindness. That's why we donate five percent of profits to the incredible charity Just B, who offer expert emotional wellbeing and bereavement support to children, young people and adults across the communities of North Yorkshire, as well as national support for frontline staff in response to the Covid pandemic, and support for the wider community.
Heather: I have worked and volunteered at Just B both as a children's bereavement support worker, and on the NHS and Hear2Help helplines, which I continue to do. I believe all these services are so important for our local community and nationally for frontline workers. It is a privilege to support this amazing charity, and support the incredible work they continue to do both locally and nationally.
Olivia: Having volunteered in my 20s for charities in France and abroad, it was important to me that our business would have a connection with a charity. With Heather's work at Just B and on their NHS and Hear2Help helpline, it felt right to support this wonderful local charity.
Hopes for the future?
Both: We are really excited to be at the start of our Art & Kindness journey, having recently launched our first three kits! We are already designing more kits to guide you to make your own stunning handmade art Christmas cards, and a bold and beautifully vibrant gouache kit perfect for a present.
Use the exclusive code LNKINDNESSWAVE to get 10 percent off at artandkindness.co.uk.