Fab Ideas for Wedding Food
From quirky mobile bars to stunning grazing tables and deliciously sweet ice cream
Here's how to do your wedding food and drink in style.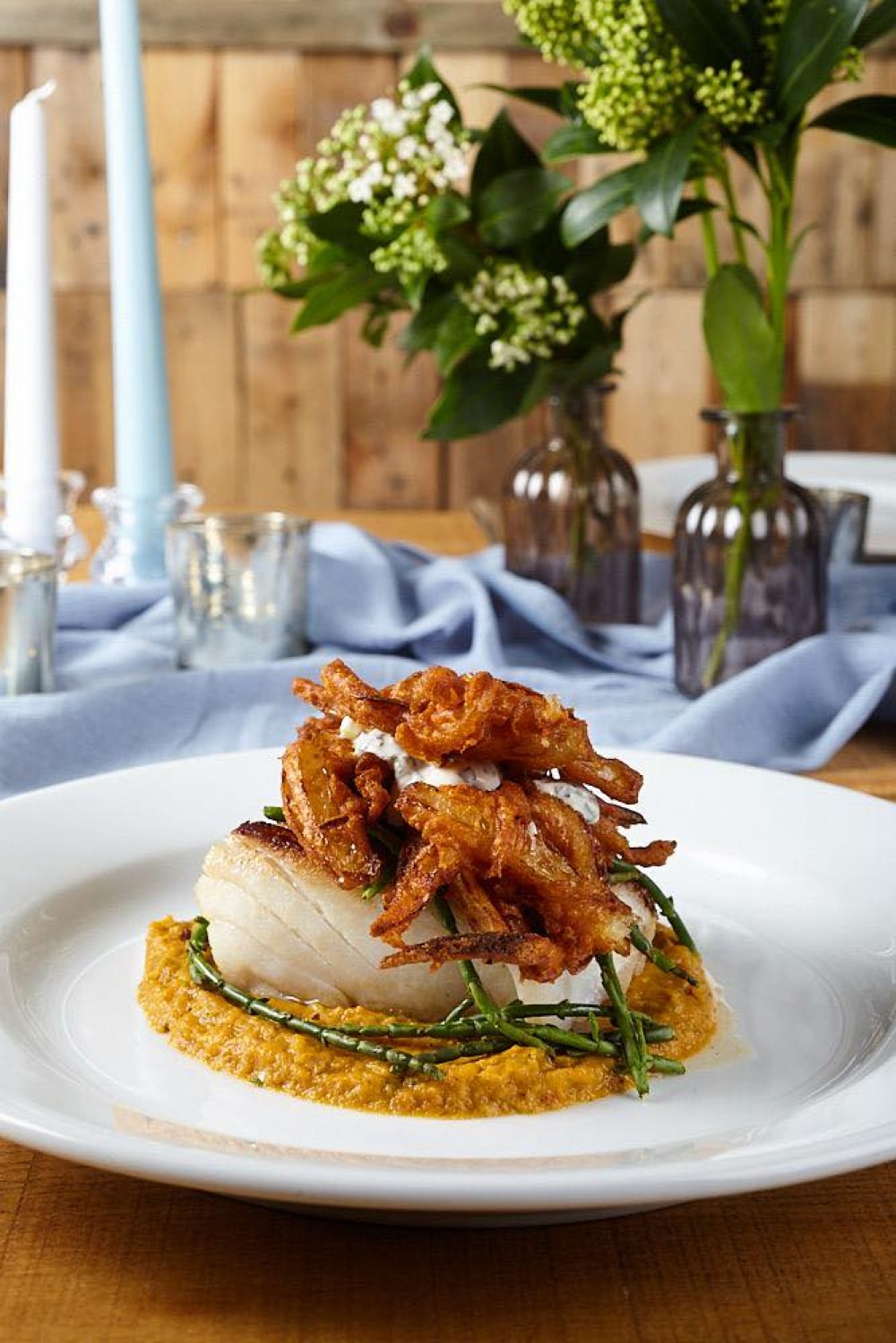 Make it Personal
When it comes to selecting the right food to serve at your wedding, Baba Ganoush understand exactly what is needed to satisfy everyone's tastebuds on the big day. Offering a large selection of set menus to choose from, this York-based catering company has something to suit every wedding theme. From canapés to afternoon teas, to Yorkshire pie and mash and grazing table menus, Baba Ganoush create spectacular dishes made with fresh, simple ingredients. Finish off your day with a selection of mini desserts, choosing from pistachio financier, mini creme brûlée, or marbled chocolate pots with Tonka, or go for a set dessert dish such as cheesecakes, crumbles, giant macaroons or possets.
The new way to treat your guests is to turn your tables into show-stopping edible displays – think picnic vibes but with the most stunning food and edible decorations. Graze and Gorge are the perfect choice to fill your wedding reception with delicious treats, creating beautiful bespoke spreads with 'grazing' in mind. It also means that your guests are no longer restricted to a three-course set menu. Pick and choose your favourite bites, from the finest local cheeses, charcuterie, breads and chutneys, to beetroot and pine hummus and show-stopping chocolate bark, bliss balls and doughnuts.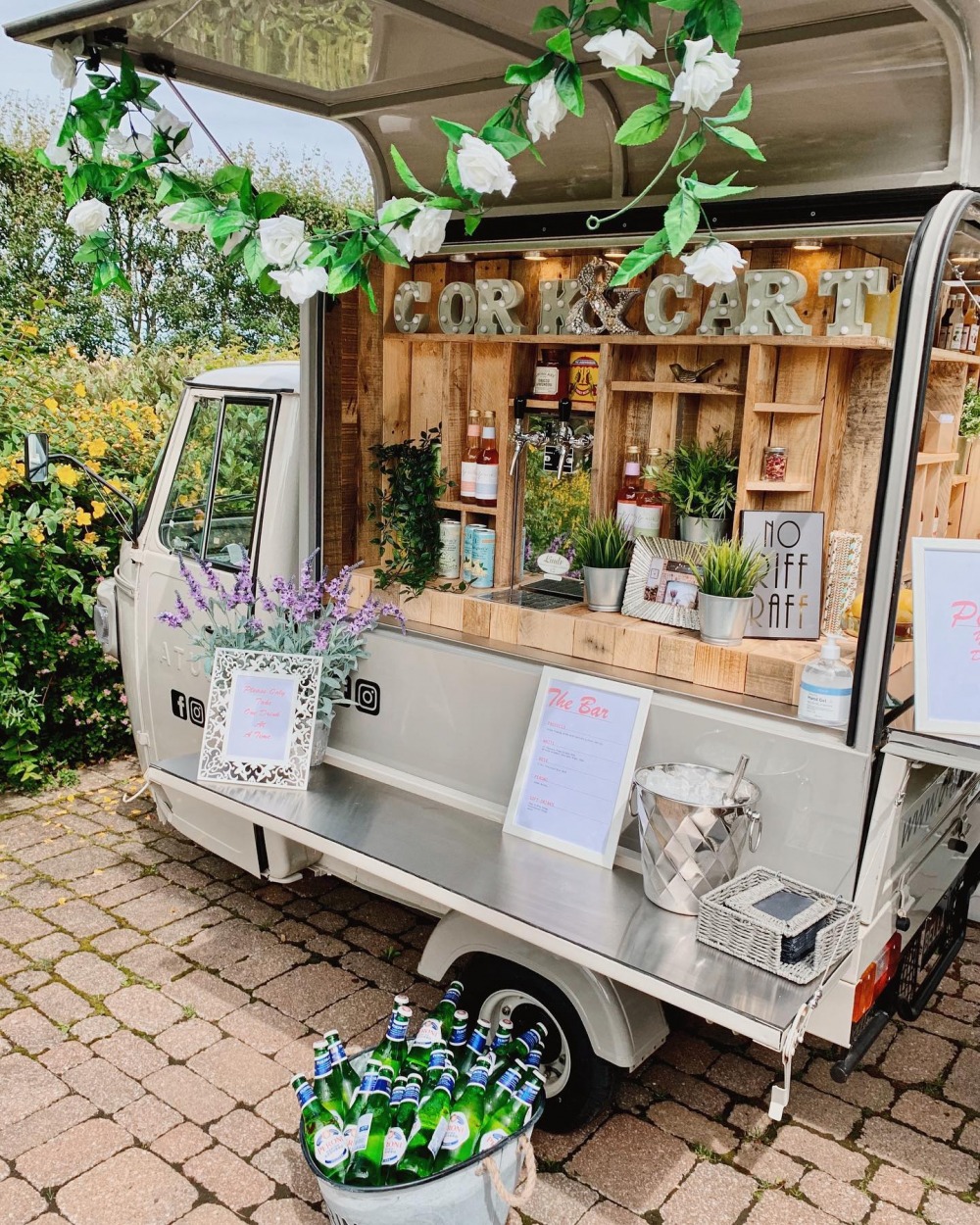 To the Bar
If you're looking for a mobile bar that will offer chilled prosecco and premium beers on tap, look no further than Cork and Cart. Hire their converted Tuk Tuk and let them provide everything from the reception drinks to a full bar service, adding that unique twist to your special day. Based in Saltburn-by-the-Sea, Cork and Cart operate around the North East within a 30-mile radius, although the team are willing to travel further on request.
If you're looking for a mobile bar that offers everything from cocktails to draft beers, ales and wines, Mobile Bars Yorkshire covers all bases. There are two portable bar options to choose from, each giving your guests a bespoke drinking experience. The Vanderbar option gives guests the choice of up to 14 draft beer pumps, serving 10 different beverages, and is guaranteed to be the centrepiece of your party. If you're after something a little more chic, opt for the Little Horse Box bar that is totally self-contained, with its own running water supply and electricity. Based in West Yorkshire but willing to travel to most locations, the Mobile Bars Yorkshire has everything you need to toast your special day.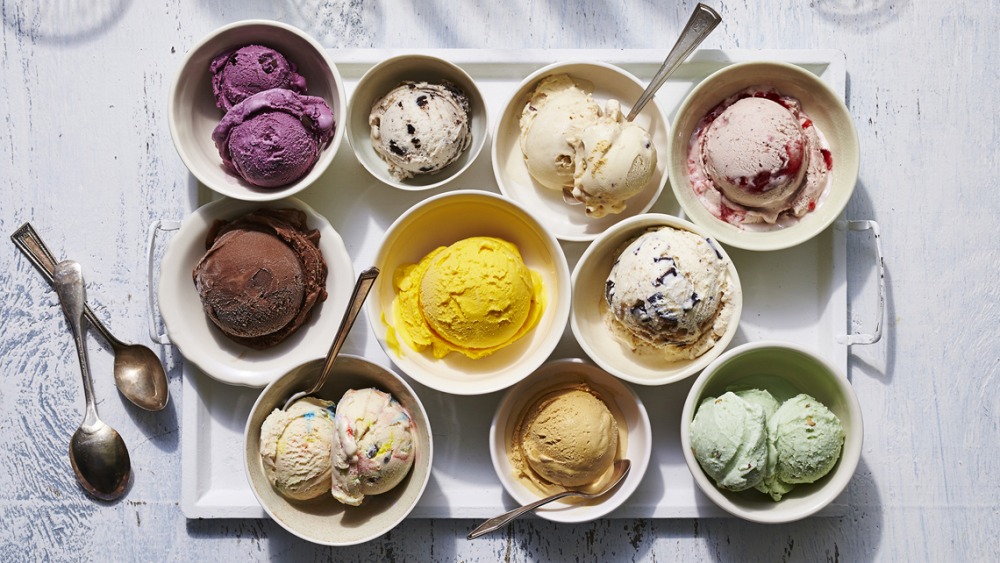 Cream of the Crop
Keep your guests feeling cool on your big day with a delicious cone from Skipton-based Sweet Treat Ice Cream. These show-stopping carts have everything you need for a bespoke ice cream stand at your wedding – from their extensive list of award-winning ice creams, to the illuminating lights around their carts, trikes and tricycles. Favourites include clotted cream, rhubarb crumble and Yorkshire beer and raisin ripple, but the extensive selection will have your guests' tastebuds tingling. Each package includes set up and service throughout.
These County Durham-based ice cream and candy floss caterers offer a touch of vintage class when hired to serve delicious sweet treats at wedding receptions around the region. With three ice cream vehicles available to hire, from their traditional 1978 ice cream van, to their quirky trailer and ice cream fleet, Scoops 'n' Smiles are guaranteed to leave your guests with sweet memories of your big day. There's even a fully functioning candy floss cart that offers a variety of flavours including traditional pink, rose, lemon, cola and toffee fudge.
Switch Up Sit-Down Dining
Switch Up Sit-Down Dining
Fancy wowing your guests with award-winning food and cocktails? Forget the traditional three-course set menu and try Lola Jeans for an alternative wedding caterer. Based in the heart of Newcastle, Lola Jeans cater around the North East. Offering full-day catering packages including canapés and cocktails, banquet feasts, and even street food evenings, Lola Jeans has a range of options that can be personalised to you and your big day.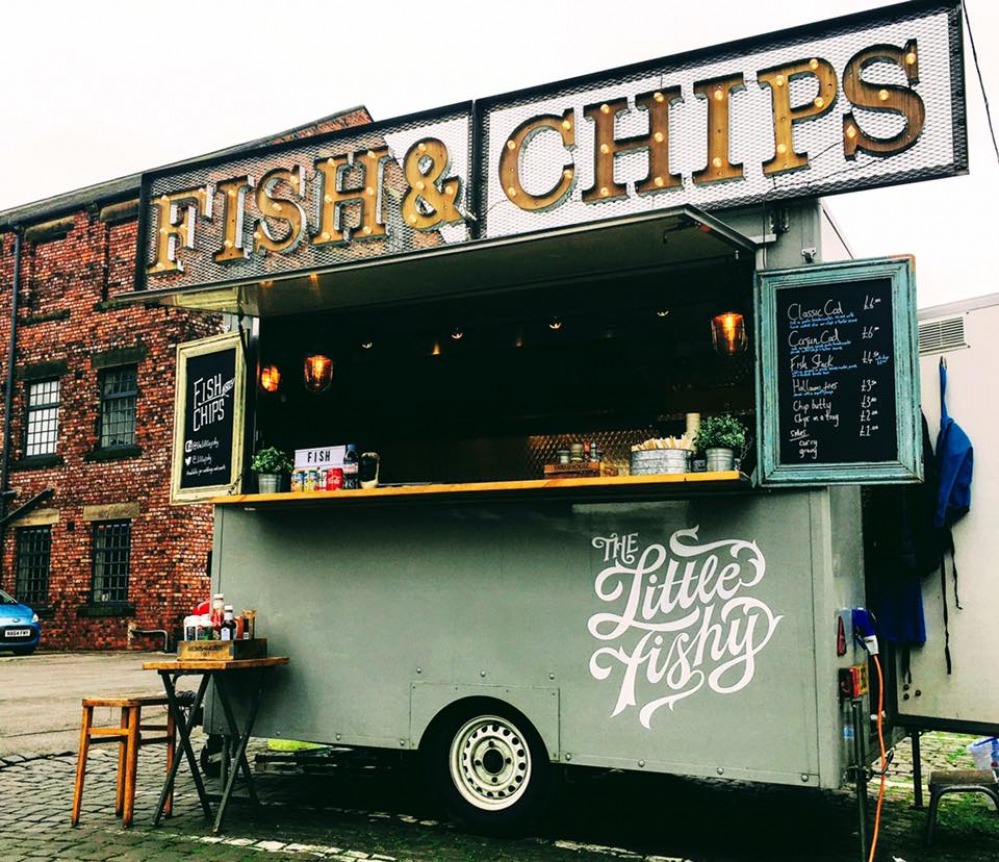 Take the Party Outside
Not your traditional fish and chip van, Tynemouth-based The Little Fishy offer wedding catering across the North East, and serve up delicious fish suppers. Using fresh, locally-sourced ingredients, The Little Fishy pride themselves on high quality, great-tasting food including traditional fish and chips, as well as posh fish finger sandwiches and veggie options such as halloumi fries.
If you're looking to go the extra mile and add a real personal touch to your big day, The Outside Kitchen and Bar is the catering company to hire. These Bradford foodies work with the happy couple to tailor wedding menus to their liking and offer a range of menus. Choose from a Brazilian barbecue feast, mezze platters and exotic Thai dishes, as well as British classics including sirloin of beef, traditional Yorkshire puddings and wild garlic roast potatoes. The team behind The Outside Kitchen and Bar stick to their Latin roots, creating exciting and delicious food platters that can be shared amongst guests, as well as offering drinks packages.