Breakaway: The Principal Hotel Edinburgh
George Street's Principal Hotel is the perfect base for a weekend of enjoying Edinburgh's ever-changing gastronomic delights
We hop off the train at Waverley at 6 o'clock on a bustling Friday night, just a short stroll from George Street and the impressive facade of the Principal Hotel.
In the heart of Edinburgh's New Town, the hotel is set within five listed Georgian townhouses, originally built in 1775 for some of the city's wealthiest residents. It's been a hotel since 1881, but it's only the snaking corridors which betray its origin as five separate buildings, and they give the place a pleasant air of old-fashioned charm.
We're checked in quickly and head down a long corridor to take a lift to our room, which is small but well put together and contains everything we need for the weekend – including snacks, cold water and lots of information about the city. We've also got a lovely view over George Street and the rooftops beyond (this would be the perfect base from which to explore Edinburgh's legendary Christmas offerings) but due to another quirk of the building our room is set back from the road slightly, so it's not too noisy.
The hotel's Printing Press Bar & Kitchen (which was apparently once the home of novelist Susan Ferrier) is named in celebration of Edinburgh's rich literary heritage, and we head straight to the bar to see what's what before dinner. An Aperol spritz for me, and a pint for him – the place is busy and buzzing, with a live DJ and a good, mixed crowd.
At the far end of the high-ceilinged restaurant, next door to the bar, we're seated in a small raised area from which we can keep an eye on our fellow diners and the goings-on around us. My partner starts with smoked haggis, puréed neeps and crispy potato (£8), while I try a wild card choice: confit duck with Asian slaw, roasted cashew nuts, lime and soy dressing (£8). Both are really very good, with well-balanced flavours, and set the tone for what's to follow.
Namely lamb rump, with buttered Ratte potatoes, pomegranate, mint and squash (£21), which my partner wholeheartedly enjoys, and a steak for me. This is something I rarely order in a restaurant (I can cook it very well myself, so why would I?) but sometimes only steak will do, so I take the plunge and order a meltingly-delicious 8oz sirloin of Tweed Valley Scotch beef (£26) aged for 28 days and served with crispy chips, cherry vine tomatoes and a satisfyingly spicy peppercorn sauce.
After this my partner tries a beautifully-smooth duck egg custard tart with rhubarb and white chocolate ice cream (£7.50), while I indulge in a selection of British cheese with rough oatcakes and tangy homemade chutney. Alongside these we finish off our bottle of Spy Valley Sauvignon Blanc (£43), by which time it's fairly late.
On Saturday we breakfast in the hotel (where there are both buffet and from-the-kitchen options) and set off to walk to Holyrood because, despite having spent quite a bit of time in Edinburgh, neither of us has even seen it before. We don't see the Queen (apparently she's at Balmoral, which is a little inconsiderate of her) but it's an impressive place (or palace). By lunch time we've walked back up the Royal Mile and made our way back to the New Town via the castle and the charms of the Grassmarket, and stop in at The Voyage of Buck on William Street for a restorative lunch and a cocktail, before spending what's left of the afternoon exploring George Street.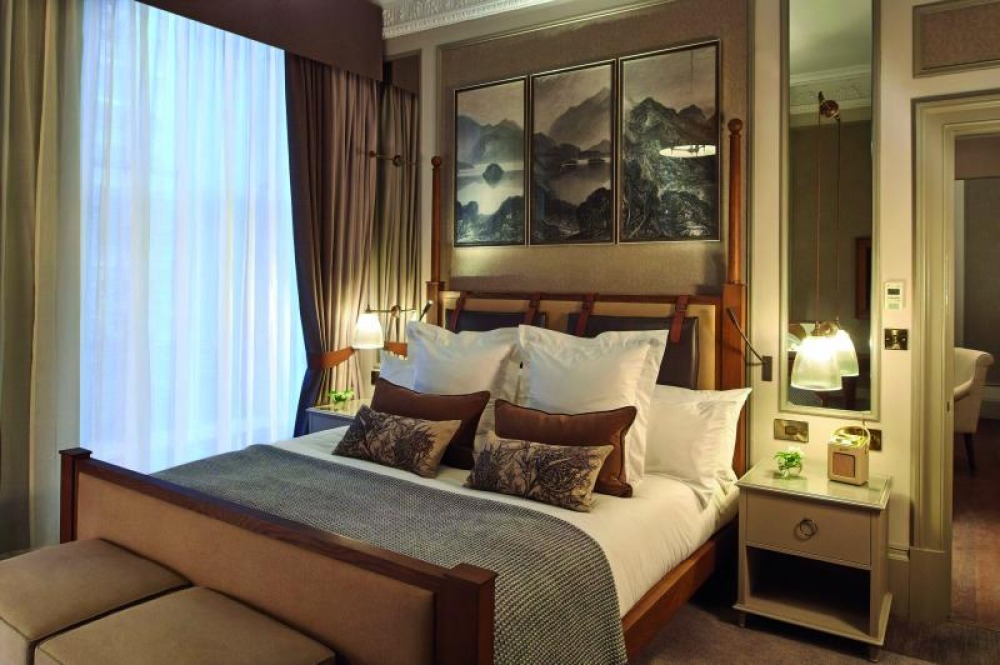 We head back to the hotel in good time, because we're booked in for a cocktail masterclass in the bar before dinner. Our cocktail master (if that is in fact the word) clearly knows his stuff, gives us a gin and tonic each to get things started, and then asks us about our tastes, likes and dislikes before he starts creating fabulous cocktails to suit, explaining the history of each drink as he goes along. My partner's favourite creation is a smoked Old Fashioned (which is served under a glass cloche for maximum effect) while I enjoy a twist on a strikingly-coloured Aviation, which has been made with vodka instead of gin, especially for me. By the time we head out for dinner, my tongue is completely blue.
That night we're dining at White Horse Oyster and Seafood Bar over on Canongate. It's a stylish little restaurant on the site of the oldest inn on the Royal Mile, with a menu which is perfect for sharing. We examine everything in detail before choosing a few too many dishes (and a very good bottle of chilled white wine). First up a large crab scotch egg (£8.50), perfectly crispy on the outside and outrageously oozy in the middle. Hand-dived scallops with tempura oyster, caviar and chervil butter (£14.50) are cooked to perfection, and our charred lobster tail with curried mayo (£14.50) is delicate and light, with just the right amount of kick from the mayo. We also try some excellent tempura dishes –salt and pepper prawns (£9.50) and crispy chilli squid (£8.50) – and a portion of deliciously-salty straw fries to mop up any leftovers.
As we walk up the Royal Mile to cut across towards the Principal, we can hear music playing, people singing and the buzz that Edinburgh never fails to deliver. Back at the hotel, tucked up in our cosy room, we can't hear a thing. Which is just perfect.