Tommy Banks, Head Chef at the Michelin-starred Black Swan at Oldstead, had no intentions of becoming a chef
But has now turned his career into a way of life by growing produce in their two-acre garden kitchen.
How did you become a chef?
My parents bought the Black Swan almost the day I left school so I started working for them, but with no intentions of really being a chef. Like most teenage boys I wanted to go out and have a good time, but one thing led to another, and they were short in the kitchen, so I helped them out and then just got into cooking.
You've never had any formal training, how did your develop your own personal style?
A lot of chefs who start up have worked for all sorts of big names, and they have influences that probably come from their training. Having not had that, I started looking at my background and where I'm from. I've always lived here, and my background is in farming, so the two sort of go together, and as we're right in the middle of the countryside, we can give visitors a taste of the area, and a taste of what's around them.
Is this why you decided to become more self-sufficient?
Initially for me it was a case of having a unique selling point. We're right in the middle of nowhere so you really have to drive people to come and want to be here. Having a Michelin star is great for getting people in, but really it's not enough, and I wanted to develop my own sort of style.
Does growing and harvesting your food yourself make a difference?
Absolutely. There are so many levels to it. If you've planted it yourself and seen when it first shot through the ground, you're very passionate and give all you've got to that product to make it really delicious. Then there's the freshness. The snap and crunch of something you've just harvested, or ripe tomatoes that have come fresh from the greenhouse and are still warm and fragrant, you really can't beat that. You buy them from a supermarket or from a supplier and they just don't have that burst that really takes food to another level.
But what will you do when winter comes and there's nothing to harvest?
We're keeping things for winter. We're working in an old-fashioned way, how people would have done in the past, when they couldn't just import fruit and vegetables from the other side of the world. So we're drying things, pickling things, fermenting things and making things into jams and chutneys. We have this crazy cupboard which is just full of jars of all sorts that we're keeping back.
'We're working in an old-fashioned way, how people would have done in the past, when they couldn't just import fruit and vegetables from the other side of the world'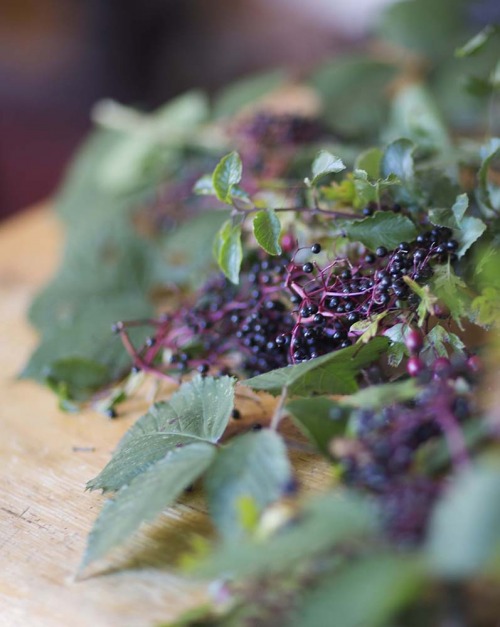 Who's idea was it to develop the Black Swan in this way?
I come up with a lot of the ideas, but my dad's an eccentric guy and he has ideas that he wants to do, and he pushed forward with the garden as well, but it's really a team thing. I like to describe it as a cooperative way: everyone has a small ownership of it and everyone has their own input.
When you're not at work where do you like to eat out?
A friend of mine owns a cool little restaurant in Ripon called Lockwoods and I really like going down there, it's really chilled out and has a nice neighbourhood restaurant feel to it. That's one of my favourite places to go. For more of a special occasion, my friend Kenny [Atkinson] owns House of Tides in Newcastle, so I'll go there.
Are there any chefs that inspire you?
There's a couple of Scandinavian chefs I like. There's a guy called Magnus Nilsson who owns Fäviken restaurant in Sweden who, I guess, has a fairly similar ethos to what we're trying to do with self-sufficiency and only using what's available. He's in a really remote part of Sweden. I call ourselves remote when in fact we're only 10 miles off the A19. He has to travel by boat, plane and husky dog! Another chef who I've found quite inspirational is Christian Puglisi who has a restaurant called Relæ in Copenhagen.
If you could eat at any restaurant in the entire world, where would it be?
Fäviken in Sweden. It's on my to-do list, but Magnus has just recently announced that he's going to be closing for six months of the year, so it makes it a bit more difficult to visit.
What are your favourite things to eat?
You know what, I really like eating goats' curd. We make this amazing sourdough bread, and every day I just smash goats' curd all over it and eat it. I figured that it was so tasty that we'll just serve it to everybody! So now, everyone in the restaurant has goats' curd and bread rather than bread and butter. I love that.
Do you cook a lot when you're at home too?
Yeah I do. I live with my girlfriend, who also likes cooking, and we always have things on the go. We've been making sloe gin and rhubarb schnapps, so we have a lot of decanters of homemade alcohol and little fermenting projects on the go. She's always keen to do something random, so the other day we went foraging at the seaside, and picked some sea lettuce, and then yesterday we were picking the wild garlic at the restaurant, so we've got a jar of sea lettuce and raw garlic pesto in the fridge, which we'll have on our pasta. It's a bit of a weird household really.
Read more about the changes at The Black Swan at Oldstead by reading Tommy's blog at www.tommybanks.wordpress.com
www.blackswanoldstead.co.uk