Discover Anna Cook's Paper Art
The beauty of the natural world comes to life through York-based artist Anna Cook's paper art, as she captures the personalities of her favourite woodland creatures.
Tell me about yourself.
I live in York and studied a print making degree at York St John University. I have been working in the art and framing industry for a good few years but I started paper cutting around five or six years ago.
Why paper cutting?
I always got craft gifts for Christmas (which I'm fairly sure my parents gave me just to keep me occupied) and when it comes to making things, I've always loved everything that's fiddly and intricate.
How do you create your paper artwork?
I have loads of different coloured tonal papers and each layer is individually cut. It's all done with scalpel work after I've initially sketched the design on the back. I pick the subject (normally it'll be a bird or an animal) and once I've found my image, I'll create a nest to house it in by overlapping the paper. I cut all the layers and I've got tools that I use to emboss, then I'll individually cut the components to create depth in each piece.
Why do you use paper over any other medium?
I do think that comes from my previous work as a picture framer. I became really interested in framing and hanging, and basically working out how to present things in a unique way. I was looking at paper cutter Rob Ryan's work at the time and was so fascinated by the intricacy. Paper is such a flexible material to use. You can do so much with it. Every time I make something new, it evolves. It's a clean and simple finish too, which really appeals to me, as opposed to painting, which can be very messy.
'Working at home on your own can be very isolating, although there's a strong sense of community in Yorkshire and other artists have been really supportive'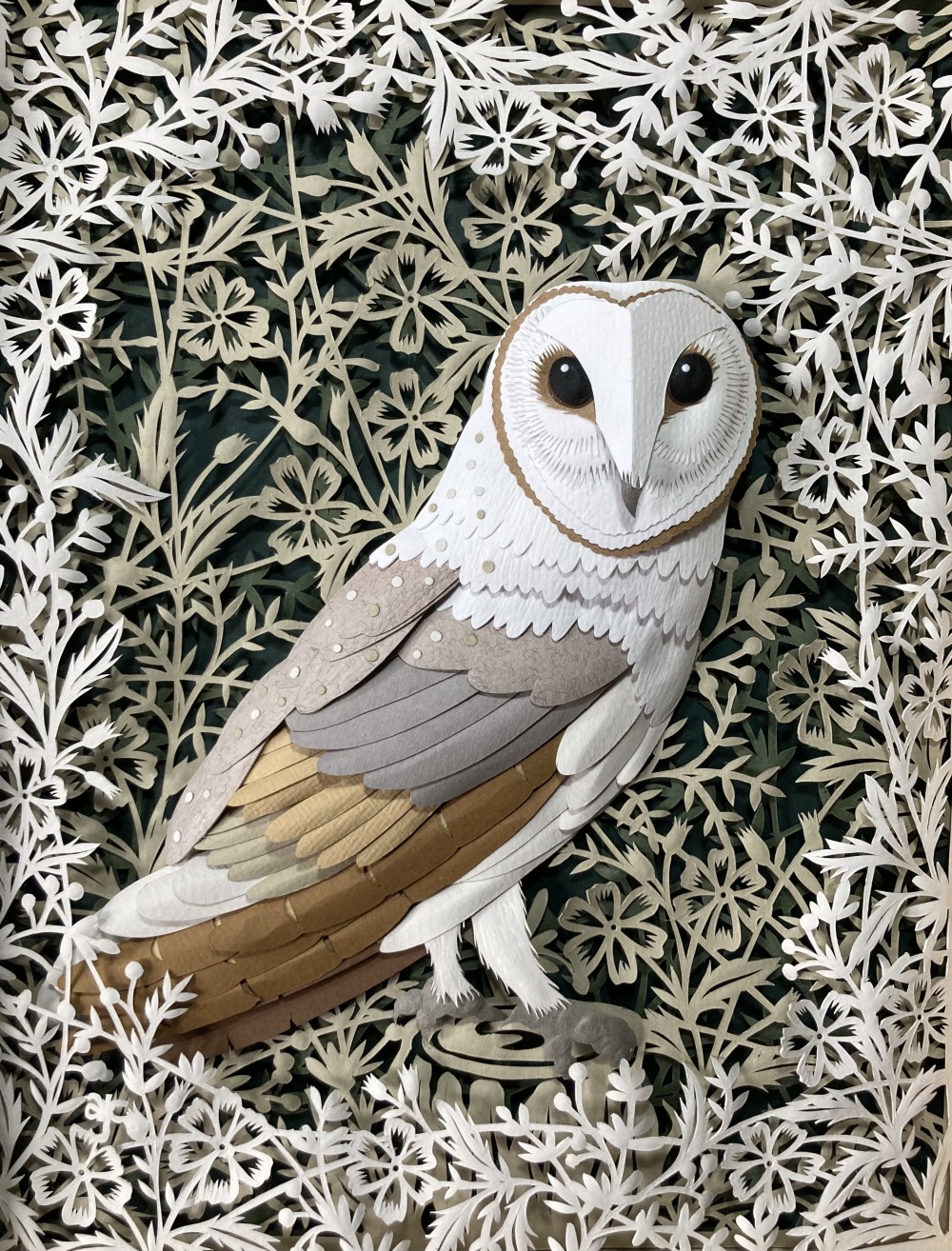 What are you working on at the moment?
I'm currently working on a few black birds (which have been really popular) and then I'll be starting work on all my Christmas stock. It seems really early but Christmas is just around the corner and I can't believe how many people begin buying their gifts in September and October. All my Christmas cards will be coming out and I'll be creating baubles too.
What do you love most about what you do?
I actually did reflect on this during lockdown and, because of everything that's happened, it's the events that I've missed most. It's lovely that people want to buy from my website but over the last three months I've got back into doing events and being able to talk in person – and getting feedback in that way is amazing. I'm really looking forward to Living North's Christmas Fair. I've been previously as a visitor but I've never exhibited, so I can't wait. It's been lovely over the last couple of months to be able to speak to other artists in Yorkshire, everyone has had such a different experience and a lot of artists have felt isolated. Working at home on your own can be very isolating, although there's a strong sense of community in Yorkshire and other artists have been really supportive. Instagram has been brilliant as a forum for that support too. I never thought I'd hear myself say that I love Instagram!
What do you love most about Yorkshire?
I'm so lucky to have lived in York for more than 20 years but I do like getting out into the countryside too. I like that about Yorkshire, that the countryside really is on your doorstep.
Who or what inspires you?
I got into paper cutting mainly because of Rob Ryan and I love the fact that he incorporates beautiful quotes in his work. I'd love to be able to do that. I went to see his exhibition four or five years ago at Yorkshire Sculpture Park and it was just mind blowing. It boggles my mind when I see what others can do with paper, and it's nice to look at other people's work to be inspired.
What are you most proud of?
How my work has evolved over the last five years. I'm constantly challenging myself and taking that leap to be a full-time artist was quite a difficult decision to make. I feel proud that I've managed to sustain it. It was a bit of a gamble.
Advice for budding artists?
Adopt your own style. Keep challenging yourself. Keep looking at the materials you're using. It's the cliché of 'follow your dream' but, if you do really want it, you can make great things happen.
Hopes for the future?
I try to take things day by day. I love what I do. I still do picture framing and I'd really like to have my own framing business running alongside my paper cutting.
Meet Anna at Living North's Christmas Fair at York Racecourse 11th–14th November 2021.
Instagram @annacookpaperart