Dutch Pancake with Rhubarb and Orange Cream
Simple pancake batter is transformed into a fancy-pants dessert here, with the tang of blushing rhubarb enhanced by a cloud of orange-scented cream
It's lovely served family style - that is, carried ceremoniously to the table and served straight from the pan.
Ingredients
For the rhubarb
400g rhubarb, chopped into 5-cm pieces (very thick pieces halved lengthways)
60g caster sugar
2 tbsp orange juice
For the pancake
1 tbsp vegetable oil
100g plain flour
30g ground almonds
1 tbsp caster sugar
pinch salt
3 eggs, lightly beaten
300ml whole milk
1 tsp almond extract
1 tsp vanilla extract
1 tbsp butter, melted and cooled
1 tbsp icing sugar, for dusting
For the orange cream
300ml double cream
1 tbsp icing sugar
finely grated zest 1 orange
Method
Preheat the oven to 200C/400F/gas 6.
Place all the ingredients for the rhubarb in a baking dish and toss to coat. Roast for 20 minutes, or until the rhubarb is tender but still holds its shape. Set aside and increase the oven temperature to 220C/425F/gas 7.
To make the pancake, pour the oil into a large non-stick, ovenproof frying pan and place inside the oven to heat. In a mixing bowl, whisk together the flour, ground almonds, sugar and salt. In a jug, whisk together the eggs, milk, almond and vanilla extracts and melted butter. Gradually stir the wet ingredients into the dry, incorporating the flour as you go to make a smooth batter: don't overbeat as some small lumps are fine.
Working quickly (but carefully!), remove the frying pan from the oven and pour the batter into the hot oil. Return the pan to the oven and bake for 25–30 minutes until puffed, golden and just cooked through. While the pancake is cooking, softly whip the cream with the sugar and orange zest. When cooked, spoon the rhubarb into the centre of the pancake and lightly dust with sifted icing sugar. Serve slices of the pancake from the pan, with spoonfuls of the orange cream on top.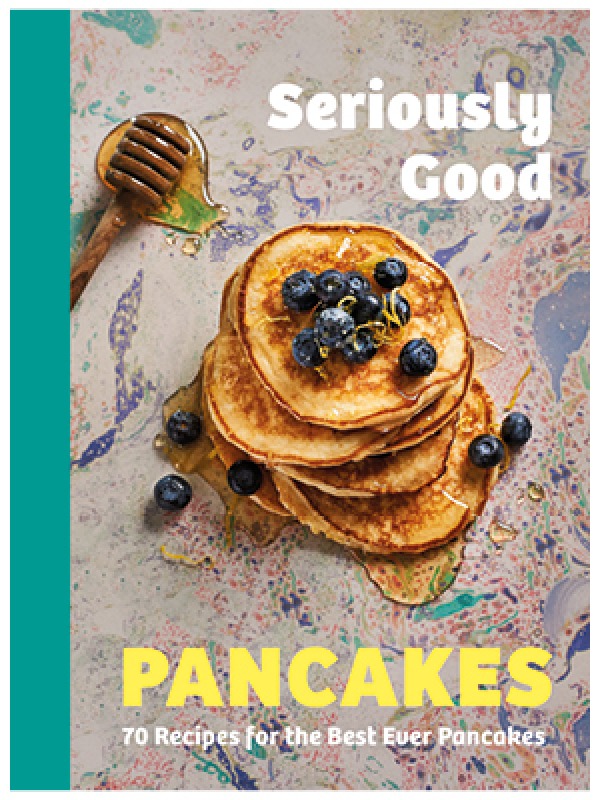 Seriously Good Pancakes by Sue Quinn (Quadrille, £14), Photography © Faith Mason