Everything You Need to Know About Sea Swimming
Cold water swimming is having a moment, so here's everything you need to know before taking the plunge
There exists a tribe of those addicted to the buzz from that first plunge into icy cold water that leaves hearts racing and skin tingling. Just head down to your local beach at sunrise and see for yourself. Chances are, you'll be met with a Dryrobe-wearing swarm of swimmers of all ages – some older than you might believe.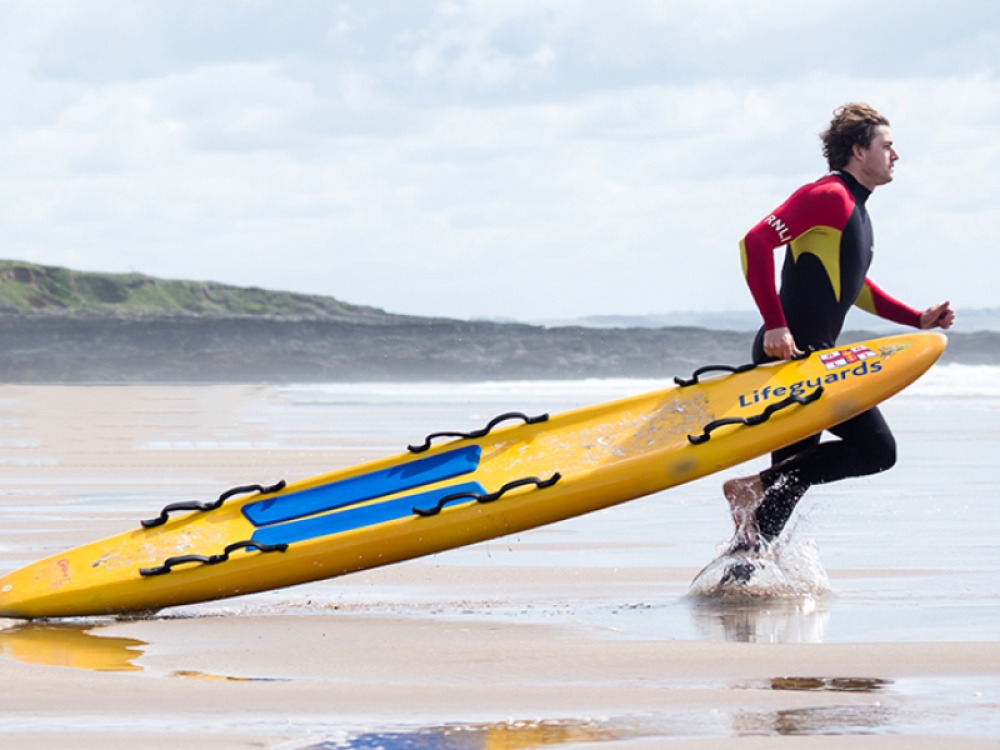 While for some, donning their swimsuit is enough for a quick dip to reap the benefits for their health and relieve stress, you'll see others fully wet-suited and booted, pacing back and forth to clock up their daily yards. Not forgetting those who rely on the sport for its sense of community, too.
The North is teeming with open water and sea swimming clubs, and they're often the best place to start for those new to the game. Pre-2020 open water swimming was one of the fastest-growing outdoor sports – add a global pandemic into the equation, and it's easy to see why uptake has spiralled. But, while we're all for trying new things, it's not quite as easy as heading down to your local beach and diving in head first. In fact, in the OWS department, there's a lot to remember.
ASSESS YOUR SURROUNDINGS…

In a pool, swimming conditions are controlled and variables are limited, and you've got the added benefit of having a lifeguard should you get into any difficulties. In OWS, currents, rip tides, rocks, the variable depth, and changeable, gusty wind all present a certain amount of danger, so you'll need to equip yourself with the knowledge to plan and execute a successful swim – which should include everything from checking the water temperature to assessing the tide.
ALL THE GEAR…
Whilst you could just throw on your swimmers and head for the beach, preparation really is key when it comes to OWS – not just for your safety, but your enjoyment too.

In the colder months, wetsuits are advised. Just be sure to buy the correct millimetre thickness for the temperature of water you'll be swimming in. Boots, gloves and hoods are also excellent ways of keeping the chill at bay if you're planning on sticking around in the water for a while. Brightly coloured swim caps, whistles, lights and safety buoys are all excellent additions to your open water swim kit, too. That being said, you'll see plenty of swimmers going without wetsuits (yes, even in the depths of winter). If you do decide to brave it, consider wearing a waterproof watch so you can keep track of the time you spend in the water, (we're talking minutes here). Don't overdo it.

Preparing to get out of the water is just as important as preparing to get in. In the half an hour after your swim you'll be at risk of after-drop – your core temperature will continue to drop for between 20 and 30 minutes, and you'll likely be unaware of how cold your body actually is. Make sure you dry off and wrap up, whether you feel the cold or not. Dryrobes and swimmers are ubiquitous for good reason – lined with lambswool, you can stand in howling winds post-swim and still feel warm, plus a beanie and flask of tea never go a miss.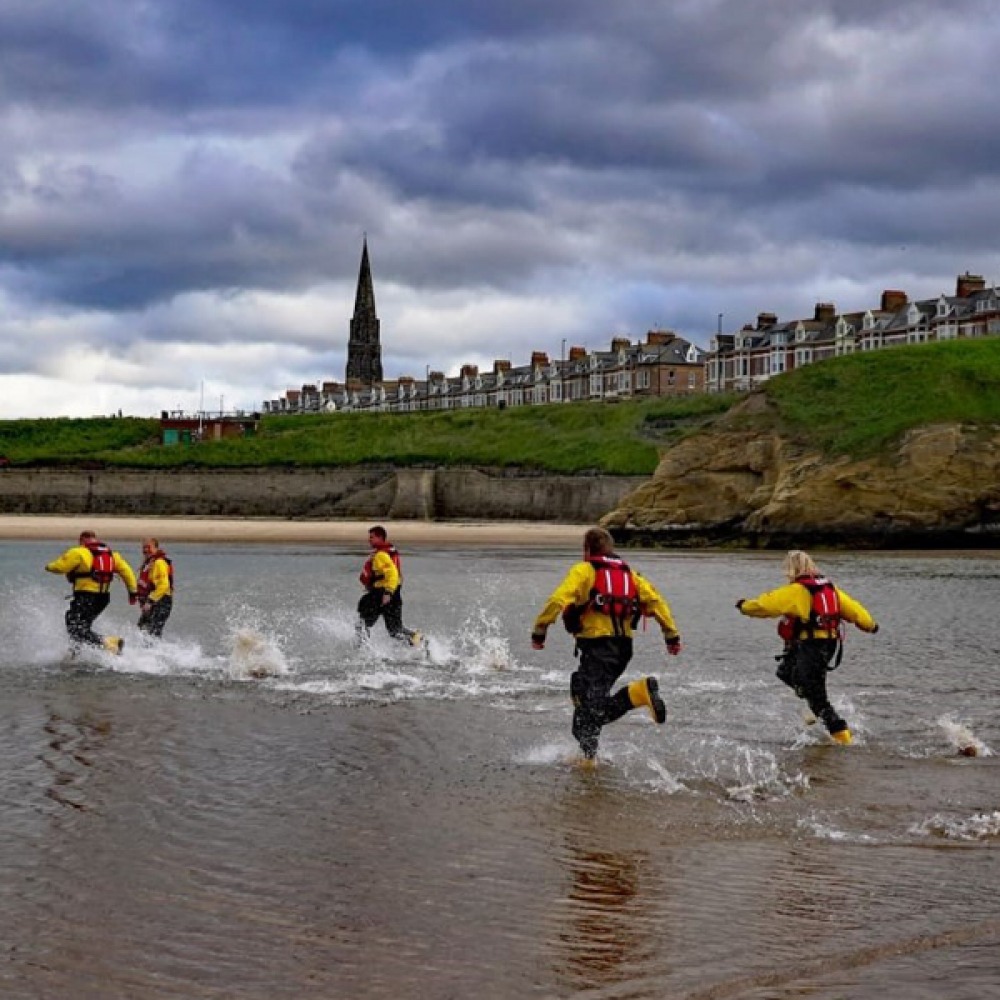 HEY BUDDY…

Swimming can be seen as a solitary sport, but in the open water never go out alone, no matter how safe you think it is. From swim clubs to swim buddies, or even a spotter on the beach, make sure there's someone to watch your back in case you get into any danger as conditions can change quickly.
SLOWLY BUT SURELY…

Swimming in cold water presents the body with challenges as it tries to adapt to the stress of a new, hostile environment.
The involuntary, sharp intakes of breath experienced when first getting in, otherwise known as cold water shock, can be dangerous if you are immersed at the time. Always ease into the water gently to avoid it (but don't dither). Splash yourself with water as you go and ensure your breathing is relaxed before you submerge.

Once you're in, just remember, your body is still coping with the physiological stress of the cold water, so your blood pressure and heart rate are ramped up already. If you head off at your fastest mile pace, you'll come up short in a few yards, puffing for breath, heart well and truly pounding. Steady away until you are well into your groove.
WHY DO IT?

We all know swimming is one of the best exercises out there, but taking it to the great outdoors carries with it a raft of desirable benefits, both in the physical and mental health departments. Whether you're bored of the local pool, done with the gym, or retired from running, cold water swimming is an alternative way to keep fit, which promises a stronger immune system and the chance to ward off dementia too. (In a world-first, a 'cold-shock' protein has been found in the blood of regular winter swimmers at London's Parliament Hill Lido).
A Czech study found that the shock your body experiences from plunging into cold water causes your internal system to produce more white blood cells, which boosts your immune system. The lower temperatures also improve circulation because it requires the heart to pump more blood to your organs. Some people swear by it as an effective way to target cellulite. The temperature shock sends your heart racing, which starts to burn calories before you've begun exercising, as does the fact your body has to work harder by using more energy to keep you warm.

Many people experience a fairly extreme reaction to immersing themselves in such cold waters, particularly on their first attempts, from breathing difficulties to a soar in heart rate and pain from the sheer chill of the water – sound fun? We thought so. These are all normal reactions as the body releases a slew of chemicals in response to the stress it is exposed to, including the release of cortisol (a stress hormone) and endorphins. These prime the body to respond to the perceived danger.

The stress response induced by cold water swimming can in turn increase our white blood cell count and reduce inflammation. Many cold water swimmers claim to suffer from fewer colds and respiratory illnesses, and enjoy overall improvements in wellbeing.
There are so many places to take a dip. Here are just a few of our favourites

Linhope Spout, Breamish
A spectacular waterfall with a ledge from which you can jump into the deep plunge pool.

Ellerton Park, Ellerton
A 60-acre lake popular with triathlon swimmers and for various water sports. You'll need a wetsuit or you won't be allowed in.
King Edward's Bay, Tynemouth
A 300-metre stretch of golden sand enclosed by cliffs and grassy banks, with clean and safe waters.
Seaham Beach, County Durham
The calm waters between the piers in Seaham are ideal for swimmers, with lots of local swim clubs to get involved with too.
Seaburn Beach, Sunderland
This wide, sandy beach is RNLI lifeguarded, a popular one with swimmers and water sport enthusiasts, with great conditions for windsurfing.
Saltburn, North Yorkshire
Saltburn beach itself, whilst being home to one of the best surf spots on the North Sea coast, is a sand and shingle affair backed by a promenade with plenty of facilities close at hand.
Whitby, North Yorkshire
Whitby has beaches on both sides of the River Esk. On the east side is the smaller Tate Hill, a sheltered sandy beach, and on the other side of West Pier is West Cliff, a larger sandy beach with colourful beach huts, deckchair and windbreak hire and a paddling pool.
Runswick Bay, North Yorkshire
Runswick Bay, about nine miles north of Whitby, is widely regarded as one of the prettiest spots on the Yorkshire coast. The bay is quite popular with canoeists and other water sport enthusiasts, including surfers when the conditions are right.
Stray Beach, Redcar
The most south-easterly beach along the sandy Redcar coastline, Stray Beach is located between the edge of the town of Redcar and the village of Marske-by-the-Sea. Whilst the beach is wide and relatively flat at low tide, much of it becomes covered by water once the tide has come in. As a result of its rural setting, Stray can be a little less busy than the beaches closer to the centre of Redcar, so be sure to buddy up.
Hornsea South Beach, Hull
Hornsea South is a sand and shingle beach located next to the small seaside resort of Hornsea on Yorkshire's East Riding coast. It's a popular beach for many different water sports, and also for walkers with the Transpennine Trail finishing here.