When you want a tasty plant-based souvlaki, this is the perfect solution. Vegans can substitute non-dairy vegan tzatziki and vegan halloumi for the traditional Greek ones
Preparation Time:
15 Minutes
Cooking Time :
8–12 Minutes
Ingredients
1 tbsp olive oil
500g halloumi, sliced
2 tsp dried oregano
4 pita breads
4–8 tbsp tzatziki
A few crisp lettuce leaves, e.g. Cos (romaine), shredded
3 ripe tomatoes, sliced or coarsely chopped
1 small red onion, thinly sliced
Oregano
Potato fries or French fries
Sea salt and freshly ground black pepper
Chopped flat-leaf parsley, for sprinkling
Smoked paprika, for dusting
Method
Heat the oil in a large frying pan or ridges griddle pan set over a medium heat. When the pan is hot, cook the halloumi in batches for two to three minutes on each side until crisp and golden and starting to soften inside. Do not overcook or it will be charred and rubbery. Remove and drain on kitchen paper. Sprinkle with the oregano.

Warm the pita breads in the oven or on a hot griddle pan. Spread the tzatziki over each one and top with the lettuce, tomato, and onion.

Arrange the halloumi on top with the oregano potato fries or French fries. Season with salt and pepper, sprinkle with parsley and dust with smoked paprika.

Fold the pitas over and around the filling and roll up in some baking parchment or kitchen foil
to hold the filling in place. Enjoy!

Variations: Dust the halloumi with a little flour before cooking for a crisper coating. Drizzle with hot sauce or pomegranate molasses. Use Talagani cheese instead of halloumi.

Tip: The halloumi tastes fabulous if you cook it over hot coals on a barbecue. Place on the oiled
grill and cook for two minutes on each side until golden brown.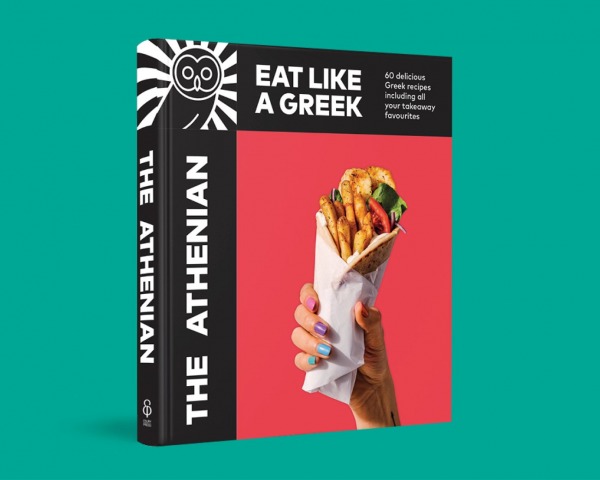 The Athenian: Eat Like a Greek by Tim Vasilakis (£14.99, Ebury Publishing)
This article contains affiliate links. We may receive a commission for products that are clicked on through our website.