How Bishop Auckland's Self Made Studios are Making North East Fashion Design and Manufacturing Great Again
Self Made Studios is aiming to make the North East great again when it comes to manufacture and design. The company's Managing Director, Alexandra Batty, and Product Developer, Jessica Reed, tell us more
In the heart of Bishop Auckland, Self Made Studios, an in-house fashion design and clothing manufacturing unit, came from humble beginnings. 'The business started in May 2017 after the four directors got together and realised there was a need for people wanting to start up their own line of clothing or textiles,' explains Alexandra. 'To go to a factory you've got to have minimum runs of 100, and for some people starting out they can't always afford that and it's also quite a risk to have 100 pieces of one garment in one style and colour. So we started Self Made Studios with no requirement for minimum runs to give people a foot in the door.'
The four directors Alexandra mentioned are Hannah Watherston, who brought with her over 55 years of manufacturing industry experience; Hannah's husband Peter Watherston who was an accountant and deals with the financial side of things; joined by seasoned fashion designer and academic Sarah Morehead; and serial social enterprise founder Gillian Gamble.
After moving to Bishop Auckland from London, Hannah was volunteering at Pod Studios when she saw there were several young people keen to work in fashion. She spotted an opportunity to start something new that would offer both excellent traineeships and accessible manufacturing for small businesses in the region. In 2017 a small team was formed using borrowed machinery and the first clients were signed up immediately, most of them small fashion retail businesses based in the North who needed support in understanding the design and development of garments.
Alexandra was among the first trainees, then a recent graduate from the Northern School of Art. After internships in London she decided she wanted to return home. 'I was working as a production manager for another designer in the same building and I could see what Self Made were doing. When they started offering training I knew I wanted to learn those skills too, so that's when I joined as a seamstress. Five years later and I'm now leading the business as overall Managing Director.'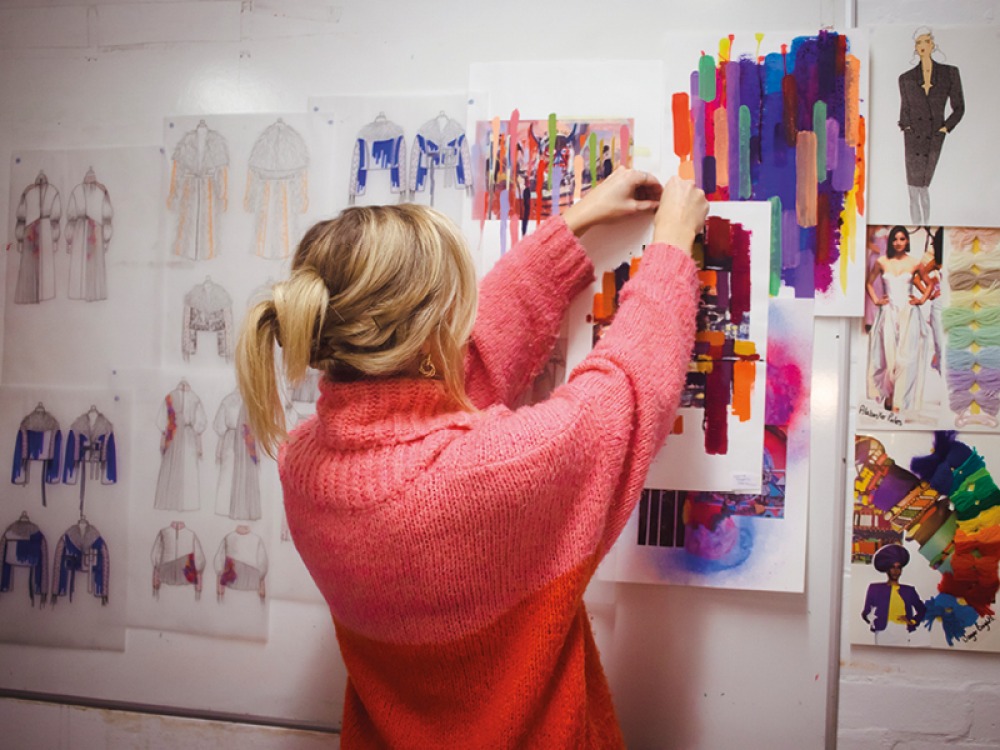 Since starting, Self Made Studios have been busy expanding the team to 10 staff and six directors from across the North East. Sarah Morehead has also created a dedicated department for design and development, with fashion design and marketing graduate, Jessica Reed. This means they can now help emerging brands with all aspects of the process, from design and development to sampling and testing, as well as manufacture and delivery.
Jessica explains: 'When new clients come in their needs vary; some don't necessarily need guidance through the design process because they've got that background themselves, but do need help with how to market their brand for example. So we have to be able to cover a range of areas depending on their needs.
'We start with everything from initial design to learning about fabrication, putting together a range plan and building a brand ethos. From there we gauge what the client needs from us and then we go through to prototype. We will mock up the first patterns, go through an approval stage and make any changes that need to be made. Then we'll make a first sample, sometimes a second if it needs alterations, and then we go to manufacture.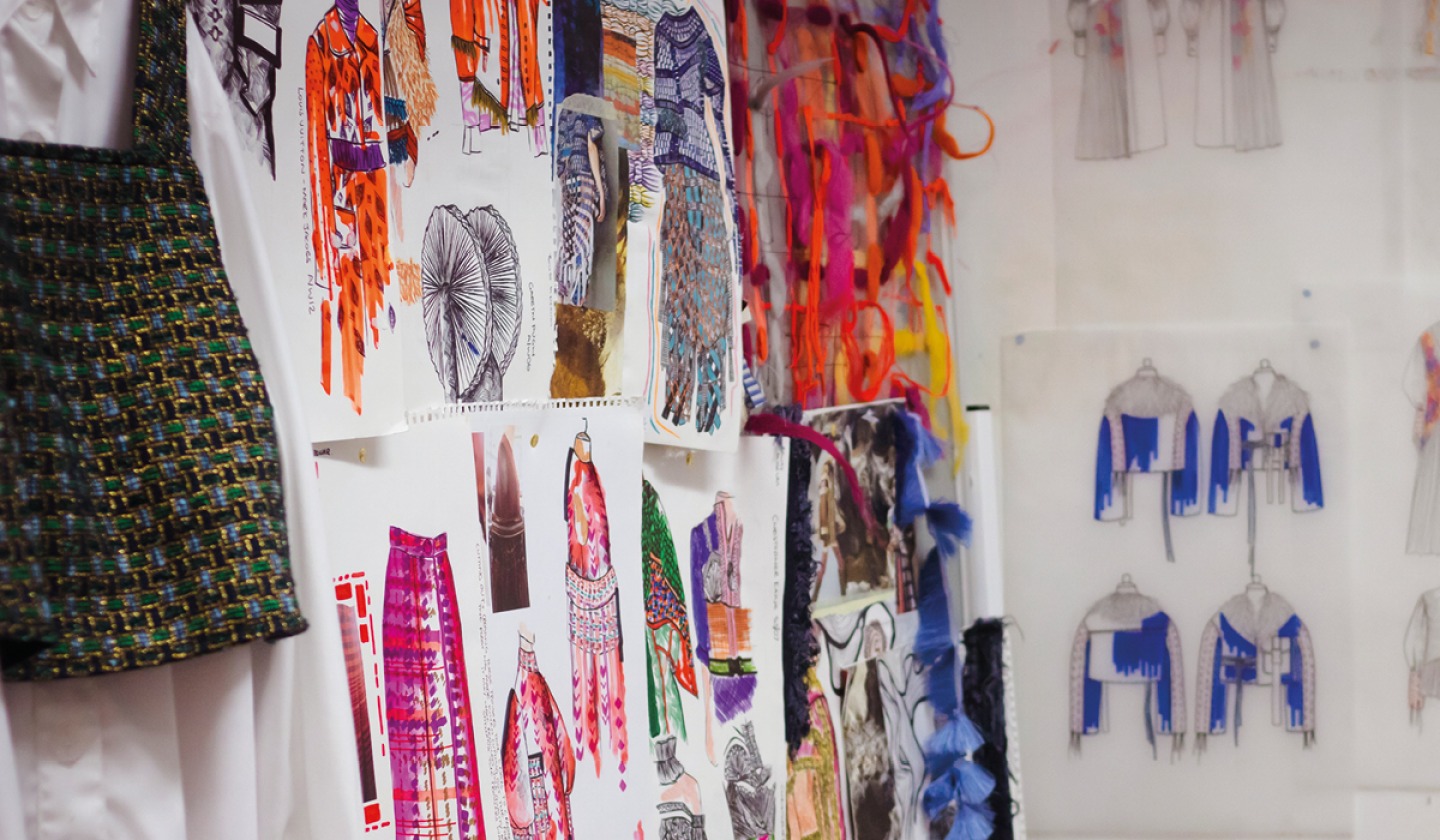 'The future is bright for fashion in the North East and we intend to be at the centre of it'
'It's also personalised to each client, whether they just need teaching or need us to actually do some of the process for them. That's our niche, because with other manufacturers they're not really bothered about if you succeed or how you're doing, they just want to get those garments in and out of the factory and usually in very low quality and very high quantities. Whereas we know a lot about our clients, we have regular meetings with them, and we're there to hold their hands because we know how daunting it can be to set up your own brand.'
Over time Self Made Studios have successfully grown their client list and begun to capture the attention of the fashion industry, with successes such as seeing their work in Fenwick and completing a large research project in partnership with the Royal College of Art. However, being a Community Interest Company (CIC), their main goal is to benefit the area and people around them.
'Our little tagline is that we want to make the North East great again in design and manufacture,' says Alex. 'In this area in particular there were a lot of factories, but they all closed down in the 80s and 90s so we're wanting to build that up again.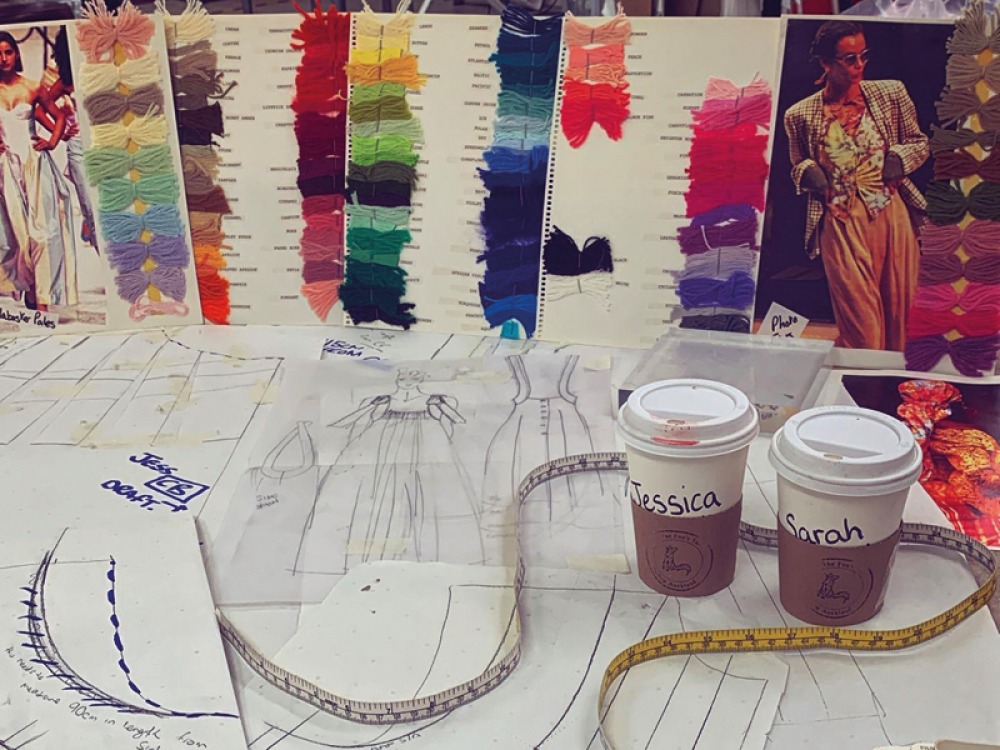 'As a CIC our purpose is to provide jobs to local people because we are in a disadvantaged area with low employment, so we especially really want to get young people in and train them with the skills that we've learnt and can be passed down. We don't rely massively on grants even now, we do have to have some grants to keep us going at the minute but we want to be a self-sustainable company.'
Jess adds: 'We want to create that next generation of creatives in the North East. Especially within manufacturing, it's so sparse now. The people who have those skills in Britain are all retiring and its becoming a dying talent, so we're trying to keep those skills alive.
'We feel really passionately about it because when I was in university it was very much, if you're not going to London to do fashion and textiles then you're not going to do very well, and I feel like me and Alex have kind of broken that mould and shown that actually, yes you can. It's my aim to go around universities, especially in the North East, to show them that we're here and you can be successful and still live in your home town.'
Self Made Studios is celebrating its fifth year in business and alongside challenging the idea that businesses of this type must be London-based to succeed, they have their sights set on rapid growth over the coming years. 'We're looking to move to a bigger premises so that we have an open-plan studio and can grow our team from there,' says Jess. 'If we get a bigger premises it means we can work more efficiently and more quickly, and that means we can start taking on more and more locals and training them up to be the new generation of manufacture and fashion.
'We're also working on growing our fashion department to help with our education programmes. We're wanting to break down the parts of the fashion department so that our clients can start to select packages of what they need from us, and we can train them in specified areas rather than as a whole.'
Alexandra adds: 'As we have done from day one, our ambition is very much to support fashion businesses to realise their goals, explaining things where needed and growing with our clients. We know that every business has different needs and goals, and we adapt to offer the necessary support from our headquarters. The future is bright for fashion in the North East and we intend to be at the centre of it.'
For more information head to selfmadestudios.co.uk