How Northumberland Coffee is Serving Speciality Coffee Across the County
Amy Cook has converted a Land Rover Defender 110 into a mobile coffee truck and is serving her own-roasted, high-grade specialty coffee across the county
We catch up with Amy to find out more about Northumberland Coffee.
Tell us how you discovered your love for coffee.
For as long as I can remember I have been in love with the sensory experience of coffee. From a young age I have loved the smell, the noises and everything to do with it. As I got older, this took me to coffee shops, where I would choose to study over any other place. I just felt happy in a coffee shop environment. I'd also say I'm happiest when connecting with others and coffee is one of the best mediums over which to do that. From the growers, the rosters and the baristas to the coffee drinkers, coffee brings people together.

How did Northumberland Coffee come about?
It really came from my love of those two things that make up its name. My brother and his partner's concept, the Northumberland 250, inspired me to discover the incredible county I am proud to call home. The thing for me however, was that coffee had to be factored into every adventure, whether it was bringing my own brew or scouting out a roastery or specialty coffee house on the way.

The idea of roasting my own coffee really piqued my interest, so I set out to learn the craft on a small sample roaster and still use it to roast all the coffee today. I fell in love with the process of roasting and was fascinated by it. This journey of learning took me on many road trips to all corners of the UK, where I met other roasters and got lost in conversations about the process for hours.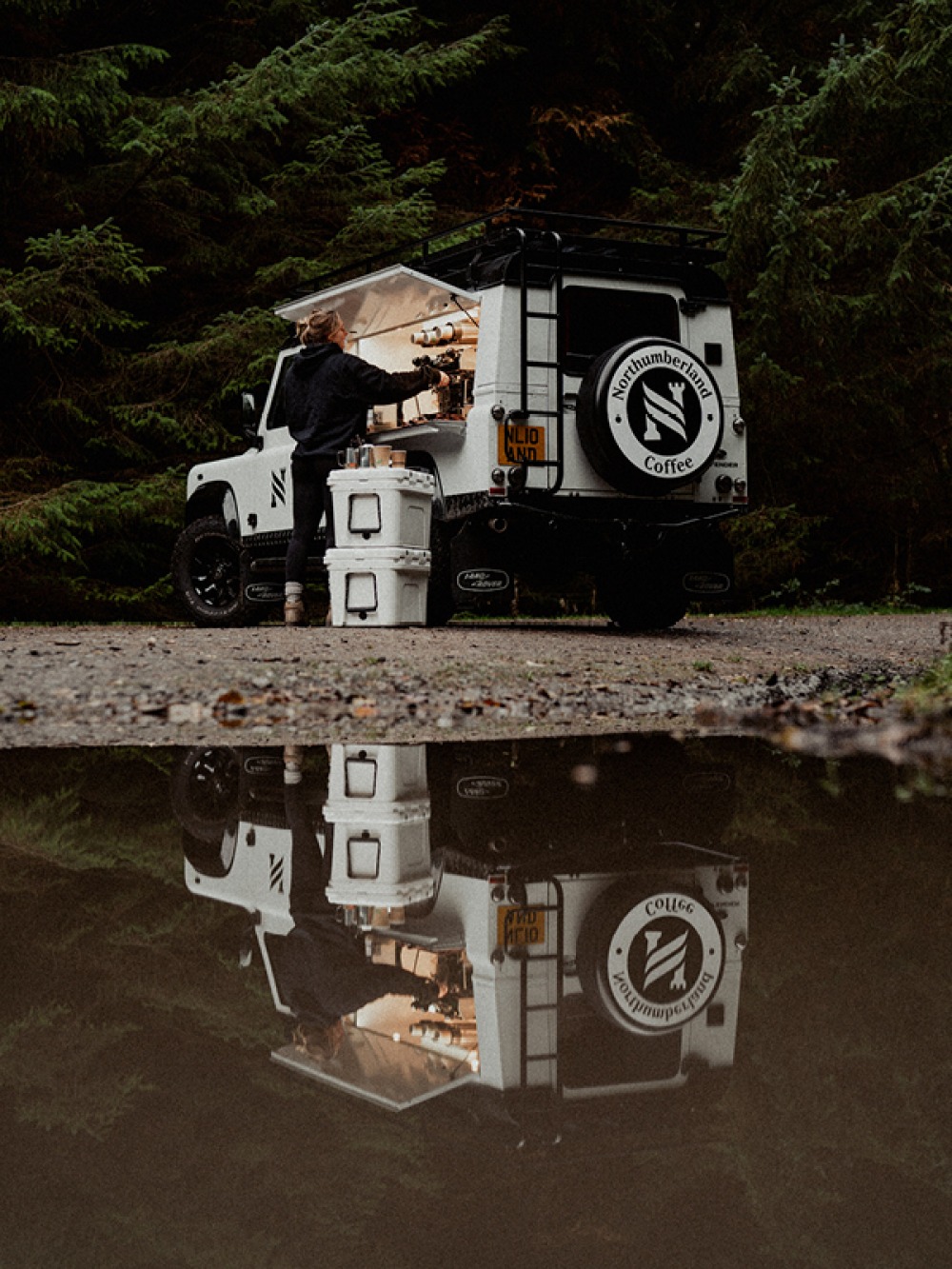 Talk us through the Land Rover Defender – how is your mobile coffee truck kitted out?
Bebba the Land Rover Defender is a fully-mobile coffee truck. Her name, shortened from Bebbanburg, translates to Queen Bebba's stronghold and was once the Anglo-Saxon name given to the Northumbrian coastal town we know today as Bamburgh. She's fully-equipped with an espresso machine, industry-leading Malkönig grinder and a huge 90-litre water tank on board to cater for even the largest of events. The Landy is powered by gas and battery, meaning we are self-contained and require no power hookup. We've chosen not to use a generator, so we can pitch up in Northumberland without disturbing the surroundings with noise or fumes. We want to be able to serve our amazing coffee anywhere you can imagine, but leave no trace. Together, Bebba and I can operate in the most remote corners you can find. So, essentially, anywhere you can drive a Defender, we can serve coffee, which doesn't leave many places and we are always up for a challenge!
How do you source your coffee?
At the moment I source coffee through Coffee Hunters who supply specialty roasters around the world with the world's very best green coffees. As my operation is so small scale at the moment I'm not in the position to source directly from producers, but having this intermediary gives me access to extremely high-grade specialty coffees, ensures full-traceability on each lot that I buy and ensures payment of fair commodity prices to the farmers. In the future, I hope to be able to forge and build these relationships with farmers for myself.

What can we expect from the coffee?
My approach to roasting is to showcase the individual characteristics of different beans from different terrains and origins, but also to roast coffee that I genuinely love and want to share with others. At the moment, as the roasting set up is so small, I've stuck to primarily roasting a single origin Colombian coffee so I can keep up with the demand for the Land Rover. The coffee that is served on the Land Rover is a very high altitude, single origin Columbian coffee which, as a result, has more complex flavour notes than coffee grown at lower elevation. It's well balanced in the cup with sweetness and bright acidity in the notes of stone fruit and blackberry.
Our coffee offering will continue to change with the nature of the coffee seasons, but the coffee will always be sourced responsibly, with full-traceability and be of specialty grade. I'm always experimenting with new green coffees and I'm so excited to bring out a wider range of coffees once I can expand my roasting capacity.


'I really hope to continue to do this, meeting more local producers and people, and getting involved with more projects in Northumberland that inspire discovery of the county'
Can we buy Northumberland Coffee to brew ourselves at home?
Yes you can! Northumberland Coffee is available to purchase on our website and in a select range of independent stockists here in Northumberland. I always keep some bags of coffee on the Land Rover as well for people to purchase when they're grabbing a coffee. It's really important to me to be able to offer this as it allows people to have access to super fresh and high-quality coffee at home. I roast to order so the coffee is the freshest it can be.

What are your plans for the future?
Setting up Northumberland Coffee and working on the Land Rover at events has led me to meet some amazing people, be it Northumbrian producers, businesses, creatives, and people just passionate about Northumberland and/or coffee! I really hope to continue to do this, meeting more local producers and people, and getting involved with more projects in Northumberland that inspire discovery of the county and its growing coffee scene.

My passion for brewing coffee is also something I would like to share with others, inspiring people to invest in their coffee and enjoy the whole experience of brewing, drinking and sharing this amazing beverage. So much love and care goes into the whole supply chain of specialty coffee, and I would love to inspire people to enjoy it in the same way.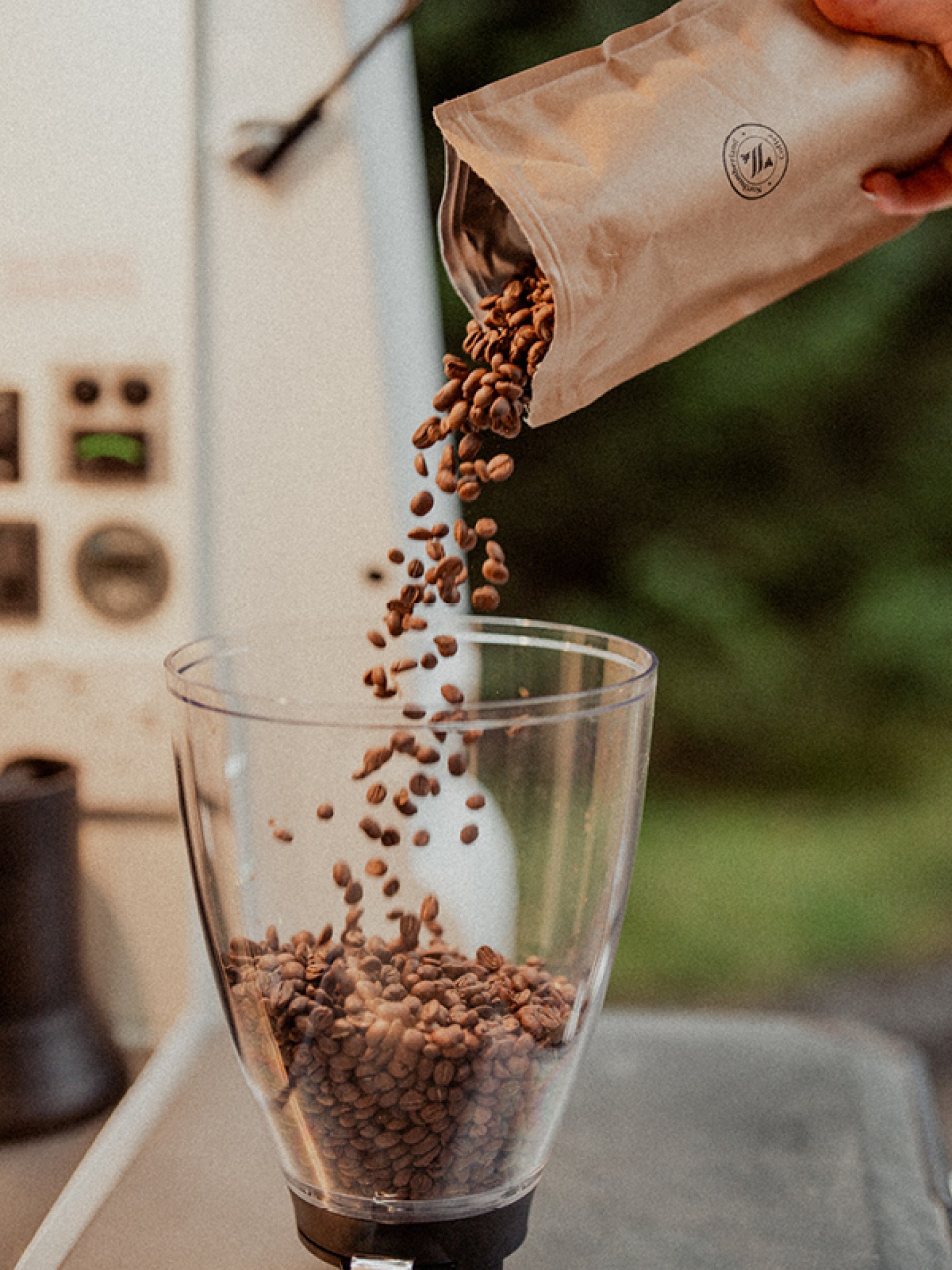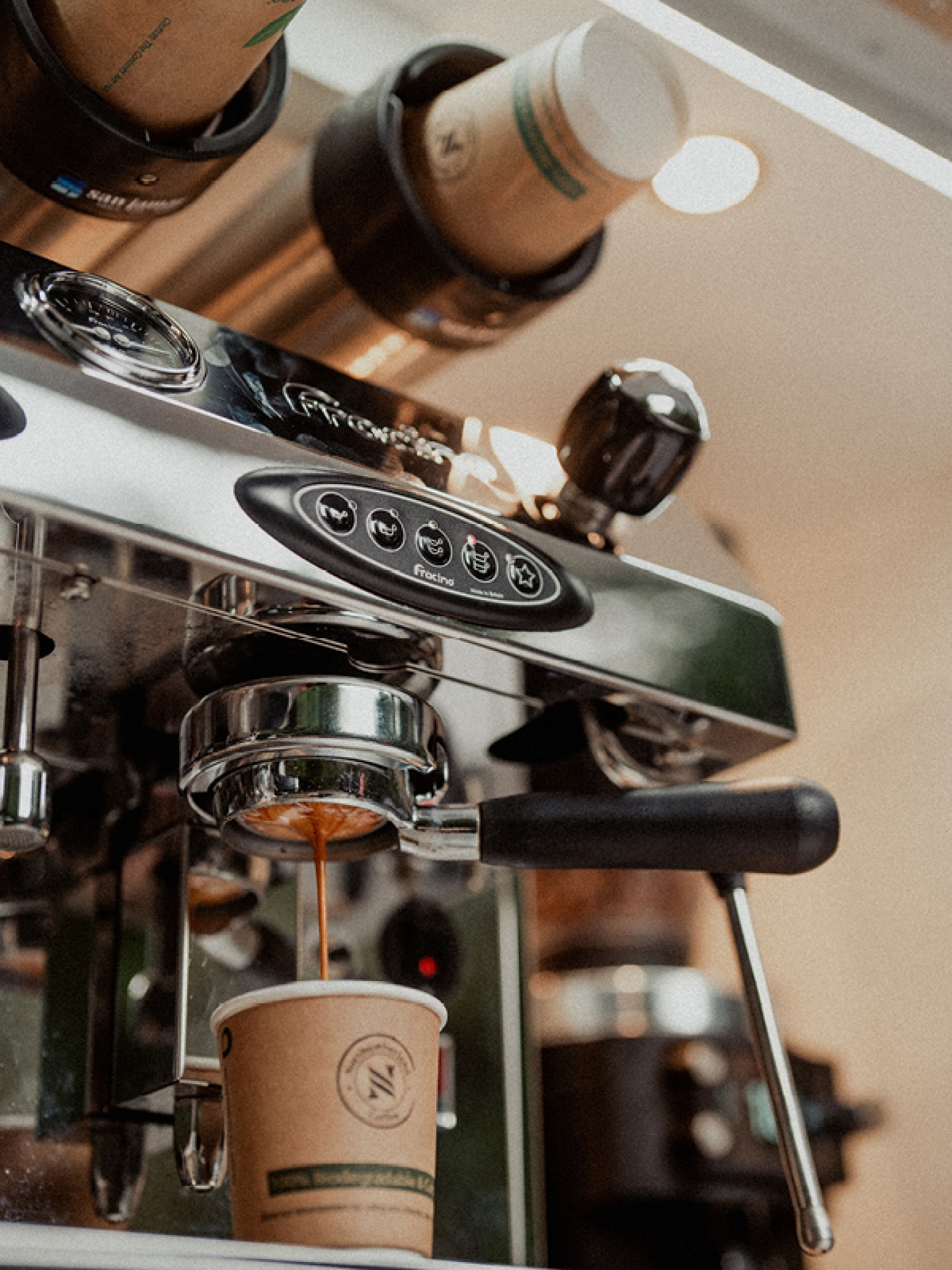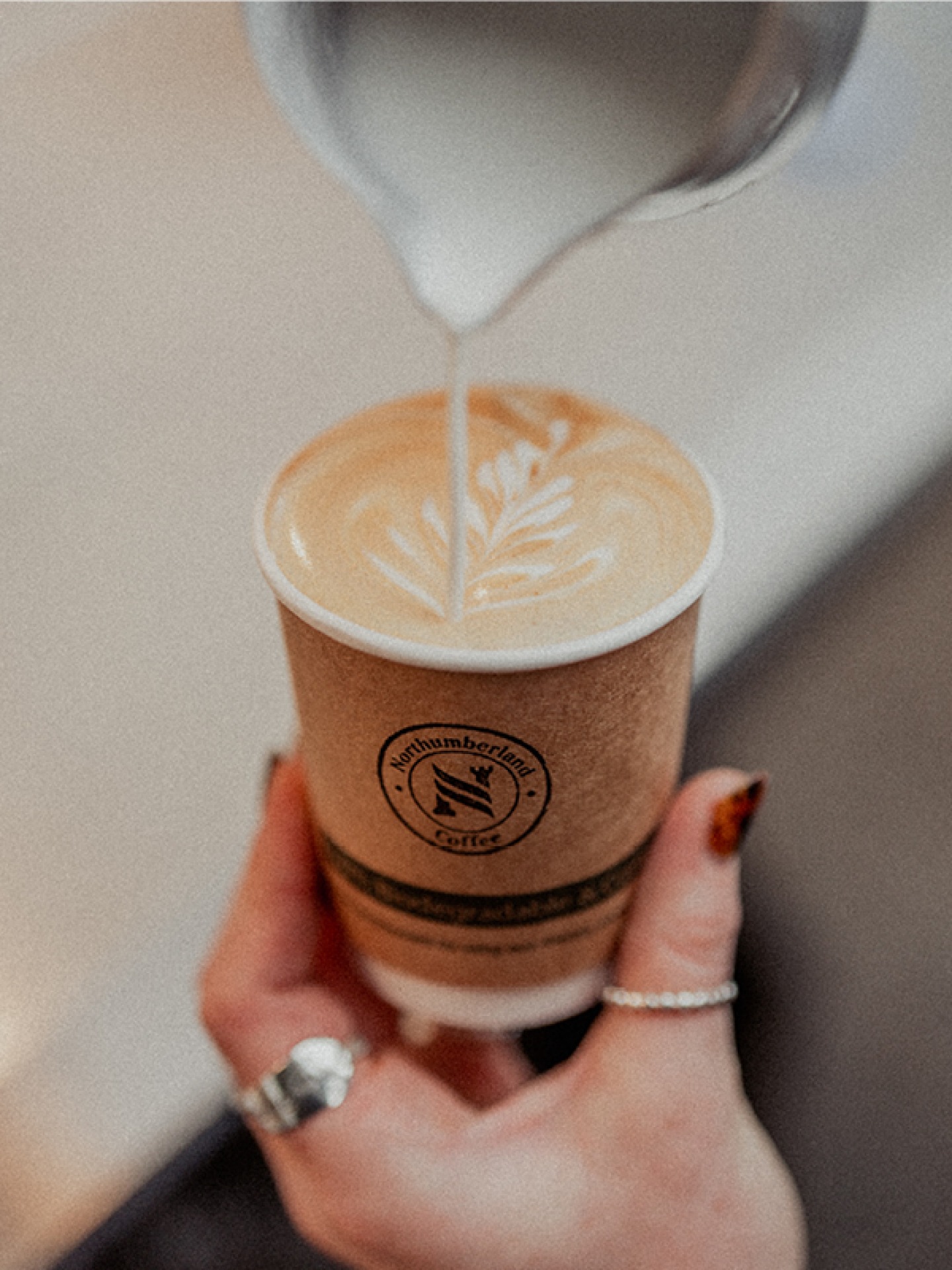 My plan is to move to a bigger space and hopefully one day be in a position to purchase a larger production roaster so I can expand the range of coffees available to everyone, as well as refining and improving my skills as a roaster. I'm really excited about honing my skills over the next few years in order to best showcase the green coffee and those who work so hard to produce it.

I think the ultimate dream would be to run a café of my own, but until that day comes, Bebba and I are more than happy serving coffee out and about together in this amazing county we get to call home. It really is a dream to be able to do this. Like they say 'choose a job you love and you'll never have to work a day in your life'.
To find out more and to discover where Amy and Bebba are parking up, visit northumberlandcoffee.com or follow them on Instagram @northumberlandcoffee


Your personal go-to coffee order?
It's filter coffee for me, or sometimes a flat white if I'm out and about.

If you're not drinking coffee, what are you drinking?
I'm also really into my tea, I always have a peppermint tea on hand in the evening.

Where is your favourite place to dine out locally?
If I'm out it's often for a family roast and I'd say the Lord Crewe, The Feathers Inn and Wylam Brewery are my top three roast spots.

A hidden gem in the North East?
The Three Sisters Waterfall at Hen Hole Gorge – it has the most phenomenal walk up to it.

An item you couldn't live without?
My Dry Robe! Until I get an awning it's a must on soggy days with the Defender! Or, a bottomless portafilter, as it's the best way to quality check the extraction of each espresso – plus, it's so satisfying to watch.