The Ultimate Northumberland Road Trip: Northumberland 250
A 250-mile adventure across the land of dark skies, rolling hills and remarkable coastline
Northumberland is a popular destination for road trippers, from the rugged coastlines to the more remote rolling hills, there's a variety of landscapes on our doorstep just waiting to be explored. But where to start? And where to end?
One Northeasterner, inspired by his experiences of driving the Cabot Trail in Canada, the North Coast 500 in Scotland and – most recently – the Icelandic Ring Road ('trips that are more about the journey than the destination', he explains), set about creating a logical route to encompass his native Northumberland as a whole – meet NLAND250.
You'll often find dedicated and considered driving, walking and cycling routes in areas with a wealth of varied and expansive beauty. Take Scotland's North Coast 500, Devon and Cornwall's Atlantic Highway and Ireland's Wild Atlantic Highway, for example. In Northumberland however, there are few routes that allow you to take in the entire historic county and explore its contrasting landscapes.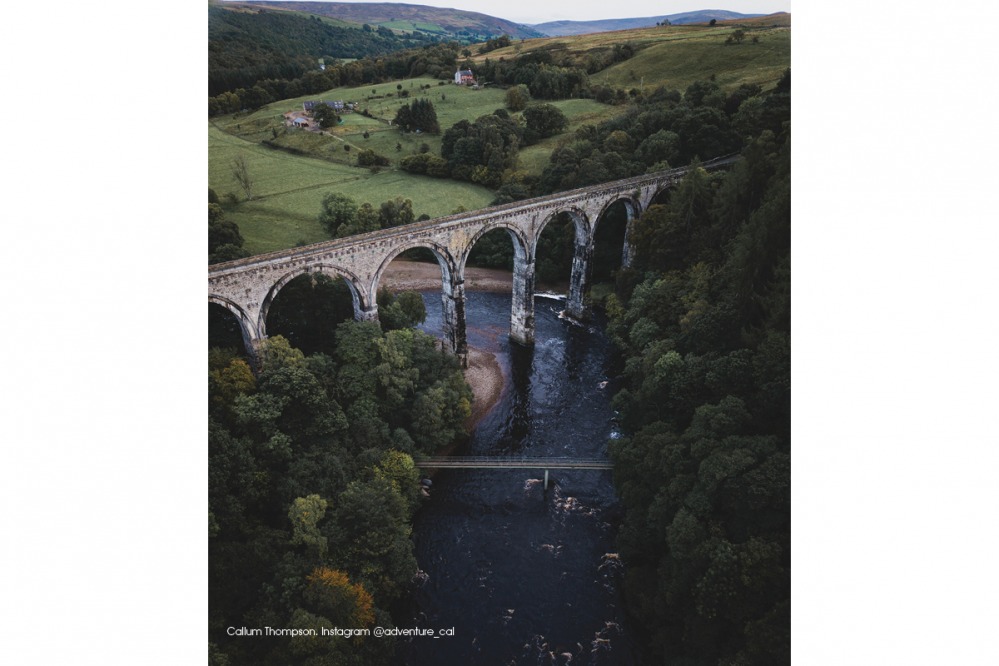 The 35-mile stretch from Alnwick to Lindisfarne, which is featured in Lonely Planet's Epic Drives of The World (a showcase of 50 of the greatest road trips on Earth), is a popular way to take in Northumberland's beautiful coast, but if you're looking to explore the dark skies, chocolate box villages and lesser-known landscapes too, you would (until now) have been hard pressed to find a mapped-out route to help you do so.
The new 250 mile route across Northumberland, which takes in Tweedmouth in the North, Kileder in the West, Allenheads in the South, and the majority of Northumberland's rugged coast, is now free for the public to download.
Broken down into four sections – the Northumberland Coast, Cheviot Hills, Dark Skies and North Pennines – it takes in some of Northumberland's most iconic landmarks (think Bamburgh Castle and Sycamore Gap), as well as the more remote and lesser-known parts of the county. Giving you the freedom to explore Northumberland in one trip, whilst travelling on the more scenic roads around the county, it's a unique adventure that can be completed by car, bike or on foot – as a whistle-stop weekend tour or a three-week adventure holiday.
The route organiser has also begun to collaborate with local businesses, meaning you'll easily find food and drink recommendations, and some of the best places to stay if you're planning on making a trip of it. So far NLAND250 have worked with BOX Pizza, Hesleyside Huts and Defender Camping, but are quickly building relationships with businesses big and small who are also passionate about helping spread the word about what Northumberland has to offer. Similarly, by collaborating with local content creators and photographers when curating their website and instagram page (@nland205), the route has now begun to develop exposure for local talent in the area too.
Although the route hopes to encourage us Northerners to explore more of what's on our doorstep (particularly with overseas travel somewhat limited at present), it's also aiming to entice visitors from across the world in the same way many of the UK's iconic driving routes already do.
'It's a unique adventure that can be completed by car, bike or on foot – as a whistle-stop weekend tour or a three-week adventure holiday'
Holy Island
Lying just a few miles off the Northumberland coast, Holy Island is cut off twice-daily from the rest of the world by fast-moving tides. Both an island and a picturesque village, Holy Island carries a wealth of history within its tidal walls. See the 12th Century priory and, rising from the sheer rock face at the tip of the island, Lindisfarne Castle.
Farne Islands
Animal fans rejoice: puffins, guillemots, eider ducks, razorbills, terns, grey seals (and their annual litter of about 1,000 pups), and, if you're lucky, maybe a dolphin, porpoise or even a minke whale could pop up and say hello on these zoologically-diverse islands.
Bamburgh
No trip to this stretch of the Northumberland coastline would be complete without a visit to the impressive castle that once protected our shores. Sitting 45 metres above the sea, Bamburgh Castle was built in approximately 500AD and has witnessed many pivotal moments in British history, from the Anglo-Saxon, Norman and Viking invasions to the Wars of the Roses.
Dunstanburgh Castle
The iconic ruined Dunstanburgh Castle, with one of the only three-storey keeps ever built, stands as a sentinel looking over the North Sea and the large sandy bay of Embleton. As one of the largest and grandest fortifications in Northern England, it's a must on any Northumbrian adventure.
Simonside Hills
There are few vistas more spectacularly and quintessentially Northumbrian than that of the Simonside Hills. Teeming with wildlife (as a Special Area of Conservation), the distinctive ridge stands guard above Rothbury and boasts 360 degree views across the Cheviot Hills and North Sea coastline.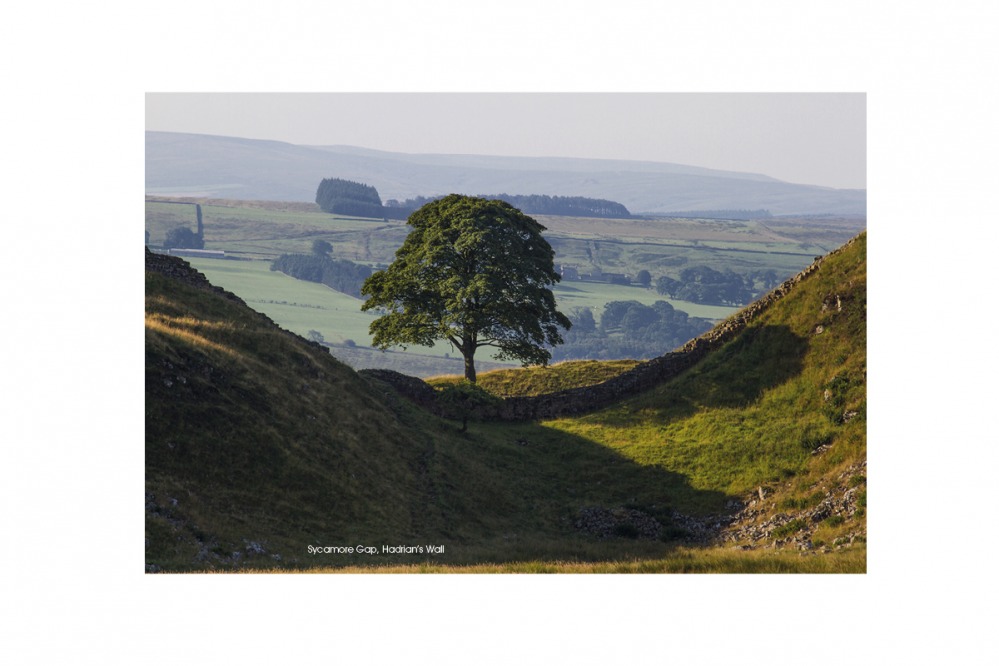 Blanchland
This most picturesque village, often used for film sets, was built from the remains of a 12th century abbey and is surrounded by some the region's most spectacular and unspoilt countryside.
Sycamore Gap
Standing beside Hadrian's Wall, Sycamore Gap's tree is famed in part thanks to the 1991 film Robin Hood: Prince of Thieves. Previously crowned England's Tree of the Year by the Woodland Trust, you'll want to make the walk west from Housesteads to see it for yourself.
Hareshaw Linn
Hareshaw Linn is a Site of Special Scientific Interest (SSSI), designated for its rare ferns and lichen. Take a magical walk through an ancient woodland, crossing no less than six bridges to reach a beautiful nine-metre high waterfall.
Kielder Observatory
This astronomical facility sits within the largest protected Dark Sky Park in Europe, so if you're going to enjoy an evening of truly spectacular stargazing anywhere, then it's going to be here. Kielder Observatory boasts an unrivalled programme of stellar events all year round, and with some of the best equipment in the business at your fingertips, you'll soon be transported to a galaxy far, far away.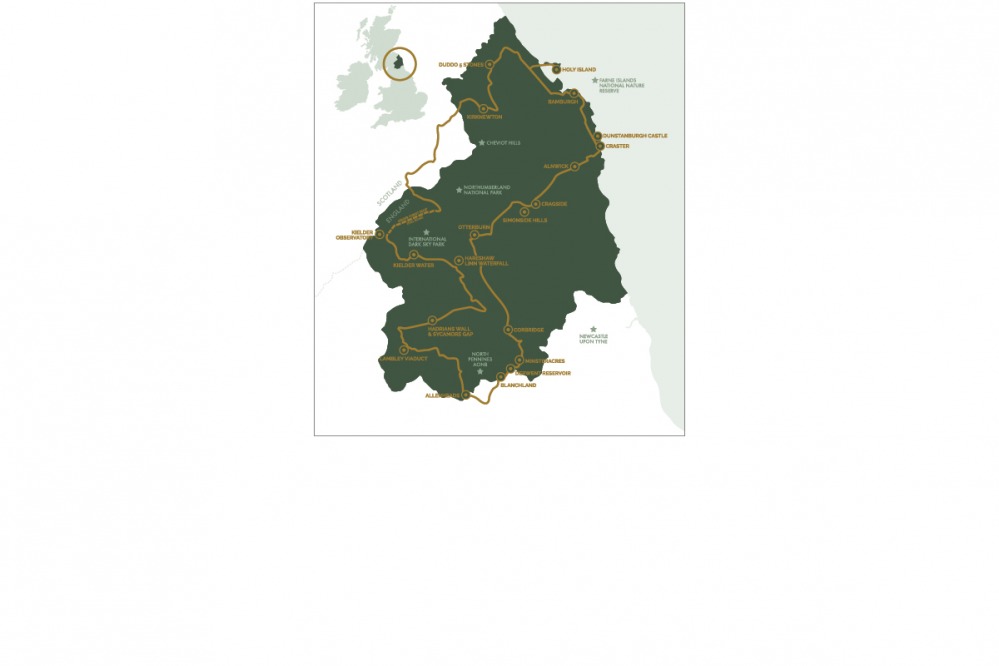 GET THE ROUTE
Head to nland250.com/route and enter your email address to receive your free copy of NLAND250's Google Maps route direct to your inbox.