Inside RE:BOURN the Fashion Brand Dedicated to Pre-Owned and Dead-Stock Designer Clothing
Sophie Cabourn launched RE:BOURN to encourage consumers to buy better quality clothing that's not only good for the planet, but also their bank account
Now the fashion brand dedicated to pre-owned and dead-stock designer clothing is opening its first studio in Gosforth this September.
If you were walking along Ouseburn Riverside Walk a few weeks ago and saw a trendy looking shop in the Bottleworks gallery space with queues out the door, then you probably just walked past RE:BOURN, which is run by Sophie Cabourn, a successful fashion entrepreneur and daughter of well-known Tyneside-based collector, archivist and designer Nigel Cabourn.
Sophie has been interested in fashion from a very young age. 'I've been in the fashion world pretty much my whole life,' she tells us. 'My dad's a designer, so I've been going to trade shows and catwalks, and helping him open shops since I could walk. He also has one of the biggest vintage archives in Europe and I used to travel with him a lot, going to Japan, Paris, or Milan and visiting all the vintage shops, fairs and flea markets. I started collecting garments too and I've been working in the industry for the last 12 years, living in London and working as a wholesale manager looking after luxury brands and selling them into department stores like Harvey Nichols, Harrods and Selfridges.'
While the idea for RE:BOURN has been in the back of her mind for some time, it was when Sophie returned to Newcastle during the pandemic that she decided to take the leap. 'I had no intention of staying to be honest, I always thought I'd go back to London. But as things went on I just fell in love with Newcastle again. I hadn't been here for so many years, but it had changed so much and I was having such a better quality of life. I decided I really wanted to stay but I wanted to bring what I had in London to Newcastle, and bring something from my background to the fashion industry here too.'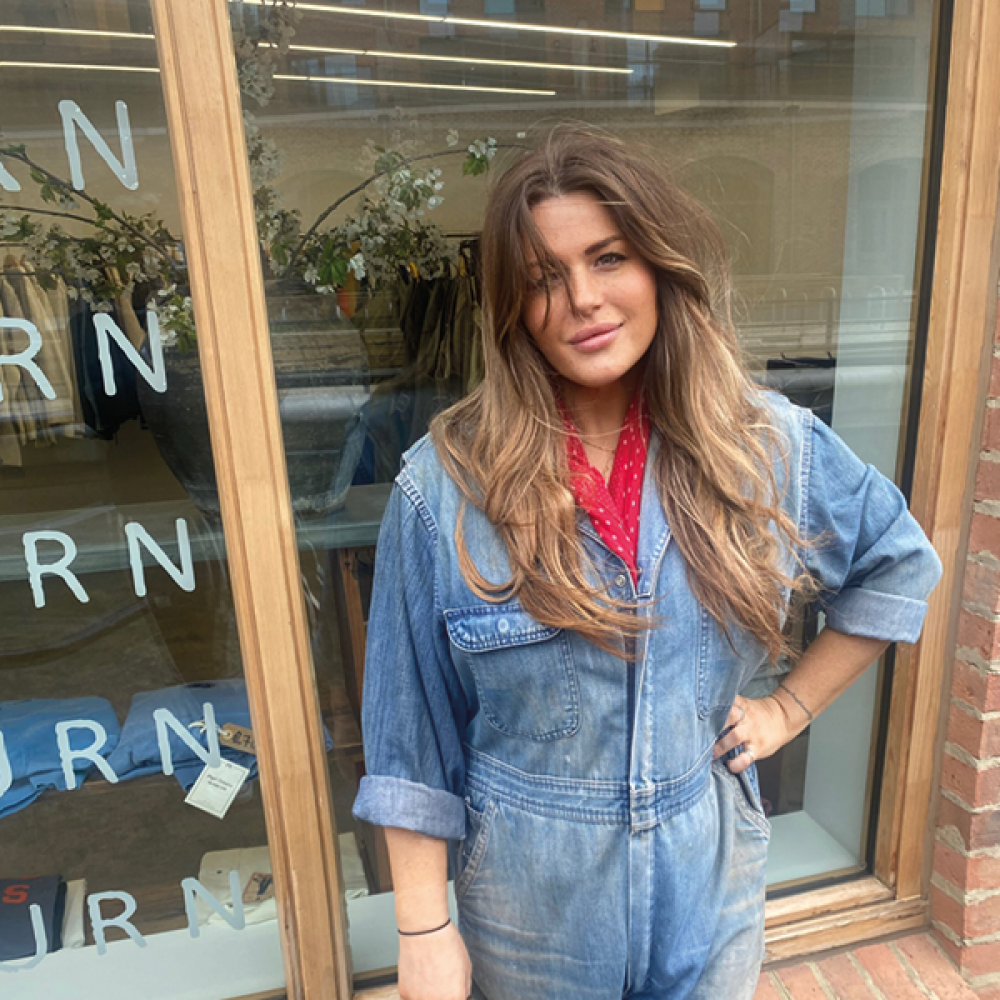 While there are lots of vintage shops in Newcastle, Sophie wanted to do something a little bit different and encourage people to buy better quality clothing, but at more affordable prices. 'The fashion industry is the second biggest polluter on the planet,' she says. 'But you look at the price tag and you understand why people don't buy better – it's so expensive! So I thought there must be another way. Being in the fashion world for so long you kind of get to know everyone and I'd made a lot of contacts. I met people that were working for high-end brands such as Prada, Burberry and Gucci, and from there I got access to sample sales.
'It's really hard to get that access, you have to know someone, or you have to be a member of staff. They even make you leave your phone at the door as you're not allowed to take pictures, and you're only allowed to buy so many things, so it's not like your average Joe can walk in. But a lot of the stock is up to 80 percent off, and by that point it can be the same price as high street but obviously amazing quality that will last forever. I just thought that it was a real shame everyone couldn't access this. If I could bring it to the everyday person, that would be great.'
Sophie realised she could marry her love for vintage, her access to sample sales, and her passion for sustainability together. 'I couldn't understand why everyone was buying this fast fashion rubbish. I mean I used to do it myself – wear things only three times and have to throw them away because they were all bobbled or had the colour washed out of them. Whereas I had things that I'd bought in Japan, vintage, that had lasted me for 15 years, or designer coats my mum passed down that she'd had since I was born. So I thought, this is what I've got to buy, and this is what I want to bring to everyone.'
To offer good quality items at a price that people are comfortable with, Sophie launched RE:BOURN and her aim is to make her clothing accessible to as many people as possible. 'There are a lot of different elements to RE:BOURN; there's Grade A vintage, dead-stock sample sale and there are also pre-loved items which are dry cleaned and fixed. The way I organise the pop-up is women's, unisex, men's, and then I have a corner of entry price pieces that start from £5. I don't keep the cheaper stuff separate, it's still very inclusive of the space, but I wanted an area where you know you can afford something, even if you've only got a tenner in your pocket.
'I don't have a target audience and I really don't want to. I've had kids come in with their parents buying stuff, all the way up to a 70-year-old guy, so it's really not exclusive at all. I also try to cater for larger sizes. A lot of people think sample sizes are a four which is tiny, but that's not actually the case. I've got lots of different sizes, all the way up to 20, so I try to really buy with that in mind. Newcastle as a city has all types and I wanted to reflect that.'
'Sophie realised she could marry her love for vintage, her access to sample sales, and her passion for sustainability together'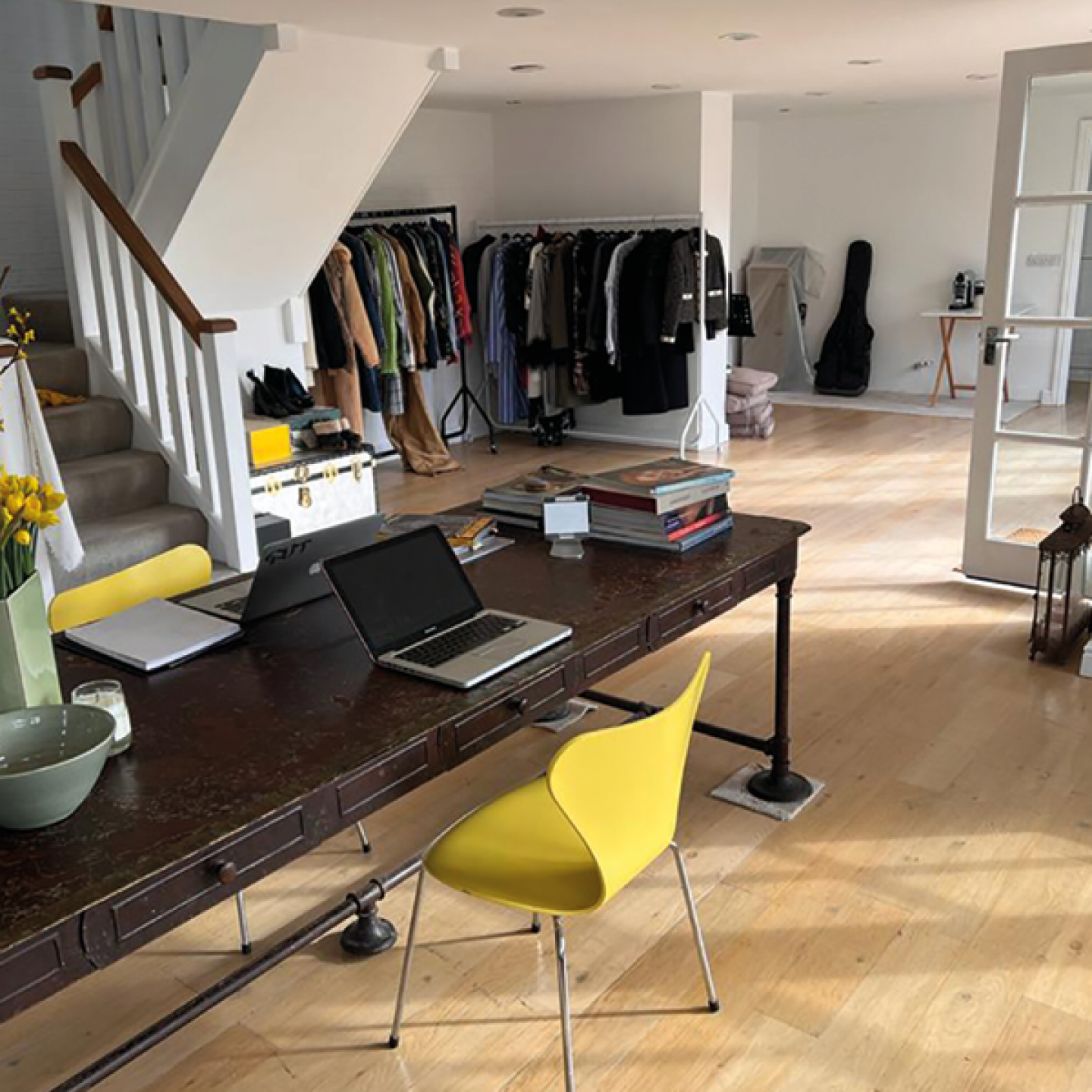 Sophie helped the business to find its feet through a handful of pop-up outings in the city, with more planned for November and January. But now, having seen just how well RE:BOURN fits into the North East fashion scene, she's opening a studio in Gosforth this September where customers can sift through her collection. 'I've got more pop-ups in the pipeline, I'm just confirming a venue as I want to make it a bit more of a lifestyle store with live artworks and music going on so I need a bigger space,' she explains. 'However I've also got my own studio which I'm moving into in September. It will mainly be for styling appointments, a place for customers to buy things, or if they're looking for something that's very specific I'll help to source items.
Sophie is all about going back to how fashion used to be. 'From the very beginning I liked the idea of doing a pop-up and then we're gone,' she tells us. 'However while the plan was to definitely get a website (I've even bought a domain and got a holding page), the more I'm working on this, the more I really love the idea of taking shopping back to being an in-person experience.
'A lot of my pieces are really special and they have a story. For example I've gone to Paris to buy a jacket in a Parisian atelier specially made for Daphne Guinness, so it's one of a kind. I want to be able to talk to people about an item and tell them about it. I want them to try it on, touch it, feel it. I want it to be an experience and it's just not the same when it's a written description online. So I really want RE:BOURN to take that shopping experience back to being in-person.'
Just off Gosforth High Street, the RE:BOURN Studio will be open seven days a week from mid-September for private appointments. For more information or to book a studio appointment email info@rebourn.co.uk or message @the.rebourn on Instagram.