Inside the World of Artist Lucy Pittaway in the run Up to Christmas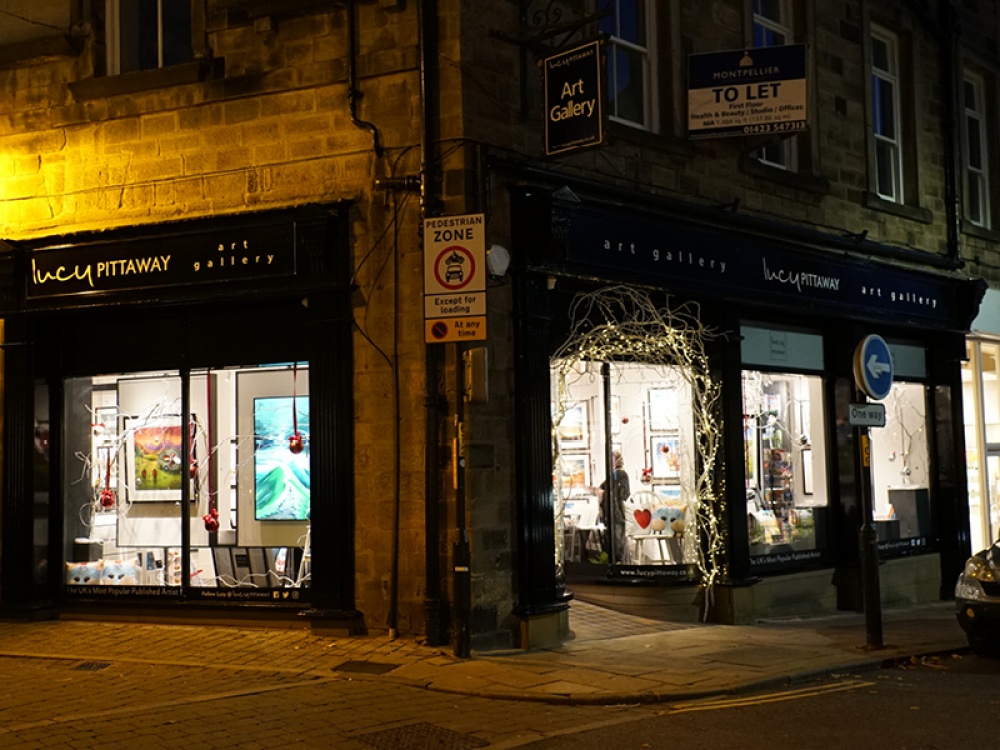 Partnership
As she celebrates the opening of her new store in Harrogate, the award-winning artist shares her Christmas traditions with us
Delve into the world of award-winning artist Lucy Pittaway as she gets ready for the festive season whilst also finding time to create new pieces and open a new flagship gallery.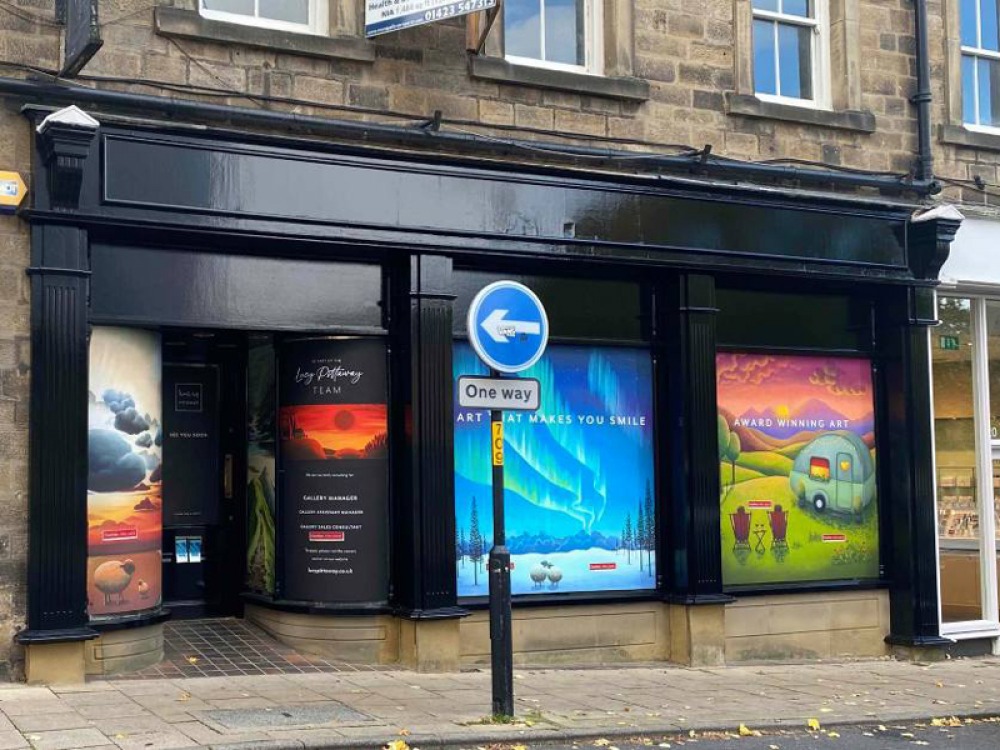 Hitting the high street in Harrogate
Breathing new life into an abandoned high street store, Lucy brings her unique style to an equally unique Harrogate location with the opening of her fifth solo gallery.
The prominent store at 21 Prospect Place was once home to the popular menswear retailer Austin Reed which closed its doors in 2016, leaving 2600 sq. ft of empty space on the Harrogate high street. Jump to 2022, Lucy is now opening her fifth solo art gallery on the site, bringing her unique blend of uplifting and accessible artwork to the spa town and promising to bring art to the forefront of Harrogate just in time for Christmas.
The gallery will be in good company with brands including Jo Malone and Joules as well as the renowned Bettys Tea Room, synonymous with Harrogate, also close by along with other high-end retailers, independent stores, and eateries.
'Harrogate is such a special place and somewhere I love to shop, it has a lot to offer and is appealing to a wide range of people as a destination,' says Lucy. 'I'm confident that locals and visitors will enjoy seeing the bright and vibrant store front on the high street as it's something quite unique and different from the existing offering in the town.'
'Creating art that makes people happy is my one goal, I hope my work inspires people to see the same beauty that I do and that it brings a smile to all those who view it'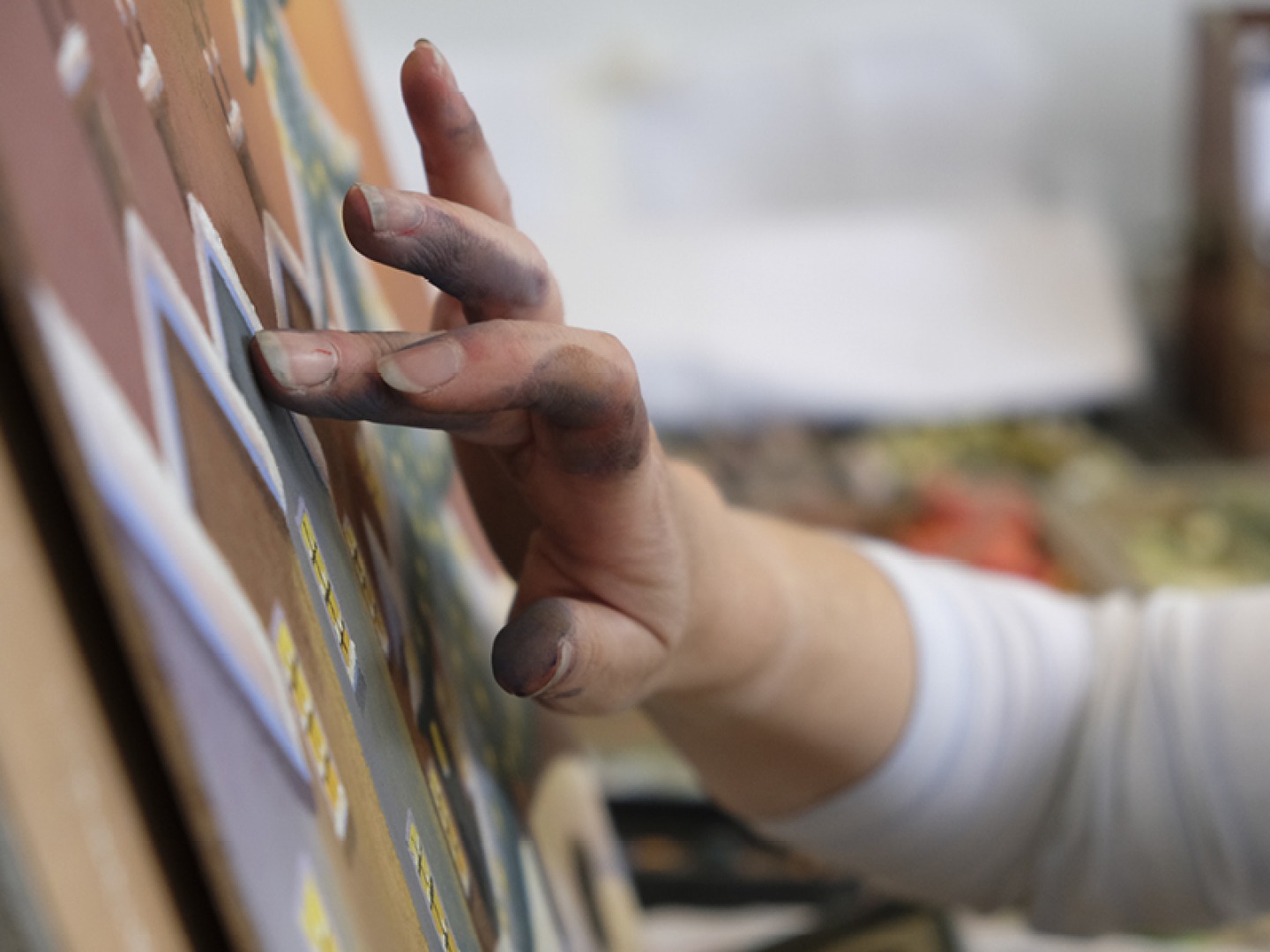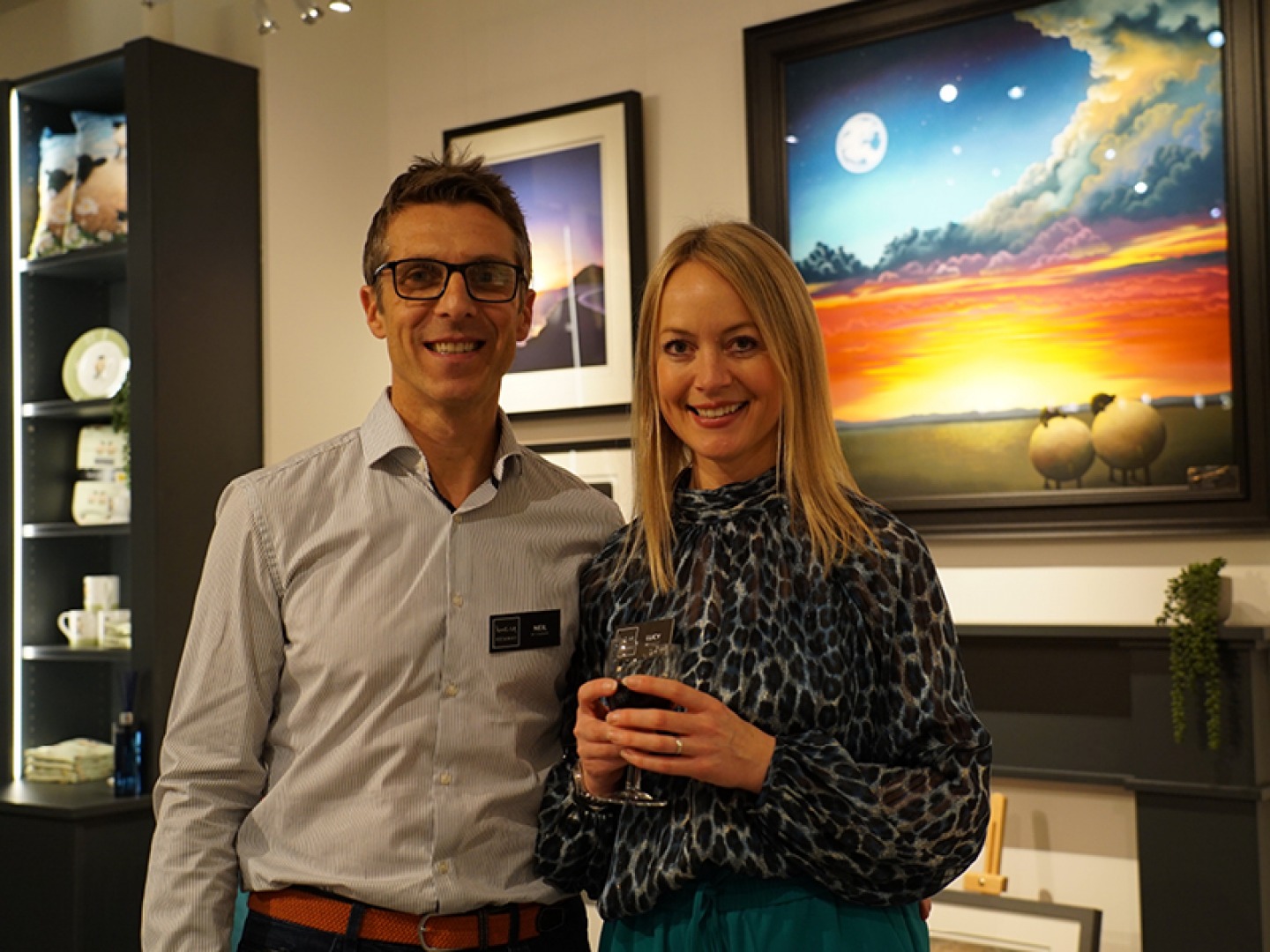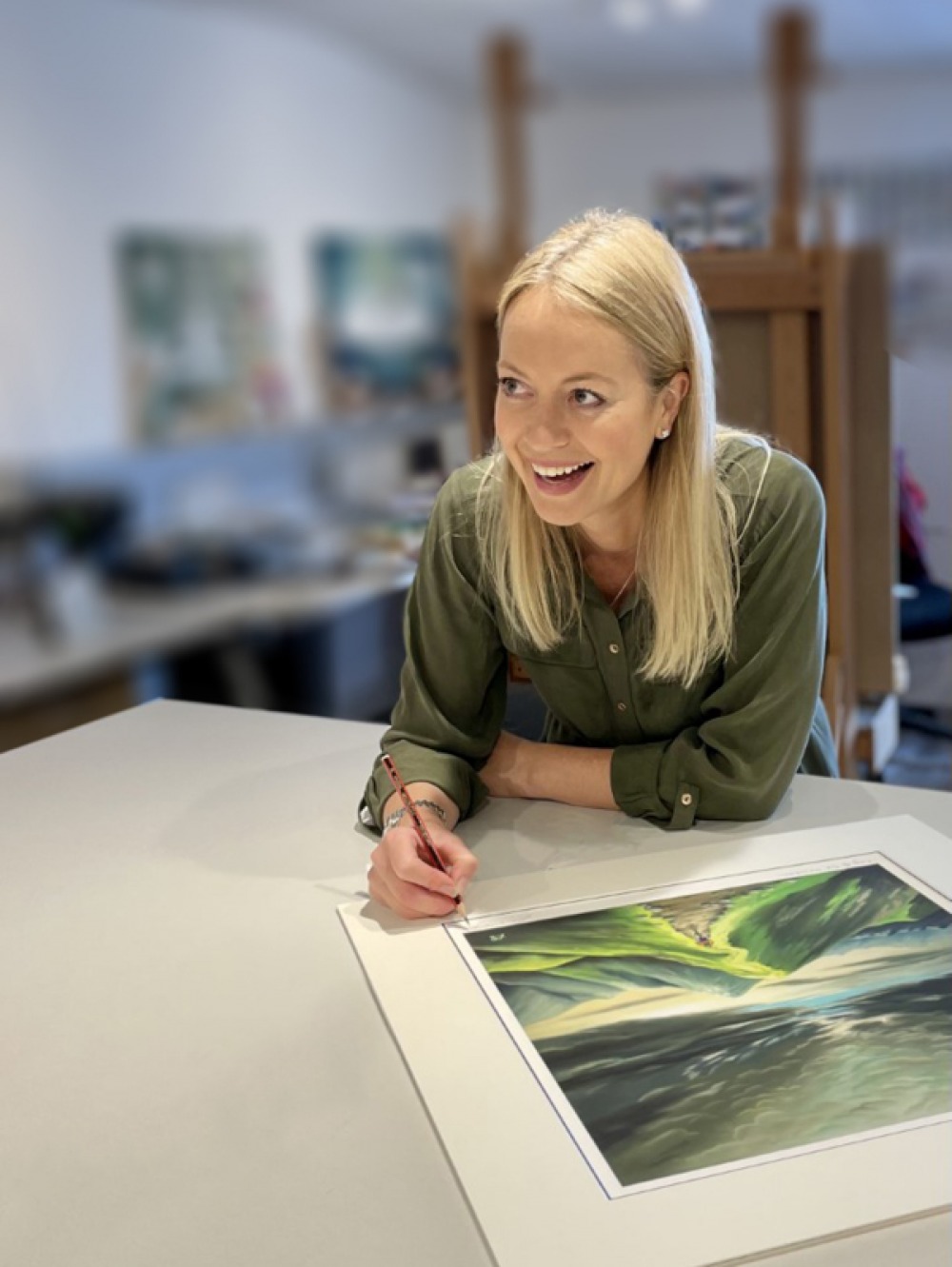 Capture some festive sparkle with Lucy as she talks all things Christmas.
How do you spend your days in the run up to Christmas?
The run up to Christmas is busy and because we work in retail, we start planning months in advance. At home we can relax a bit more, there's lots of present wrapping whilst watching our favourite family Christmas movies, often Home Alone or National Lampoon's Christmas Vacation.
Who do you spend Christmas with?
It involves seeing various family members over a few days. I have a large family with step-parents and in-laws etc so we have about four Christmases at various homes and often host ourselves too! The children love it as it keeps the magic going that bit longer.
How does the day usually pan out?
It's an early start because the children are beside themselves with excitement, which I absolutely love to see. Stockings are opened upstairs before heading downstairs to see if Santa has been. We have a family breakfast and call family to wish them a Merry Christmas before putting on Christmas songs and either getting the lunch ready or heading out to visit family. The children love spending time with their cousins whilst the adults enjoy a glass of wine or two! After lunch we sometimes go for a walk, then open gifts with family and play games before heading back home to settle in for the evening with a glass of mulled wine by the fire, and maybe a Christmas movie for good measure.
Any family traditions?
When the children were young, we would spread reindeer dust along our driveway so that Santa and his reindeer could find us. Elf-on-the-shelf makes his annual appearance, and we love to make and decorate a gingerbread house. It's also a time for us to appreciate what we have, so we deliver gifts to local charity drop off centres for those who need it most.
Favourite festive food?
I recently tried eggnog for the first time and really enjoyed it, but nothing beats a Bailey's latte! I always look forward to the wonderful party food at this time of year and as long as it's gluten free, I'll try everything. One of my favourite indulgences is a baked camembert scored with cloves of garlic and tortillas to dip. A perfect pre dinner treat!
View Christmas Gifts from Lucy Pittaway here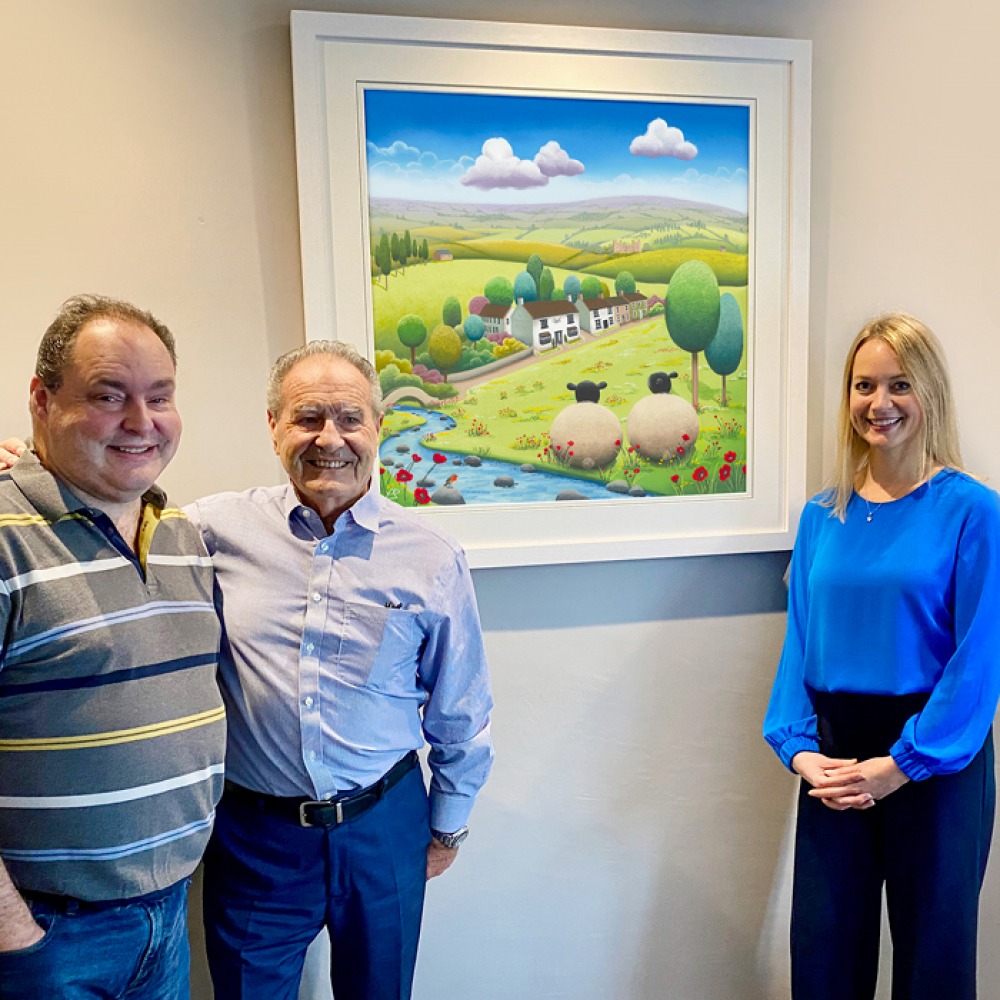 A Very Special Commission


Lucy has recently partnered with one of Yorkshire's most luxurious boutique hotels for a special project to celebrate the beauty of the Dales. The Wensleydale Heifer in West Witton, near Leyburn recently commissioned Lucy to create a commemorative piece at the request of father and son team Lewis and David Moss to mark their 17th anniversary of the Wensleydale Heifer.
The piece, titled 'The Heart of Wensleydale', features the rolling hills of the area around West Witton with the Wensleydale Heifer nestling at its centre. The original artwork sits in pride of place within the Heifer's restaurant, joining an existing, carefully-curated collection of Lucy's work which already features in the property.
Heifer Owner David Moss says: 'We're huge fans of Lucy's work and have been working closely with her for several years. We wanted to work with the area's leading artist to create a piece which truly celebrated the beauty of Wensleydale and the Yorkshire Dales, to show how proud we are to be at that heart of that community.'
Lucy says: 'I was thrilled to undertake this commission as I, and my family, love the Wensleydale Heifer and have been coming here for many, many years. We've celebrated significant family events here, and I've always understood the important role it plays within the Wensleydale community. It's a really special place. The painting is a celebration of both the Heifer and also the love people have for the Dales and their time spent in this wonderful part of the world.'
See 'The Heart of Wensleydale' here
Lucy Pittaway is the UK's Most Popular Published Artist*, with galleries located in Harrogate, Richmond, Brompton on Swale, Yarm and Keswick.
Shop online at lucypittaway.co.uk
*Awarded by the Fine Art Trade Guide 2018, 2019 & 2022.