James Arthur Explains why Music is the Best Medicine
In Faye Dixon's exclusive interview with James Arthur, almost a decade since his X Factor win, he reflects on his career, and proves that music is the best medicine
Thirty million records sold via three albums, a collaboration with Sigala that was a top 10 single and number one airplay track in the UK, and now an ongoing TikTok viral phenomenon – plenty has happened since James Arthur's X Factor win. I recall sitting in my dad's living room in 2012, glued to the TV, holding the phone each weekend ready to vote for James – while he was taking Nicole Scherzinger for a parmo and doing Teessiders proud on ITV. After his debut single 'Impossible' flew to the top of the UK singles chart, it was clear how successful James was going to be, nationally and internationally – so you'd be forgiven for thinking he'd leave his Northern roots behind. But why would he, when he's so proud of them?
I last saw James perform at Newcastle's Utilita Arena on Friday 13th March last year – and that date stays stuck in my head because just a week later… well, you know what happened. 'It was a really uncertain and weird time wasn't it?' James agrees in a Zoom call. He was forced to put down his mic and guitar and stay at home like the rest of us, and admits he was fairly unproductive to begin with. 'The first couple of months, maybe three or four actually, I was just sitting indoors and playing FIFA, not doing very much,' he tells me. 'Then I got to a point where I was doing too much self-sabotaging so I got into the studio and I poured everything that I'd been feeling into my music.'

That's something James has always been good at, but this 10-year journey hasn't been easy as he's battled with his mental health (and his mouth has got him into trouble on occasion) but the positivity radiates from James when we speak. That seems to come down to what he calls 'living his truth'. 'My family always encouraged me to speak about things but, maybe amongst my friends, there was definitely more of a stigma for me talking about mental health when growing up. That made me someone who is quite introverted – and I still am to this day. It's not easy for me to be as open as I am and to put this stuff into my music. But it's important that I use my platform to ultimately help people who are struggling. For me to say that I've been there and I understand where they're coming from, that can really help.'

While his music continues to help others, I ask him what advice he'd give his younger self, looking back. 'I'd just not be so hard on myself,' he replies instantly. 'I'd even tell a version of myself a year ago to stop being so hard on yourself. I think that's a problem for a lot of people. We need to be more kind to ourselves and surround ourselves with people who will lift us up and stay in the moment.'

Asking him to look back on the last 10 years, he sums it up as a 'rollercoaster'. 'It's been 10 years of plugging away and trying to establish myself,' he says. James started writing and recording songs as an unsigned artist when he was 15, both solo and in bands including Cleveland-based rock five-piece, Moonlight Drive, Cue the Drama (an alternative rock band formed in Markse) and Save Arcade (formed in Middlesbrough). But it was The X Factor that kickstarted his solo career – and with that began his 'ups and downs' as he calls them.

'I've had some hit songs which has been amazing and really rewarding – maybe I didn't enjoy them as much at the time because I was so busy, so it's been good to reflect on them in this period that we've had,' he continues. 'It's mad that, as you say, we're close to 10 years – it's flown by. I'm pleased with where I'm at but I feel like I'm just getting started. I've got a lot more to achieve and hopefully a lot more hit songs to release.'

Since 'Lasting Lover,' James' hit single with Sigala, was released late last year, we'd all been waiting for more music, then along came 'Medicine' in March, which James describes as 'an uplifting ode to self, to relationships, to community and connection, and to the healing, restorative powers of love over adversity.' But it seems there's plenty more to come from his time in the studio.

'There's definitely a transition, stylistically, in my songwriting and my music,' he explains. 'It's more grown up, but it has the essence of things I think people will like: honest story-telling, autobiographical lyrics and words you can relate to. But the big difference is the style: I'm going back to my rock roots (from being in rock bands as a young lad). That's where my heart is and I've tried to put as much of that into my music as I can. It's like if Post Malone met Blink 182. The new songs are definitely suited to a live gig. It'll be heavy in parts and there's a bit more rapping so it'll be exciting on stage.' For that reason, James can't wait to get back to performing live again.

'For the last 10 years I've managed to work my way up to being an arena artist in the UK – it's an incredible achievement. On the arena tour that you came to, I was enjoying it so much, and I would have liked to be doing another one in the middle of this year. It's very uncertain and I think it may be next year now but I'm just gagging to get back on stage. I've had over a year out from gigging so I'd go and play at the local workies at this point,' James laughs. 'There's a few festivals around the summer that I might be able to get involved in. Summer, for me, has always been festival season. Travelling around Europe or the US is probably my favourite part of the year and I'm looking forward to getting back to that.'

You'll find James performing to his one million followers on the popular app Tik Tok. 'Tik Tok has quickly become one of the most important things there is in the music industry,' he explains. 'It's become even more important than the radio in some cases. I was lucky enough to become relevant on the platform without even doing anything. A song I wrote and released as part of the Back From The Edge album blew up on Tik Tok and all of a sudden I was aware of this viral hit that people wanted me to get involved in. I really don't think I'd have found my way onto that platform if it wasn't for the song Train Wreck. Either way, I'm loving it because I can share music directly with my fans.'
'I've had some hit songs which has been amazing and really rewarding - maybe I didn't enjoy them as much at the time because I was so busy, so it's been good to reflect on them in this period that we've had'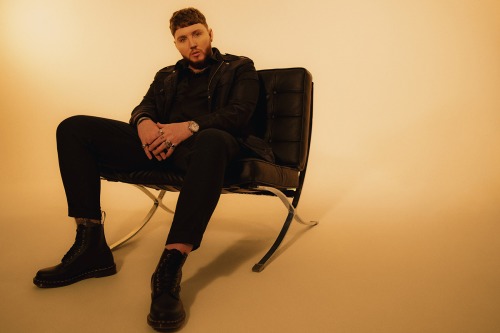 How has being from the North East influenced your music career?
I come from a pretty gritty place. The North East is full of amazing people with amazing stories (hard working, working-class people) and we have a stiff upper lip and a fighting spirit that I think I've taken with me throughout my career. That ability to work hard comes from my area and my culture.

Favourite artist from the North East?
Sam Fender. I think he's an incredible artist. I listened to his last album on repeat and I thought it was an incredible body of work. It's the kind of music I like, and he's also a good ambassador for the North East.

Would you consider working with him in the future?
I'm never one to push to work with people (if they want to work with me, I let that happen as organically as possible), but I certainly admire him from afar.
Favourite North East venue to perform in?
It'd be one you wouldn't think of because it's quite small but, growing up, I used to play in The Cornerhouse in Middlesbrough. There's so many other venues I love today.

Favourite parmo and place to get it?
Good question! In Redcar, the top dog is probably Vivaldi's – they've got great garlic sauce. There's also a place in Middlesbrough called Soprano's. That's where I go now because I have a house in Middlesbrough. They can't quite deliver from Vivaldi's to here and Soprano's is quality.

Any instrument you've always wanted to learn to play?
I play a lot of instruments. I'm kind of a Jack-of-all-trades but a master of none. I've never tried to play the upright bass but I would like to do that because it looks cool when people sing while holding an upright bass.
Book tickets to see James in 2022 at Stockton Globe, O2 Academy Leeds, Bonus Arena Hull and O2 City Hall Newcastle at jamesarthurofficial.com.