The Heroic Life of the Farne Island's Grace Darling
Grace Darling's heroic feat is legendary across the North East, but a new book takes a closer look at her life before and after the famous Forfarshire rescue
Take a journey through her life…
Grace Darling, a lighthouse keeper's daughter born in Bamburgh, needs very little introduction. She's renowned for her participation in the rescue of survivors from the Forfarshire, a vessel travelling from Hull to Dundee, which was wrecked on the Farne Islands off the coast of Northumberland in 1838.

Her daring rescue, when she was just 22, saw Grace save nine lives – and brought her national fame which made her one of the earliest celebrities by media (newspapers at the time). As many celebrities would agree today, fame isn't always a good thing and Newcastle-born and Northumberland-based author Mark Batey argues Grace wasn't too fond of her new-found stardom. He takes us on a journey through her life in his first published book, simply titled Grace.

From her childhood living on Brownsman, one of the Farne Islands off the Northumbrian coast, to being awarded medals for bravery, and showered with gifts and money from Queen Victoria herself – the book sheds new light on this heroic young woman. From her struggles with her mental health (following her unwanted fame) to her relationship with the Duke and Duchess of Northumberland who looked after her, and despite only living a short life (Grace tragically died from tuberculosis at just 26), there are plenty of stories to be told. It's a tale of adventure, triumph and tragedy.

As a keen reader, Mark had always wanted to write, and the opportunity finally came about when he retired almost two years ago. 'It turned into a pandemic project but that was coincidental really,' he says. 'I passionately believe that Grace's story is under-told. There have been many stories written about her, but I don't think there's been many this century. As time has gone on, particularly outside the North East, Grace's fame has waned over the decades. I really feel it's a story with fantastic elements to it – castles, lighthouses, dukes and duchesses – all great ingredients for a story.'
Mark recounts Grace's life as an adventure. 'What was it like on that ship? What was it like in the lighthouse? There are so many elements of her story that we don't really know,' he explains. 'Who was on board the Forfarshire? What happened to those who the Darling family were unable to rescue? Why was it Grace who was in the coble with her dad on that night anyway, when she had eight brothers and sisters? How did that one night affect the rest of her life? I realised all of these questions would make a good story,' he says. And it's these unanswered questions that led Mark to research deeper into Grace's life.

He tells the tale by narrating throughout the book as an unknown storyteller (who is revealed at the end). 'That allowed me to make little comments along the way,' he says. 'There's a reference to washing your hands and a reference to Brexit with Britain finding its place in the world. It's a way to add an extra layer, or additional commentary, a bit like in television when someone turns to the camera and addresses the audience.'

Grace's relatively quiet childhood was something Mark found particularly interesting as it contrasted so much with her later life. Born in the year of the Battle of Waterloo in her grandparent's cottage opposite St Aidan's Church in Bamburgh, Grace was the seventh of nine children. Moving to Brownsman at just three weeks old, she spent her childhood studying and helping her father William look after the lighthouse, taking her turn in watching the sea, day and night. The remains of the lighthouse and the keeper's cottage can still be clearly seen today and are now a Grade-II listed monument. The family moved to Longstone in 1826, when Grace was just 10, and although her family remained fairly isolated, they were used to visitors to their island, who included bird-watchers and various artists. By the age of 15, Grace and her younger twin brothers, George and William, were the last remaining children at home on Longstone.
'The most interesting thing I found out was just how many different characters appeared in her life after the rescue, either to help her or to exploit her'
'I realised there was nothing at all in her background or her family's background that prepared her for being catapulted so quickly (within a couple of weeks of the rescue) to fame,' Mark explains. 'There was no media at the time, other than newspapers (thank god there was no social media), but she was very quickly becoming very famous. These days the rescue would have been filmed. We would have seen how it panned out in real time. It's amazing how much technology has advanced and changed the way we live. Just 50 years after Grace died, cinema came along, and in another 50 years we got television. The media was advancing significantly within decades of her life. It's extraordinary to speculate on how she might have reacted in the modern world – goodness knows.

'The most interesting thing I found out was just how many different characters appeared in her life after the rescue, either to help her or to exploit her. The rest of her life was a maelstrom of all of these people making demands on her time, when all she wanted to do was to get back to working in the lighthouse.'

After the rescue, Grace became the nation's heroine. Grace and her father were awarded the Silver Medal for Bravery by the Royal National Institution for the Preservation of Life from Shipwreck, which we now know as the RNLI. More than £700 (the equivalent of more than £60,000 today) was raised for Grace, including £50 which came from Queen Victoria. She had painters capture her image, gifts, letters and even marriage proposals, but most remarkably the Duke of Northumberland took on the role of her guardian and was the founder of a trust which was launched to manage the donations.
'One thing is clear. Grace's story shows that if you put your heart, soul and mind into something, you can achieve anything. That may not be a terribly original insight but if you look at her story with fresh eyes you realise it's true,' Mark adds. 'That's hugely positive. Her legacy manifests itself specifically through the RNLI, and that's a positive side of the press campaigning at the time I suppose as it led to a great improvement in maritime safety. I think, beyond our area, Grace's story isn't as well told as it deserves to be. I hope in some small way that this book might help to address that.'

Mark hopes readers see this book as a love letter to Northumberland too. 'I try to delve into a little bit of the amazing history the county has – the geography and wildlife too, which is stunning. I know people who've stayed here during the pandemic, when they haven't gone abroad for their holiday, and they're amazed by what they've seen.'

You can see Grace's rescue in one of a series of Victorian paintings by William Bell Scott at Wallington Hall in Northumberland, and at Bamburgh there's an RNLI museum dedicated to her achievements. From 1990– 2020 an RNLI Mersey-class lifeboat called Grace Darling was based at Seahouses and a monument and memorial window keep her legacy alive at St Aidan's Church, Bamburgh. Her funeral took place there and was attended by hundreds of people wishing to pay their last respects.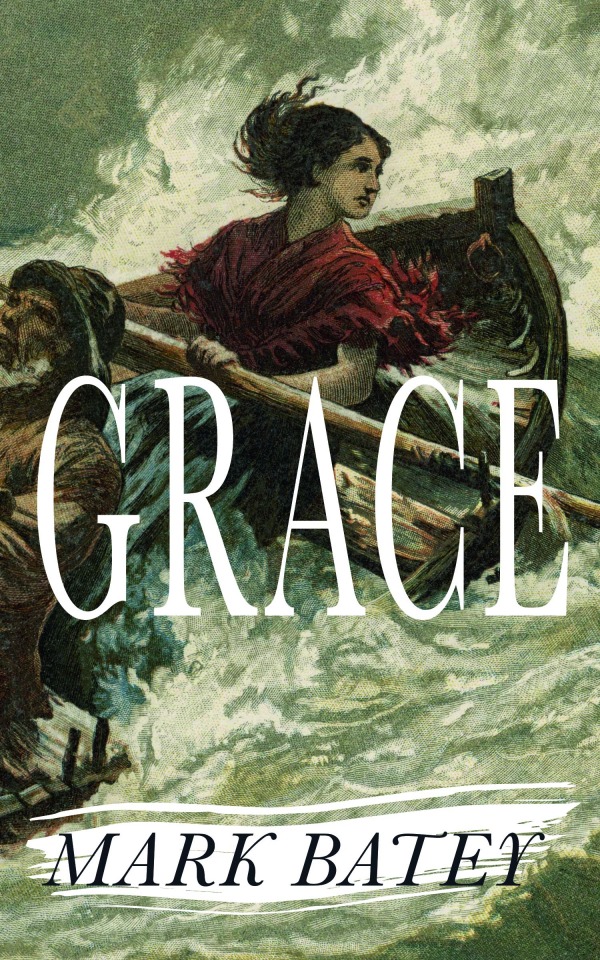 Grace, published by Clink Street Publishing, is available at all good bookstores.