LS Lowry is one of the country's most loved artists, an exhibition in Berwick this summer will bring together a large selection of his North East work for the first time
It was the North Sea that attracted Laurence Stephen Lowry across the Pennines to the North East. The sea fascinated him. 'It's all there,' he said. 'It's all in the sea. The Battle of Life is there. And Fate. And the inevitability of it all. And the purpose.' But it was stress as much as maritime curiosity that triggered his first visit. It was 1936 and Lowry was in his forties. His father had died and the family were in debt. His mother was bed-ridden and completely reliant on him. Exhausted by the worry and stress of it all, his doctor ordered him to take a break or risk a breakdown. He sought solace in Berwick.
Lowry was a traveller but it's believed the North East was largely uncharted territory for him up until 1936. His trips to Edinburgh from Manchester would have introduced him to the North East coast, and doctor's orders was an excuse to step off the train at Berwick. 'He liked the town very much,' explains Claire Stewart, Curator at The Lowry, an arts venue in Salford that also houses the largest public collection of Lowry's work. 'He considered buying a house in Berwick at one point. He liked the views of the sea. Some of his later paintings are just empty seascapes with one or two ships on the horizon – a lot of them are based on views from the North East coast.'
As well as the sea, he drew Berwick's narrow streets, lanes and Georgian buildings, and included paintings of the town in his first one-man exhibition in London in 1939. 'He drew all the time,' says Claire. 'His paintings after about 1910 were all done in his studio, or work room as he called it, but he drew outside on the spot all the time. It didn't have to be on a sketch pad, it was often on whatever he had to hand. It could be the back of a torn envelope or bank statement, whatever was in his pocket at the time.' Some of these sketches were just for his own amusement, others would have been taken back to the studio and developed into a piece he might exhibit. 'Often these tiny little drawings were just adding to a library of images he had in his head, not necessarily worked up into anything more final. There is quite a nice painting of the footbridge at Newbiggin – that's an instance where he's come back to something and worked it up into a painting. Then there's a little scribbled drawing called Sea Tests off South Shields, that's done just in biro.'
'Lowry was keen on football and painted several soccer scenes, the most famous of which is undoubtedly 1953's Going to the Match, an oil painting which sold for £1.9 million in 1999'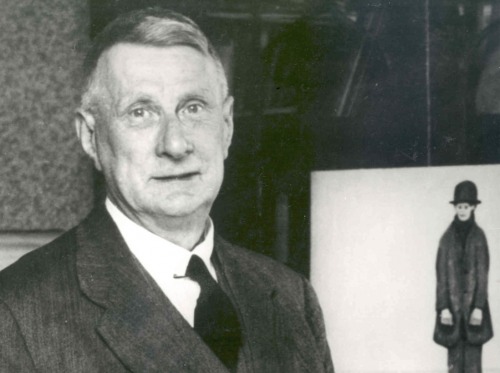 Original examples of this spontaneity will be in evidence at the summer exhibition, LS Lowry in Berwick & Northumberland, which will be at The Granary Gallery in Berwick from 21st June until 21st September. One is called Football Match, an undated sketch in pencil and ballpoint pen of a game of football with Berwick's Elizabethan Walls providing the backdrop. Lowry was keen on football and painted several soccer scenes, the most famous of which is undoubtedly 1953's Going to the Match, an oil painting which sold for £1.9 million in 1999.
Hardly anyone would have heard of Lowry when he first visited Berwick. He was still working full-time as a rent collector (a job he secretly continued until retirement in 1952), while painting and drawing extensively in his spare time. 'He wasn't selling an awful lot of work in the Twenties – hardly anything,' says Claire, 'but by the 1930s [when he began visiting Berwick] he'd have been making a small profit from his pictures, but really it's the Fifties when he starts to become very well known and make a little bit more money from sales of his work. By then a lot of prints were being produced and people would have had his work on their walls. '
Claire describes the Sixties as an intense period of North East-inspired Lowry output. The Seaburn Hotel (now the Sunderland Marriott) became his base during this time. From here he would travel all over the region to the likes of Middlesbrough, Barnard Castle, South Shields, Blyth, Stockton and Saltburn. He would request the same room at the Seaburn Hotel, 104 (staying elsewhere if it wasn't immediately available), and grew to know staff personally. Other guests may have even recognised him as 'that famous artist' while he sat in the bar gazing through the window, dreaming up seascapes with only the road and promenade separating him from the sea.
His fondness for watching large ships being brought down river by tugs drew him to spots like the car park between the South Pier and Groyne at South Shields, and Seaham Harbour. A notorious people-watcher he would occupy vantage points outside train stations like North Shields which he drew in pencil in 1963. A love for curious pockets of towns saw him depict the angular medieval alleyway at Dewar's Lane. Today the street is home to the Granary Gallery where around 25 pieces of his original work will be brought together for the exhibition this summer.
Whereas Berwick offered respite from his ageing mother in the Thirties, Sunderland was a retreat from the increasing pressures of his success. Fame and fortune were not why Lowry painted. He holds the record for most rejected British honours (including a knighthood in 1968) though he always declined politely. 'He's a complex character, often depicted as shy and retiring but he did have a huge circle of friends and travelled all over the country and made regular visits to people,' says Claire. 'He liked his own company and worked on his own, as most artists do I suspect. He was fairly frank about the honours system and didn't think it was for him. He wanted to be remembered for his work.'
Visits to Berwick were so frequent, and inspired so much of his work, that a dedicated trail has been created that allows visitors to follow in Lowry's foot steps and visit scenes that inspired him. There are 18 information points dotted around the town each offering more details on the work they inspired or the connection they have to Lowry as a person. 'Berwick's unique in that sense,' says Claire. 'It's got a nice cluster of works depicting the town which hasn't changed much in some respects. Some of the distinctive features of the town he was painting and drawing, especially the coast, are still there today, whereas areas of Salford have changed beyond recognition. A lot of Berwick still looks the same so it's quite easy to identify what Lowry might have been seeing at the time.'
James Lowther is Head of Visual Arts at two galleries in Berwick, The Gymnasium Gallery and The Granary Gallery. Responsible for programming both spaces he's chosen the latter to host the largest concentration of North East-inspired Lowry work there has ever been. 'We had to do a lot of research to find pieces that were related specifically to Berwick,' he explains. 'There are around eight works related specifically to Berwick. Many were in private collections so it can be quite difficult to track down the owners.'
Speaking to James in the build-up to the exhibition, the gallery is still working hard to secure the loan of Lowry's first oil painting of Berwick: The Town Hall, which he painted in 1935. Using the Georgian Town Hall as his centre point, Lowry exaggerated its height and sandwiched it between colourful buildings on either side of the street. It's arguably the most eye-catching and easily identifiable painting of Berwick he ever did. 'It was owned by Cambridge County Council, we're still in negotiations about loaning it for the exhibition. We've worked closely with The Lowry in Salford. There were a couple of quite iconic paintings that he did of Berwick that we just haven't been able to track down. Once they get sold at auction and go into private hands, it's difficult to find out who owns them.'
An iconic oil painting that will definitely be at The Granary this summer is Lowry's joyously impressionistic depiction of people holidaying on Spittal Sands. In 1960 he painted a scene he saw from in front of the Venetian Pavilion where a flight of steps leads you down to the beach south of the River Tweed. He picked light pastel hues and used no black. 'It really captures the essence of Berwick as a seaside town and Sixties holiday resort. It's a really bright, colourful painting, there's a lot of energy and warmth in it I think.'
Spittal Sands is one of the last stops on Berwick's Lowry trail, while the first is Dewar's Lane where the summer exhibition will be held. A six-mile trail and 30 years of inspiration separate the two.
LS Lowry in Berwick & Northumberland takes place at Berwick's Granary Gallery from 21st June to 21st September
Granary Gallery, Dewar's Lane
Off Bridge Street, Berwick-upon-Tweed
Northumberland, TD15 1HJ
01289 330999
The book LS Lowry in the North East (Tyne & Wear Archives and Museums) is available at stockists regionwide and www.shoptwmuseums.co.uk